I checked out Nathan Lucas's Freedom Influencer website and in this review, want to say that I agree with 95% of everything he teaches, so obviously, the site is NOT a scam.
But there is the other 5%, such as a program he recommends that I personally do not.
Overall in this article, I will cover what you can expect to learn from Nathan's website, and if you wish to get involved with what he recommends, what it may end up costing you (this isn't a warning, he recommends good things overall, but I just want you to know what to expect). 
Now I do also want to say a few things about Freedom Influencer, myself & more:
1) Both Nathan and I do affiliate marketing. In fact, my website has a very similar structure to his, but he just promotes different programs and engages in different kinds of marketing methods, such as email marketing and promoting himself on YouTube (he has over 300k followers).
2) While I am a full time marketer and have made over $1 million overall, I do admit that my profits aren't nearly as high as Nathan's. He is a very successful marketer, and a big reason for that is that he promotes high ticket programs, some of which I personally would not promote because I don't think the price is fair, whereas I promote programs that I feel offer just as much value, for less.
Basically, he promotes programs like Legendary Marketer and I promote Wealthy Affiliate. Both programs teach great things, but the price tag of Wealthy Affiliate is a better buy for beginners to this business in my opinion.
3) And while I normally do not link to other people's site's unless it's an affiliate link, I truly did appreciate the content I saw on Nathan's site and YouTube channel, so I will be linking to it.
So with these 3 things disclosed…
Let me get to the review of Freedom Influencer:

Creator: Nathan Lucas.
Price: It's a website that is both a mix of a lot of free content and advice and promotions for programs that can cost anywhere from $20 a month to some that are $1,000's in cost. 
What do you learn? Freedom Influencer provides a lot of free content on affiliate marketing and creating an online business out of it through things like blogging, making YouTube videos, email marketing and more.
There is also a free eBook called 8 Steps to Affiliate Marketing Riches which is a 12 page eBook that kind of summarizes affiliate marketing and how it can make you money.
Overall Rating:

8 out of 10 stars.
Overall I really like the YouTube videos and most of the free content Nathan produces on his site and I can tell you that beginners and anyone seeking to affiliate marketing and/or creating an online business will ABSOLUTELY benefit from his free advice. So yes, he and his site are 100% legit.
It's just that certain programs he recommends like Legendary Marketer is where I'd recommend better and cheaper alternatives, like Wealthy Affiliate. Here are some reasons why (although I'll get into details of that later):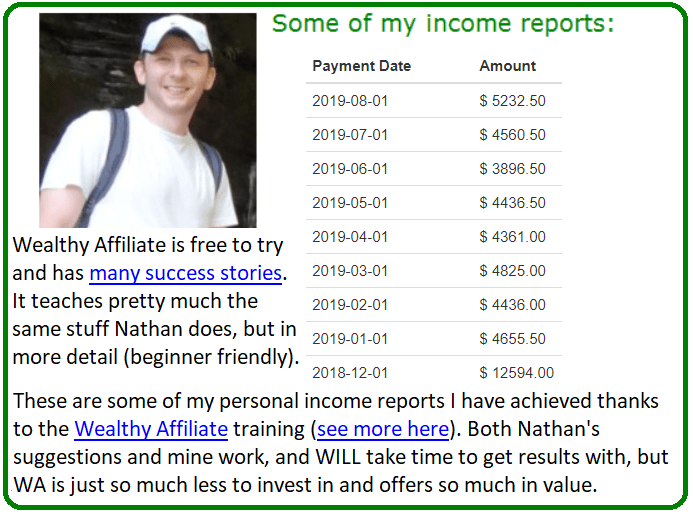 More positive things to say about Freedom Influencer…
Firstly, I was led to Nathan's stuff from a YouTube recommendation where I saw his video talking about things he wished he knew about affiliate marketing (here is the link to it) and he's only been in this business for a few years. I have been in it for more than 10 and it took me a lot longer to become successful (about me) because I didn't have the resources back then like there are available today. This led me to come across a ton of scams and bad experiences, but I digress.
Overall, I have to say, ALL of the tips he gave in that video were 100% spot on. 
Because there was no clickbait, no bait and switch marketing going on (which typically occurs with many marketing videos I watch), I clicked through to see his website and that's when I first saw the recommendation for Legendary Marketer, a high ticket course I was a member of shortly and did like for the small fee I paid to see some of it.
But because I am mostly against high ticket internet marketing systems because of their price and found pretty much all of the stuff they teach is within Wealthy Affiliate and available to check out, my viewpoint of Nathan went down a little bit.
But later on, I explored more of the Freedom Influencer website, read some of Nathan's blog posts, his eBook on affiliate marketing and saw that he provides an incredible amount of free value on his site.
This is basically why I gave his site such a high rating and even if you don't take my advice on Wealthy Affiliate, no problem, you will find great value with Nathan's blog and videos like I said before.
What to expect from Freedom Influencer (How much will you have to invest?):
So whether you check out Nathan's videos on YouTube and/or read his blog and free content he puts out, all of it is meant to funnel people into the recommendations he gives out on this resource page, the most recommended of which is the Legendary Marketer program.
You will find that if you are a beginner to this business (Are you? Then here's where I'd start), that no matter how much free content is put out there, you still need to follow some sort of course to start seeing your own results and this is why such a program as Legendary Marketer is recommended.
If you join that through Nathan and buy the high ticket upsells that there within this program (This can lead up to $1,000's invested because like I said, that program is VERY expensive), Nathan will be given high commissions for it. And that's basically how he makes money.
Now here's where we differ in that regard…
Admittedly, I run the same kind of sales funnel on this website, where I also do very similar things in that I provide free content such as tutorials on YouTube, case studies and like Nathan, provide an affiliate link to a program I believe is best for the beginner affiliate marketer to get started in (Wealthy Affiliate).
Now in 95% of the marketing funnels, Nathan and I are almost identical.

We run the same kind of sales funnels.

We have the same advice about niches, how to get started and all of that.

But where we differ is where we believe the best place to start is. I believe it's with Wealthy Affiliate (which I do promote). He believes it's with Legendary Marketer (which he promotes).
Whose advice should you take if you're looking to get into this business?
That depends on much you're willing to spend. I can tell you that Nathan and I market similarly in many ways, but principally, I never recommend high ticket systems when I already said that Wealthy Affiliate has the tools and training that is beginner friendly to get you started. Legendary Marketer is good too (But in that link I explain why I didn't recommend it in detail), but if you can't afford $1,000's to get into it, don't join it. 
And here's why I suggest people go with Wealthy Affiliate vs Legendary Marketer:
This alternative recommendation doesn't negate that I still believe in Nathan's site, his advice and his overall business model, because I literally practice the same thing. 
It's just that I know MOST people who get into this business cannot afford the kind of investment these high ticket systems require and I know that is NOT REQUIRED if you seek to start your own successful online business, which is what Wealthy Affiliate teaches. 
BUT whether you go with Nathan's suggestions or mine, absolutely understand that this business will take you time to succeed with. I will never (nor will Nathan) tell you that there's a get rich quick scheme with either choice, so know this beforehand!
So that's my take on Nathan Lucas and his Freedom Influencer program and I'm certainly open to hearing if you agree with my points of view on him, his site and how he promotes things.