As far as hype goes, Caleb Maddix's YTA Method has a lot of it in my opinion. But at the same time, the kid's a genius at marketing and creating suspense because seeing his ad made me want to check this program out and write this review.
You've likely already seen the promotion/s for YTA Method across Google and YouTube and you're probably visiting this page now because you want to know if it really works. I will be answering that and other common questions people have about this program such as:
How is it possible to create very profitable YouTube videos without showing your face?

How it is it possible to "automate" video content creation and make money off it so "easily"?

Does this program actually work or is it just a hype train and possibly a scam?
Let me say that after researching this program from different angles (from affiliates to critics of it), it's a mixed bag and I am NOT going to be promoting it.
This review is very unbiased because I have a lot of reservations about using the YTA Method which I'll explain shortly but I'm going to do my best to give you the pros and cons of YTA Method and help you decide if it's worth using.
Quick Report on YTA Method (YouTube Automation):
Creator:
Caleb Maddix.
Price:
$997 one time or 2 payments of $597. 
Rating:

3 out of 10 stars.
I'll explain that rating shortly, but if you want to know:
Do I recommend it?
The answer is no, and there are a few reasons why such as the price, plus the realism of this formula working.
I personally believe YTA Method CAN work, but there are SO many realistic obstacles to consider that I just don't think it's worth it (and I will explain it all).
4 short and personal disclaimers about this review of YTA Method:
Before I give you ALL the details on YTA Method that I learned, let me say that:
1) I didn't buy this program but i have thoroughly researched it.
2) I found sources online from people who did buy it, and showed me an inside look, to people who promote it and those who criticize it (legitimately). I will be linking to these sources as well for you to make your own independent decision on YTA Method. I also saw the YTA webinar so I collected different points of views on this program to make this review.
3) I'm also an intermediate YouTube content creator (I so far earned about $40,000 from YouTube) and advanced internet marketer ( I do affiliate marketing and earned over $1 million from it) and I know a lot about realistically putting into practice different ideas to make money.
4) So when I examine what I learned about YTA Method with what people show me about the program and combine that with my experiences, this is what provided this review. 
And overall, here's a quick note about myself: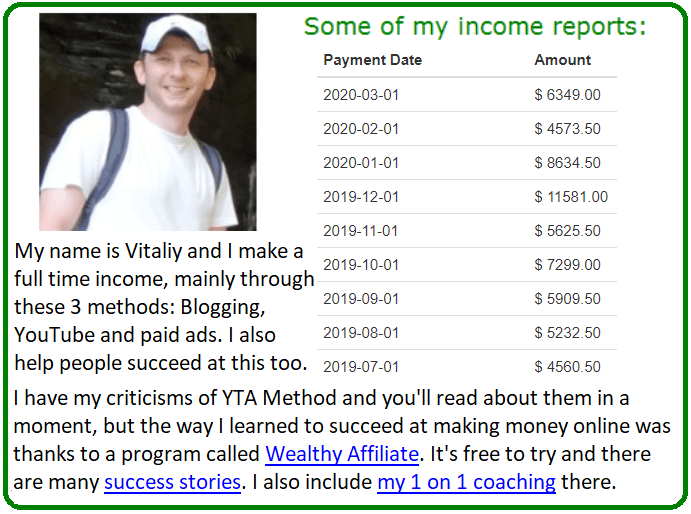 Here's how YTA Method works (the summary):
Ok so this is where I'll explain the actual formula. This is how it really works:
1) You basically learn to find niche topics on YouTube and popular channels and videos that are getting a lot of views and hits on them.
2) Then you see which particular videos get the most attention and basically hire people from places like Fiverr or Upwork.com to make similar videos to basically "piggyback" off the popular videos. 
3) In other words, when you see which videos get a lot of attention and tons of views, and by hiring people to make similar ones like it (unique one, not copied), you can leverage that popularity for yourself and get a lot of visitors. Basically you see what works for other YouTubers and mimic their content ideas, but in your own style (you can't copy other people's videos, and even Caleb says that).
4) Then by getting a lot of views to that video that's made for you, you don't have to actually show your face or record your voice (which backs up Caleb's claims in his ads).
5) Then it's a matter of repetition and scaling where you keep finding other popular videos and hiring people to make their own versions of it for you, including thumbnails, the video content itself and so on. 
The whole YTA Method is a training program to help you get each part of this process done correctly, from:
Finding the popular niches.

To finding the popular channels.

To finding the outsourcing options to make your own versions of those videos.

To monetizing the video.

To scaling that and growing your channel.

This is all encompassed in an 8 week course.
YTA Method sounds full proof no? Well not exactly (before you see the pros and cons):
The thing I have to share is that with all the experiences I have in internet marketing, one thing I can always be certain off is that the more hyped and "full proof" a product or program is made to sound, the more careful you need to be about it.
Many products and programs in the internet marketing world sell because of how well they are hyped.
And people who listen to webinars and sales pitches from product creators are often lost on what the program actually is, and that's because pretty much most of what you hear about it is: 
This is full proof.

These are all the success stories.

Stories about the creator becoming a rich success story.

Talks about how easy the system is.

Talks about how "hands off" the system is.
This is generally the message I get from MOST of the make money online programs I review and I've learned to tune out the hype and focus on trying to figure out what the program actually is.
So now that I've said that and explained what YTA Method really is, let me get to it's pros and cons, and then explain why I won't be recommending it:
Pros:
First, there's a level of respect I have for Caleb. Doing this stuff at such a young age is admirable.

Piggybacking off popular niches, YouTube channels and making videos on similar content technically works.
Cons:
Price. I don't really ever recommend programs that are this much.

Good luck finding trustworthy or competent people who will make high quality videos for you on YouTube (very rare).

In my experience, outsourcing work online is tough to get right. Most people produce cheap/low quality content.

There's a possibility of demonitization of channels which use these types of methods (

this source I found on YT said it).
Practically, this formula will take time, and money to optimize. ANY formula to make money online will as well.

I honestly don't like such hyped videos and sales pitches for programs. This program has a lot of it!

Every single person who I researched that PROMOTED this program never showed me their results from using the YTA Method.

These claims about how easy, hands off and automated the process is in my opinion only sounds good, but practically isn't like that in reality. I've done internet marketing a lot and tried many different options. The most hyped sounding ones in my experience always end up being the biggest failures for me.
Final Rating: YTA Method (and the reason for it).
3 out of 10 stars. Succeeding on YouTube is 100% possible but when I see programs that try to cut corners and make you think it can be done hands off, by simply hiring other people to piggyback off popular content, I just don't think in my experience it will work.
It's easy to think that you'll just find and hire people for cheap to build you YouTube videos while you sit back and rake in money, but there's just so many holes in such a belief such as:
Hiring for cheap produces cheap results and your business's profits will reflect that.
And there's also a period in EVERY business where you learn a system, use it and it takes time to see results and the more lazy you are during this period, the longer it will take for success to arrive (and that's considering it even does, as being lazy never really leads to success anyway).
Taking it back to YTA Method, I don't believe you can achieve success online while being hands off and lazy. And that is ultimately the MAIN con I see with this program (and the price).
I mean when I see that I don't have to make my own videos and I can just hire people to do this stuff for me, what else am I going to assume?
Now additionally, I have to cite a few another source (in addition to the one above) which is this review of YTA Method from a woman who did get it.
She didn't show her results from it, but I appreciate her sharing the experiences and it was one of the sources I used for my review. But I wasn't convinced this program was good enough to recommend and so I'll be recommending the same approaches I've been using to make money online for years.
My final thoughts:
I have a lot of experience in building an online business through various methods:
I have a website that makes me a full time income.

I have a YouTube channel and years of experience making videos (and money).

I also have a ton of other experiences in fields like email marketing, pay per click and other stuff.
In every single area I just listed, I've always found and looked at programs which like YTA Method gave me the impression that success could be accomplished easily in whatever field if I just used "this awesome automated system". 
Well that always ended up being a dead end and the lesson I learned was that I had to stop looking at these hyped programs and get to working on my own online business without trying to cheat or cut corners and that's how I made it to where I am today in this business.
If you're serious about succeeding online, and that includes through YouTube, I believe that trying to cut corners is not how you'll achieve success and I do recommend you follow a specific program and blueprint to get there, but that program has to be realistic in what you need to do.
If you need specifics, then here you go: Wealthy Affiliate is that program that will realistically show you what you need to do to succeed at all of this.
What I'm trying to say is: I believe more so in programs that tell me up front that you have to work hard to succeed, than those that are hyped and say it's easy and my experiences have consistently proven that to be the case.
So sadly, while I do believe there's legitimacy in the YTA Method itself, for the most part, practically, I think there's better and more practical ways to see success.
Pros
Piggybacking off popular YouTube channels to find content ideas for your videos does work.
You can really use the YTA Method without showing your face on YouTube.
Cons
In my opinion there is a lot of unrealistic claims about how easy it is to use the YTA Method.
In my opinion it will be very difficult to find good video creators for cheap to make your videos.
As with any business, there's never a guarantee that your videos will become popular and make money.
$997 for this course is a lot and there will be other expenses (like hiring people).