I recently learned about IM Checklist and decided to write this review and explain why I don't particularly believe online businesses need this program.
You see, I'm actually experienced in just about every field that this program trains you on (there's 8 volumes) and rather than spending money on each of the the volumes, I'd rather just explain, for free which essentials you need to have your online business grow. 
So in this review, I'm going to briefly cover each volume of checklists this program provides you with and give you the essentials you need to focus on. This info will be totally free so you need not spend $20 or more dollars on EACH of the volumes. Let's get started:
IM Checklist, a quick review:
Price: There are 8 volumes and each is about $20+.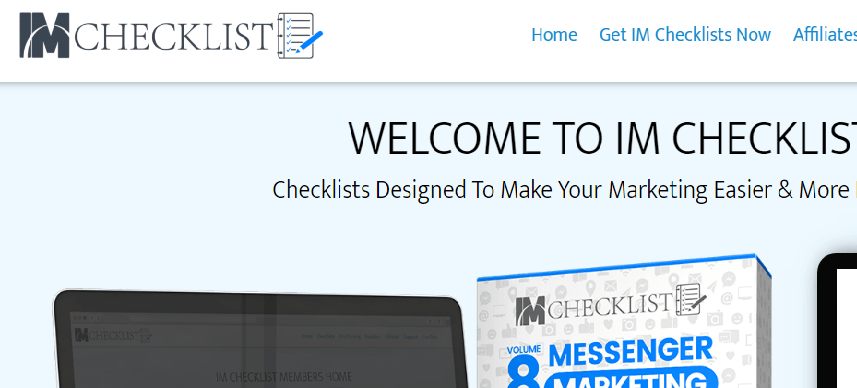 What does this program teach? Each volume contains it's own "checklist" of essential things you need to be successful in a specific branch of online business (affiliate marketing, list building, ect…) and with each volume, you are given training to help that checklist be complete.
Overall Rating:

4 out of 10 stars

.
There's good material in all the volumes, but some of the advice I saw, I would honestly not recommend.
The problem is that this training isn't exactly the universal way to go in some cases and like I said, I'll show you my personal approach to each volume that I have personally seen results from, and again, it'll be free, so you'll save yourself anywhere from $20-$160 at least.
Do I recommend buying this program? Not really.
Is there another program I recommend instead? Yes, I would say the following program is the best for beginners, online business owners in general who seek advice on affiliate marketing, blogging, SEO, list building and everything else that's a part of the online marketing sphere:
Let's dive into IM Checklist and see what it has to offer:
Although I did summarize it before, we're going to dive into what this program has to offer in more detail now…
There are NUMEROUS branches inside the online business world, but this program provides checklists on 8 particular ones. I'm going to be going over each of them right now and explaining how I would approach them to see success. The intent I want to provide you guys here is that you don't really need to pay this program all this money to learn this stuff.
Now for you the reader, I want to say that I will be giving you ideas on how to utilize each volume for your own online business needs.
I can't go into every single little detail because I would then write a whole novel, so if in any of the volumes I will discuss, if you're interested in knowing more, let me know in the comments section what your particular question is on the business idea and I'll help you more thoroughly there.
Let's go over each of training in IM Checklist:
There are 8 volumes overall:
Volume 1: Product creation.
Here you get training on creating your own digital product from the idea stage to actually marketing it and it's $22.
Things include brainstorming, to joint ventures and so on.
Personally my advice on this is to find a hungry niche topic and create something simple for starters like an eBook, and then put it up on Clickbank so then affiliates can market it for you.
For example, one of the hungry niches I often talk about is for people with knee problems. If I were executing a plan of action to make this work, I'd write an eBook on how to solve knee pain and give REALLY good content that helps the audience out.
I'd probably write at least 100 pages worth of content and really try to help people out with this problem.
I'd then head over to Clickbank, charge about $27 for the eBook and pay affiliates 75% to promote it for me and then let them do the work. I'd then take the results, and scale the product, collect an email list of people who have purchased my eBook and then move onto the next project, possibly offering a 2.0 volume of the eBook and continuing to repeat the formula for other hungry niche topics.
Volume 2: Email marketing.
Email marketing is one of the most popular ways to build an online business, but it's also the one where most people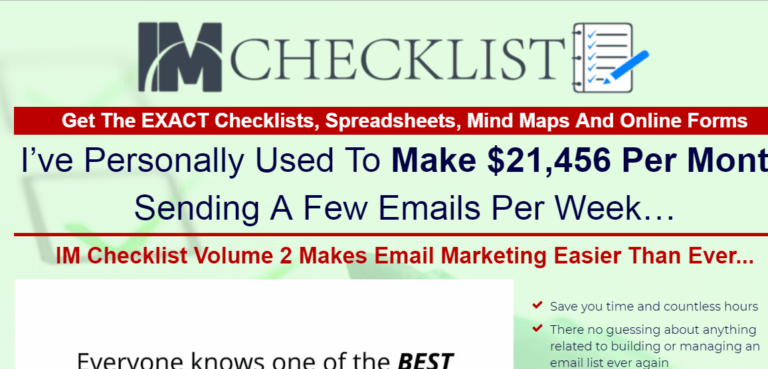 absolutely fail. Within IM Checklist, you also get training on making it a success.
My personal viewpoint on this subject is that again, you need to target a hungry niche audience looking for solutions, but instead of making your own product like you would in Volume 1, I'd make a blog/site talking about the subject and writing content on it to gather free traffic overtime.
I'd then install an opt in form and possibly connect it to an exit pop up to collect an email list and then overtime sell that hungry list audience products to help them out.
Example:
Let's say I make a blog on knee problems and write 50 articles on it. Considering it's good content, I'd probably get about 1,000-2,000 visitors a month to the blog for free. I'd then try to collect an email list from this and probably get 100-500 subscribers monthly if I provide a good enough incentive.
I'd then send them good info on healing up their knees and then sell supplements over email to them.
Volume 3: Social Media.
There's many ways to go here, and IM Checklist provides it's own level of training. Truth be told, social media is my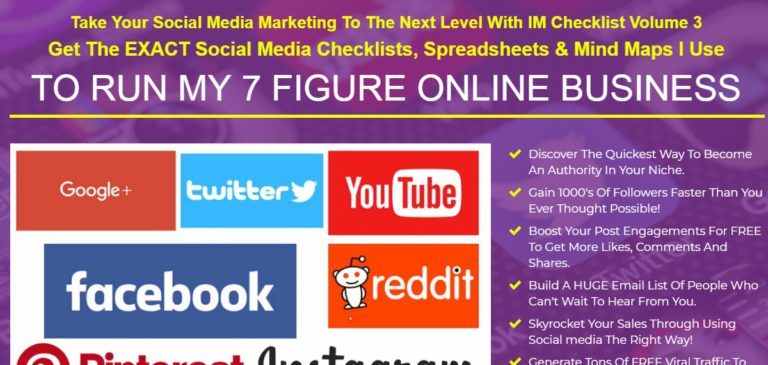 weakest area in online business, but I do have experience in it.
I recommend any online business creates a fan page (on Facebook) and then puts up a side bar on their site/blog leading to it so people can like it. You can gather a community over time of likes and audiences this way, but I'd make sure the central point of your blog and fan page, once again focus on a hungry niche.
Volume 4: Affiliate marketing.
Yet again, we have another $22 product. But once again, I have free info to share with you on this. 
Affiliate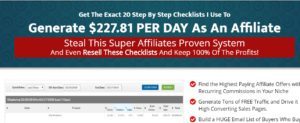 marketing happens to be one of my STRONGEST points in online business and I've built a full time income through it over the years.
Affiliate marketing isn't that hard to understand, but it takes work to do. I'd approach it by having a site or blog (basically the same strategy as in volume 2), and then instead of collecting an email list, I'd just sell products that way or just head the email list building route and then promote to my list products I'm affiliated with.
Either way, affiliate marketing, which lucrative requires a lot of solid training to work and here is the best program for that:

I'll also provide you with other ideas on how to build a successful affiliate business on that page.
Volume 5: Video marketing.
I've actually been getting involved with video marketing as of late and I have to say, it may be the future of SEO. Here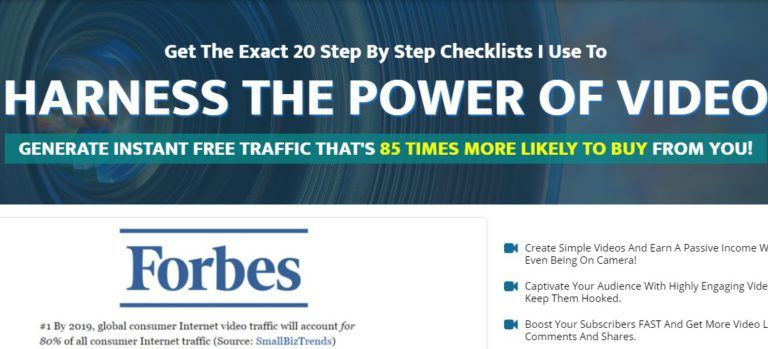 my best advice is to create YouTube videos with free content on them aiming to help a particular niche audience (let's use the knee problem example again). This tutorial on making money with YouTube will help.
Then you could do things like link each video to a squeeze page, collect an email list and then sell from there.
Or you can head the paid advertising route as taught in programs like Market Hero, and basically retarget any person who views your video/s and then sell them some stuff in bulk that way.
Note: I actually don't recommend that anymore, Wealthy Affiliate would be better for paid ad training.
Volume 6: Canva.
In this stage of IM Checklist, you get software to build banners and images to sell or use on your site. My experience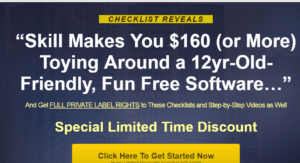 in this is also limited, as I mainly focus on creating images on my own and editing them through very simple programs like Microsoft Paint (don't laugh, it works :)).
Being able to create alluring images and banners certainly helps your online business grow, but many times you can pay someone in for example, Fiverr $5 to do it for you or you can just make it on your own through free programs. 
Volume 7: Newbie Marketer.
In this volume in IM Checklist, you get a lot of training (18 steps) on building your first website, setting up hosting,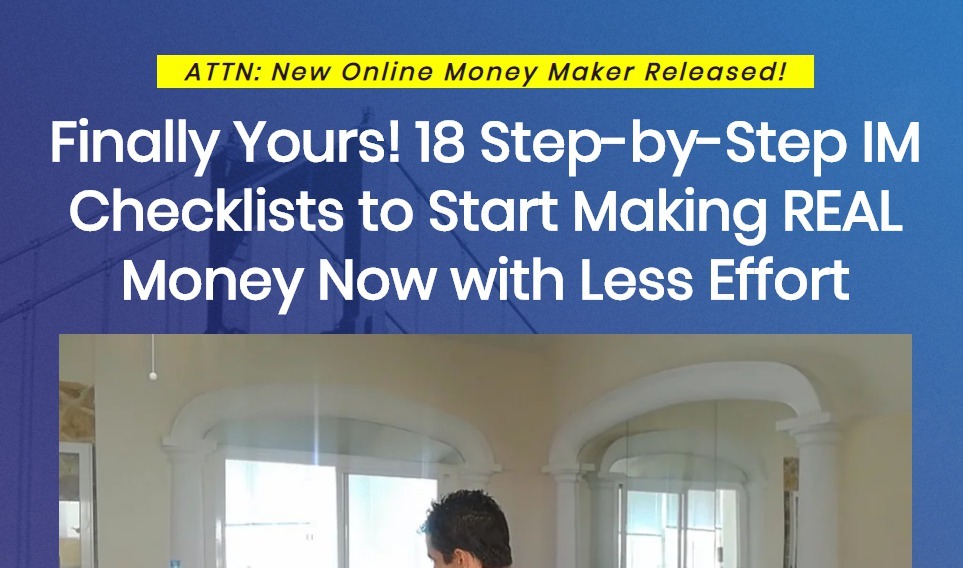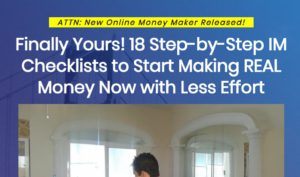 an email marketing funnel and 30 or more days of training in helping the site grow from nothing. The idea is to build a website with traffic and make sales through one of the volumes above (affiliate marketing, email list building, ect…).
This is also one of my "forte's" as I am VERY good at making websites from nothing to getting tons of traffic and teaching people the same things.
Once again, the very same program I recommended to you in the affiliate marketing area, I will recommend to you again, because it is literally the BEST training platform for the newbie marketer to start with (most of the startup stuff is free to try and experience!):
Volume 8: Messenger Marketing. 
This is the latest volume of training released by IM Checklist. They show you how to market yourself via messenger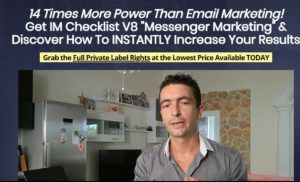 apps like Instagram, Facebook and other things. I can tell you that this has potential, but in my experience, the way to make this work is to create a brand name out of yourself and do consultations for specific topics and then have people reach out to you within these messenger options to schedule coaching or sales calls, that sort of thing.
Example: Let's say I'm a fat loss "guru" and I set up a website and fan page where people can ask me fat loss advice. I can offer coaching/specific plans of action for people seeking to lose fat by communicating with them privately through messenger and helping them set up their own ways of losing fat. 
Final Rating: IM Checklist.

Yellow Flag
4 out of 10 stars. This program has many good things to offer, but each costs $22 and I can't really vouch for how well this training works. What I can say is that anyone who is entering the online business world should ideally focus on a way of learning it which isn't broken up the way it is in this program, but is encapsulated in an all in one program and I already gave you the best choice for that.
My final thoughts. Very important, please read this:
What I can tell you is that all the free experience and plan of action I shared with you came from the same program I've been recommending numerous times throughout this review and if you seek to have success in any branch of online business, that is the program I'd go with instead:

As I said above, if within any of the volumes I explained, there's any further questions that you have, do let me know and I'll provide a more in-depth explanation on how you can personally utilize it for your online business needs.