Out of all the difficult things you need to do for your small business, it happens to be that making a website for it is the easiest part. I'll show you 3 options.
Making a page today is much less difficult than it ever was as well as far less expensive. This is great if you're on a tight budget to begin with.
Additionally adding things like checkout carts (see my donation button tutorial as it's the same for checkout carts), pages for each of your products as well as other pages is very simple and can literally be done with the click of a button today.
You don't need to have programming of web design experience to create beautiful looking pages. That's a lot of perks which didn't exist 5 years ago!
As a small business owner, obviously you want your business to gain much more exposure and new clients/customers. A page will certainly help you do that, but in addition you also need to understand that correctly marketing that website is also mandatory.
But I'll get to that later. For now let's focus on the actual making of the website. Here are a number of options:
1: Using the WiX builder option:
WiX is a page builder designed to help pretty much any category of people make a website, including those who already possess a small business. This builder offers a number of different templates (already done for you designs) you can apply to your page.
As an example, here (right) is a picture of a sample page I made through Wix. There are several perks to using it. I explain my example template with WiX here as well as more details on this option:
A) You get to choose which subject you want to find a template on. Say you have a gardening business. You can choose that subject in Wix and it will find you several templates that are designed around that subject.
B) Templates on Wix are very professional looking and pretty much done for you. All you have to do is basically change the text to fit your business description. Then you're pretty much done.
C) You can make a page/s for your business pretty quickly through this service.
But there are also cons:
A) There are MANY people using WiX so there are many look a like pages already on the internet. Although they are expanding and having more options to customize I believe, making this less and less plausible overtime.
B) I prefer using WordPress (another option I'll discuss in a moment) because in my experience it's more SEO friendly and there are more customization options available. Full details.
C) Using Wix can get pretty expensive after awhile.
My advice: Use Wix only if you want to make a page just so "it's there" and perhaps if you're marketing it locally. If you want it to attract visitors, I would recommend an alternative option which I'll explain below.
2: Hire a "professional" to do it for you.
This is certainly convenient in the sense that you don't do anything in terms of actually making the page, but on the flip side, it's quite expensive. Generally the price of building a page will run you about $1,500 at least, in some cases.
You'd be lucky to find someone to charge you less than that. This day n age, hiring someone to make your page is just in most cases, not worth it with all the available builders around, unless you seriously have no time or interest in doing it yourself.
My advice: I don't recommend using this especially if you're on a budget. You can make your own website for much less and even free. Here's how. 
If you're not budging and want to hire someone, get a person from a company like Human Proof Designs to make it for you, they are legitimate and offer good options for businesses.
What about hiring some "professional" online marketing experts? 
A lot of small businesses pay people to help market their page for them (it's the next thing to do after making the site). I would strongly advise against this.
The main reasons are that they charge you ridiculous prices and use a lot of tactics that can actually inhibit your website's exposure online. More in-depth info. I've seen it happen time and time again. Experts aren't really experts.
You can do a better job than they can for SO much less if you just have the right tools and proper guidance at your fingertips which I will be discussing shortly.
Again, for just making the page, use one of the page builders I talk about in this article. If you need to market it, I would advise doing it yourself if you have the time and there's good training here to help you with this.
3: Make a WordPress (WP) website and market it.
Throughout this post, I've been repeating the same phrase: Marketing the website. Let me explain what this means:
Say you have a gardening business where you sell supplies which you maintain in a small town or even city. Now imagine you want to take that business to the internet and gain more exposure. What does this mean? Well either:
A) You want to market it locally meaning your area. This is good, but it's also limited.
B) You can market it nationally and even around the world. Using the keyword tool Jaaxy, I discovered the term "gardening supplies" gets over 30,000 searches on Google monthly. That's worldwide meaning your page could potentially get up to 30,000 extra visitors and even more if you know what to do. Here is a screenshot: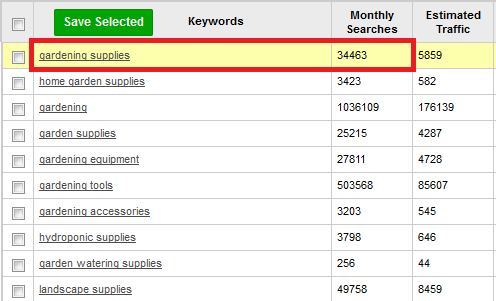 Which option would you prefer? If it's B, then you can definitely do that for much less than you think.
Here's my recommendation:
There is a program which shows people how to create successful online businesses through the internet. It's called Wealthy Affiliate. There are 2 very important things it offers:
Free starter training in which you make your WordPress website ($0). It only takes several minutes to do. 

Marketing training how to build out your page so it gains more and more exposure online, both locally and worldwide. 
I personally find this option to be the best of all worlds if that's what you're looking for of course. Without a page, no one online will know about your small business.
Without proper guidance on how to market your website, you won't get nearly as many potential customers as you would had you done the right things. Wealthy Affiliate teaches you all of the right things you need to do. 
Understand that making a page for your small business isn't as difficult as you think. And in today's world so many business owners are doing just that. But most of these people do not actually go beyond that point and their website just sits on the internet without amassing customers.
This is why marketing that page, whether locally or worldwide is so integral to making that small business truly succeed. Through this process, you can get way more customers than you ever could just marketing it locally and with that the possibilities are literally endless.
If you have any questions regarding this subject, feel free to post your question/comments below 🙂