I recently discovered and gave Wix's website builder a shot for alternatives's sake since I've been using WordPress for a number of years.
In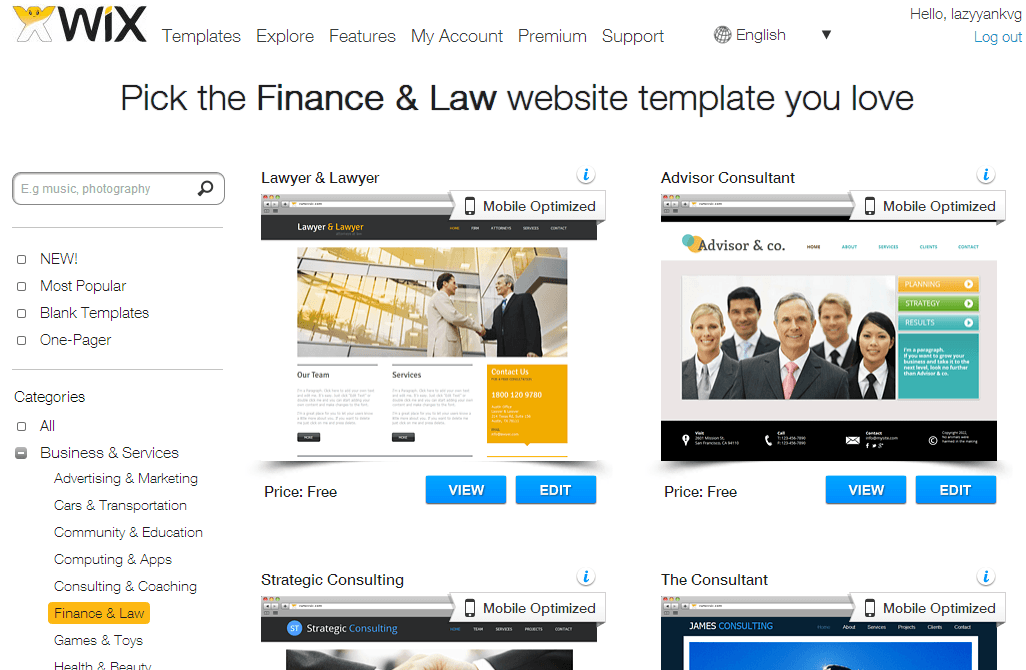 this review, I'd like to share my results, thoughts and if you too should try using this program. I'll be showing you the pros, cons of this program as well as my personal approache/s to building websites.
What exactly is Wix? 
It is a website building program that takes away most of the red tape that usually comes with making them. This includes:
Registering your domain name with places like Godaddy.com or Namecheap.com. Usually domains will run you about $10 a year BUT it will rise every year after.
Getting hosting which can cost anywhere from $1-$6 a month.
Figuring out how to edit and create a beautiful looking page. This is especially difficult for most people who have little/no experience in building pages.
With this page builder, most of that above red tape is taken out. You can try out this program once for free without having to enter any personal information. This is a great way to "test the waters" and see exactly how it can work for you.
What you get with this program:
357 different templates to choose from.

1 free page to test out the system (but there is a con about this I will shortly point to).

Good support if you encounter any issues and/or need help.

Video breakthroughs to simplify the process.

The ability to choose which themes you'd like to try out based on your topic (I chose law).
When I tested out Wix, I was taken to a topic page where I had to choose which subject I wanted to make my page on. Based on the subject you choose, you will be displayed a number of different templates to choose from.
I personally chose to try and make a page for a law firm since I'm currently involved in such a project and am using what I consider to be a better page builder to make the page.

Based on first impressions, the templates Wix provides look very professional and it's quite easy to get set up. Most newbies will most likely encounter difficulties at first but it's something that will vanish with practice.
The free page I built with Wix only took me about 30 minutes to do. But this was just a first draft. If I were to go into detail and fully devote myself to making the page, it would take me hours, but it would still look good.
Here is my sample page (notice the yellow boxes):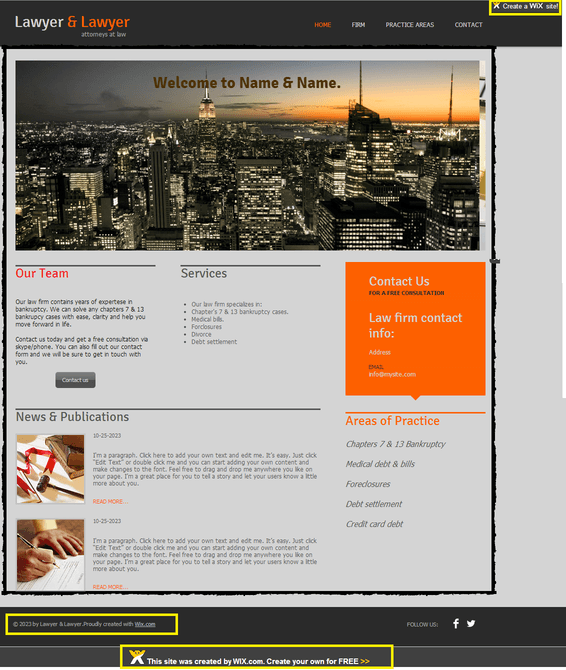 Overall not bad in my opinion. There's actually people who charge you $100's if not $1,000's to build that type of stuff. Truth be told, these people are in many cases not needed when you have these types of programs to help you make the page.
But this program does have it's cons, and quite a few:
1. Wix runs ads on your pages which may interfere and distract users to Wix instead of your page: Remember the yellow boxes I mentioned?Well those are ads.
When you make a free page, Wix will run up to 3 ads on your page to advertise it's system. Though the ads aren't that big, they can be distracting and may take some visitors away from the page. And there are 3, so that's 3 chances someone will click away from your page and go elsewhere. From a business point of view, you just can't have this sort of "leakage" happen, so obviously this can be a problem in my opinion…
But this ad issue only applies to the free page you make. If you don't want Wix to run ads on your page, you would have to upgrade your membership which can cost anywhere from $6-$30 a month (PER SITE!). And this is an insanely large price and additionally big con that I will talk about a little bit further down. 

2. It can be annoying to play around with the editor: I personally didn't like the fact that a few times, the drag and pull button clicked me away from the text/pictures I tried to edit. In addition some of the options to click and add things such as pages, edit content, add/remove pics, ect… can sometimes be annoying to get to. In my case some of those features made other features appear very quickly and this can very distract and get you lost.
I'm sure it's a bug in the system that they will eventually fix, but it's still something that can get frustrating since website creation is something that requires mental focus, at least in my experience.
3. Lack of customization: Yes you can make a beautiful looking page, but the ability to customize it is almost impossible. The way it looks when you choose it from the template section is most likely how it will look when it's completed. If you're looking to make a page for an online business, it's much better to have a page that uniquely stands out and isn't like the rest.
Yes you can certainly change some colors and pictures here and there, but the overall look of the website will stay the same. Most people wouldn't really care about lack of customization, but this leads to another issue…
4. Too little templates + too many clients = too many similar/same looking pages. Even though 357 templates seems like a lot, it isn't when you factor in the fact that there are way more people building websites with this program.
What this means is that the likelihood of someone making a website that looks almost identical to yours may very likely happen, especially given how popular this program has been since it was released. This may diminish your page's reputation in the eyes of the user (if they saw the other look alike page).
This is why I use a better program (in my opinion) instead (It's WordPress). It features 1,000's of templates with the ability to customize in many more ways than Wix offers which makes it's very easy to make unique websites.
Sure the default templates of Wix do look much better (at first), but in the long run, there is much more potential and room to experiment and grow through WordPress in my opinion.
For example, the website you're on right now is a WordPress website which took me less than a minute to make (It's more like 30 seconds and I prove it) using the program I always utilize for website creation (it's free).
5. Can get pricey. They offer plans ranging from $6-$30 a month I believe, which have added bonus features that will help your site stand out (Hosting, Google analytics, Vip Support, Shopping Cart, Extra space).
Unfortunately even it's most expensive features apply to 1 site which means if you were to make multiple sites, the price of these features would quickly add up. 
6. The perks of the higher priced services can be attained for free: Services such as Google analytics, free advertising credit on Google Adwords & Bing, a shopping cart and even free hosting can all be gotten for much less and even free. Another reason why I prefer my alternative to WiX, as you can simply download (for free) all of these services and it comes with hosting. Therefore, you'd save a ton of money. 
7. Limited space for smaller priced pages. The free page will give you about 1GB of space. It's not enough for someone whose looking to build an online business. The higher priced services increase the space from 2GB to an unlimited amount. And yes, the option I use has way more space.
8. No training to monetize your page/s. I don't really criticize Wix for this, but it's an important missing piece of a page's success. What happens if you want to make whatever it is you make through this program earn money?
It's not like once you set up your page, that it'll rank and magically bring in cash, that's not how it works and to do that, you will need training that shows you this. Unfortunately, Wix doesn't do this
If you're looking to run an online business from a page you make or trying to monetize of your page in anyway, if you don't possess any experience in doing so, you'll find it difficult and pricey to find out how. Again the same program I use to build pages actually offers training in how to monetize off it, which is a HUGE perk.
Here's the overall comparison and what you need to know:
Final thoughts on Wix. Should you try it?
In spite of all the holes I found in Wix's system, it's still a great program in my opinion. Is it the best? No.
Is it newbie friendly? Yes & no.
I believe my alternative approach is better and cheaper, but that doesn't mean this program should be discounted.
You can certainly make a great looking page with ease through it, but it's limited and as for customization and getting the most for your money, that's something you can also do with the other option, for less and even free as well as get training to build an online business.
There's just more potential in this method than with the other. But in the end, both approaches can work very well, but where one is more pretty looking, the other is also good looking, and also provides a bunch of other extremely useful benefits.
One more big point to mention:
My biggest thing is, when it comes to which option can help your website rank and monetize better, I say my personal approach wins without any question. There have, in my experience been VERY few actual WiX websites I have seen rank on Google for competitive, highly searched terms, aka the ones which bring in huge traffic.
MOST of the pages I see ranking on Google are WordPress pages and speaking from experience, Google considers WordPress to be one of the best (if not already the top) platforms to use for ranking and since most of the search results are occupied by WordPress pages, I think it's been proven true already.
Again, the preferred I option I use creates WordPress pages for you and shows you how to rank them. You simply do not get this with the other program, and it is the biggest reason I stand with my choice.