There are 3 ways you can essentially sell stuff online:
Through something you make.

Through affiliate marketing in which you promote it.

And the last one is where you buy a product and then sell it.
For the purposes of this article, we're only going to cover the last 2, because the context implies that you aren't the product maker.
I'm going to show you where to find the best products for whatever it is you wish to promote. Essentially, it should be a perfect mix between the type of thing the consumer will love and the type of thing that will pay you the most for your efforts. But before I get into that, let me quickly say something about each of the 3 methods, specifically…
The benefits of each method:
1) If you own the product, then the biggest benefit is that you don't have to split the profits with anyone but yourself (not unless you offer an affiliate program). 
2) If you do affiliate marketing, you can essentially promote anything, for any price, not pay for it and keep a percentage of the sale. In this case, the best benefit is that there's no real investment necessary. However, certain companies may require that you be a paid member of their program in order to benefit from their affiliate program.
Depending on how much that program pays you and how much you earn will essentially be the determining factor on whether or not you join it. And affiliate marketing is my main way of selling stuff online.
3) You buy the product from a company (perhaps at wholesale value), then resell it for higher prices. I would say this one may be the riskiest because unless you have a proven formula to make sales, this may end up costing you far more than you make, but it can absolutely work.
For example: Let's say a diet program is being sold to people and they are loving it. It's super popular and people are ordering it all the time. You can buy up the program yourself for whatever quantities you can afford, then resell them to the same consumer who wants it. 
So let's get down to the real topic: How and where should you look for products to sell?
In my personal opinion and experience having done 10,000's in sales online if not more, over the years, here's the best way I can explain it: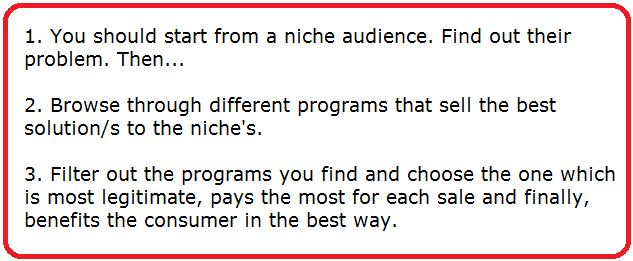 Promoting and selling things online should not be a vague thing where you just pick something out randomly and then try to make money through it. It should have a specific purpose. 
Let me break down each step, and give you specific examples…
1) You have to have an understanding of niche audiences, aka people with specific problems.
I don't know how many times I've said this over the years, but a defining factor in making sales online starts from understanding your niche and WHAT they want. Before you even reach the stage of finding something to sell, you need to have this down. Here's all you need to know about this step.
I would even add that the article I just linked you to does into even greater detail on picking the RIGHT niche for you, because there's a plethora of choices, but most of them will likely not produce anything for you unless you are somehow experienced with it. So yeah, make sure to read that article if you don't know about niche, it will absolutely help you with this step.
2) So now we get to the focus of the article: Finding the actual things to promote.
So there's a few things here:
The niche you chose should reflect the products you seek. I assume you already know this. One of the best things you can do is start from the most legitimate programs out there to make sure you have a safe choice:
You can either find products on big networks such as Amazon Associates, Commission Junction and others like it (which will likely have the best offer you need to sell to your audience). That's a good starting point.
Or you can elect to find specific, individual sites and programs with affiliate programs for them.
For example:
I have a drone blog. Obviously, I sell drones there. I elected to promote them through 2 organizations:
Amazon Associates and a program that makes them (a direct offer), called DJI. DJI offers an affiliate program with which I am registered with and promote their drone models through. 
Here's another example:
I also have a make money online blog. I have NUMEROUS products/services I can sell through it. Here's some places:
Wealthy Affiliate.

JVZoo.

Clickbank.

Ethical high ticket programs.

Clickbetter.
And that's just 5 NETWORKS, meaning they all sell more than just 1 product, making your potential for promoting stuff quite huge. 
And finally, one more example:
Perhaps none of the site above or big networks suite your needs. Perhaps what you need to do is get in touch with a physical business or person who has a service/offerss that you can sell for them. For instance, a long time ago, I promoted a law firm's bankruptcy services to people. I directly spoke to one of the lawyers, let them know I could help promote their business and in doing so, would keep a commission from each new lead I send them.
You can do this too with a local business. You can even promote the actual business through SEO services, which is actually a HUGE, growing business, from which you can earn $1,000's per client (you make them a website, provide actual SEO services, a domain, hosting and other stuff, all totaling to $1,000's in costs, but big profits for you).
For your own reference, you can visit each site on your own to see what they offer and see if it suites you. If you have a question about this step, and want to know which specific sites and affiliate programs out there may be good for you that I haven't listed here, do let me know in the comments.
3. Not every program you find will have the best product or the best compensation, so filter it out.
I also want to add that not every program is legitimate or safe to do business with. For example, you can make money for one program, but they won't pay you or perhaps they charge outrageous fees for you to work for them. In that case, you want to do a few things to filter out the good from the bad:
A) Look up reviews of the said program you wish to do business with to see if they have problems/complaints from other promoters.
B) Stick to the safe, big networks like Amazon Associates, eBay, Commission Junction.
C) There has to be a cost benefit to you, otherwise, why bother selling it right? At the same time, there has to be a limit and a benefit to the consumer so what you sell is priced fairly to them, and makes them happy.
This is where experience has to dictate how you proceed. For me, I enjoy promoting relatively cheap offers that my customer can afford. I often get paid anywhere from pennies to $175 on the offers I promote, but I put more effort into promoting the higher paying offers than I do the penny offers.
You will have to look through this yourself and decide and if you have questions on it, again, let me know below.
Now I have another example of this filtering process to share with you:
Again, I bring up my make money online blog as the example. As someone who sells make money programs, I have the following offers, and I will actually "color" them to show you which ones I work with and which ones, despite being available and legitimate, that I don't prefer to work with and why (and this may be the type of mindset you should apply when you pick a program for yourself)…
Wealthy Affiliate

.
This is my #1 go to program to promote to make money online enthusiasts (learn why). I find it has the best benefits to keep my customers happy, it pays me monthly, the commissions are OK, but the benefits and long term benefits of promoting this place is what suites me best, thus it is my #1 promotion. If you are in the make money online niche, you may want to consider this place too.
Clickbank.
I've promoted products in the past from Clickbank, but found a lot of them to be decent-low quality. Here I filter out which SPECIFIC products I like and promote them. As for the network itself, it's great, and legitimate, so that adds a big bonus in my picking though process. 
JVZoo.
I actually rate JVZoo well BELOW Clickbank, because it really doesn't have decent support. It offers a lot of products to promote, but they are generally low quality, and that hurts my potential customer, so I avoid promoting anything there UNLESS there's a rare exception where I do find a good product there.
Clickbetter.
The next one is even further BELOW JVZoo. Here, the offers you have to choose from generally aren't just low quality, they are flat out scams, so even if the payment is good, and the network fairly pays out promoters, it doesn't matter if it hurts my customer. I personally do not do business with Clickbetter.
High ticket make money programs. 
These are individual programs out there which provide internet marketing education, but for prices that are beyond absurdity. Here the biggest benefit as an affiliate is the big commission I am able to be paid, but the biggest cons are that high ticket programs require affiliates to buy their expensive packages before promoting them and this also hurts my consumer who may not be able to afford it. 
Many high ticket programs in the internet marketing world for example are scams because they inflate their training by too much.
However, do not mistake high ticket programs in this niche with other, LEGITIMATE high ticket offers you can promote physically in other niche markets. Here are some great examples.
My final thoughts:
To summarize this whole topic, as I said, always start from the niche, then go for the product browsing, and then figure out the best benefits of each offer to suite you and the consumer.
The only exception to that 3 part rule would be if you were to sell an individual program/business's services (like the example of the law firm I gave or SEO services for a business)where you just directly communicate with physical business owners and offer services to them for a price. 
Overall, know that as a online seller, with whichever promotional option you choose:
You can go with more than just 1.

There are a plethora of choices.

It is important to always promote the highest quality one for the consumer.

Most importantly, know HOW to do all of this so you make the sales. For that, a good training program like Wealthy Affiliate would really suffice as they teach the whole process of selling products online.