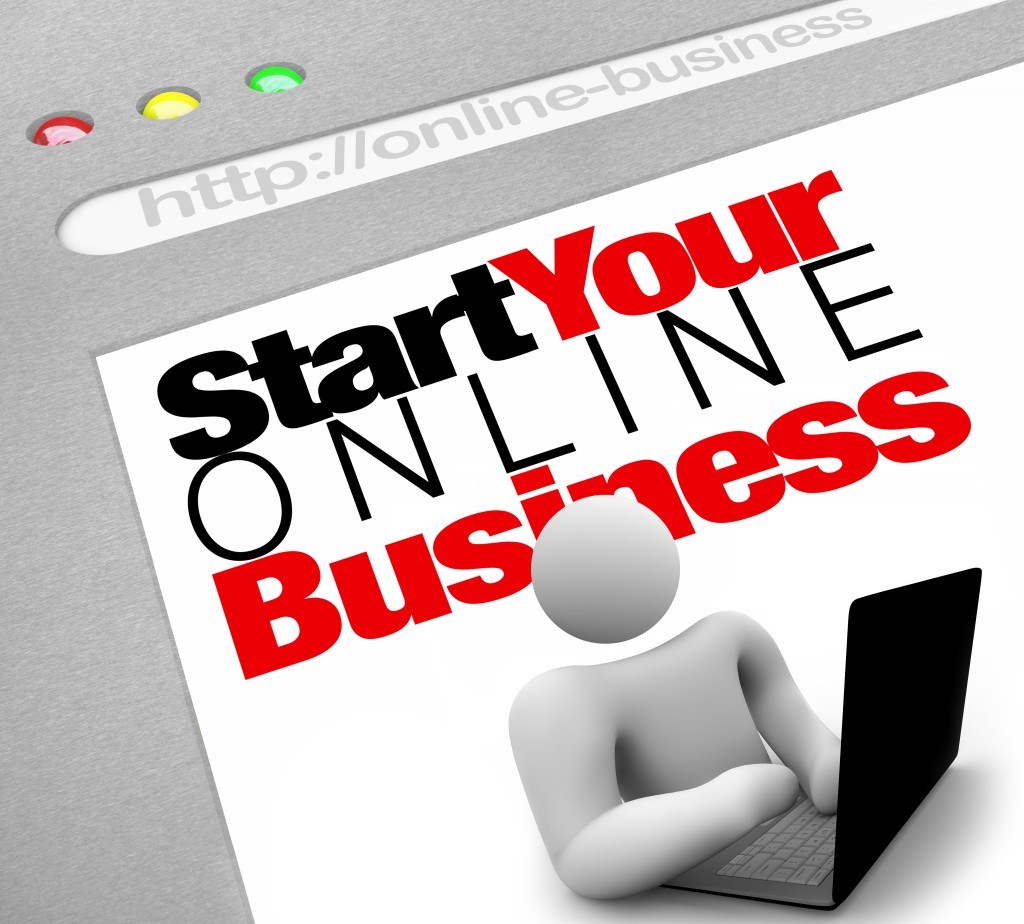 If you're someone who is wondering how to start an online business, know there are many ways to do it, but few are actually free/work and most fail. However in this tutorial I'm going to show how to get it right the first time as well as do it for free.
I've been in the world of online marketing for over 8 years. I've had great success and also a lot of failure. What I've learned in my time through this industry is that absolutely anyone, rich, poor, young, old can start and run a business online.
 How to get started:
 The truth is you really need only 3 things to have an online business:
1. An idea in mind. 
It all begins with an idea. When it comes to online business, you need to find a niche which is basically a group of people looking for something specific. Then when you find them, you can build a business around it and sell to that particular group a product that suits their needs. 
Look at every single business that exists, offline and online. What do they do? They full-fill a need. If people are looking for something, businesses offer it. The purpose is to provide the consumer with what they want and through a niche, it is that much more likely to happen. That is the goal of an online business.
To have #1 down, I recommend this:
Ask yourself if you have any particular interest/hobby/expertise in a field. If so, what is it? It really doesn't matter if it's rocket science or card collecting. If you possess knowledge in any field, you can turn it into an online business. 
Ex: I was very interested in kettlebells at one point in my life and found a niche (specific group of people) who would be interested in them: Women. This was MY idea, to create a website whose subject was women and kettlebells. It sells them DVDs and actual kettlebells. I actually own none of these things. I simply promote them through places like Amazon and earn commissions.
This site currently receives anywhere from 50-100 visitors on a daily basis. Full case study. This was an example of me turning my knowledge into a functional online business.
What if you have NO idea in mind? That's actually ok too. There are many people who don't really have a niche or aren't sure. In these cases, I would recommend that you do what is known as affiliate marketing in which you pick one specific niche and just gain experience through it. Then if it works out for you, stick with it. If not, you will still gain knowledge which you can then transfer over to something you may be more interested in.  
2. A website.
Every online business needs a website. It's your base of operations which is why you don't need to own an office and can operate from any area where you have internet access. Most "experts" charge you $1,000's to create a website for you. I quoted the word experts because I feel using them is basically asking to get ripped off. I prefer saving my money and making my own sites and I'm going to show you how to do it for $0. 
In recent years, the ability to make websites has become MUCH easier than you can even begin to imagine and the price of making them has substantially decreased and even become free. With the right program and a few clicks, you can have a professional looking website in as little as a minute, no joke. Here's the proof. It's completely free 🙂
Take this page you're on. This is an example of an online business website. It's nothing really fancy, but I created it rather easily using that method. And the bottom line is absolutely anyone can do this too. There are many tools and web designers who can do it for you, but this method is what I personally use and recommend because it's free, pretty much effortless and very simple to use. Check it out!
3. Proper training.
This last element is what can make you or break you really. There are SO many scams and wrong ways of doing business online that it's basically a mine field out there. Proper training means learning the right way to start an online business, building it from the ground up and monetizing through it in such a way that it provides a stable income.
To make sure this happens, it's much better to learn what works & what doesn't from a place that knows this subject from the inside & out, instead of going about it blindly or worse paying "experts" to do it for you which by the way I also highly advise against for these reasons. 
One of the only places which teaches you how to start a successful online business is this place. It is an organization which teaches you how to take your personal idea to the internet, build a site around and make it successful. They are also free to join so if you're serious or just curious about starting an online business, this the only source of proper guidance you'll ever need, I promise. 
Benefits of having your own online business:
You don't have to own a current business. When I first started, I never had a corporation, my base of operations was (still is) my home and I am my own person. You don't need an office. And if you already have a business set up, you already have 2 out of the 3 elements down. 
You don't need to own your own product. You can sell other people's products and earn commissions. You can also make your own if you want to.
You can get started right away. 
There is much more flexibility in having an online business vs an offline one.
You choose your own hours and work from anywhere.
Once you have a website up and running, your online business works for you 24-7. In many cases, it's on autopilot.
It is much less expensive to run and even free if you know how (which you already do ;)).
There is much less competition in the online world for businesses than there is offline, meaning the door is pretty much open for you to enter and mark your territory.
Much less red tape, meaning less taxes, less paperwork and much less regulations.Point being: There is A LOT of freedom in this industry.
No store needed. No need to pay rent. No need to take out loans.
Putting it altogether & getting started. 
Really the only things you need to make this work is this:
Proper guidance. You already know where to go. My recommendation is to start here.
A website. You already know where to go to get this.
Any idea in mind. Even if you don't have one, but just want to succeed, that's more than enough! I never had an idea in mind when I got started with this, but through proper guidance, you will, I promise.
The will to succeed.
If you have all of these ingredients, there is no reason why you can't start and run a successful online business. For the first 3 years of my journey in the world of online marketing, I have encountered many pitfalls, scams and situations where I wanted to quit. But the only reason I didn't was because I wanted to succeed and with same proper guidance I now recommend to you, I realized this success. 
Times aren't always blissful and there are certainly situations where everyone who has a business online will encounter trouble, just like in the offline world, but that's a completely normal and expected bump in the road to success. 
If you have any questions, feel free to leave a comment below. I will reply promptly within 24 hours :). To your success!