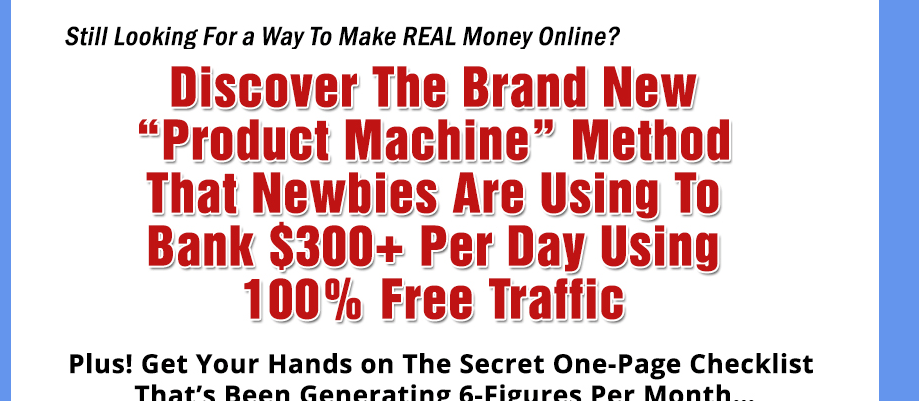 Quick Report:
Name: Digital Product Machine (DPM) by Alex Jeffreys.
Price: $9.95 2 upsells, $17 then one for $27/month. There is also a $1 trial for a 5 day period which I'm not sure is associated with one of the up-sells or is a new up-sell. I just didn't bother checking it out.
Overall Rating:

3 out of 10 stars. 
The information is decent, but nothing unusual. Some information feels missing.
Digital Product Machine in a nutshell:
DPM is really a basic explanation of how to make your own digital products and sell them on JVZoo. Resources and video training is provided to help you do this. 
There is both detailed and broad information on helping you create your own product. On one hand what I read and heard made me feel like I was getting good information for what I paid, but on the other hand some information was a bit complex to understand or even too simple and as though some pieces were missing. 
The main product of Digital Product Machine explained:
You're looking at 5 videos, 2 audio files and 6 downloadable eBooks in the members area.
The 5 videos total to a few hours worth of content in which Alex goes over DPM and explains in both complex and simple ways how to create your own product.
Some of the information was spot on with how I would approach making your own product so in that area, I agree with Alex, but other things felt a bit unnecessary such as his long brainstorm chart where he breaks down his business model. I think it confuses more than it clarifies.
Other videos deal with helping you make a sales page convert better, where to find profitable markets and other related things that go into the whole business model. 
When applying the DPM model which is basically another way of saying making your own product, you're looking at the following ingredients:
You need a product that helps a specific group of people (niche).

You need a sales page with a check out cart. 

You need to provide OTO's or up-sells after purchase (I would recommend this be optional since I can't stand this).

You need to collect an email list from those who buy from you for future returns.

You need to have joint ventures and sell your product on places like JVZoo.
This is basically it and honestly, the whole set up isn't as difficult as it looks. In many ways while checking out DPM, I was reminded of a program called $7 secrets which had a lot of similar strategies listed, only they provided me with a sales page to use where as DPM gives you resources of places where you can hire someone to make a sales page for you as well as writing your content and other things (basically outsourcing). 
The 2 audio files basically supplement the videos you see.
The 6 eBooks are also a supplementary guide to give you links to the resources I mentioned for outsourcing as well as charts and the models laid out for you to see.
Another up-sell to keep in mind if you buy:
Besides the 2 up-sells I mentioned earlier, there is another in the members area once you enter which takes you through 4 videos and tries to sell you for some coaching with Alex Jeffreys. The 4 videos have about 2 hours worth of content to look at and while some of the information is valuable, I felt most of it was trying to sell me on the idea to register with Alex.
There is no price to this offer, but you do have to answer 21 questions which basically ask you how much you're willing to spend (Nothing to $25,000 range) as well as other questions involving what you want to work on, if you have a current website and how much you're willing to work on it to make it successful.
I don't know Alex or if this offer is worth checking out,  but what I do know is that online coaching in general is overrated and greatly overpriced. With all the information you can find online for free nowadays mixed with so many places not providing up to date training, it's really hard to find some place you can trust. 
Overall coaching isn't something I'd ever spend $100 on, let alone $1,000 or more. There's many people out there who claim to be gurus but fall short of that category and end up being just great salesmen. 
Pros:
There's OK information on making your own product.

A lot of video content available.

You can get a lot of ideas from watching DPM's videos.

Having your own product can yield great rewards, although there are cons. 
Cons:
Making your own digital product will require multiple investments. The more experienced you are in this, the less you'll end up spending.
Just creating a product isn't a guarantee it'll sell well. Good marketing has to do into it. 
I believe more detailed information could have been included in DPM. I feel the missing pieces kind of make you want to try the other offers Alex has. There's better places that teach you more comprehensive ways about making your own product and selling it, like Clickbank University.
Final Rating: Digital Product Machine

Yellow Flag (Caution)
3 out of 10 stars. The information felt very general to me and I don't feel like I've learn many new things, plus I feel going forward from the information in just that site alone (excluding the other offers) will be difficult to do.
Note: Alex Jeffreys is not Alex Becker (a possible misunderstanding, as they are 2 different people).
My final thoughts:
The product isn't bad, but that's pretty much the only good thing I can say. I didn't like the up-sells nor the other offer once you enter the members area. Other than that, much of what Alex discusses can absolutely work.
It's just that going on his version of how to do it isn't where I'd do it from because the cheapest version of DPM which is the one I purchased (excluding the up-sells) felt very broad and the most expensive (where you add in the up-sells) is going to cost you potentially a lot of money.