Quick Report:
Name: IMPho (Internet Marketing Phorums) by Allan Payne.
Price: $1 trial, 7 days, then $27/month.
$1 trial, 7 days, then $67 every 3 months.
$1 trial for 7 days followed by a $147 lifetime plan (one time buy)
Overall Rating: 7 out of 10 stars (Very comprehensive program on pretty much all the ways to make good money online)
IMPho in a nutshell:
This is a program that is designed to help beginners make money online (although higher level training is there too). Members have the option to go through a specific step-by-step course or elect to do the training which covers most topics related to the business of making money online. Here's my 10 out of 10 course though that's even better.
I didn't really add up all of the training modules, but there's 100's to choose from. Some are short videos and tutorials while others get into very detailed instructions on where to do, what to do such as ways to set up your website.
A forum is also available which from what I saw is somewhat active. Support is good on this site and Allan himself also helps the community. You also have the ability to network and build a relationship with other members which you can then join with to create partner projects or just share and consult with one another. 
The training modules: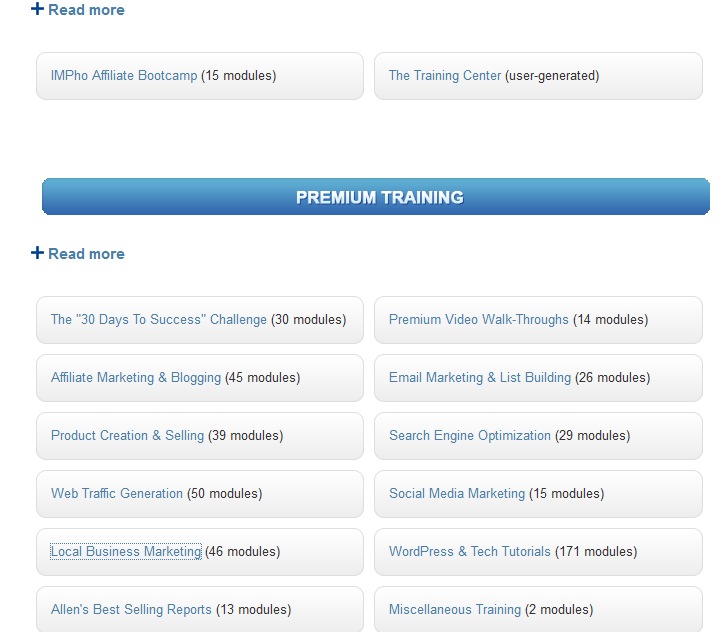 Let's go through them in order. At the top you may notice 2 training modules. These are part of what's known as the starter area. The IMPho affiliate Bootcamp basically gives you resources to promote the program to other people.
You get emails, affiliate links, and other tools to help you with this. By the way, while that bootcamp is good, my top choice program for learning this stuff also has it's own bootcamp course and through it I made over $200, see details here.
The training center sends you to the forum area where people share their success and strategies for succeeding online. A lot of these people have used the training from this program.
Some methods I saw there really go around many different topics so while there are many ways to succeed, people may get confused on where to start so personally I wouldn't place too much weight on that area. The most important in my opinion is the one which comes next and that's in the Premium section and the 30 days to success challenge.
This is the actual place where you learn to promote IMPho. Remember the affiliate bootcamp provides resources to make this happen. The 30 days to success challenge provides the actual training to do this. 
Now here's a couple of things to keep in mind:
1. While you are allowed to apply the training to any topic you choose, Allan recommends starting with the make money online niche and promoting his program and when you're done with that to use the same experience/training for any other niche. 
2. Unless you purchase a higher level membership to this program, you won't be allowed to go through training following day 7. I tried and here's what I was told:
I understand this is done to avoid abuse of the system and because the training I saw until then was very top notch, I have no complaints about this temporary stop put on my account. And because I know online marketing, I did look at the titles of the other training within this training and combining the quality of the previous training to what I would have learned had I upgraded, I'd say the training is going to continue being very good. 
I'd say out of all the training, this will probably be the most important because in my opinion it would be the easiest to follow if you're a beginner. In many ways it lays the foundation for the other training which is actually optional, but it's there in case you don't want to do this part.
The one program I rated higher than IMPho (Wealthy Affiliate) for these reasons:

What about the other training though?
Rather than get into everything, I'll say this:
A lot of it is very detailed with video instructions and tutorials I found to be highly informative. You can see the list of topics covered in the image I posted above.
The great news is that unlike the previous 30 days to success stop I ran into, here this didn't happen. I had full access to all the training and tutorials.
The only real problem I'd say is that some of the training felt a bit old school for me, especially when some tutorials were talking about link programs. I'd stay away from those, but aside from that, the rest is very good.
Keep in mind that there is a lot of information to go through. I consider myself above intermediate when it comes online marketing and even though I cruised through a lot of the training knowing what was going to be in it, it still took me a long time just to do that.
If you're a beginner, I doubt a few days will be enough to go through the training and even less likely that you'll be able to understand it all. A lot of information is on that site and if you're going to really try to make something happen, take it slow. You may have to re-watch or re-read certain tutorials and remember, there is always the forum where you can go to for help.
Pros:
$1 trial available.

A lot of information to look through.

Much info is very credible and works.

Good-excellent level support.

Allan does mention that succeeding online takes hard work. No get rich quick schemes here which is important to point out!
Cons:
Some training recommends things I personally don't like like backlinking which makes me feel it's a bit outdated in a few areas.

I would like to see some tutorials removed/evolved.
Final Rating: Internet Marketing Phorums

Green Flag
7 out of 10 stars. Very good program with more than enough information to get any beginner started with online business. Visit the official IMPho site.
My final thoughts:
Had I discovered this program when it first came to the scene, I would rank it much higher, but I feel as time went on, some of the strategies that worked then may not be as effective today (link building training they have for example). But this is still one of the best I've ever reviewed though. Allan put a lot of work into it and he did a great job.