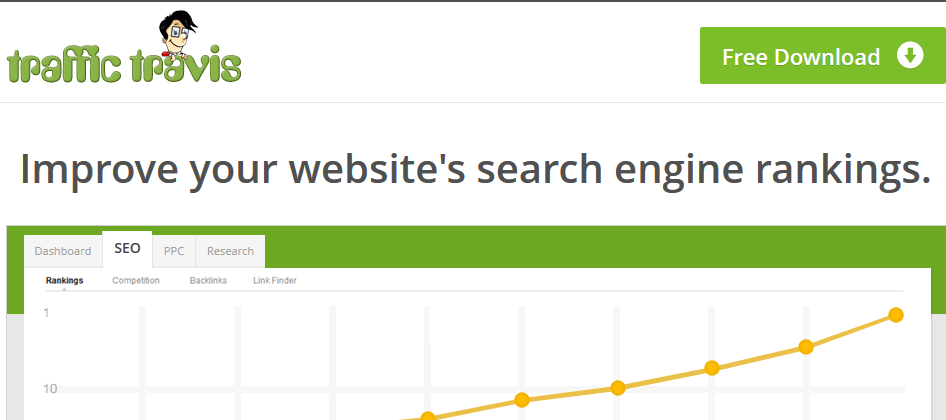 So if you want the short story, it's this: Programs like Traffic Travis do give good data on your website, but honestly, I don't recommend it because much of this program is outdated and you can use free, and updated tools for this type of stuff (more explained in this review).
Quick Report on Traffic Travis:
Creator: Mark Ling.
Price: $97.
Rating:

3 out of 10 stars (yellow flag).
I tried version 4 of Traffic Travis recently and prior to even doing so, I had a feeling I was not going to be overly happy with this program for a number of reasons.
Unfortunately my prediction came true. What I will say is that the program might have been a good idea 5 years ago, but in today's SEO world, I don't believe it will bring you much success because a lot of it is outdated in my opinion and uses methods of marketing that I also feel might have negative effects on your site. 

And by the way, when I first wrote this review, it was in 2014, and now it's 2019, so I find it even LESS relevant.
Traffic Travis in a nutshell:
It is basically a program which is meant to "monitor" your website and give you tips on fixing it up in ways to improve it's results in the SERPS. You get information on what to do add to your site/blog, as well as what to remove in order to boost your page rank and other areas of your site.
Think of a report you're typing up. This is your site.
Traffic Travis is basically the program which corrects that report and says where you have grammatical errors, run on sentences, spelling errors, ect… and shows you how to fix it.
But in this case what it shows you to do is fix it so that supposedly Google likes it (or how it believes it should be so it likes it) and not necessarily your audience and this is ultimately why I can't recommend it.
Additionally you also get research tools as well as a keyword tool. Here is a screenshot of the main area once you enter:
On a side note, if you wish to use the keyword tool, you'll need to connect to a Google Adwords account. I don't like this because it reminds me of Market Samurai which did the same thing and I felt the numbers I was shown were outdated. I only use 1 keyword tool with success and that's Jaaxy.
Now what I did like was that you can try this program for free. Although access is limited, you can test drive it without putting up a credit card and that's always a bonus in my book.  There are also video tutorials available within each option to help you navigate the whole program better.
Why I can't recommend Traffic Travis:
Programs like Traffic Travis in my opinion are irrelevant and even (sometimes) counter productive this day n age when it comes to SEO. They seem to focus more so on trying to make your site such that Google likes it.
They'll give you tips on having a certain amount of words, not making too many H 1-3 headings, and keeping things in certain orders so that Google sees it, it likes it.
In theory this sounds good, but this process is something that is constantly changing. Google releases updates to it's algorithm every few months and this changes the game each time. One thing that has remained constant is this:
Write high quality content and you will be rewarded. DO NOT try to trick search engines.
These 2 things are your golden key to success in SEO and you don't need Traffic Travis to tell you this. In fact, from what I've seen, it doesn't. It just shows you if you contain certain things on your site that will make it more attractive to search engines but doesn't tell you if what you write is high quality content.
Furthermore, I do NOT like it's emphasis on backlinking because from what I've seen, the kind of backlinking strategies they teach can be counter productive for SEO. I've read a blog from Traffic Travis on this subject awhile back and while I agree with them on certain points, I feel the "importance" on backlinking is going to lead people to make mistakes on their site which can have it ruined.  
For instance, some of the research information you gather on competing websites show how many backlinks they have. This leads one to believe that in order to beat that site, you need more backlinks. NOTHING could be further from the truth. In fact, if you try to out backlink an other site, you're looking at a one way ticket to being slapped/blacklisted. I've experienced this before and it wasn't a pleasant experience. Full story on Bring The Fresh.
It is also important to note that Traffic Travis is associated with Affilorama. If you buy it, you will also get a trial membership to Affilorama which basically has a lot of training on affiliate marketing as well as up-sells I am not a fan of.
What I will say is that Affilorama is a pretty good program which I rated as legitimate, but I feel there are much better options out there as you'll find below. Here's at least 6 other awesome affiliate programs (See my #1 pick there).
Pros:
You can try it for free without a CC.

Connects you with Affilorama which I rated as legit.

Walk through videos make navigation easier.
Cons:
I feel it's outdated information.

It's focus on backlinking is a mistake in my opinion.

I don't believe you need this program to succeed in SEO.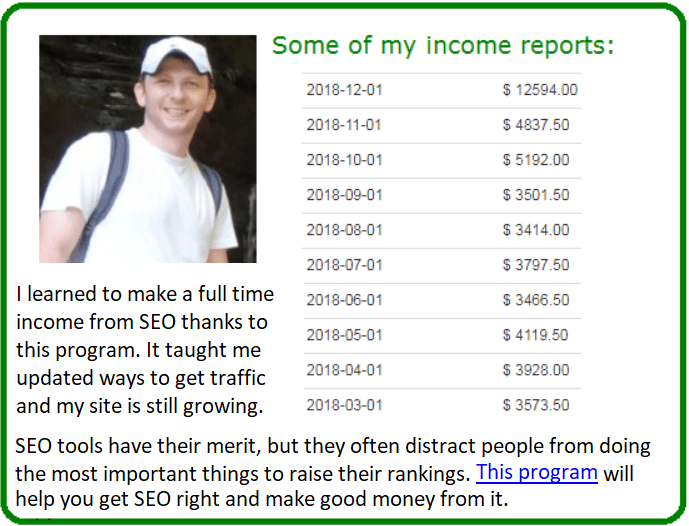 Final Rating: Traffic Travis

Yellow flag (Caution)
 3 out of 10 stars: It can work, but I can't recommend it overall. If you want to succeed in SEO, here is my #1 recommendation, Wealthy Affiliate.
My final thoughts:
Success in SEO in 2014 and likely going further, emphasize continues to build around content and helping people, not trying to "Over SEO" your site so that Google loves it. This kind of approach is backwards nowadays and it takes away from what Google has said time and time again it wants to see: high quality content which means writing things that help people.
THIS leads to success and through Traffic Travis, I feel the backwards approach which one may even consider stone age-y, is not the right way to go. In truth, success in SEO really is about delivering something people love and in my experience this means:
A lot of content that answers questions.

NOT trying to trick search engines into thinking your site is awesome.
My advice for anyone seeking to succeed within SEO is to follow a more up to date approach, like the one taught at Wealthy Affiliate. Really, SEO is not really complicated. Just follow the advice of good programs, apply it and your site will grow.