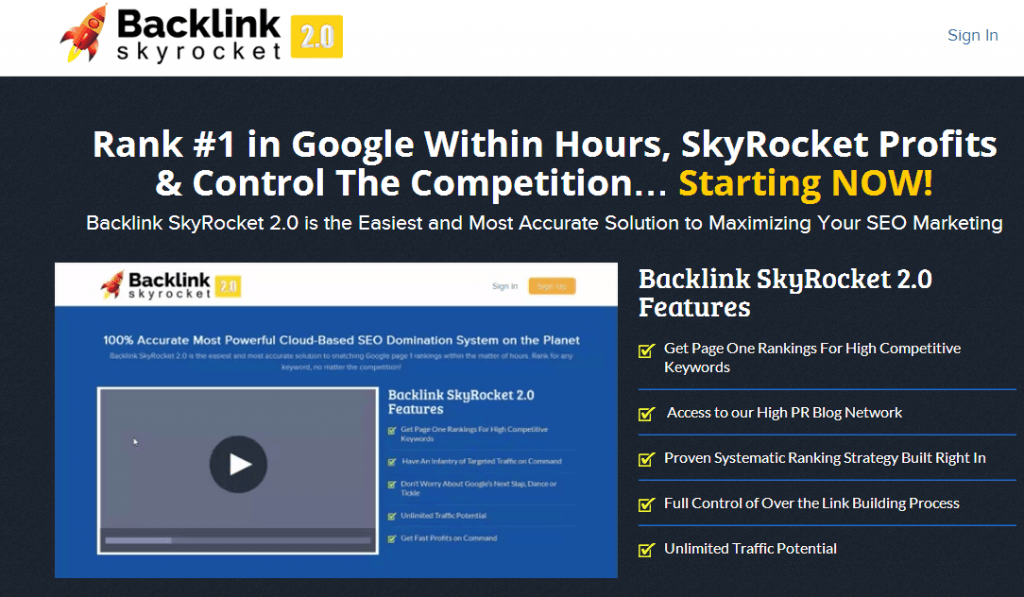 Quick Report:
Name: Backlink Skyrocket (Currently 2.0) by Dan Lew.
Price: $47/month or $97/month (Plus potential up-sells).
Final Rating:

1 out of 10 stars (red flag).
I never trust programs like Backlink Skyrocket.
It's not because it could be a scam, but because I've had bad experiences in the past with services which eerily promise the same things as this one. 
While I didn't buy the program, I know from experience & doing SEO for a long time that this approach to building a business is not recommended in my opinion. 
Backlink Skyrocket in a nutshell:
Just another backlink program that promises you fast results in the SERPS via providing you with what they call "high quality" backlinks. But I did add the red flag to this program for a reason and I'll explain why later.
You select your site & keywords you wish to rank for and this service distributes your content across different social networks. The purpose of the system is to provide you with "healthy backlinks" back to your site/blog which in turn is said to provide higher authority and faster results within search engines like Google.
Why I will never advise buying this:
As I mentioned earlier, I had prior experiences with backlink services. At one point in time, I purchased backlink packages from a reputable program called Bring The Fresh which was offering them. Much like Backlink Skyrocket, I heard a lot of similar promises and claims being made:
Healthy backlinks.

Fast SERP results/high rankings.

Safe & natural link building process to prevent suspicion from Google.
Because at the time, I wasn't as experienced in SEO as I am now (my income reports and results) and wanted fast results, I took the bait, purchased them to the tune of $100's. I did see relativity fast results and my site/s were ranking for some very competitive keywords. 
The truth is that with backlink packages, you can absolutely see results, but they are almost always initial. What inevitably happens is that Google can & will spot your site for trying to use this type of approach to SEO and when they do, they almost always slap your site down in the SERPS or blacklist it. Either outcome is devastating to an online business. 
I am mentioning all of this because I see a lot of the same things being offered with Backlink Skyrocket. Many of the same promises and guarantees I saw with Bring The Fresh. I've also reviewed other backlink programs before and to this day. not a single one has been rated high in my book.
I don't believe in using these programs because the end results is at least in my experiences always bad. It is a form of black hat marketing in which those who use the system are aiming to get fast results, but the method/s which they use are extremely risky in the sense that they try to exploit loopholes in the systems of search engines. 
Almost always what ends up happening is that search engines, especially Google become very good at spotting websites who use these programs/systems. I'm not just talking about backlinks. I'm also talking about content spinners, content creation tools and pretty much anything else you can attribute to trying to get you fast results in SEO.
In most if not all cases, these tools have the same negative side effect in that your site gets slapped down in the SERPS as I said earlier. Usually this comes about whenever Google releases a new algorithm update which is usually when sites that use black hat marketing methods get destroyed in the SERPS. 
Yet with Google update, the black hat industry still tries to find the next loophole and Google continues to try and stop it. The same cycle continues, but one thing that is important to note is that it's getting more and more difficult to find these holes in the system. 
Programs like Backlink Skyrocket 2.0 may very well do what they promise, but I've seen WAY too many contradictory examples of programs like it to know better. I simply cannot and will not trust this and would never recommend anyone uses this approach to SEO. 
How much it can really cost you to use this program:
There are 2 packages to to Backlink Skyrocket:
1 for $47/month. This is called the Basic package.

1 for $97/month. This is called the Gold package and obviously offers more perks.
But I strongly feel this is not all you're going to pay. Like many other programs in the internet marketing world, the prices you see on the sale's page don't show you additional offers (up-sells) you will likely have to go through once you buy the program. 
Though I did not buy the program, I am almost certain, again based on previous experiences that this program has 1 or more up-sells within the actual member's area once you buy it and like most other places I've tried/reviewed, they never tell you about these things until you buy them. But if you HAVE purchased this program, please let me know if I am right/wrong. If I am wrong (which I doubt), I'll remove this part. 
Something that baffled me…
While looking at their sale's page, under the sale's video is a screenshot of the keywords this system supposedly ranked websites for very high positions. Yet the keyword is covered up. Why is this? Don't they want to brag about how they rank for highly competitive keywords? 
Well whatever the case is, I though it was pretty funny to do that because you CAN spot the keyword/s they show by simply looking at the bolded words which they didn't bother to cover up in other searches (fail?). Here is a screenshot:
I think this looks very unprofessional, but you be the judge. I also checked out the competition of these keywords through a tool called Jaaxy.
Yes there is a lot of competition for the keywords above and again it is possible to see results with backlink programs like this one, but remember, these results are almost always going to be initial and with the next Google update, your site may possibly get slapped.
Pros:
Like with most other backlink programs, you can get high rankings quickly (initially).
Cons:
Backlink programs tend to get websites Google slapped/blacklisted.
Final Rating: Backlink Skyrocket
Red Flag
1 out of 10 stars. I will never recommend a backlink program for SEO. It's too risky. If you want to see TRUE success in SEO, you need proper guidance and for that, here is my #1 recommendation.
My final thoughts: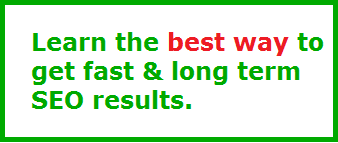 I learned my lesson trying this kind of stuff in the past: Never try to trick search engines or be sneaky about getting high rankings.
In the long run, this will destroy your online business. If you're looking for quick results and don't care about long term sustainability, then perhaps this might be a program for you, but I think differently in this regard.
If you have a personal review/experience with Backlink Skyrocket you'd like to share, I'd love to hear about it!