Before you consider buying Home Profit System, read this review. I will explain why it's a scam and what is better.
Quick report:
Name: Home Profit System.
Price: $97 & $77 (discounted). Possibly up-sells after purchase.
Final Rating:

0 out of 10 stars (scam).
If this is your first time checking out a program like this, boy are you in for a treat.
It's been awhile since I've stumbled onto one of these link posting scam sites. In fact the way I found out about Home Profit System was by sheer accident. I was reading the comments section on an MMA blog and saw someone advertising a place called Jobshunt (Saying they found some great opportunity. I knew it was already a pitch for a scam, but I went through to see what the newest one was).
After going to the actual domain name, all I saw was outgoing links to a program called Home Profit System. Here's the actual screenshot:
This folks, is an example of a fake jobs website and there are plenty of them out there.
Update: 6/12/14: It looks like Jobshunt.com is no longer in service (surprise, surprise!). But don't be surprised if you see the page above appear under a different name. This stuff happens pretty often with these scams.
With prior copycat scam sites like these, they advertise nearly identical pages. Not all of them promote the same company, but I feel this type of business is associated with either 1 group of people or companies inter-connected in someway who go out, make these websites look legitimate, promote them and advertise the same program, just under different names.
In this site's case: Home Profit System. But remember how I said nearly identical pages? Well I said this because in nearly 80% of the other link posting scam sites I found, I found them through pages which look like this: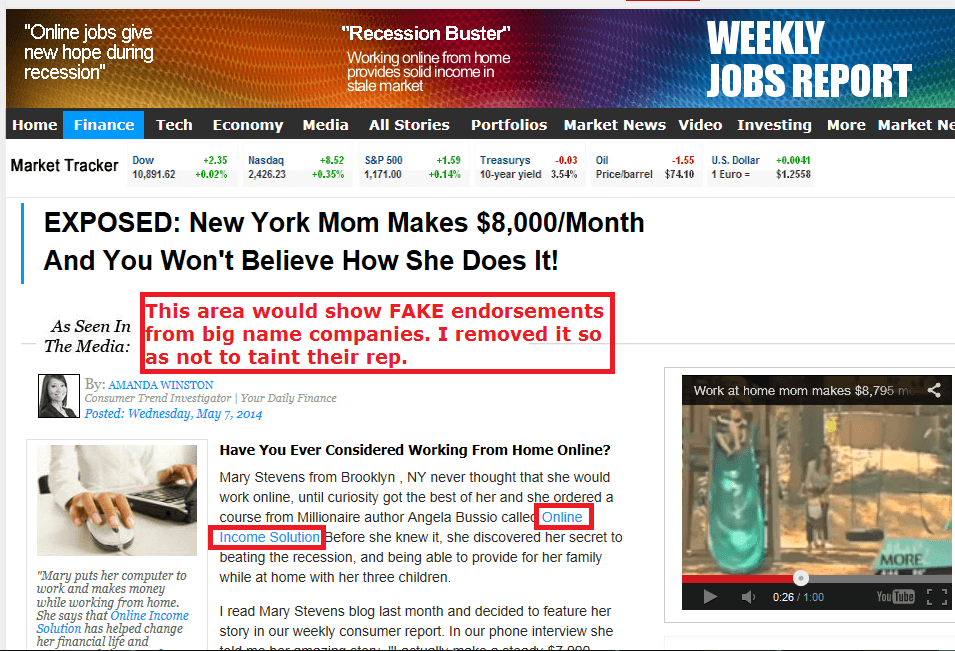 Now you be the judge and tell me how different this page and the one above it are. There's very few differences between them both in terms of looks, but they always try to give you that "official" impression when you visit them to make themselves seem legitimate.
Also notice in the second picture, I've removed the area where they show big name networks. This is another deceptive marketing tactic they use to give themselves the impression of legitimacy. The big name networks are NOT associated with these place. 
Where it gets worse:
Just a quick note…

Now getting back to Home Profit System…
I know you're probably wondering just how bad this scam can get and I'm not going to tease you about. It really does get worse. When I clicked on any link that was supposed to take me to Home Profit System, I was transferred over to the following page:
This was the final nail in the coffin for me. I've reviewed Online Home Careers University (OHC) before and it was just the same type of link posting site that promised you riches. In short: It's a scam. 
Because Home Profit System is now linking me here leads me to believe that it may have gotten too many complaints from other people and moved away from that name to this one. This type of action is very common with these companies:
Get too many complaints, remake the site or call it something else to fool people. And sadly this trick works. And in 2019, this is still continuing folks.
So my warning to you right now is this:
1. Stay away from sites that look like the ones I posted above. The ones which look "official" of claim they are endorsed by big name companies. This is NOT true.
2. Always do your research on these places (and if you did join these types of places, do this.), ESPECIALLY if they claim you can make easy money. Out of all the programs like Home Profit System I've reviewed, not one of them has yet to be considered legitimate.
And it gets even "better"!
If you noticed in the top of this post, when I was doing the quick report, next to price, I said up-sells possible. Well what are up-sells?
These are extra offers you're given after you make your initial purchase to try and wiesel more money out of you. Such a tactic is disingenuous and I am NOT a fan of it.
But with programs like these, I've heard horror stories where the information you put in can have you being called up by sales reps trying to get you to buy VERY expensive internet coaching packages which can cost you $1,000's. Now I don't know if this happens with Home Profit System, but it wouldn't surprise me if it did.
The people who call you up are aggressive in their sales pitch and put you on the spot in trying to make that sale. If you ever find yourself in such a position, NEVER make a decision when you're in a hurry or being pushed to make one. This will only lead to financial disaster. 
Pros:
There's never any pros with these scams.
Cons:
Home Profit System links to OHC University, a program I've rated as a scam before.

The site is VERY disingenuous and makes you believe you can make a lot of money doing easy work.

The photos on the site aren't real. 

The big name companies you see on some of these programs do NOT endorse these places, nor are they in ANY way associated with them. It's just a false connection these scams try to make you believe.
Final Rating: Home Profit System
0 stars 
Red Flag (Scam)
0 out of 10 stars. Scam. Seen too many others like it to know better. I will never recommend this place. If you want my #1 pick for a legitimate program that works, here is my #1 recommendation.
My final thoughts:
There was a point in time when I though I caught up to all these copycat scams. That's because I wasn't finding any others, but the truth is this type of stuff is nearly impossible to stop. It's too profitable for them to quit and it's extremely cheap to keep repeating the same formula and suckering more people into it. In fact, here is one popular site which often posts these scams (daily).
This is why the best thing you can possibly do to prevent yourself from ever getting scammed is to educate yourself and one simple rule of making money from home/online is this: There is NO such thing as a get rich quick scheme. 
Programs like Home Profit System pitch themselves as being a very simple solution and most scams do. But once you buy them, you realize it's not what you paid for. In the many other programs like this one that I've reviewed in the past, I've heard some CRAZY horror stories. Not once did I ever receive positive feedback. Think about that.
If you have any personal experience with Home Profit System or know of any other company you feel may be like it, let me know below 🙂
Update: 1/23/15.
While doing research for more scams, I ran into a program being advertised in India (online) called the Online Cash Course. However right under it, it also said Home Profit System. Be careful everyone, this may be another change in the system.