Uncovering how an MLM works is something I do on this site and in Work at Home United's case, I figured out how it works to write this review. So let me explain what's up and if this program is a scam.
Quick report on Work at Home United: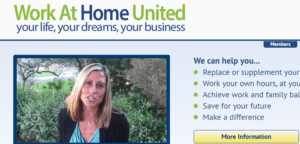 Price: So to sign up and view their presentations and get info, is free, but then to get involved with the company involves getting involved with an MLM program, and that has it's own prices depending on the products/memberships you pay for…

Overall Rating:

2 out of 10 stars

.
I wish this site was more transparent when I first saw it, because the problem is that they don't really tell you a lot of the things I'm about to tell you on what happens if you get involved.
I don't think the program is a scam but the lack of information and vague sales stuff is off putting for me, in addition to the fact that this whole program is focused on MLM promoting.
What is Work at Home United (WAHU)?
This is how the business model goes as far as I understood it:
It is a site that is affiliated with Melaluca.
Melaluca is a big MLM program and it's actually one I am not against, but I don't work with either.
The purpose of Work at Home United is to get as many people into it's program so their members/referrers can make money of the people and then give their members the same opportunity (to build a team basically). They also try and get you to buy Melaluca's products. 
The basic purpose of this program is to grow sale for the MLM program, but at the same time to teach it's members to make money attracting other people into the same, Work at Home United system, which then attracts them back into Melaluca. 
So in short, this is how Work at Home United works:
You are basically joining a team that is connected with an MLM program. But these things I just told you aren't disclosed until you get deeper into the program and it's this lack of info that I had to find on my own, that I found suspect and unattractive about the company (among a few other things I'll address shortly).
And this type of opportunity is common in the MLM world where you have programs like Work at Home United sprout to get people into a particular MLM/high ticket program while helping their members succeed with it (see Online Team Builders, Global Affiliate Zone and CEO Movement as examples).
On the disclosure part of this Work at Home United review: 
There are a few things I need to disclose about this review, from my end that is:
1) I am not a part of this program or Melaluca.
2) I have heard good things about the Melaluca MLM from a trusted, successful businessman who actually was one of my online business coaches. He told he it's one of the few, good MLM programs out there. However, he is also not a member of that place. Both of us practice a different kind of business:
Affiliate marketing and we prefer that over being involved with team programs or MLM's for that matter. This kind of goes into the my next point:
3) I honestly do not advise MLM programs to anyone, especially if they are supposed to join some team that is connected to the MLM program. One of the reasons is that in order to make money through the MLM, you need to get a lot of referrals into it, so the commissions start adding up to substantial amounts and being part of the team is in my experience a bit binding, vs building your own business, individually. 
Adding to this, the things I saw on the Work at Home United site being a bit too vague, just basically telling me the opportunity, but not getting into details, then asking me to fill out some personal info, really pushed me away from it. I suspected I'd either be getting involved with an MLM or high ticket program based on the clues I saw on the site. So I guess what I am saying is that I don't trust them and that's my personal opinion.
Temporary rating: Work at Home United.
Red Flag
2 out of 10 stars. Making money through team building and MLM programs is very, very tough. I personally believe there are better ways to make money, but like I said before, I did not join that program, so please note that my opinion of this program is just…my opinion. But at the same time, I am also an experienced online sales person and have a different way I make money:
How I suspect Work at Home United operates:
So I've seen this kind of program before, and I generally know how it plays out in terms of the sales funnel and what happens after you sign up, so my suspicions aren't out of nothing, they are out of legitimate experience:
First of all, I believe that after signing up, you will be taken to a recording video of some sort where you will be played the opportunity you are about to embark on through the WAHU program. You will be told about the income potentials, success stories and so on.
This will likely be followed by a membership joining option into WAHU itself and/or the Melaluca program. 
After that you will be told about 2 ways you can make money with the system: 
1) By promoting products by Melaluca.
2) By referring/signing up people to join the WAHU team, and if you choose this option, you're going to be shown a compensation disclosure on how the commissions get handed out. Generally with these types of programs, you get paid little for 1 or a few referrals, but it compounds and snowballs as you get more people under you, meaning more referrals = more serious money, but that's a VERY tough thing to do in MLM programs, so I'm warning you about that right now.
Followed by that will probably (hopefully) be some training on getting referrals or making sales. Now I hope in this regard, Work at Home United shines, because it's very tough to make sales for MLM programs. I suspect they'll be teaching you things like:
Cold calling.

Messaging/promoting to friends and family.

Creating your own website and selling the MLM products and opportunity to join the team there as well as training on getting people to the site.
Now I am honestly against the first 2 methods and have seen it taught many times in MLM programs. However, the third option is where there can truly be money made as I make my money through my own websites and the visitors who buy from them.
Here's how I teach/help people make money from home: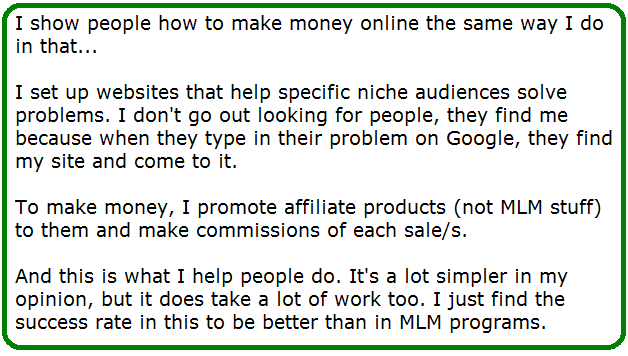 If you're interested in that model vs the MLM one, here's more info:
And if you are a current member of Melaluca and/or Work at Home United, I'd love to know more about your experiences within these programs and if you have additional info I could apply to this existing review of it.