At least that's my personal opinion. Give me a minute to explain (As someone who is not promoting Online Sales Pro or calling it a scam).
I'd like to give you my unbiased perspective on Online Sales Pro in this review. Firstly, it has great uses, but in my personal opinion, it isn't necessary to have for multiple groups of people.
This review is going to discuss who those groups are, as well as those who WOULD benefit from using this program. So let's get into all of this, right now:
Online Sales Pro, the quick review: 
Price: $25 a month or $37/month for an upgraded membership.
One up-sell of nearly $1,000 is available upon purchase, which also entitles the buyer to re-sell that and get 50% commissions off it. 
What is it? It's basically a program which provides you with 2 main perks:
1) Opt-in pages to be used on different platforms:
Email marketing, mobile marketing, social media marketing and so on.These opt in pages look very good, are customizable, and save you time from making them yourself.
2) Once you collect a lead (you need to have an autoresponder for this, which is not part of Online Sales Pro), you get in-depth reports on these leads and can then send them followups to turn the leads into buyers. 
Who is this program for?
In my personal opinion, this program is best for people who have:
An existing internet business and a website.

And they also have traffic coming into their site from multiple sources (social media, search engines, ect…)

Those who have experience with lead generation and understand the way the system works.
Who is this program NOT for?
There's numerous groups in my opinion:
Beginners who have no website, no email list, no traffic, little/no experience. If you fit ANY of these classifications, just start here and I'll personally show you how to begin in this type of business.
Honestly, if you're any of these groups, I don't believe Online Sales Pro is something you need. Instead what you need is a program that'll help you create an online business that would make it good to be used with a system like Online Sales Pro and here it is:

Overall Rating:

6 out of 10 stars

.
This is a good program in that it helps you capture leads through good looking opt in pages, and then provides you with organized reports to help you market to those captured leads.
Lots of people have indeed seen positive results from using it.
Do I recommend it?
Even though I'd classify myself as one of the people who WOULD benefit from it, I decided not to use it. Why? Because I believe I can make my own opt-in pages and organize my own captured leads without a program like this. I'll explain my position further in a moment.
Why I have that position on Online Sales Pro:
I've been in internet marketing for a very long time. I have used lead capture programs and studied under various different programs that teach it. Here's some examples of the good ones:
Market Hero. A great program that shows how to generate traffic through paid ads on Facebook, YouTube and Google Ads.
Note: I no longer recommend Market Hero, stick to one of the two recommendations below:
Wealthy Affiliate. The best out of any internet marketing program I ever tried.
They teach traffic generation through SEO, paid ads as well and provide free tools as well as top of the line support. To date, Wealthy Affiliate is the program with which I have made most of my money in internet marketing through. See an example where I followed Wealthy Affiliate's bootcamp training here.
Elite Marketing Pro. This is also a great program that provides training on lead generation as well as other forms of marketing. I've only dug a little bit into this system but I've been happy with what I learned and saw.
Then there's also a plethora of other good programs I learned from. But those 3 are the ones which had the biggest impact on me.
Why am I mentioning all of this? 2 reasons:
First, I want you to understand that I know my stuff. I do affiliate marketing and I have made money through lead generation, SEO, PPC, YouTube and other avenues that are out there (good money).
Second I want to say that through all of this experience, I have come to an interesting conclusion about programs like Online Sales Pro and that is…
They're good, but you can do without them.
Why do I say this? Well because:
I find that most people who try to advertise their business or website on the internet, do not understand how all this stuff truly works. They don't understand proper traffic generation techniques, they don't understand how to find the RIGHT leads (which is the laser targeted kinds). 
And based on what I saw from Online Sales Pro, they don't exactly teach you enough about how to do all of that, they just really offer you good tools to have ONCE you have that type of training down.
Point being, if you don't have that stuff down that I just mentioned, then using a program like Online Sales Pro may help, but the underlying issue is your knowledge of traffic, conversions and figuring that out, which if you do, then Online Sales Pro would be good to use. 
But in my case, as I said before, since I do have the stuff about traffic down, I still decided not to invest in this program, because I just don't believe I need it.
I've personally made good money, squeeze pages on my own (and they work fine). In terms of organized charts and all the other perks, the programs which I currently use already do that for me. For me personally, I do not need a program like Online Sales Pro. 
Let me give you a simple example:
Suppose you have a website or a physical business which has a website. Sure getting clients and leads is a must to get it to grow, but if you don't understand traffic generation or where to get that audience the proper ways, buying a program like Online Sales Pro won't really do much to help you.
Sure they offer nice looking squeeze pages, but where do you place them?
How do you market them?

How you handle the leads once they come in?
These questions are really important to understand because most people frankly do not know about this stuff. From what I know, Online Sales Pro teaches social media marketing, which is ok, but to be honest, there's better ways to drive traffic to your site.
Without that big part of the business handled, that being TRAFFIC, there's no point in using programs like this. 
Furthermore, another BIG LESSON I learned which makes programs like these not really necessary in my opinion is that you can just do this stuff on your own.
A person who understands traffic generation and making sales does not need a third party program to come in and offer them customized squeeze pages, because they can make them, themselves in minutes. That's up to you though, considering that Online Sales Pro offers some pretty nice pricing that gets you a lot for that. 
But I personally know about making my own squeeze pages, and through that approach, I've collected 10,000's of leads of my own efforts.
It's easy to get distracted by fancy looking programs that give you nice looking things, but if you don't know how to use that, you're just wasting money.
And if you do know how to use that, you'll find that you can create all of that stuff on your own.
Now this doesn't make Online Sales Pro obsolete, not at all, you can still benefit GREATLY from it, if you know how to to that is…but my position on who needs this does narrow the field down to very few audiences who would truly benefit from it.
It is not a scam program (it's really good actually), but I'm only recommending it to the few groups who would TRULY benefit from them. Here is a link to their site and like I said, I am not promoting them.
Final Rating: Online Sales Pro.

Green Flag
6 out of 10 stars. It's a very well organized and designed program and it's prices are certainly affordable for most people to try, but in terms of it's practicality, I don't think most people would use this program to it's fullest.
My final thoughts:
One thing I want to add to this review is that understanding how to get the RIGHT traffic to your website is paramount. This ingredient is one of the most important in having your business succeed. Let me give you an example: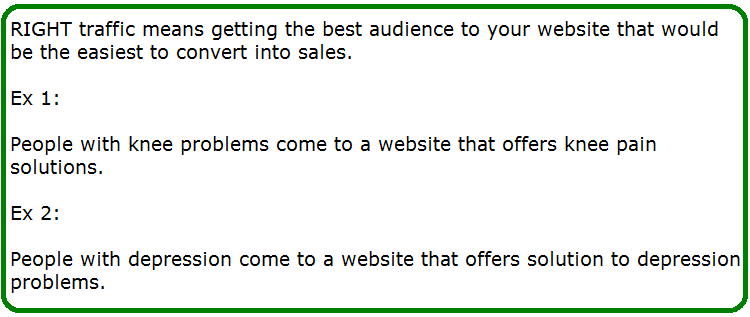 Most people and businesses make a huge mistake in this area in that they use an all around approach, get general traffic to their site, most of which is cold, that doesn't convert.
That's a waste of effort, money and time, you need relevant visitors. Once you have that, lead generation, sales and other stuff relating to success is WAY easier to achieve.
The best program I've ever seen which teaches you to drive the RIGHT traffic to your website is Wealthy Affiliate.
They teach SEO traffic generation in which you write content on your website intelligently so that Google picks it up and then sends the audience that you need, to your website. This eliminates a lot of the sales process because the right traffic, coming to a website already does half the work for you.
They also teach paid ads in which you can use programs like Google Adwords, Bing Ads, FB Ads, Adwords Express and other things to also drive that right traffic to your site. 
Their training is what has led me to create multiple websites, drive the right traffic to it and make a full time living off that process for years. This training is completely applicable to any existing business and individuals too.
Online Sales Pro does not really get anywhere that deep into traffic generation.
So whether you're a beginner, someone who owns a website that needs that right traffic and/or a business that needs more website traffic, I would consider Wealthy Affiliate the place to learn to get it from.
As for lead generation, once the RIGHT traffic comes to your website, it's very easy to get their email and make them a client. The fact that they already are on your site, seeking your content makes them easier to convert into clients.