No it is not a scam, end of review. But seriously, Elite Marketing Pro has a lot to offer and I tried some of their programs. But let me say a few things:
Firstly, the whole program is awesome.

I did buy their Attraction Marketing Formula eBook and loved it.

I even promote some of their programs on my site.

Yet, despite these major pros, I still think a better alternative that is like Elite Marketing Pro exists and I'll be revealing it in a moment.
Quick report on Elite Marketing Pro: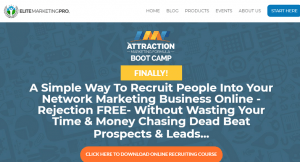 Price: There are several components of EMP, each with it's own price set:
EMP Pro: $297 a year.

10 Minute Traffic Machine: $997. You can also pay 3 times via $427 each month.

Ultimate List Building System: $147.

$30 million video sales letter workshop: $47.

90 minute profit machine: $47.

The Copywriter's guild: $197.

Ultimate email profit machine: $47.

Attraction marketing formula: $47, but if you join their membership, they discount it to $27. This is what I purchased.

Social media recruiter: $97.

LinkedIn Recruiting playbook: $197.
Depending on what business needs you have, one or more of the above packages will suffice that goal. But I'll talk about all of that in a moment. The first package for $297 a year contains 47 different courses of training.
Overall Rating: 6 out of 10 stars.
I purchased one of the packages within EMP and really enjoyed reading it a lot. This reflects the kind of high quality stuff that's insider the greater EMP network. I'll go over each package and give you details on whether or not to join this place.
Recommended? Yes this is a good network to join, but for people who are tighter on money or just starting out, I'd recommend this similar, but honestly better network instead: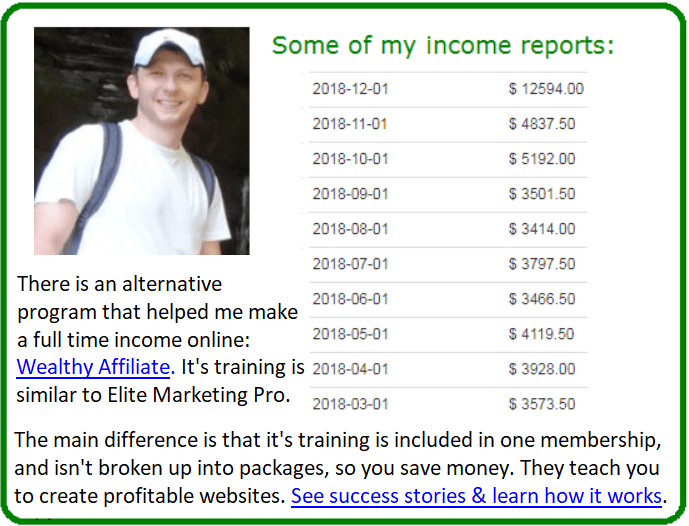 What is Elite Marketing Pro (EMP)?
Primarily this is a system that helps you succeed with network marketing, particularly on the MLM side. You can use the training beyond just succeeding at that though and in things like affiliate marketing, growing your own personal business or even becoming an affiliate for the EMP network itself as it offers a pretty good affiliate opportunity.
Overall, the main way EMP frames success in online business is through collecting leads, particularly hot ones which will be the ones buying from you. Their training, within their packages talks about various ways to collect these leads, monetize off them, create capture pages for your websites, collect traffic to those websites and so on and so forth, aka list building.
The main point of EMP is that it is made by successful business people who know a lot about lead generation and the packages that were created within the EMP network reflect how you can get those results too in your business.
Pros:
-EMP is a legitimate business. I honestly don't think there's any reason to think of it as a scam.
-The training is very high quality, at least from the info I got out of one of the training packages I purchased (The Attraction Marketing handbook). I picked up a lot of good new things I will happily be putting into my existing lead generation business.
-Support is pretty good and they even have a support phone number.
-An insider community is available to members.
-Training is organized. Once you buy a package, you will be able to access it from your personal EMP account and move through it like an educational program.
-Inside the EMP network is the ability to basically set up your own website, lead capture pages and other necessities to compile an email list without having to go outside the EMP realm and get those things separately, but there is a cost to this. I have a personal method for building email lists too that works.
-If you don't have a business, you can relay/send people into the EMP network as an affiliate and build your business that way. It's a legitimate option.
Cons: 
-I'm really NOT a fan of the fact that there's 10 different packages to purchase, each with a different price. Don't get me wrong, they are optional, some are cheap, others are very expensive but if they had all of these goodies organized into one system that you could pay monthly for, I'd gladly become a member. Right now, I don't know which of the packages I need and I doubt beginners will too. And that…
-Leads (no pun intended) to the point about how I don't really think this training is geared towards beginners. While it is very organized, the package I purchased had terminology and lingo that many newbies would hard to understand.
-Hypothetically speaking, should you decide to buy ALL of the packages within the network, you're looking at a total expenditure of over $2,000 (and one of the packages is a yearly buy at $297).
While based on what I've seen, the training is awesome and it certainly justifies such costs, again, I really wish EMP would have consolidated all their training into a main membership. Such a thing would easily justify $99 or $199 a month and honestly, I'd pay that amount (were it not for my other place that's better):
Final Rating: Elite Marketing Pro.

Green Flag
6 out of 10 stars. This is a great training platform on building an online business through lead generation. One of the main things I learned was about the psychology of the buyer and how to use it to get more sales. But on the back end though, the diversity in training packages was confusing for me and their individual prices were something I would not go for unless they were all packaged together into one program…
My final thoughts:
While the great news about this place is that it's legit, and that I am happy I found it as I can now add this to my short list of good, recommended places that teach good things about online marketing, it still doesn't compare as well to my top choice, Wealthy Affiliate.
It's a network from which I've learned pretty much the same things I saw in EMP, and it actually led me to success in the internet world.
Allow me to explain why WA is better…
Wealthy Affiliate has the same kind of and honestly more training that EMP has, but they consolidate all of into one membership for $49 a month, which I said I wanted to see with EMP.
They do by the way also have a free membership, but the point is, everything is accessible for $49, so the savings one would get from being a WA member vs a EMP one are substantial, and at the same time, they'd maintain having the same, high level education on succeeding in online business.
While EMP focuses mainly on lead generation as a source of making money, WA focuses on that AND affiliate marketing as well as many of the same things you learn inside EMP (traffic generation, making online sales, becoming an authority to your visitors, subscribers, ect…).
But I'd say WA offers more as it has way more training modules (EMP has 47, WA has 10,000's!), much faster support via a live chat and 100's of webinars to add to all of this existing value, and again, it's all inside 1 membership, not divided up into numerous packages, all priced differently, that add up to big costs.
Let me say that WA helped me become a full time internet marketer, and when I entered EMP and started reading their material, a lot of the same info on how to succeed was shown to me, which is great because it shows that there's high level training on both places.
But I'm going to say that if you wish to get success for less monetary risk, Wealthy Affiliate is going to be a better, cheaper choice on all fronts and if you wish to go with EMP, that's totally fine too as it's also high quality training, but my preference will be WA.
Elite Marketing Pro
$27 and up.
Pros
EMP is legit and a great place to learn from.
I bought and enjoyed their Attraction Marketing Formula.
Cons
I don't like that there's so many packages, each with a different price tag.
My top choice has everything included in it's paid membership so you save money.