When I originally did a review of Article Forge, it was in it's 1.0 stage and I criticized the program for various things such as scrapping content. Since that review, I've debated the creator of it and his newer, 2.0 version is much better.
In this review, I'm going to cover the good things about Article Forge, the concerns I have about using it and my own approach to content creation which has made me good money in this business.
Quick report on Article Forge: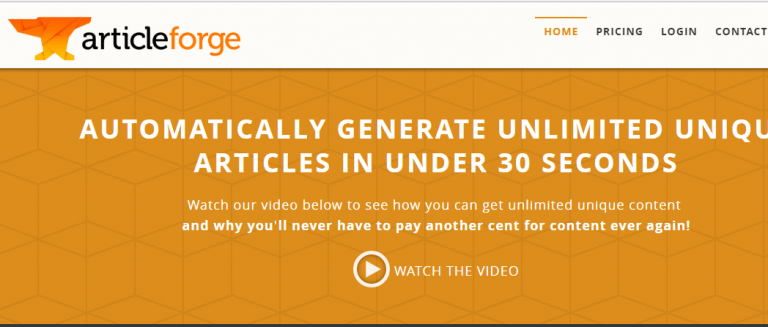 Price: There's 3 options.
1) You can join for free (a 5 day trial run).
2) $57 a month.
3) $27 a month if you go yearly.
Overall Rating:

3 out of 10 stars.
I never believed in these types of programs for helping you get good SEO stats. This particular program does produce some good content, but in my opinion, this type of approach may very well be a new approach to black hat marketing, or at the very least grey hat, which I have learned to stay away from since those types of things destroyed my sites in the past.
But I'll explain that later…
Recommended? No. I personally avoid tools like these and I'll tell you why shortly.
What is Article Forge (2.0)?
I want to explain it a bit backwards (And it'll make more sense that way, you'll see)…
In the world of SEO, there are certain terms and strategies of ranking sites that are considered risky and can involve SEO penalties. Those are called black hat techniques.
People who understand SEO generally stay away from them because of the danger they cause to our websites. The danger can be receiving a Google penalty in most cases, which can mean the total annihilation of an online business in many cases.
Some examples of black hat tools include content spinners and backlink packages. And tools like WP Auto Content are examples of similar programs like Article Forge, which you can probably guess, also get a bad review from me, due to the same exact reasons.
Now let's get to Article Forge and how it relates to what I just said:
It first seemed to me that Article Forge wasa content spinner, which is a program that takes pieces of info from multiple sites pertaining to a specific topic and lumps it all together. And by the owner's own word, it was when it first came out (version 1.0).
This was when I first found out about this program and like I said before, heavily criticized it for that. The problem with content spinners in general are a few things:
A) Content spinners by their own structure take content from other sources (And usually the original content creator doesn't know about this, nor do they even consent to it if they did know), which in both the offline and online world we call plagiarism and…
B) Even if that doesn't bother you, then consider the lumped up content you get from these programs is hard to read and understand.
Now all of that which I just explained applies to the typical, LOW quality content spinners.
Article Forge 2.0 however claims to be different. Here's how:
On the homepage itself, the explanation behind this program is different. Apparently, Article Forge's creator claims that this program is not a content spinner or a content scrapper.
No, instead the sales page which I assume is made by the creator of it goes on to say that the content Article Forge has an advanced type of system that creates high quality content on it's own and all you really need to do is enter a keyword of a certain subject you want content produced on and literally, within a few seconds, it will. 
If this is really true, then Article Forge is a legit program. And in fact, Alex, the owner of it and I have had discussions and his case for Article Forge 2.0 not being a content spinner makes sense, so I will give it that benefit of the doubt (and it's why I increased the rating of the software higher in this review).
I took a look at sample content produced by Article Forge 2.0:
Thankfully they feature some of the program's work on the sales page so you can have a preview of what it says and decide this for yourself.
Truth be told, the content I saw looked quite good, BUT a BIG problem I noticed was that the content didn't segway correctly from 1 paragraph into the next and often mixed up topics together, thereby making the content less high quality based on my opinion.
Have a look at this screenshot. Please read it and let me know if you agree:
This was a sample text Article Forge 1.0 delivered and when I read it, it made me very hesitant to suggest this software:
The text looks nice, but it looks like someone else wrote it and secondly, the topics mix up and don't really blend in together, despite being on one paragraph. That's my personal opinion based, but again, you should decide this for yourself.
Now this is a HUGE deal because if I am right, it indicates that this tool is doing the same stuff I said content spinners do in that it lumps other source's content together. This is my personal conclusion.
Update: Article Forge 2.0's sample:
Since Article Forge 2.0 had an update, they also have a new sales page up which shows another sample work, and here is what that looks like (this is a screenshot):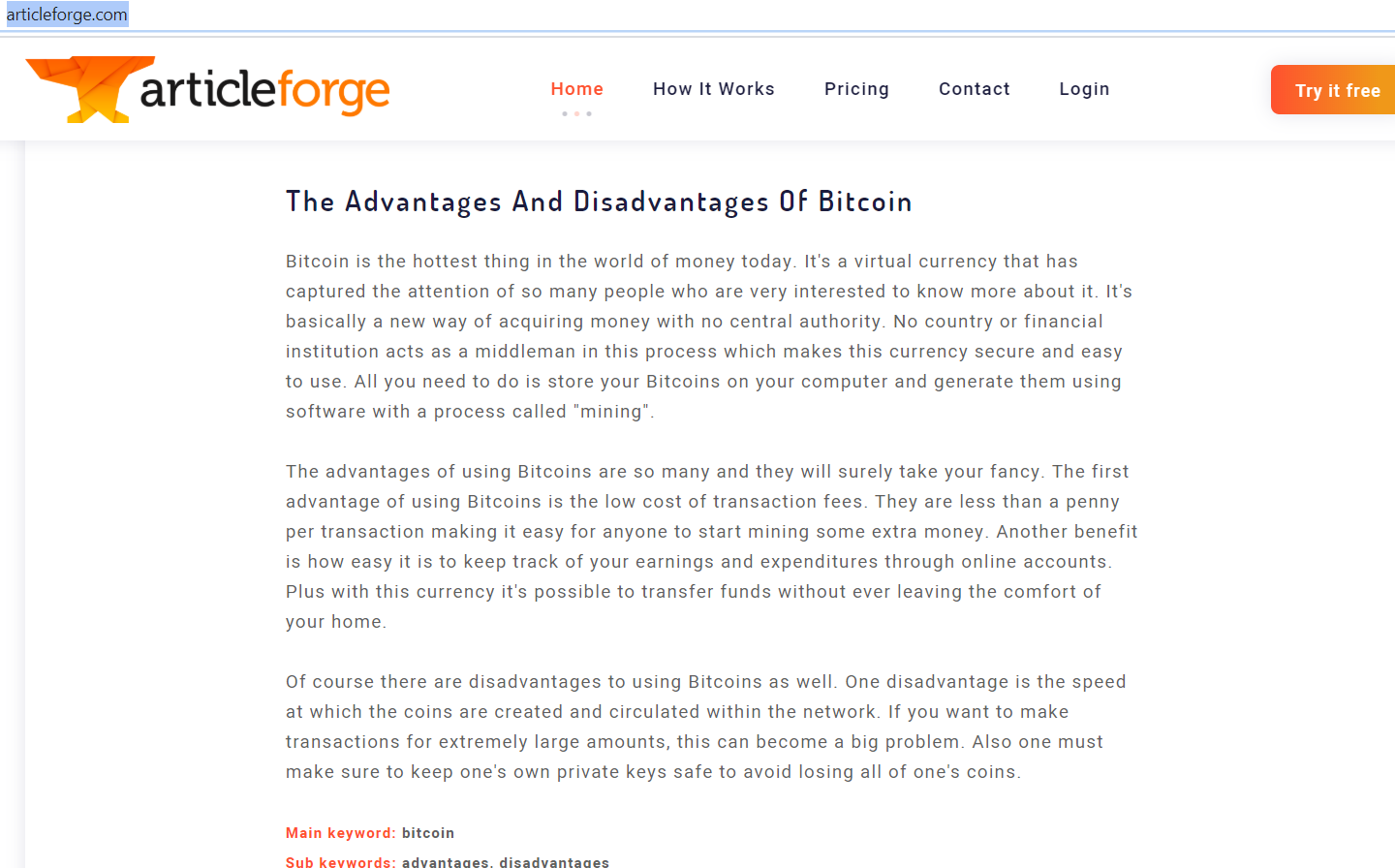 Here is where you'll find this sample and more.
Compared to the first sample I saw with the original Article Forge, this is a vast improvement in what type of content it produces, but I can still see certain things within the content that was produced that are questionable. 
The 4 main concerns I have with Article Forge explained (cons):
I've had multiple people, including the owner of this program leave a comment on this site claiming the program does not scrap or take other people's content (look below at the comments for proof) and that there is some sort of new type A.I system in this software that creates this amazing content out of nothing.
As I told the owner of this program, the other skeptics of my position and you, the reader, I do NOT believe this at all and I say this respectively.
The reason I don't is because of the following reasons (these are the cons in my opinion):
1) My experience on such topics dealing with auto content generators.
In my 15+ years of doing internet marketing (about me) and coming across various types of content spinners and content scrappers, most of which claim to be unique, they never have been such. 
I will say that Article Forge 2.0 once again does not appear to be a content scrapper, but still, one of the cons I'll talk about is the whole idea of auto content generation and how it's very risky in my opinion to use.
2) In my opinion, such an advanced A.I. system can't exist.
I do not believe in an A.I system that creates great, high quality content from nothing when you enter in a keyword.
In my opinion, there's just no such thing. Content that ANY software creates HAS to come from some kind of third party source. 
There has to be content reference for any type of software program to use, in order to create it's own version of it. Otherwise, such a program will have nothing to take info from.
The owner (below) mentioned the content is written uniquely, but I just don't believe it. To have 100's of words of high quality content produced in seconds, in my opinion means there has to be existing content to be leveraged of.
3) If con 2 is true, then this is the other issue:
There's 2 scenarios (one is good, and the other is not) in my opinion:
If the content Article Forge uses as reference is from a third party and without the consent, then no matter how much it changes the words to make it unique, will change that it's still plagarism. This is the bad scenario.
If however, the content Article Forge's software uses as reference is from it's own database of articles it OWNS, then it's a different story and that is the good scenario. 
Note: After my dialogue with Alex (see below), it appears that this is in the good scenario category.
My position is that if people use this software and type in various keywords of all sorts, then its pretty much impossible for Article Forge to have a database of articles to fit everyone's search queries, which would tilt my position and opinion more to the first scenario being likely.
4) SEO and automation tools just don't mix well in my experience.
I already said, I had experience with using black hat tools and grey hat ones when I started in SEO and how that destroyed my sites. I'm not saying it will happen if you use Article Forge and there's a chance you may get good rankings, but it is still a type of automation tool.
Automation tools in general when applied to SEO generally do not get good results because the content produced by the automation tool is sub par compared to what someone writes with their own work. 
In my opinion, auto content tools, even the good ones also make people lazy because they easily start to depend on content production via the automated way and less on their own hard work and this makes them focus less on decorating their site with the right images, content, internal linking and other important aspects that go into good SEO and that can actually hinder their own rankings, even if they use a system like this.
I always advise people write their own content or pay a competent writer to do it and I never advise they use automation tools because if they are borrowing content from third party sources, that can lead to SEO  penalties.

5) This con was addressed by the owner and removed (thanks Alex):
There WAS a 5th con which involved me testing the sample content Article Forge made and Googling it to see if there were duplicates. There were MANY and this made me think that Article Forge was just using the same content from those sources and copying it.
Alex, the creator of Article Forge claimed this was not the case and that the original content was produced by his software and then duplicated by other people, whose results I saw in Google.
To be honest, his claim makes sense so I decided to remove that con and I do thank him for being polite about it, I know nobody wants to have their program and hard work be criticized (and I don't like doing it either unless I have no choice) and certain owners don't exactly retort these types of reviews as well as Alex did. 
But I do however believe that no content, used by a software like this or people who duplicate that content (this part has nothing to do with Article Forge), would rank well in my opinion.
Final Rating: Article Forge.

Yellow flag (Caution).
3 out of 10 stars. Can you produce a lot of content with this program? Sure. But will it rank high? That depends and honestly, I'm leaning to saying no. If you want to get good first page rankings in Google, then you need to learn how to make your own content and put in the work.
Automation tools for SEO are generally very risky to use for rankings, so I stay away from them and never advise using them either.
I will personally stay away from this program…
My final thoughts:
Again, I do not believe after having done research that this tool and combining it with the mass experience I have on this, that this is as "advanced" of a tool as the people who pitch to me say it is.
Because I have done SEO, incorrectly and correctly and now make a living through it, I know about the most straight way of doing it to ensure you can make good money in it without risking Google penalties in the process and I explained how that works in con #4.
In my opinion, using Article Forge can be very risky for your site. I personally would not use it on ANY of my existing pages, not even to try and experiment with this theory. 
And again, in my opinion, you will be FAR safer and better off writing you own content and/or hiring a real human to do it.
Article Forge
Free-monthly options.
Pros
If the content produced by this software is from a consenting source, then it MAY work.
Cons
I do not believe this software magically creates high quality content out of nothing.
I stay away from SEO automation tools like these because I know about the risks they bring to website rankings.