Quick Report: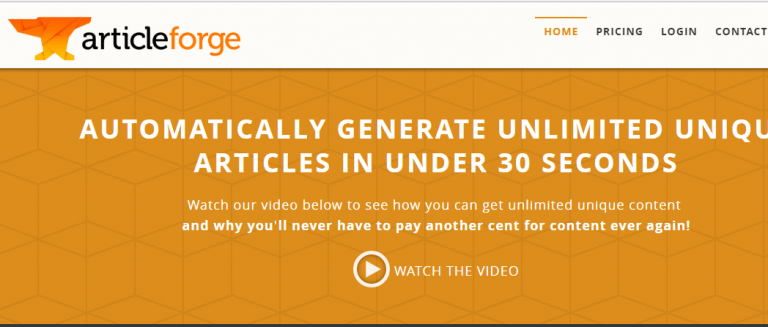 Name: Article Forge.
Price: There's 3 options. 1) You can join for free. 2) $47 a month. 3) $297 a year.
Overall Rating: 1 out of 10 stars. I never believed in these types of programs for helping you get good SEO stats. In fact, this in my opinion may very well be a black hat tool for SEO, which I have learned to stay away from since those types of things destroyed my sites in the past. I'll explain later…
Recommended? No.

What is Article Forge?
I want to explain it a bit backwards…
In the world of SEO, there are certain terms and strategies people stay away from. Those are called black hat tools. We stay away from them because of the danger they cause to our websites. The danger can be receiving a Google penalty in most cases, which can mean the total annihilation of an online business in many cases…
Some examples of black hat tools include content spinners and backlink packages.
It first seemed to me that Article Forge was (and I still think it is) a content spinner, which is a program that takes pieces of info from multiple sites pertaining to a specific topic and lumps it all together. The problem with content spinners is a few things:
A) They are copying content without the consent of the owner, which in both the offline and online world we call plagiarism and…
B) Even if that doesn't bother you, then consider the lumped up content you get from these programs is hard to read and understand.
Now all of that which I just explained applies to the typical, LOW quality content spinner. However…
Article Forge however claims to be different…
On the homepage itself, the explanation behind this program is different:
Apparently, it is a very complex program that does indeed look up content on many different websites, but nothing on this page said it takes that content and spins it. Had that been said, I'd stop this review right here, call it a tool for plagiarism and then call it a scam…
No, instead the explanation goes on to say that the content this program gathers is then interpreted by a computer and written up in a way as though a real person wrote it.
If this is really true, then Article Forge is a legit program. I mean I personally look at many sites pertaining to my site's topic to gather info and knowledge I can use, but I don't copy it. Instead I interpret it, add it to my existing base of knowledge and then come up with something completely unique and new. This is supposedly what the tool is doing too.
But is this to believed? Why I'm skeptical, very skeptical…
I stay FAR away from content spinners and I have to say this tool really appears to be that way to me. Now here's a few reasons why I say this:
1) I took a look at their sample works.
Thankfully they feature some of the program's work on the sales page so you can have a preview of what it says. Truth be told, the content I saw looked quite good, BUT a BIG problem I noticed was that the content didn't segway correctly from 1 paragraph into the next and often mixed up topics together.
Have a look at this screenshot. Please read it and let me know if you agree:
The text looks nice, but it looks like someone else wrote it and secondly, the topics mix up and don't really blend in together, despite being on one paragraph. That's my personal assumption…
Now this is a HUGE deal because if I am right, it indicates that this tool is doing the same stuff I said content spinners do in that it lumps other source's content together. It's the only rational explanation.
I absolutely do not believe there is a software program that can from nothing (like a human) produce unique content. It has to come from somewhere.
But let's give this tool the benefit and say that perhaps such a crazy thing happened and such a thing exists. Perhaps it's some sort of intelligent AI (I'm joking of course), but for the sake of argument, why not? 
2) The next test I ran…and it didn't produce positive results…
If Article Forge is taking content from other websites and lumping it together, then the best way to find out if this is true is simply to…
Take a chunk of text from one of their sample works, put it into Google, put it in quotes (to get an exact match) and see if multiple sites come up. If they do, then it's an unfortunately safe assumption to presume that Article Forge is indeed just another content spinner. So here is the test I ran…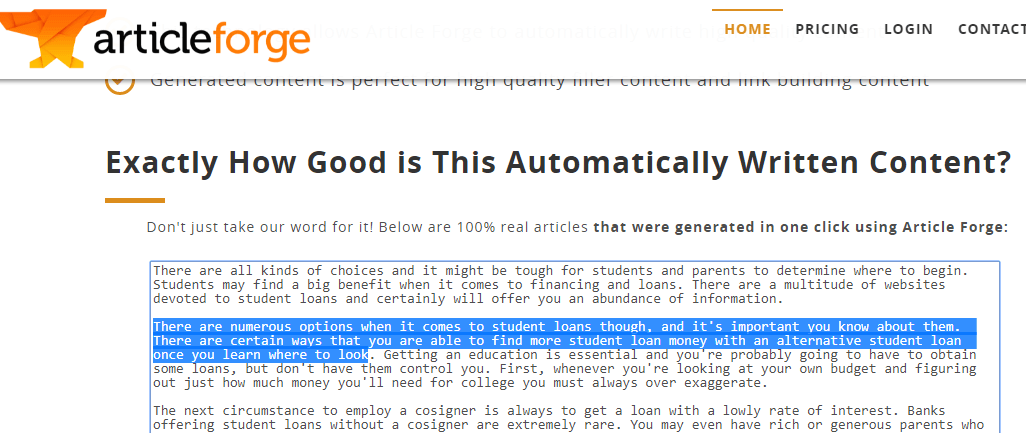 That blue highlighted text you see is the exact one I put into Google and here is what I got:
So when you take that exact text, Google told me there are exactly 68 pages with the exact text. And Article Forge's version is the second one.
Now you may think this is a high ranking result, but it is not. I put the text into quotes. If I take them off, I will not find Article Forge's version (I checked the first 5 pages of Google).
Long story short, my suspicion about this program was confirmed…
It is taking content from other sites. This is a VERY BAD idea if you're looking to do SEO. 

Final Rating: Article Forge.

Red Flag.
1 out of 10 stars. Can you produce a lot of content with this program? Sure. But will it rank high? No, because it will be taken from other sources. This is just another content spinner in my opinion, another black hat tool and another way to not get good rankings in Google. I personally will stay away from this program…
My final thoughts:
Look, based on what I saw, there is text being taken from multiple sources and that is for a lack of a better word…plagiarism. I do not believe after having done research that this tool is as "advanced" as the people who pitch to me say. I was skeptical at first, I wanted to give it the chance to prove me wrong and I ended up being right.
Content spinners are NOT the way to succeed in the SEO game guys. They are simply just another way to fail at it…
In my opinion, using Article Forge can and is probably very risky for your site. I personally would not use it on ANY of my existing pages, not even to try and experiment with this theory. I know how content spinners work and the consequences of using them so I just say no to them entirely…
You will be FAR safer and better off writing you own content and/or hiring a real human to do it, trust me.