I bought Rapid Profit System totally expecting it to either be a scam or low quality JVZoo product. Fortunately, with what I saw, I was surprised, because it is legit.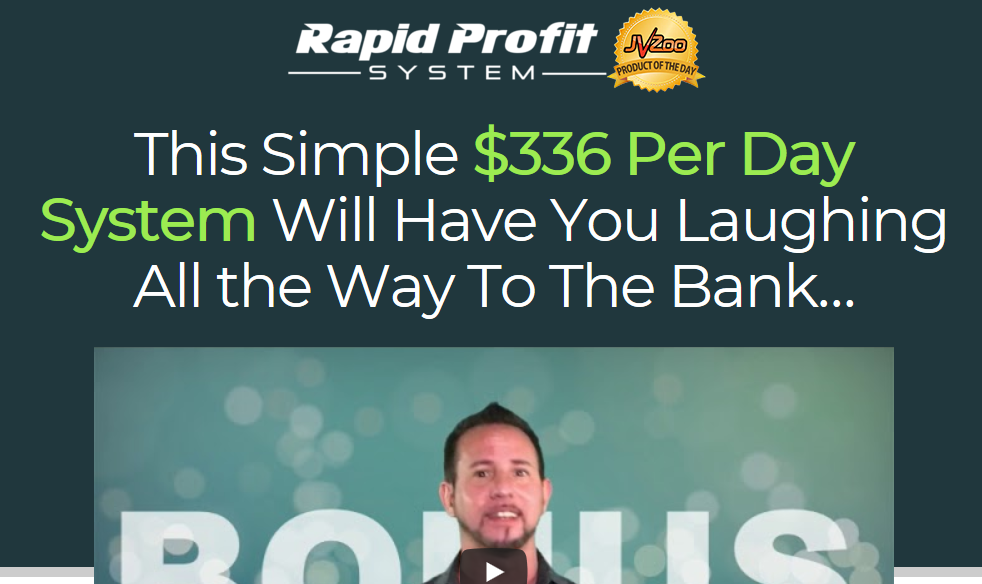 But how good is the Rapid Profit System program?

Is it for everyone?

And if it's not, then what else do I recommend?
Well that's where you need to read this review because I'm going to get into details on what's inside this program and who it's for (not many people).
Don't worry though, even if this program doesn't turn out to be perfect for you, I'll show you what is (it's better).
Let me start by explaining the basics of it:
Rapid Profit System, the quick summary:
Price:
$19. 2-3 up-sells and a webinar which I think will lead to a high ticket up-sell (not confirmed).
What is taught?
You are taught to target niche crowds within Facebook and how to run ads for those people, then you're shown the potential of this by being told to send them affiliate marketing offers.
Does it work?
Yes, but anything paid advertising related, especially Facebook ads, requires prior experience and trial and error testing before you can make this work.
Not only that, but you need to understand marketing at least on an intermediate level to succeed with this method, and that is where many people may not be suitable for this program.
Overall Rating:

5 out of 10 stars

.
There aren't a lot training videos, but the ones that are there are very long, very comprehensive and it is a good bargain to get this program for the current deal it stands at.
At the same time though, this isn't a method of making money online I'd recommend if you're a beginner as you may end up going through a long trial and error process and spending money before you figure out how to do this.
It's explained well, but in your personal practice, it'll take practice to make it work and that'll cost money. So if you are a beginner, my advice as someone who has been through many of these online ventures, is to start here.
Understanding Rapid Profit System (RPS) & what it teaches: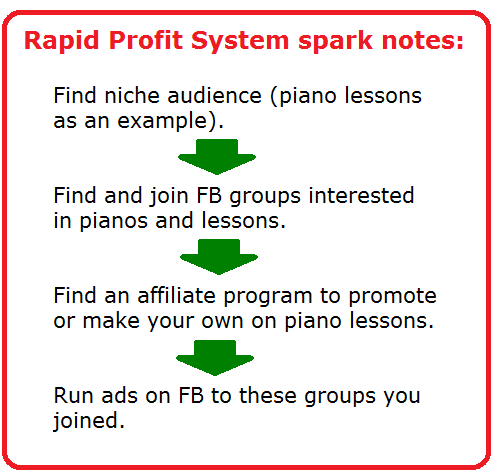 I'm sure no matter what your level of skill in internet marketing you possess that you will agree with me when I say that Facebook is a huge network and you probably already know you can advertise on it. 
Knowing this, what Rapid Profit System does is helps you narrow down specific audiences within Facebook (groups) and market to them.
Suppose I want to make money online selling piano lessons. 
Through RPS's training, I'd head over to Facebook, find and join groups with piano enthusiasts and just talk to them, just to see what they want. 
Then I'd either create my own product that teaches piano lessons or promote some sort of affiliate product that does and then set up an email list or website that promotes that product.
Then I'd use Rapid Profit System's training to target the people in these groups I joined.
Many groups do not allow advertisements within their community (rightfully so, as it would lead to spam), but you can still advertise to people who are part of these groups through their own individual accounts.
So that's basically what RPS would help you do, it would help you identify the niche, find groups within FB for that niche and then promote products to them through the Facebook advertising network.
That's pretty much the Rapid Profit System and it's all encapsulated in 3 phases: 
Phase 1 has about a 40 minute video on this subject.

Phase 2 has 2 videos getting more in-depth on this.

And Phase 3 has 3 videos detailing things like how to run FB ads.
Why do I say that Rapid Profit System isn't for beginners? The cons of RPS explained: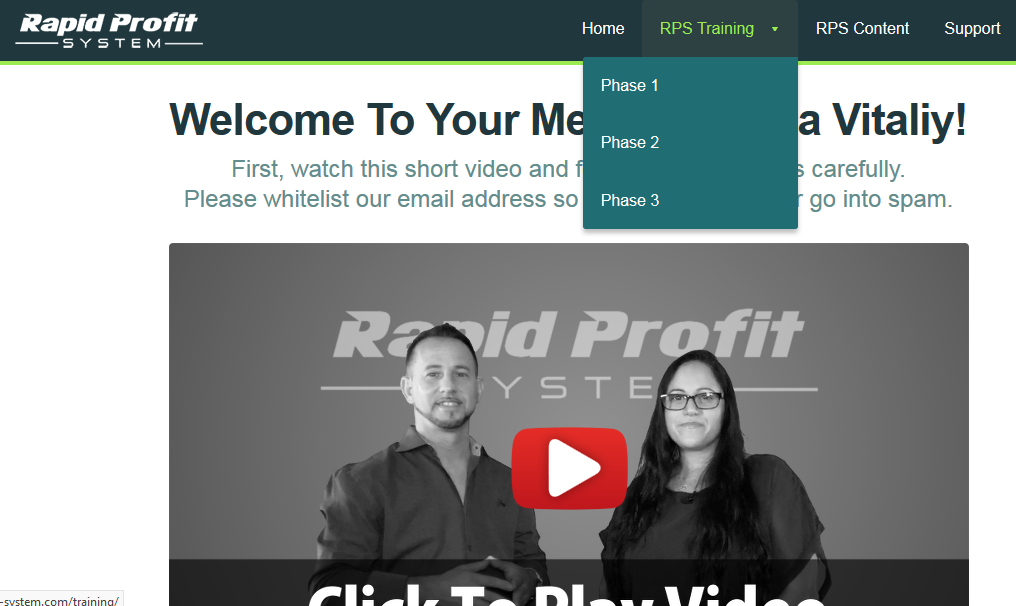 As straight forward as RPS is, the fact of the matter is that when you're new to online business, ads and marketing, it's one thing to see a tutorial like the one RPS offers, nod your head and feel like it's easy, but it's a completely different story once you start trying to do this stuff yourself.
Which is why it's better to start here as I said earlier.
There IS a learning curve to ANY method of making money online and in the case of paid ads such as doing them through Facebook, there's a whole other learning curve involved. 
I don't have an estimate for how long it'll take beginners to learn this as everyone is different in how they learn this stuff, but just know that whatever time it takes, will require that you possibly lose money in the beginning.
As a beginner, you're not just learning paid ads, you also need to understand how to create traffic funnels, email lists, websites and run sales pages, all of which requires it's own understanding, which also requires it's own learning curve.
The con explained:
And what I didn't exactly find useful within RPS was their lack of explaining these things. They sort of gloss over these important facts that beginners need to understand.
The training within the 3 phases of RPS can be summarized as "Target a niche audience through FB ads and it's easy", but it's not, believe me. It's certainly possible and it's SMART, don't get me wrong, but beginners, don't start with this, do this instead:

Final Rating: Rapid Profit System.
Green Flag
5 out of 10 stars. If you understand sales pages, email lists and have made sales online as an affiliate marketer or vendor, then you can definitely expand your knowledge with trying a program like. If you do not have knowledge in any of the fields I mentioned, I would not recommend this program.
My final thoughts:
Look, I liked this program, but I've seen many teach this sort of thing and I honestly got the feeling that the training within RPS was more of a summary of how to make money through FB ads and it didn't get into enough details on the other, unspoken issues that could arise (which is why it's not recommended for beginners).
I also got the feeling that they were trying to get me involved with their webinar once I joined, which spells to me that there's some other up-sell down the line which may be high ticket (it's normal to see with JVZoo products like this).
Either way, I got good info out of RPS, and I've explained for whom their training is best suited for and for who it's not, and if you're on the latter side, you already know what the other option is: Wealthy Affiliate.
Thanks for checking out my Rapid Profit System review.