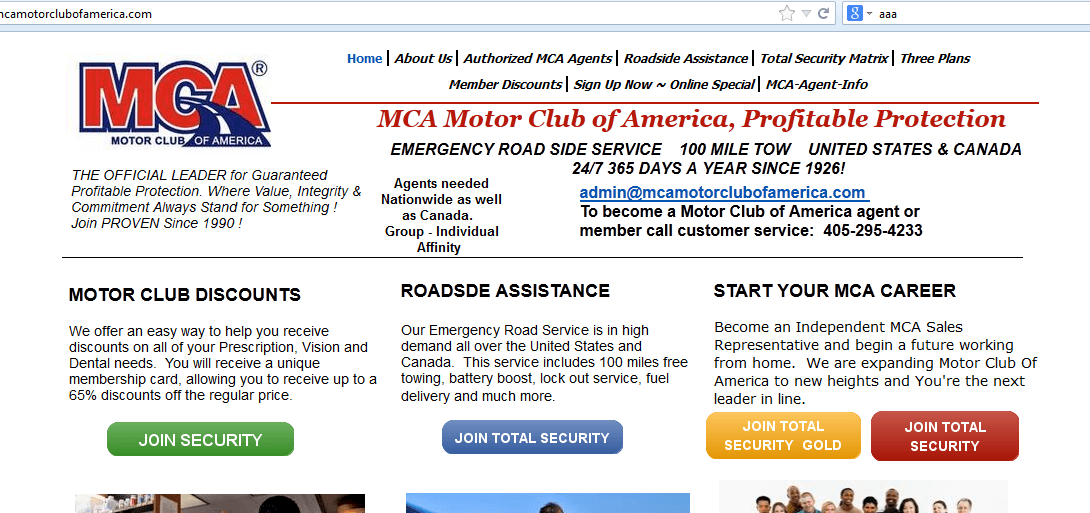 I promised I would find out if Motor Club of America (MCA) is a scam. I have come to the conclusion that it is not.
However, I'm not a fan of it's referral system (which is what a majority of my review of MCA focuses on.
I find it questionable for several reasons and if you plan on joining this business, whether to receive it's benefits or to promote it, you absolutely need to know what you're getting yourself into.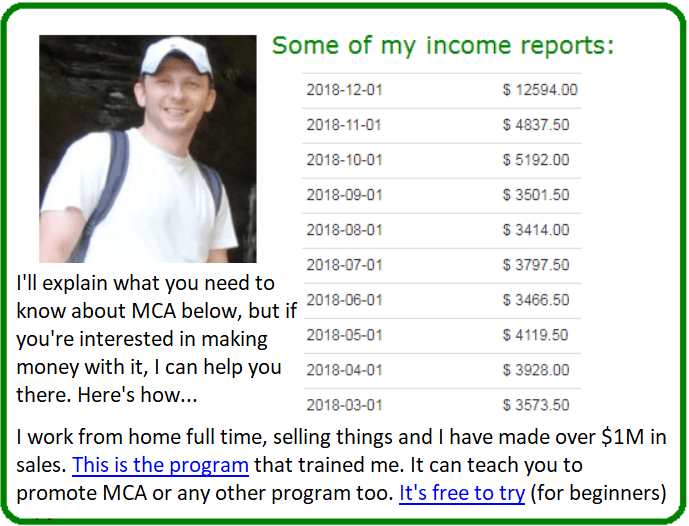 Motor Club of America in a nutshell:
Think of popular roadside assistance benefits you get from companies like AAA, your auto insurance and other places. This is what MCA essentially is. But in addition to that, they also provide you with benefits that go beyond just towing.
The price for being a member of this organization varies as there are several options. Either way, whatever membership you join, it will cost you month to month. And the overall price of this membership is higher than other competitors.
This certainly makes MCA less attractive for most people to try as well as the fact that it's not as mainstream as the other businesses that offer the same things.
But this is where things regarding MCA get interesting:
MCA also offers a referral program to it's members. In other words, when you become a member of MCA, you also have the option of recommending/selling it to people. If you can successfully do this, you can make monthly commissions from each person you refer.
In addition to that, you can also make commissions off people your referrals make as well! It's not going to be as much as people you directly refer, but it's something that adds up and people have been building entire businesses off doing this.
This is where the MLM question comes into play. MLM which stands for multi-level-marketing is a form of business where people can make money through a "pyramid like" fashion.
You not only make money through referring people into an MLM, but through people they refer as well, and downwards, but the money flows up. This brings up a VERY important question…
Is Motor Club of Amercia a pyramid scheme? 
The answer is no.
Pyramid schemes and MLM's have a lot of things in common (full explanation of MLMs and which ones are pyramid schemes), the most notable indicators being:
There being NO actual product.

There being/not being a product, but the price of it being priced beyond what's considered fair.
In Motor Club of America's case:
There is a product. It's a service being provided.

The cost of this service is relatively fair.
Taking this into account, MCA is not guilty of being a pyramid scheme. But I did mention before that I'm not a fan of it's referral program because it is in fact an MLM.
Some people are huge fans of this business model. I am not one of them.
There are exceptions to this such as MCA and the truth is you CAN make money through this program, a good one at that. But it is also true that a lot of people who get into this company are not going to succeed for a number of reasons, and one of them is because the MLM model is extremely difficult to get success from. Plus, it's questionable nature at it's core also adds to that in my opinion.
1) You do get training to help make selling MCA easier.
I can't vouch for it's training since I haven't personally seen it, but it involves doing offline/online marketing.
Also a special program called Get Weekly Paychecks exists to specifically help you market this MLM to people. However my top pick for promoting anything online would be Wealthy Affiliate and this is why.
Note: Get Weekly Paycheck isn't around anymore, but Wealthy Affiliate still is, and it's even better now than it was when I first reviewed MCA.
We're talking door-to-door sales pitches, business cards, trying to get your friends to join and basically things that are normally VERY difficult to do. Think about it, when was the last time you accepted a sale's pitch from a phone, a knock on the door or a friend? 
On a side note, there are training programs like Get Weekly Paychecks focused entirely on helping you promote MCA specifically, but they are going to cost you extra to try. 

2) Online marketing is probably your best bet if you're going to want to sell MCA to others.
You're looking at a market which is "monopolized" by insurance companies and businesses like AAA. How are YOU possibly going to get people to join a company when it's more expensive and the competitors are probably more convenient?
When I look at MCA's main website (an improvement from it's "original" one), it doesn't strike me as "official". And this is my first impression. Whose to say that others aren't thinking this too which makes the process of selling it that much more difficult.
This is where people who are MCA associates would say "Well why not tell them of the opportunity to make money with the business". That is a good argument, but then the question I pose is this:
Are you joining MCA to actually receive a service or to make money with it? Some people would say both, but those who say it's to make money are in my opinion people who shouldn't promote the business. 
I also find issues with the referral program because I am from a freelance point of view when it comes to making money online/offline. I believe if you're going to run your own online business, it should be through a personal passion/idea of yours. If your passion is to promote roadside assistance, then MCA may be what you're looking for, but you'll still need proper guidance to promote it.
With MCA, even though you can make money and do it from home, realistically you're looking at a 24-7 job where you'll likely be getting no customers (worst case scenario) OR calls on a daily/nightly basis (best case scenario) and trying to pitch the business to other people. 
Not everyone who calls will join and if this is something you're truly ready to do, understand that it will take time away from other things you could be doing:
Another job, working on a different business idea. Plus take into account that this like any other business will take time to develop. Don't except overnight riches from promoting MCA because it's just NOT going to happen.
Pros: 
It is not a pyramid scheme. 

There is an opportunity to make money promoting the business to others.
Cons:
It is basically an MLM program. 

If you can't vouch for the quality of the business, I don't believe it's right to sell it to others. 

Competitive market to succeed within. Online marketing is probably your best bet. 
Final Rating: Motor Club of America (MCA)

Yellow Light (Caution)
3 out of 10 stars. You do get services and the potential to make money is there, but overall I don't think it's worth the time/effort and there are MUCH better alternatives.
My final thoughts: 
While MCA does have a good business model to promote itself, I question whether the quality of the service they offer is really that good. There are a lot of people saying that it is, but if you dig deeper, you'll see a lot of these people are saying that because they want to refer you into it to make money in the process.
This makes me question whether the business is as good as they say. This is my biggest "issue" with MCA. 
Honestly, if you're reading this, are an MCA member and NOT promoting it, I'd love to hear your thoughts on whether or not the service is as great as the competitors. If it is, I may raise my rating of this business.