I'm going to show you 3 rules that will always help you make and find profitable niche ideas, and ones that will always have the potential to make you good money too.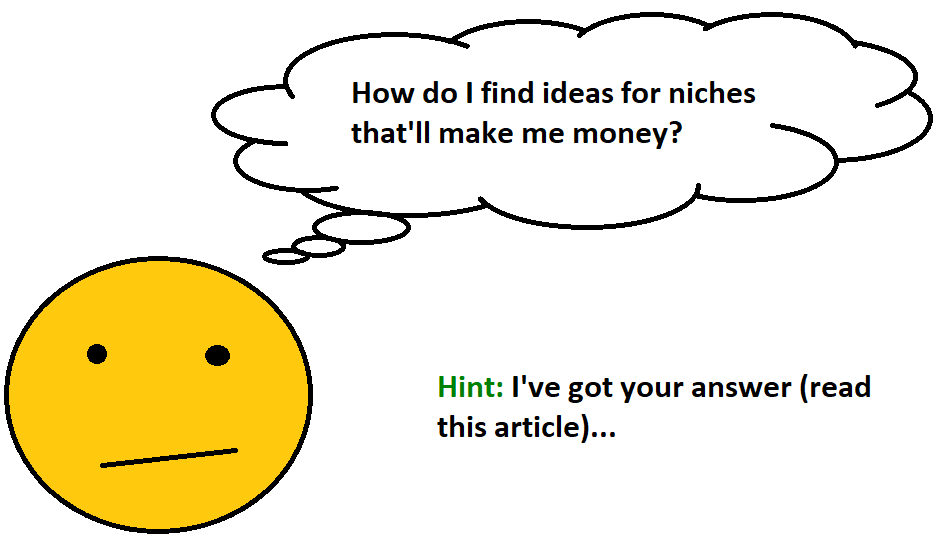 Here are the 3 rules of finding profitable niche ideas:
Compile a list of life experiences you have and break them up into categories.
Filter out which of the ideas you listed as profitable and popular.
See which ideas are evergreen and even better yet, both evergreen and hungry niches.
In a moment I will show you examples of how following these 3 rules will always help you find profitable niche ideas but I've personally used this method for years to do it. In fact, here are 50 truly profitable niches all of which follow these 3 rules.
The 3 rules of finding profitable niche ideas explained in detail:
Rule 1: 
Compile a list of LIFE experiences you've gone through and this has to absolutely include things you've had problems with and managed to solve. They have to have both passion and experience to be included. Let me give you some ideas to consider:
Do you have pets?

Do you have relationship experience?

Do you have kids and raised them well or not so well?

Do you have financial stability?

Do you have degrees in particular fields?

Are you GOOD or even great at something?

Have you gone through difficult times in life such as perhaps experienced diseases or personally have been involved with someone who has?
Here's an additional thing that I know will help: I wrote this article on finding your nice based on these things a long time ago and a lot of the advice in this article you're reading now stems from that one. I would absolutely recommend you read that one too just to be sure the list you personally make is an actual passion and applicable to rule #1. 
Rule #2: 
From there, filter out the ideas via looking at which topics are popular among masses of people (niche audiences). For example, if you have 2 passions such as building clay models and hydroponic gardening, then the latter is more popular and that is the one I'd consider for your niche idea to start with.
Rule # 3: 
Make sure it's evergreen and preferably hungry too. Evergreen niches are topics that never lose demand and always stay popular and hungry niches are topics that people are ready to buy solutions for (like stopping hair loss).
Allow me to apply the 3 rules in my own example to show you how this works:
For rule #1:
Here is what I personally made in accordance with rule #1:
I have had issues with diseases like lyme diseases. I was able to treat it. 

I had issues with knee problems which I also was able to fix.

I have issues with hair loss and still am still dealing with it, trying to find out how to regrow it.

I run a full time business on the internet through a website. 

I have hobbies like drone flying.

I enjoy things like martial arts.

I've done very fun and challenging things like the Spartan Race (I made a site for Spartan Races by the way). 

I've gained belly fat before and looked at ways on how to lose it.

I've gained life experience in things like dating.
Now these are things that I personally have both passion and experience with, therefore, they apply. 
In your case, make your list just as big if not bigger than mine. Write down everything that possibly comes to mind but make sure the topics are labeled as bullet points. I could have in my case put several of the hobbies I listed like drone flying and martial arts into 1 category, but that's not how rule #1 works, so keep it separate and this is important when you'll apply rule #2…
For rule #2: 
The key is to take that list, do research on which topics get a lot of traffic. In my case, everything I put up has popularity, but some has more than others and it is important that I first look at the topics which I love most and then research them individually. This brings me to the following research results that came up for my topics:

Lyme disease. Initial research shows that this topic is extremely popular.
Over a 100,000 people look up the term itself and I would guess that it's well over a 100,000 who look up similar searches. The niche is popular, I have experience in it and "passion" in that I know what it feels like to have this problem and how to help people solve it. 
Knee problems. Another big one. I would say well over a MILLION people look up phrases and terms pertaining to knee pain online and how to fix it. Being that I dealt with this issue, I already know a lot about it. And spoiler, I ran an experiment where I was gathering an email list of people with this program (and it worked very well!)
Hair loss. I don't like admitting it but it's a problem I have, yet at the same time, I have experience in looking up solutions and know which ones haven't worked well and which have. This is a HUGE problem for both men and women and the initial estimates say that there's millions of people Googling how to solve this problem. 
Internet business. I've got plenty of experience here to show and help others reach success. People who want to work from home and make a home based business is also in the millions. 
As for things like drone flying, martial arts, races, dating and belly fat which were on my list, I didn't include them, because these were (so far) not things that I would say I have more passion and experience in than the ones I just mentioned. 
Rule #3: Is it evergreen?
All the niches I'm left with from following rule #2 are evergreen but remember I said it should also ideally be "hungry" and if I take a look at that list, 2 stand out:
Hair loss and knee problems. So I can start a niche site on one of those topics and I'll confidently know it is profitable.
And that is how you find profitable niche ideas! My final thoughts:
Picking the "perfect" niche is a completely subjective thing that will differ for anyone who follows these 3 rules, but this will absolutely help you personally make your own, perfect choice.
However the choice you make is the starting point of success and it can only be reached if you BUILD of it, meaning building the site, building the content and ensuring the effort you put into the passion you picked turns a profit.
In your case, follow the same rules and create your own list. In fact, leave me a comment below on the list you personally made that you'd like my input on. Be sure to include how much you like and know about this topic because that will be a huge determining factor in whether it's a smart choice for you to build a website off.