Quick Report: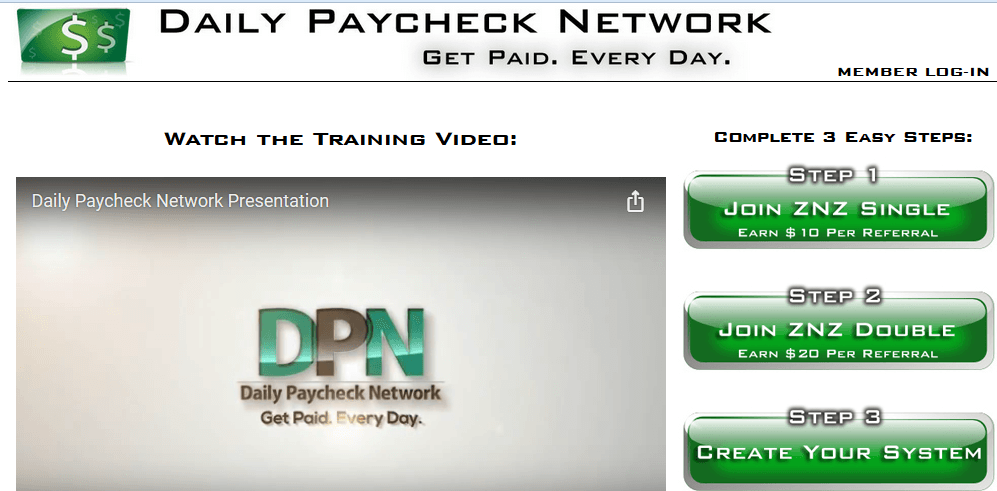 Name: Daily Paycheck Network (Also known as DPN).
Price: Yes it's actually free to join, but what's beyond the registration is what I need to warn you about…
Overall Rating:

2 out of 10 stars

.
I honestly see this program as nothing more than a referral program into 2 other programs, 1 which is OK but not something I'd recommend and the second a total scam, that being Empower Network (EN), a well known and old pyramid scheme which if I remember correctly isn't even working properly (or at all) anymore…
And I've also got to be honest, this is one of the hardest programs for me to explain to people because there's actually 3 programs involved in this "web" and each one has it's own function so what I've decided to do is break down each program and then explain how they are all connected through the entire Daily Paycheck Network and WHY I rated it so low.
So let me start the review like this:
What is Daily Paycheck Network? 
It is a program that once you join promotes to you 2 other programs:
1) ZNZ (The Zip Nada Zilch program).
Once you join Daily Paycheck Network, you have the option to join ZNZ. This place is a rewards program that pays you $10-$20 per each referral and also gives you the option to sign up and do trial offers for big companies, earn points and then redeem the points for prizes inside ZNZ. Here is a full review of Zip Nada Zilch. I have reviewed it before and didn't really like it.
In short, I personally would not recommend this program to people because the only real way you can promote it for free is to get people to join it, other than that, if you sign up to try the trial offers, you will likely have to pay subscriptions to receive points and that can make it a bad investment to get involved there…
2) Empower Network itself. 
This is the next program promoted to you inside DPN. But this is where I have to give you a huge warning…
Many years ago, this program was on fire in popularity and attracting people who wanted to make money online like crazy. Unfortunately, it turned out to be a pyramid scheme and I think it's died out. MOST people who invested into this "opportunity" lost a lot of money. And if you'd like to know about EN and details on what happened to it, here is a full review of Empower Network.
Now the interesting thing is that inside the members area of Daily Paycheck Network, there is still a signup to join EN, but once you try to click through to it, you get (well I did) a blank page with the URL of one of this program's creators, David Wood.
Let me just say that no matter if this program is still in business or not, I would absolutely NOT recommend it. It is a scam. I would also assume that any future program that creators of EN make should also be seen as questionable…
Anyway, here is what the inside of this WHOLE program looks like and how to "de-code" it:
So how do these 2 programs tie into everything?
Now that I've explained what's promoted inside Daily Paycheck Network, the big picture is that once you join, you will have the option to also join those other 2 programs.
But if you don't, you have the overall, free option to promote the Daily Paycheck Network itself to other people and if they join through YOU, then they will also have the same 2 promotions inside the system.
How money is made from you inside this program:
If you joined Daily Paycheck Network and registered with one or both of the programs promoted, the person who referred you will be paid. 
If you join ZNZ, the person who referred you will earn either $10 or $20. 
If you join EN, your referrer will earn as much as you put into the program. Also to note, EN is an MLM program so if you bring other people into the system, that original referrer who brought you in will also earn something. 
How you can make money with Daily Paycheck Network:
By promoting the entire program, you basically have access to the same promotional materials and potential commissions. That means if you refer someone into the main system and they join ZNZ, you can also make up to $20 per sign up, and if they join the other program, again, you can also make a pretty big (and in my opinion unethical) commission.
The whole system of this program is designed to make it easy for you to promote both those programs and Daily Paycheck Network itself, as well as monitor your sales.
I am certain the person who made this whole system is also making a percentage of each person who uses the system and brings in people who then also join one or both programs.
On a side note, DPN is actually not the first program to "consolidate" other promotions into it like this and try to make it an easy system for beginners to promote. The only problem is, because the programs promoted aren't exactly good in my opinion, the promotion of them is hard and the idea that it's easy can suck people (particularly beginners) in and make them spend too much money and time on the other promotions and marketing materials…
3 reasons I would not recommend this program:
While on the outside, this system looks easy to use (and it really is), if you really start to explore it and are inexperienced, in my opinion, you're going to hit a number of issues:
1) There aren't actually enough free marketing materials.
Inside the members area, while it is free to register with the main company, check out the back office, sign up with ZNZ and essentially start promoting the whole system…
The issue is that you need to learn how to market the system and the free training that tells you how to do that is very limited and vague.
For example, there is training on getting traffic and leads and how to set all of this up, but the many actual, easy to use traffic generating tactics involve using paid sources which I assume are solo ad websites and other questionable sources which I've personally never trusted.
In short, the only real training is videos on how to set up everything so people start coming in and very limited free training on how to market things. The rest requires you pay money.
If you are a beginner, I would never recommend using any paid advertising without first understand how internet marketing works and trying out free approaches in detail (which the training lacks as I said).
2) ZNZ is not a company I like.
It sounds fantastic to refer people into a free system and to get paid, but ZNZ has to make money somehow and as I said, they offer people trial memberships to other companies they will need to sign up for in order to earn credits and get rewards from it and that may often end up having them pay money to do this as many trials can be binding as I found out when I reviewed this company.
Now sure, you can go ahead and tell people not to do the trial offers and just refer people to get paid, but trust me when I say, this isn't easy and from what I have read on their TOS, they control who gets paid and can change their minds.
ZNZ is an old site and one I would personally not engage with.
3) Empower Network.
Well if you like pyramid schemes and MLM programs, EN may be for you, but I doubt most of you who read this are into that type of shady form of making money.
You can promote EN for free from what I remember, but you can make very little per sale, unless you buy their higher up offers and become eligible to promote them and make more.
Now all of this assumes that EN is still active and like I said, I don't believe it is as I can't find the site through the Daily Paycheck Network links and there's a lot of additional broken links I could not open.
Update: The EN program is out of business and one of the owners of it started a new company called Legendary Marketer. I think it's better than EN in many ways, but I don't recommend it because it's a high ticket system that's TOO expensive.
In short, I would never promote this system/program to people. There have been too many people who have lost a lot of money on this system and the way it is set up, that's exactly how it's supposed to be.

Final Rating: Daily Paycheck Network
Red Flag
2 out of 10 stars. I don't really have a problem with the actual system, but it promotes things which I don't think can ethically help people make money and to funnel other people into that system to then try to promote the same questionable programs is not something I'm for…
My final thoughts: Let me make the cons into bullet points:
The free marketing material is very limited and hard to grasp for beginners.

One of the programs promoted inside is questionable and the other is a scam.

There are too many questionable paid marketing techniques to "help" you market Daily Paycheck Network.

I personally believe having experienced these "easy systems" before how hard it really is to succeed with them.

There is an additional cost (optional) and that is setting up (buying) an autoresponder to collect emails.
If you're OK with this type of marketing, then I guess you can try this program out. Personally, I do not like it for what it promotes and can't recommend it.

Overall, to end this review, I've tried to "untangle" how the operation functions and how the money is made, off you and for the people who are involved in it. I don't mind promoting programs and having people make money off me, but what I buy has to help people and I just don't see the programs promoted inside this system as being the type that help people…