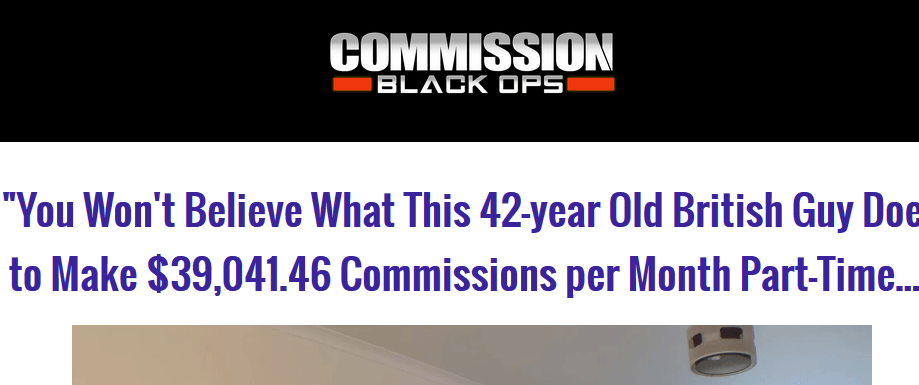 I'm very disappointed not just with Commission Black Ops, but also all the other programs that were released by Michael Cheney.
In this review, I'll mostly be focusing on Commission Black Ops, but one thing you need to know is that Michael has other programs he released, many of which I tried that literally said much of the same stuff this program did, and furthermore, I found a lot of the training in this program to be impractical.
Quick Report on Commission Black Ops:
Creator: Michael Cheney.
Price: $19.95. 2 Up-sells: $97 (then down sell to $47) then a $47 one (down sold to $27). Also there is a big pitch to a high ticket item within the members area.
Overall Rating:

3 out of 10 stars

.
The satisfactory part about this program is that there's good information for $19.95 which I'll review that I do think is worth purchasing if you're doing Facebook advertising or any sort, but the disappointing part was that besides the up-sells, a large part of the members area is going to try and sign you up to an even more expensive program and it'll cost $1,997.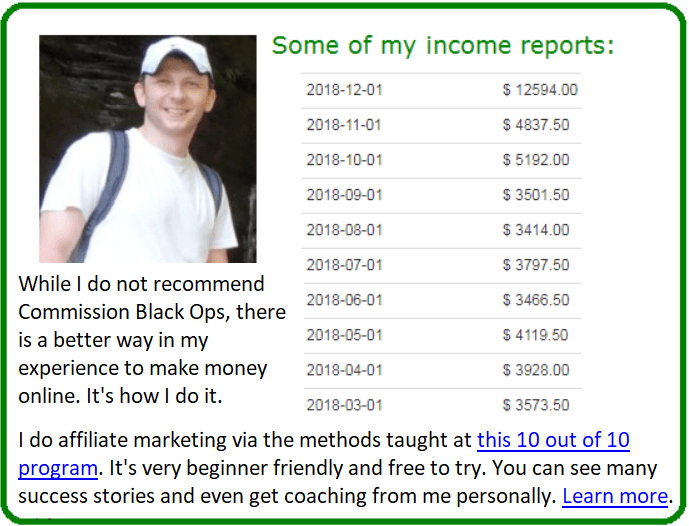 Commission Black Ops in a nutshell:
I only gained the regular $19.95 access to the program because I didn't want to buy any up-sells. In the regular membership, there are 2 valuable things and really that's the entirety of the program anyway:
1) It is a guide to advertising on Facebook without actually advertising. To be honest, the training Michael put up for this was very interesting because I've never heard of pitching on FB using this type of approach before. I'll briefly explain it later.
2) There is a PDF guide which explains how to create a high converting sales page and there's elements in that guide which I found to be very informative. 
Those 2 components in my opinion make the $19.95 membership worth it. But it's the rest which I didn't like.
Inside the membership of Commission Black Ops:
Alright so I'm going to go over the good parts of this website and the 2 things I said have value. While I won't disclose all of the information Michael reveals, I will give you a good enough idea:
The image there is members area. Let me show you each menu item:
Home: This is the welcome page you visit once you join. It is important to explain that Commission Black Ops is a WordPress website which means if you buy it, you will get a log-in that will take you to this area.
Now on the home page, you will get a very long video that is almost 80 minutes long. In this video, Michael welcomes you to the site and also explains the Facebook method I talked about above. 
The Facebook strategy:
Now to quickly explain it, the Facebook method he talks about is an unusual approach to getting free traffic.
Michael talks about a thing called EdgeRank which is an algorithm in place on FB that favors certain posts above others. The ones that get favored more are the ones which don't have any external linking going on. 
Michael shows a few examples of when he didn't place links on posts, how that got a lot of likes and comments vs when he did place an external link and how much worse it did. I actually went to Michael's page to investigate there and there really is a correlation. If you don't link at all, you will get more exposure to traffic.
The question however is how do you monetize if you can't externally link? Well Michael helps you get around this by giving ideas such as providing a link in the comments section instead of posts and giving a URL in the posts, but leaving a space so it won't register as a link.
He also explains how to get a lot of traffic through this method. In short, you have to get a new account, become friends with authority figures in a niche topic and then use this method to reach out to them and their followers. 
There's a lot more detailed stuff to this strategy explained in the video and if you do FB advertising, I do recommend you try this with the help of Commission Black Ops. 
However, the bad part which began to disappoint me is while Michael was giving me this incredible information in the video, all that really ended around 30 minutes into it (out of 80 minutes) and the rest was a pitch into a program called iPropartners by some Dean fellow.
The registration for that program is $1,997 and actually $2,997 but through Michael, you get a $1,000 discount:
I didn't like that over half the 80 minute video was spent on showing me how much money I could make if I signed up with this other program. Michael doesn't really review or explain the program much, most of the information is about the commission you can make and how the system in place there is so amazing that you'll get very high commissions. 
Now I obviously didn't buy into it and it may be good, but I never like it when I purchase something and a lot of the content I get is spent selling me into something else rather than giving me more content. The first 30 minutes of this video were gold with the FB thing, but then it gets into this and I really was disappointed. 
Personally I will never buy a high ticket program like this even if I'm guaranteed gigantic commissions because frankly, I can never justify any program being that expensive to pay into. I can make sales and big money doing this, but ethically, I always saw a problem with charging so much for these types of programs.
Instead I always tell people to join Wealthy Affiliate, a program which in all honesty can be justified for costing $1,000+ a month, and yet it isn't, it's free. And from that program I learned you don't need to spend crazy money like with that up-sell in Commission Black Ops to make good money. 
What else does Commission Black Ops give you?
I've only explained the first menu item (home), but then there's a few other things:
Earn Money.
Gives you access to promote the Commission Black Ops program. I believe Michael said you have to first be registered on JVZoo to promote it and ALSO have previous sales made on that network to be allowed, but I also think he said he's created some kind of bonus so you can promote it without having to have any previous sales.
Core training.
Here you get a 67 page PDF guide which also has a video and audio version of itself. This is the guide I talked about in part 2 above. There are a lot of analogies to first person shooter games here that relate to how to market and sell. Personally, I though the analogies were a bit distracting from the actual sales angle Michael was trying to point out, but it may be helpful to other people.
There is good information there, although a majority of it really focuses on keeping people interested via an element of mystery and suspense rather than explaining too much about the product you're promoting.
Done For You and Black Ops Elite:
Both of these are the 2 up-sells you have when you first buy the regular membership. Like I said, I never purchased it but from the sales letter, the Done For You is 7 "Commission Crates" where I believe you get some high selling offers with follow up emails to better sell them.
The Black Ops Elite is a special "VIP" members area.
Final Rating: Commission Black Ops

Yellow Flag
3 out of 10 stars. Without all those attempts at selling me such expensive things, I would have liked Commission Black Ops more. There is good information, but not enough of it.
My final thoughts: 
I don't know what levels of marketers will buy this program, but whether you're a beginner or not, let me give you my points on the strategy Michael talks about. Let's say you're either a beginner or even an intermediate marketer…
You read about the approach Michael uses and decide to try it out. I would recommend you first begin doing that not through a make money online niche (unless you're experienced and have made money online) but a niche you like. The strategy can really work. 
But keep in mind that if you're doing this from a complete beginning, you will have to build a following and it will take time for you to do this and become an authority in the eyes of people you're trying to sell to. It will take a lot of time to do this.
So much time actually that I would not recommend this for beginners (do this). In fact, when it comes to marketing through social media, I don't think it's geared for beginners in general.
Why I would do this first before applying Michael's strategy:
What I do recommend you do is begin this type of thing not from FB, but from a regular niche website which you build using SEO and then use the FB approach to funnel visitors there.
I think that strategy is a bit more safe because if your attempt at using Michael's strategy doesn't work, you will have a niche site still bringing in free traffic through SEO. I haven't tried Michael's approach, but I have tried FB ads and I wasn't really successful with it and even when it didn't work, I still had an SEO site to rely on for sales. 
I only advise you build a niche site and do SEO through the advice of Wealthy Affiliate because there's very little risk if you follow their rules for it. The only real issue is that like the FB strategy, it takes time, but there are more solid results this way. If you accomplish that, then adding the FB element will be safer and it will only add to it. 
Update: Other programs by Michael Cheney I've purchased (and was also disappointed by):
If Commission Black Ops was OK, then all the other programs that followed which Michael released, that I purchased, were even more disappointing. As I said above, most of them repeated the same strategy above and I felt I spent my money on the exact same stuff again and again. Here are the 3 other programs of his that I purchased:
And after doing that, if you're wondering what my overall opinion is on Michael and his programs, then it's this:
I do not recommend ANY of Michael programs and the reviews I've written up explain that thoroughly.