Buying Online Wealth Markets was like buying a lot of hot air and then some. In this review, let me explain everything I experienced during and after my purchase of this program and why, if it isn't already obvious, why I will not recommend it.
Quick Report on Online Wealth Markets:
Creator: Unknown.
Price: $4.95 activation fee which you pay monthly, then a $200+ up-sell, then access to multiple services that are also priced monthly with 1 very big website design price of $1,995.
Overall Rating:

2 out of 10 stars

.
There are only 2 things I like about "this program". The customer service and they don't charge much for domains/hosting, and everything else, I do not like at all. One of the charges doesn't really pay for anything:
Online Wealth Markets in a nutshell:
This site is an affiliate site that links to the real program which is called Cool Handle (CH). That is the program I h
ave to review here because that's where everything is.
Online Wealth Markets itself in my opinion is a little bit deceptive too because of how they say you can make money.
In reality, to potentially have all of those things happen, you will have to spend a lot more money on the services offered by CH. 
The services you get from there are basically like accessories to build a website that can make money.
But despite a lot of good prices that I will show you that this place has, there's a lot of things which I think are not worth buying and I will also recommend a much (MUCH) better program that can give you much better services at far less/free prices.
It's Wealthy Affiliate, but before you see why it's better, read this review fully because I'm going to compare prices so you see why…
As a member of Cool Handle, I am paying $4.95 a month for, nothing!?
When you join CH from the Online Wealth Markets website, there is a $4.95 (non-refundable!) charge every month.
But what do you get for paying that? 
Well, the answer is, you get a lot of service prices and "training" which I found to be extremely complicated to understand…
If

this

is the kind of training Cool Handle provides, then no thank you!

Despite there actually being some training videos and F.A.Q sections available in Cool handle which can technically justify the $4.95/month, I have to disagree because I honestly was completely confused.
Tell me if anything you see here (right picture) makes sense:
These are all tutorials on basically website design, hosting and domain creation I guess and if you click on any of them, more tutorials come up with short videos, but they are very confusing to put together.
I build websites and I do understand some of those things, but it was 90% confusing and 10% clear for me. I don't think I could use that information and in my opinion, anyone who is new won't be able to either….
So again I still believe my $4.95 pays for nothing because I can't really understand this information! It's just that the way I make websites is a lot simpler and most of these tutorials are unnecessary, because the set up is done.
All I really focus on with my websites is marketing them, and all of these benefits (the technical stuff handled, and the marketing training), comes from the program called Wealthy Affiliate alone.
If you don't really get anything for $4.95, why would you pay it every month?
If I'm joining this type of site and paying something, I expect to get some kind of training or steps to go through to help me start making money.
After all, Online Wealth Markets did say I'll learn to make money, but it is an affiliate partner of Cool Handle which doesn't make these claims so I believe Online Wealth Markets just said anything they could to sell it to me.
The videos I saw in Cool Handle's membership do not do that. They don't even look organized. I will end up having to figure it out on my own and try to learn which ones I'll have to use for my site and that's going to be a waste of time.
No free trial, no real training to make money, and no real guidance is what I see in Cool Handle for this price. Plus if you read further into this review, you'll see that Cool Handle "conveniently" offers a $100 an hour lesson which is absolutely ridiculous…
However, that Wealthy Affiliate program I talked doesn't have these same problems Cool Handle does. Here's why:
Besides the $4.95, what real services do you get from Cool Handle?
There are legitimate services offered by this company, but these are completely standard things you can get from just about any legitimate domain registrar or hosting company.
When it comes to training, this program fails because of high prices for the "real training" and that, as you already saw, the very basic training is too complicated to even make sense.
But if you're looking for those very basic services such as creating a website and getting it hosting, you may find suitable services from Cool Handle:
Domains.

You can purchase a domain for $14.95 a year. This is actually a fair price based on domains that I have purchased from other companies. However, I do not know if there is an increase to this price every year and that kind of stuff does happen in other services. If there isn't, it's worth buying from here. But there will be a mandatory charge attached if you buy a domain from here…
Hosting.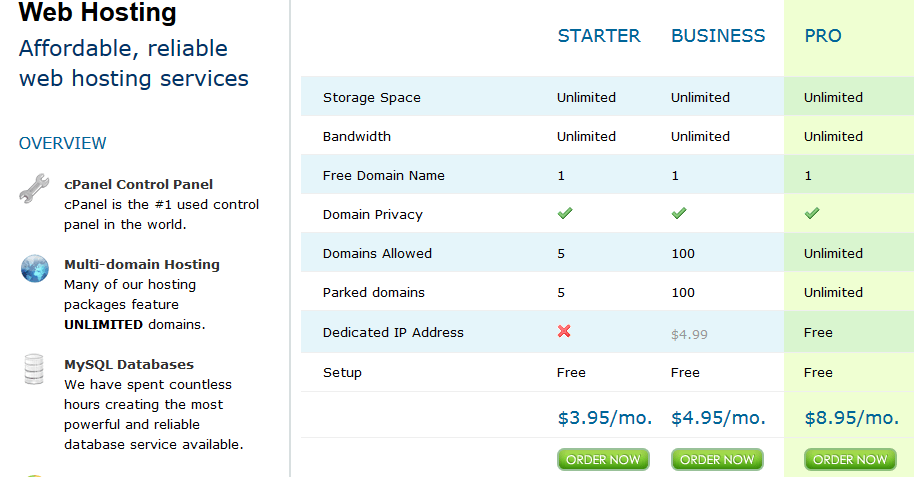 The range of prices here is almost $4 a month-almost $9 a month for hosting. Each hosting plan offers a different number of sites you can have on it. If you plan on having under 5 sites, the lowest plan for $3.95 is very good in my opinion. 
Re-sell hosting.

Re-seller hosting from what I understand is a type of service where you get a lot of space to host other websites on it for a price. So in this case, if you buy one of the above plans, you can use the space to either host your own big site and/or sell that space to other people who own websites and want hosting space. 
The more clients you have, the more space you'd need. I don't know if the price range offered in Cool Handle is good or above regular prices compared to other services. I did a check and found Host Gator for example which offers the same thing charges about $60 for a first time buy then close to $75/month after for 160GB so just compared to that, Cool Handle is pretty good as well.
Website design services. 
This is the last service I found in the client area of Cool Handle. If you're afraid of making your own website, you have the option of having Cool Handle do it for you for $1,995. Now in this area, I do have experience on how much people should get charged and I would at most charge no more than $1,000 if I were building a site for a client! 
And furthermore, I am usually against paying any type of service big money to make websites for you because anything that's basically done for you usually have negative results in my experience.
I've never seen a positive experience from other places building a site for you and although I haven't tested Cool Handle's service in this regard, anytime you have someone who doesn't know a thing about building websites or making money hire someone to do it for them, even if the website looks good in the end, the person who originally did the hiring is going to have to take care of it.
If you had no experience when you started and let someone do the work, but then leave you to take care of the business, your lack of experience is going to make it very hard to run the website. 
It is much better you learn to make your own website with good training so as you build it, you learn how to manage it so when it is done, you won't have to backtrack. That's why that alternative service I talked about above which gives this, also gives you a free website to do it for, no crazy $1,995 charge! Learn more below…
A crazy up-sell and other services you probably won't need in my opinion: 

After paying my original $4.95, I had an up-sell page shown to me where I was offered a number of "great" services I'd get at a 30% discount, that went down to 50% after I said no, but it came out to $200+ anyway. 
Besides paying for that, in order to actually use it, I'd also have to buy a domain and hosting from Cool Service because without that, those up-sell perks wouldn't be able to work. But they are useless in my opinion. Here's why:
Those things are usually offered for free on most places like Godaddy and Wealthy Affiliate once you buy a domain. 
The only thing from that list I saw which didn't apply is the "search engine submission" which is completely useless because if you have a website and create ANY content, Google automatically finds it. You don't need to spend anything for your website to show on Google and Bing. 
I've created a screenshot of them (right). Also if you decide not to buy the full up-sell package, they do make it possible to buy each "perk" individually. 
That $200 is completely unnecessary to buy in my opinion. I would also say this is a scam if it's being pitched like this! That's why this up-sell is crazy.
And then there may also be other services that you won't find in their client area, but I did see in their terms: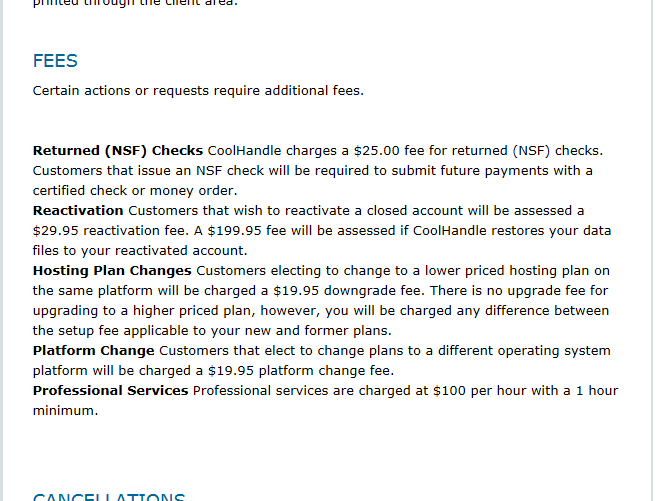 Other than there being very high fees for leaving and moving things, the last one (professional services) is going to charge you $100 an hour!? You will never, when building an online business get every answer you can within an hour. You will always need constant support…
Final Rating: Online Wealth Markets (Cool Handle really):
Red Flag
2 out of 10 stars. I don't see anyway you can build an online business with this program unless you spend a lot of money and based on what I saw, with the way the site was designed, with the way things were organized, I'm not even certain if you paid, you'd get a good result…
My final thoughts:
I really do not appreciate programs that are structured like this. In my opinion, they become so confusing to understand if you're new that you may be drawn to purchase other services and I do not like that. This is my opinion.
And again, the only good things I saw were support was polite and pricing on some services was OK. But I like I said, I recommend Wealthy Affiliate (WA) in every single regard above Cool Handle (CH) if you want to build a business because:
Unlike CH which has confusing tutorials in my opinion, Wealthy Affiliate has very clear training.

You don't get charged $4.95 just to see the client area in WA, it's free there. 

Web design is taught to you in WA and you get free sites vs the $1,955 they try to charge in CH.

You may have to pay for additional support in terms of private training. In WA, this is included.

Navigation in WA is much easier than in CH. 

Support is good for both programs. 

WA is just a more complete, structured program vs CH. 

Basically most things which CH charges for, WA doesn't or if they do, it'll be way less.