Bang Bang Profits is honestly a program you can do without, but for $13 and what it gets you, it's worth it, and this review will explain that.
Now while it is worth it, what you need to know is that there's a specific group of people for whom this program would be useful for and that's intermediate marketers, who are in the make money online niche. Absent those qualifications, and you would get little use out of this program. But let this review explain all of that now:
 Bang Bang Profits Review, the quick summary:
Creators: Jono Armstrong and Brenden Mace.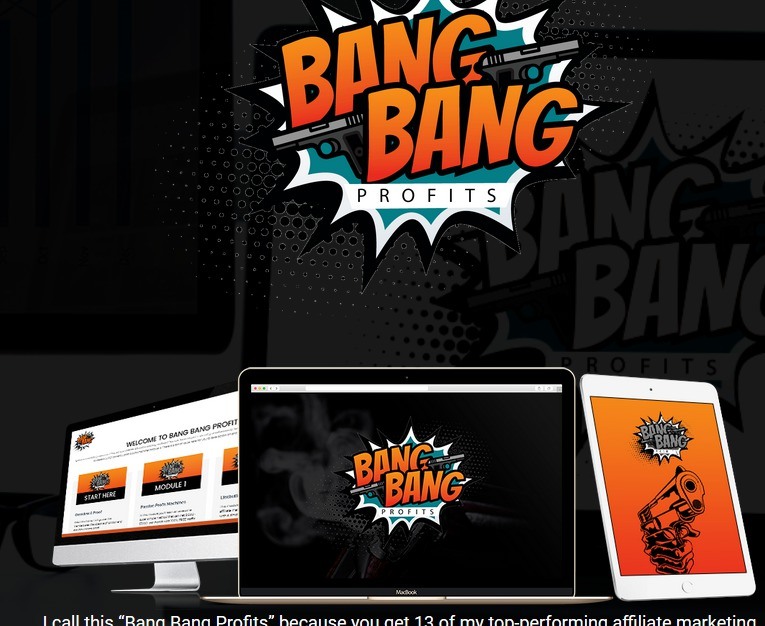 Price: $13 with several up-sells, one of which goes for over a $1,000, then downsells to 90% off. I believe I reviewed a program from one of these creators where a similar tactic was used and I didn't like that.
Overview of system: You get 13 pre done sales pages for make money online programs which include bonuses. You use these pages, insert your affiliate link in them and then market these pages to an online marketing crowd interested in these systems.
The idea is that by offering bonuses, you get more conversions and this is true. So in essence, this program makes creating bonuses easier, because they are already included with these 13 sales pages, you literally just insert your link and get the credit.
Overall Rating:

5 out of 10 stars

.
Not bad at all and it can definitely help you improve sales. But like I said, this program is for specific marketers, and for a specific niche crowd. Also these 13 sales pages are for default make money online programs, some of which I personally don't recommend, so I personally wouldn't utilize these things.
Also consider the fact that you can make your own bonuses and offer that on a landing page and if you can do that, you really don't need this program. It's still valuable to an extent.

Getting into details on Bang Bang Profits:
The regular, $13 program is pretty short and the concept is simple, as I explained. There's only really 5 videos that start from showing you the case study on how using these same 13 done for you sales pages with bonuses made the creator of Bang Bang Profits, $1,000's over a few days: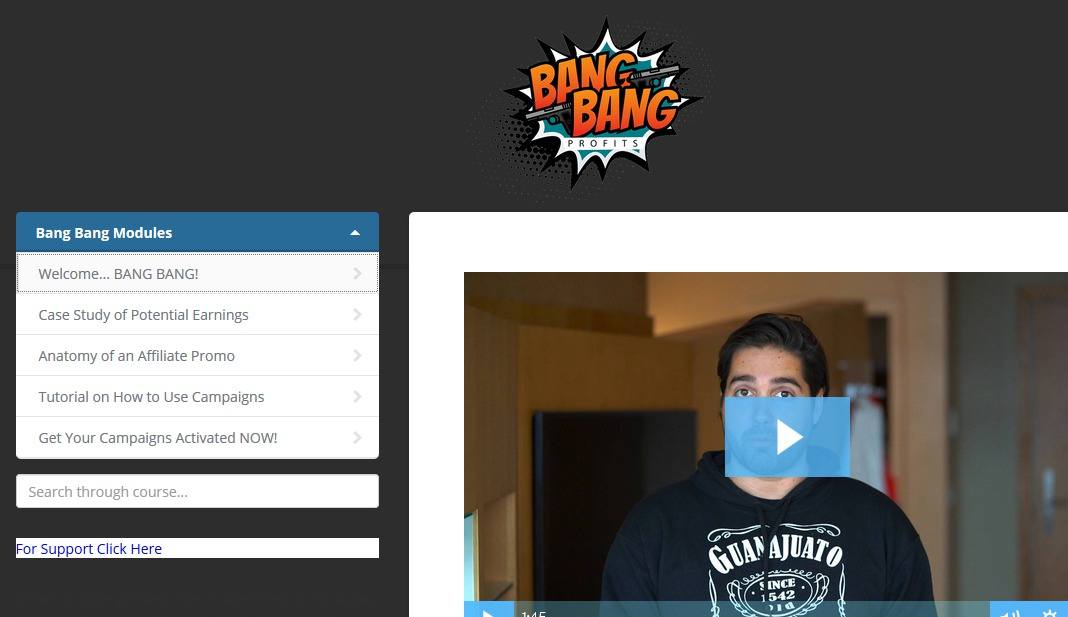 Now if you're planning on using these done for you sales pages, do note that you will need the following accounts:
And that's because these offers are linked with those networks. So if you wish to affiliate with and promote one or more of the 13 offers, this is one of the requirements.
Now other than that, setting up these sales pages with the bonuses is one of the simplest things in this whole program. In one of the member pages above (the last one where it says get your campaigns activated), you click on it, select from the offers, insert your affiliate link and a sales page with those bonuses is generated.
And like I said, the next step is to promote that page with the bonuses. And that could be to a list, or some traffic source that is interested in making money online. 
Again, the concept of offering bonuses is to help improve conversions. And as I wrote this review, I looked through previous ones and did indeed find that one of the creators of Bang Bang Profits, Brenden Mace, used a very similar concept in another program he worked on, known as The Banger Method (yeah there's a similarity clearly).
Are there holes with this program?
I wouldn't say that there's holes, more so, it's a matter of whom is best suited to use this program and I already indicated the criteria you should have if you're going to buy and use this system.
$13 for this current stuff is a bargain for sure, but that doesn't make it an instant buy, even for me, who happens to be perfectly suited to use this system.
But if I were to label a few issues I see, here is what I would say:
-If you don't have a list of make money online audiences or don't know how to get THAT sort of traffic to these offers, this program isn't for you. 
-If you have no understanding, experience and/or interest in marketing make money online products, this program is also NOT for you.
There is an expected experience factor that goes along with this program. Now Bang Bang Profits offers it's own up-sells to sort of mend these issues.
For example, one of their up-sells for $197 is a traffic package. I can't vouch for it. I can only tell you that my #1 recommendation has been the best for this type of stuff and I used it to make this blog, which gets 100's of visits daily:
Now you also have to understand that the creators of this program are also experts and have (most likely) at least one or more email lists of make money online enthusiasts seeking their advice, so naturally when these creators implement these strategies, they are going to get better results than most if not all the people who try to mimic it.
Final Rating: Bang Bang Profits.
Green Flag
5 out of 10 stars. If you are the perfect qualified person to use this program, then sure, get the $13 offer. If not, I would not bother.
My final thoughts: Just make your own bonuses.
Let's say for example that you are in the make money online niche or another topic that's unrelated. There's nothing really difficult about creating your own bonuses and pitching that on your sales page. The only thing, it can be a little bit time consuming, but it's also liberating because with a little bit of creativity, you can offer one or multiple bonuses to get sales up and running.
For example, my #1 recommendation used to just pitch the program itself, which was fine, but conversions went up when I offered just 1 major bonus when people joined: My coaching.
I'm just giving an example here but you can offer different things and there doesn't necessarily have to be a lot of them, just place value in one of the bonuses you are pitching and see how it affects conversions rates.
But of course, this is the back end part of the whole business model and you will want (for all of this to work) to create a traffic funnel that would be interested in this in the first place.
I would strongly recommend my #1 recommended program to help show you that. It's still in my opinion the most stable, and reliable training program for traffic generation I've come across.