Just today, I purchased and got an inside look into The Banger Method program (I'll show you). Immediately to answer the question I raised in the title, no it is not a scam. 
But do I recommend this program? Well, I have to say, it isn't for everyone.
I certainly didn't like certain things about it, but what it teaches, at it's core is actually a VERY good idea and even from a veteran marketer like myself, while I was going through this program, it gave me some nice ideas to start using on my existing websites.
In this review, I'm going to give you the same inside look I got from this program and let you decide if it's the right program for you.
The quick review on the Banger Method:
Creator: Brenden Mace, Mark Hess, Michael Thomas.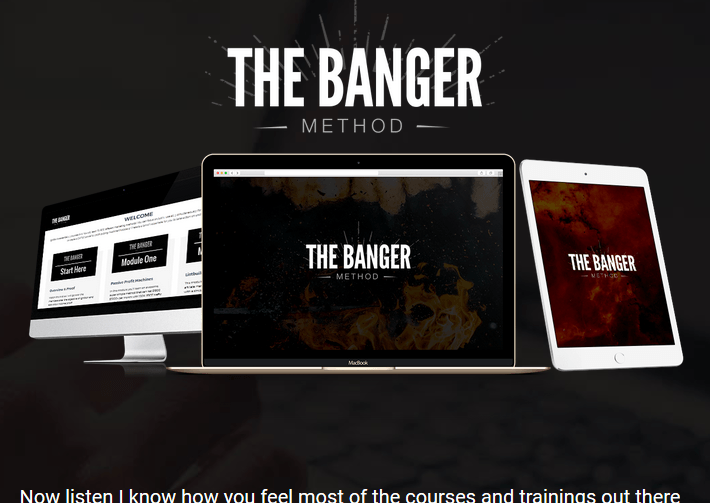 Price: $13.
Up-sells? Yes:
Up sell 1: $37, down sold to $17 if you don't get the $37 offer. 

Up sell 2: $97, down sold to $47.

Up sell 3: $1,997 (no joke), down sold to $197.

This is the one which made me angry. What happens if people purchase the $1,997 only to find out there was this down sell available!? It's money wasted, so keep the down sell tactic they use in mind. 
What does this program teach? You learn the value of collecting an email list as an affiliate and then increasing conversions of what you're seeking to promote by offering masses of bonuses.
This is proven to work within the program with at least 5 case studies they show case.
Does this work? The concept of including bonuses when you are trying to promote/sell something DOES work. I use it, and many other successful marketers use it.
Overall Rating:

4 out of 10 stars

.
This program does get the message across about the VALUE of collecting emails and offering bonuses, but I could just as well give you the same tips, for free.
Plus this program doesn't talk about anything other than this topic, so beginners to affiliate marketing won't really be able to use these tactics unless they know about things like how to get traffic to their sites.
Recommended? If you are an intermediate affiliate, yeah, you can buy the $13 program, I just wouldn't invest in the up-sells (although I didn't get them, so just keep that in mind).
But more importantly, the training there "assumes" you already know about getting traffic to your site and are making sales as an affiliate. If you don't have this down, do NOT get this program, get this one instead: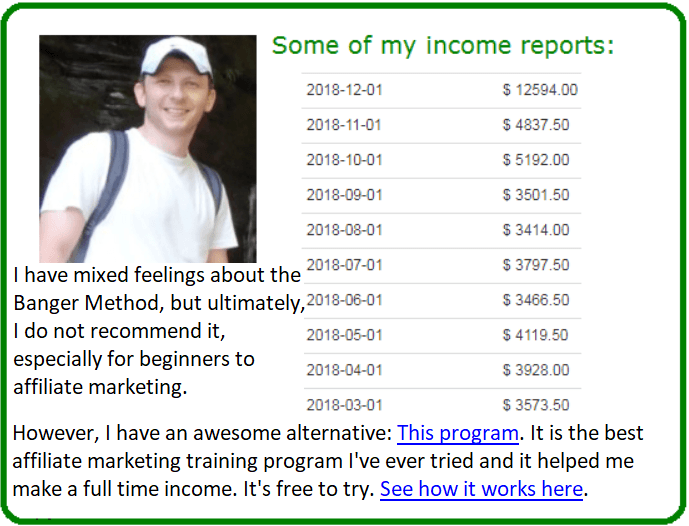 The core strategy of The Banger Method revealed:
It's simple:
First, when selling stuff as an affiliate, don't just do a review, then link to the affiliate offer, instead, capture the email of the person visiting your review, THEN send them to the offer.
Second, when selling affiliate offers, offer bonuses, increase the value of the pitch that way, and then sell the product.
Let me give you a very simple example that encapsulates what this program teaches:
Suppose you're considering buying a product, but that product may be a bit pricey for you, so naturally, you are going back n forth in your head about whether or not to buy it.
You weigh your own pros and cons, you consider every angle you possibly can. But you're still undecided.
Well in the Banger Method, as the person who is selling that product to you, which you have doubts about, they decide to add some incentive…
They tell you that they'll give you some free gifts and bonuses and it'll all be free if you get the product. More so, they add a "price value" on top of those bonuses saying you get all this free stuff that's worth so and so.
Then suddenly, all that doubt you had in your mind shifts more to a yes than a no, because you now you perceive that you're getting more value than you pay for the product, thereby making you more likely to buy it.
That is the message The Banger Method tries to get you to understand.
And it shows that it works through it's own case studies. Basically one of the guys who created this program says that by adding this into his sales funnels, as an affiliate, he was able to double and triple his sales and becoming a top selling affiliate as a result.
Like I said before, this works. I use it and so do other marketers. BUT it's not always a guaranteed method and list building is often reliant on many other factors if it's going to work, so I wouldn't put a lot of faith in this "method" unless you are experienced and know how to get email leads to buy.
Inside The Banger Method membership:
There are 6 training videos that talk about the art of offering bonuses with your affiliate offers. The training videos start by explaining the method, then getting into details about it's done, how to structure your bonuses and get people to buy the offer.
Then there's 5 case study videos which explain the method in action and how the same person who was just giving you the tutorial on how it's all done, shows you his personal results from using that.
And finally, after that, you get 4 bonus products which give you free things like a link tracker, an FTC disclaimer all affiliates should have up on their site and similar stuff. It's not exactly unique stuff, but it is in it's own way a bonus for buying this program.
Who this program is for:
I strongly believe affiliate marketers or those who have knowledge on list building and need to raise their sign up rates or sales conversions, would benefit from the Banger Method but likely not by much since this info is basically common knowledge for high level affiliate marketers at that point.
Who this program is not for:
I think anyone who doesn't understand traffic generation, someone who has no list or knowledge on it, beginners and overall anyone who has enough common sense to understand that offering bonuses in your sales pitch is a better way to get sales…
Let me give you a personal example of how the Banger Method's teachings work:
Offering bonuses isn't some sort of new concept. Product launch people do it all the time. Just look at the titles of
their blogs.
They review a program, promote it and offer "bonuses", even though most of the time they are garbage, but that's beside the point…
As for myself, I pitch a program on this website known as Wealthy Affiliate.
To get people to sign up to it, I add in a bonus of free coaching (which I back up 100%).
I have indeed noticed improvements in my conversions since I made the coaching bonus pretty clear and early on in my review.
Bonuses definitely raise value and increase sales so if you are currently engaging in online selling, start doing that.
Final Rating: The Banger Method.

Yellow Flag
4 out of 10 stars. The cheap $13 price for the obvious thesis (offer bonuses in your sales pages) is why I didn't rate it lower. But that's all this thing really teaches and one of those up-sells they tried to get away with, in trying to sell you for nearly $2,000, only to down sell it to nearly $200 is a total rip off in my opinion. I really think they need to take that offer down. Every other up-sell gets down sold 50%, but this one is ridiculous…
My final thoughts: 
Like I have said, I found value in the Banger Method and I even took some of the training I saw there and wrote down my own ideas for increasing my sales. There is NO doubt this works, but let me make something clear…
On the sales page of the Banger Method, one of the creators is cited for making A LOT of sales and this gives off the impression that anyone can do this too.
You have to understand that the person being cited as the main success story of this program is already a successful marketer who probably has his own huge email list and following, so he can make these kinds of sales on auto pilot, whilst the average affiliate marketer probably won't, they have to grow to that same status. 
Overall though, to summarize, if you have existing affiliate page, traffic or sales, you have NO use for this program (yet). Instead get to that point through this program:
That last thing I have to say is that only invest in The Banger Method IF you have affiliate experience, otherwise, don't spend a penny on it. Use the other program instead, you'll get way more value (and my bonus coaching, see what I did there?).