Quick Report: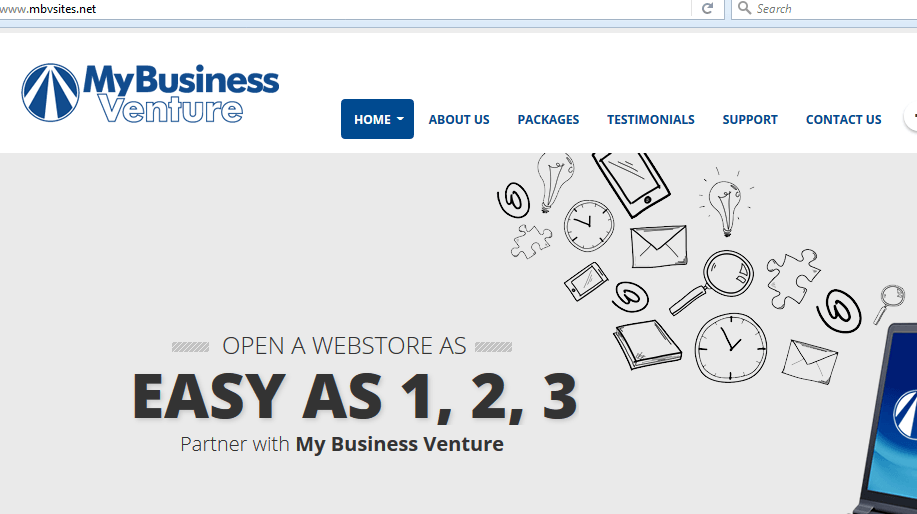 Name: My Business Venture (Also known as MBV sites). The creator is Thomas Stridiron.
Price: Well, it depends on the package you buy, but all of them are quite expensive in my opinion:
One is close to $500 up front, then nearly $100 every month 3 years after.

The next is almost $2,800 and it's a one time fee.

The last is almost $4,000 and is also a one time fee.
There are also other "mini" expenses for hosting and other things like hosting which would add their own costs on top of the packages.
Overall Rating:

5 out of 10 stars

.
Being that this company has been in business for so long, I will give it the benefit of the doubt and give it a cautionary, yet green review score. I also spoke to the owner, so I'll share what occurred (which was positive).
But I can tell you that the alternative program I suggested instead of My Business Venture is definitely a safe choice, both financially and in terms of results. This is it: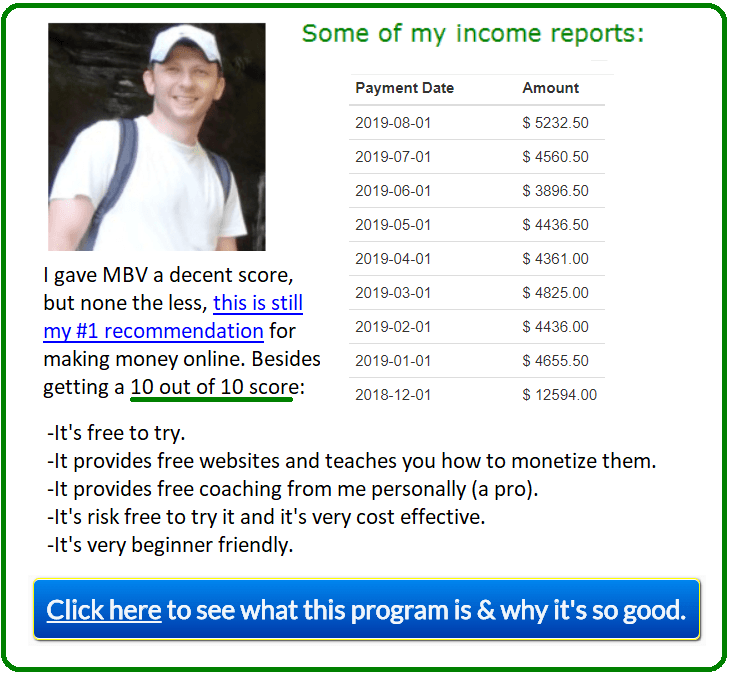 But while I WILL be recommending that program for it's many benefits, all of which I consider to be better reasons to try it vs MVB, it still deserves a fair review and I want to give everyone details about it. As I said, I have added updates to the original review of MVB and here it is:
Update: The owner of MBV reached out to me, here's what I want to let you guys know:
On 4/30/18, Thomas Stridiron contacted me via email. We had a good exchange of communication and Thomas was very polite and gave me additional info about My Business Venture. I was glad he contacted me and that our dialogue was positive. 
Thomas mentioned several things regarding MBV including how the business has grown, the success their members see, provided me with a link to it, and added that there's a lot of good support inside the site, among other perks.
Much of my review below on MBV isn't necessarily about the company itself as much as it is about the formula under which a program like MBV works, the risks involved and so on. While I am keeping the majority of my existing article on MBV intact, I will say…
The following 3 things:
1) Thomas struck me a good guy and I have no reason to not believe his words. Since we've also spoken a number of times, each time I had questions, he always provided proof of his points, which I like. It's one of the reasons I raised the review score of this program.
What I did also like a lot is that Thomas wasn't asking me to promote his company, he only really wanted a fair review of it so if there were inaccuracies, he provided me with proof to show that, and I happily made the updates based on that. 
This type of action is very positive in my opinion and shows high quality on the part of the person.
2) I still believe my alternative to MBV which is Wealthy Affiliate is a 100% cheaper alternative and one I would go with if you're not ready to invest a lot of money.
3) If you have several $100 or $1,000's to invest, MBV may be a good investment for you, but personally, I still stick to using #2 because I believe more in creating your own online business vs paying a ton of money for a seemingly done for you one.
Either way, if you decide to go with MBV, take a look at their site here, make your own conclusions. 
And now I will continue with the original article:
My Business Venture in a nutshell:
This is a business which creates websites (most likely e-commerce pages) for you that are "ready" to make money once you purchase them. They are loaded with products for you to sell as an affiliate marketer for big companies and/or do drop shipping with them.
The big pitch with this company is that if you pay a big price, you will get a highly quality, nearly "full proof" running business. I mean, if you look at their pitch page, there is a claim made that you can start earning the next day. 
So for people who stumble onto it, obviously the price points they pitch you are enough to make some people reluctant, but once they throw in the pitch that the money will be made back and you'll also hit profits, that reluctance goes away (at least that's how I understood their pitch).
The big risk behind a program like My Business Venture. What you need to know:
The idea is that MBV is a company that sells turnkey websites, a topic (aka done for you businesses), which coincidentally I wrote extensively about a week ago.
In that article, my biggest point and warning was that buying turnkey websites was more risky than not and I say this because these points flow well into this review I'm doing of MBV and that the same warnings I gave people on that article, I will give to them here.
But if you wish to read about the risks of buying turnkey websites, that article I just linked to will tell you about them. 
Overall, with turnkey or done for you sites, no matter what the "guarantees", I am of the opinion that there is no such guarantee and too many factors exist that determine if the business will be successful, and one of those is the experience of the person buying the done for you site.
Important: Even if the system is good, if the person buying it is inexperienced, he/she will not be able to run it successfully.
And I think this is an issue which causes inexperienced people to incorrectly use a system like My Business Venture and complain about it, when in fact, it's their lack of experience, not the system which causes that issue. They expect things to be done for them, but in reality it still takes work (it always does).
This leads back to my point about a safer starting point being starting your own online business from scratch with little or no investment, gaining the experience and then deciding on buying turnkey websites/businesses. At least then, the experience will allow the person to successfully run the site.
But do these same warnings apply to My Business Venture?
I would say in SOME cases yes. 
Now MBV comes with it's own insurance in this matter by offering support, help and training to ensure this turnkey website you get from them works for you, so the traditional risks aren't the same here. 
However, there are some very important things to understand:
1) While this company is quite old and growing (which is a good thing), I have found on MANY occasions that turnkey websites are usually not as guaranteed as they say they are.
Like I said before, I would highly recommend you read multiple websites with their reviews of MBV before making a decision.

2) One of the big things I noticed is that supposedly, you aren't actually given an existing website, it is built brand new for you and this is a 50/50 thing meaning that on one hand there are no guarantees that it will make money and on the other, I do like that a brand new site is being made for you, since I would probably never buy an existing site because I don't know it's history, and whether or not its been penalized by Google or not. 
I have made quite a few profitable websites (here is a full report of each one) but they all started as new sites at one point and I built them up using the training in the Wealthy Affiliate program. That's the safest way to do it in my opinion.
3) Just because a website is loaded with products and a bunch of other, seemingly cool perks, doesn't mean it's guaranteed to earn money.
I can easily make you a website right now, get affiliate links, from a retailer like Amazon, put up a bunch of products and links on the page and call it a big profitable website…

The fact is, these things do not require a lot of work or experience. And if you don't have the work ethic or the experience, you're not going to succeed, not with MBV or any other site. And if you do have the work ethic, but don't have the money to buy the turnkey site, then I would go this route:

Here are the real factors that will determine the success of the site:
-Is the page you get a niche related page? Well based on the things I saw, no it's not. And that can be a problem…
-What type of marketing is done for the page you get. And so far, I saw one thing that arose my reluctance even more:
What you see there is a price list of the packages offered by My Business Venture. Now I circled the "search engine submission" area because that one struck me as a bit questionable.
I say that because anyone who knows anything about making websites will tell you that if you have one and you publish content, that Google will find it on it's own, for free.
Is this "submission" claim a marketing tactic or something they charge you extra for? Because if it's the latter (and I see some companies try to get away with this lie), then it's a scam.
So I would ask MBV about this submission and IF there's an extra charge to it…
4) Other things… 
Where is the authenticity of this program? Update: There is.
Where are the pictures of the support staff? Update: I didn't get this, but there was a link to support.
The creator? Update: I was reached out to by the creator, he is a real guy so that's good.
Now one of the ways I first discovered MBV was through this site: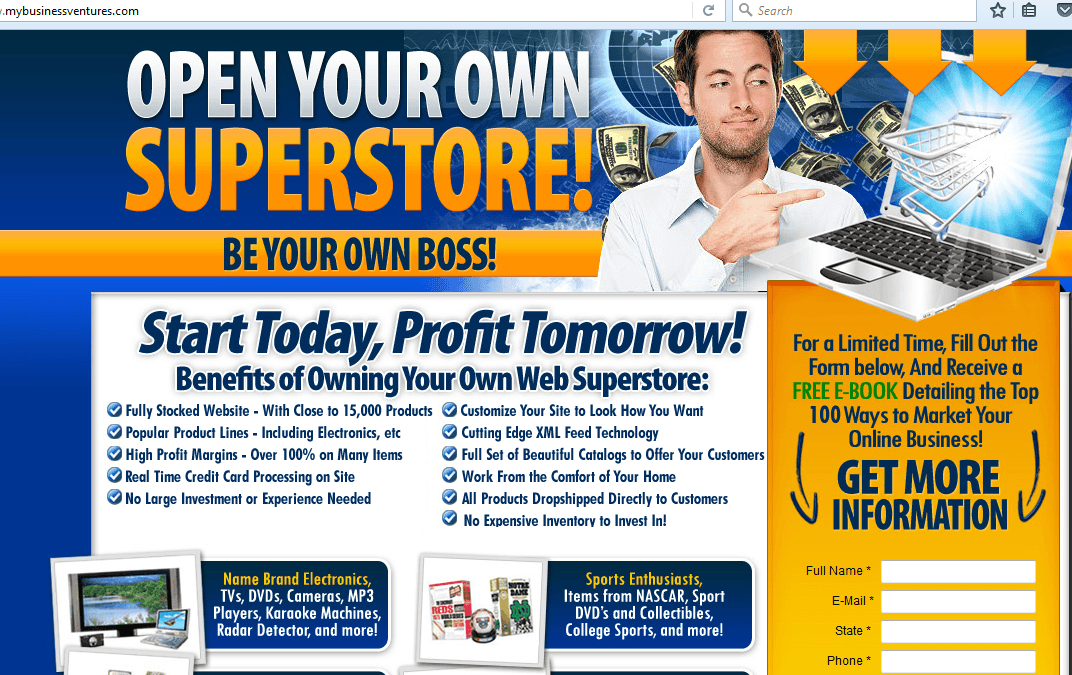 Now I am mentioning this site as part of the review because some people may find MBV this way. I just want to let you know that in registering with it, you will get a call from the support of this program.
But in addition to that, you will be transferred over to the MBV site where you will be able to see the packages, but you'll also be given a smart eBook on online marketing and basic terminologies and ways to make money.
While I found the eBook to be alright and even pretty good with the information it provided, it was extremely vague and not really a resource beginners can take and work from.
5) The price.
This is going to be a mixed thing. I will say the prices charged by this company are actually legitimate and if I were making a page for someone, I would probably put the same type of price tags on my services.
Now before you call me out on contradicting myself in JUST saying earlier that I could make the same types of websites MBV makes, but for free, hang on for a moment…
What I was talking about is the general idea of creating a page and putting product links on it. That literally takes VERY little effort, and like I said, there's factors that affect the success of your site.
Now those factors (marketing + niche) is where the real, authentic price is at. If I were building a website for someone, THAT is what I would charge them big money for, NOT to make a page and put up product links on it.
In the case of MBV, I sincerely hope they do all of this the right way. Perhaps someone from the company can comment on this and let me know what type of marketing they do.
Do they set up PPC accounts for you and run your ads on a budget that converts well?

Do they blog for you and provide unique content that targets keywords for traffic generation from Google?
You don't have to worry about these questions if you don't know about online marketing, but if I were in the position of someone looking to hire MBV, I would absolutely ask those questions, because they are the key things I would look for to determine if a website I'm making will succeed or not…
Final Rating: My Business Venture.

Green Flag (If you know how to run the site you get).
5 out of 10 stars. Their time in business, plus their legitimate pricing is really the main reason I ranked them this way. Other than that, there's really not enough evidence I've personally seen that shows this company can make you great, profitable websites. So I can't give it a full recommendation.
In my experience, no site or service can ever provide 100% guarantees to success. Even the alternative program I recommend can't do that and I make absolutely sure people know that.
But at least with the Wealthy Affiliate alternative, you WILL save money and truly get good education, but it will still rely on YOUR hard work to actually…work.
My final thoughts:
Look my main points about MBV is this are as I said before:
1) If you have an extra few $1,000 to spend and know how to run a site/do marketing for it, I would say you can try this business out. If not, there are less costly ways to build a successful online business site:

2) Again, there are simply no guarantees, especially with "turnkey" businesses. Every single investment has it's risk, please do not believe that there's actual "full proof opportunities" out there, it cannot happen with MBV, even the alternative I provide, nothing, it depends on the business and the work you put in, remember that.
At least with what I present, you risk basically nothing…but I will tell you, what I propose actually has great educational lessons on building a real business (I'm sure MBV does too, but again, there's less financial risk with my option, especially if you haven't the money to invest into something like this).
3) And finally, MBV as I said numerous times may be more appropriate for those with money to spare and little time to work on their websites. My experience has taught me to do these things myself and start websites from nothing and build them up on my own (and hire freelancers as well). But there are good programs which can help you avoid that work. MBV is quite possibly one of them.
I know my review is a bit open ended and if you should try MBV or not, but I have changed my viewpoints on it since I spoke to the owner. I still don't like the idea of putting in so much money into the business, still recommend my Wealthy Affiliate alternative if you are of the same opinion and still believe in doing that myself so avoid that financial risk.
My Business Venture
$500 and up.