My Business Venture is an interesting online business opportunity that's been around for a long time and in this post, I'd like to share my opinions on it as well as objective views on all sides. Over the past few years, this article has undergone many updates because the MBV program has too, from the inside and out and before I go any further, allow me to share some highly important things:
Disclaimers about this My Business Venture article:
1) I am not an affiliate nor promoter of MBV. I also did not buy their services.
2) I am someone who is familiar with the online business MBV helps you set up (more on that later).
3) I am also familiar with numerous online businesses approaches out there and personally practice one called affiliate marketing that earns me money. I prefer that over what MBV teaches, but that's just my personal opinion.
4) I will also be providing several sources of information I have found online about MBV to help you make an informed decision.
5) This is one of those articles where I will not be rating the program, even though I think it's legit. I am just going to provide objective views, including my opinions on several ends to help you with your decision, but that aside, I highly encourage you to do your own research after reading this to help you with that decision (as with any program, including the one I personally use to get my results online).
My Business Venture (the short information):
Name: My Business Venture (Also known as MBV).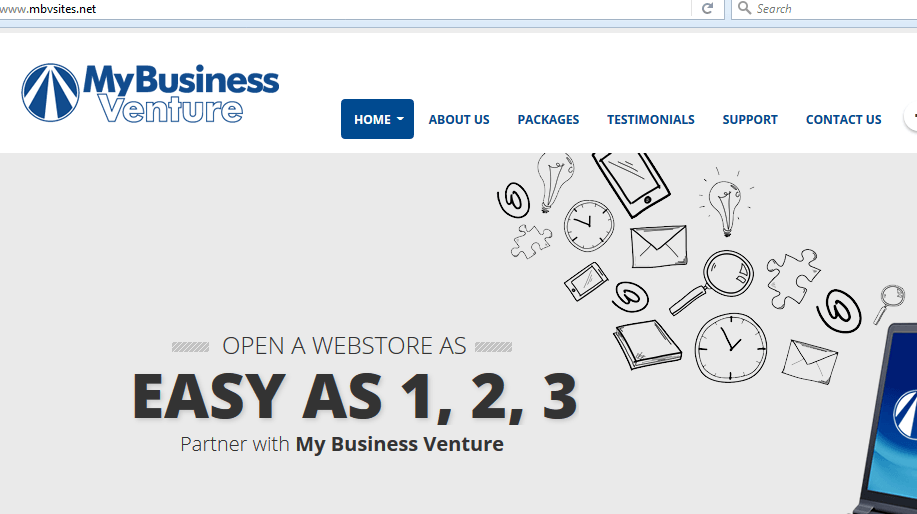 Owner: Thomas Stridiron.
Price: Well, it depends on the package you buy (Enterprise, Premeir, and Millenium), but all of them are quite expensive in my opinion:
One is close to $500 up front.

The next is almost $2,800 and it's a one time fee.

The last is almost $4,000 and is also a one time fee.

Other fees may exist but you have to check out the site. Certain features and tools are included in one of the 3 main memberships too.
Basic information on My Business Venture:
What is My Business Venture?
It's a company that helps people with making done for you online business websites of the eCommerce type (turnkey websites as their site says).
There are usually 2 types of categories of people for whom MBV can be suited for:
1) People who have no products of their own to sell in which case MBV (through their connections) can set you up with one and offer you access to tons of products being sold on the site and sold to the customer through dropshipping means (more explained on that later if you've never heard of it).
2) People who have products of their own to sell but need a website and other features included to run the business.
How can you make money through My Business Venture?
To understand this, we go to back to the 2 types of people this opportunity is suited for:
1) If you have no products of your own to sell, then My Business Venture can help hook you up with products to sell on the site through dropshipping. Dropshipping is an old but still useful means of making money online where you gain access to a wholeseller (which MBV helps you with here), they give you access to their products, and you post them on your site. But when people buy the products from YOUR site, you order them from the wholeseller and they send it to the customer.
The way you make money through this process is by setting your own prices for the products that are higher than what the wholeseller charges. The more orders your site gets, the more it can make.
2) The second option is if you have your own products to sell and in that case, it's pretty self explanatory (you set the prices).
Note: Understand that just by getting a turnkey website, that is not enough to make money. Every website needs people to come to your site to actually (potentially) buy the products you are selling and in many cases, you may have to rely on methods of traffic generation like paid ads to do this (extra costs involved, perhaps huge ones too).
Is My Business Venture a scam?
I don't believe it is. I do think it's legitimate, but there are 2 main things which at least for me hold me back:
High costs (done for you programs are usually expensive so it's understandable).
Done for you carries it's own risk. Though a lot of the set up and operations on your site are really done for you through MVB, in my opinion, knowledge of the business and how to operate it and adjust it when necessary is essential to it's success.
I am not a person who believes that when you buy a done for you system or site, that it guarantees profits and I have to do nothing (in many cases through my own experiences, this is not the case). MBV in my opinion can help you in a lot of ways, but you can't be lazy and expect it all to be done for you, no pun intended (this can increase your risk of it not working out).
Does My Business Venture offer sample websites for proof? 
Yes. I was provided with info on this stuff and here's a link to MBV demo websites they help you set up which you can check out.
Positive things I have found on MBV (pros):
They are BBB accredited.
There is an actual address, with real people and employees, plus contact number.
They have been around for a long time.
I do believe they are a legitimate service.
Many features in MBV are truly done for you (good for beginners).
I've had good discussions with the owner of MBV (more on that later).
There are success stories in MBV.
I do believe you can make money if MBV's site's are applied properly.
They have made good improvements to their services/value like getting connected with BigCommerce (for better performance on their sites and more).
Cons:
I think there are decent and cheaper alternatives to MBV like Shopify (you have to set that up though, it's not done for you).
Done for you is again not always as simple as it sounds.
I think the pricing is very high and I normally do not endorse high ticket opportunities (even if they are legit).
There are some mixed reviews of this program (I will do my best to include all the sides).
Of course, no guarantees (You have to understand that).
Driving visitors to your eCommerce site may incur it's own extra high costs for things like paid ads (you need traffic to sell the products).
If you don't have the money to invest in MBV (or aren't ready to work hard), I would consider alternatives (but you still have to work hard either way).
Note: Some of the cons on this list are not directly associated with MVB, but with the business in general.
What do reviews of My Business Venture say?
That depends on which source you read. I'll link you to several positive ones first:
But of course there are neutral and negative ones out there. I have included links to the ones I feel are least unbiased:
Either way, like I said before, please draw your own conclusions. I'm not here to tell you to get or not get MBV, but just providing you objective info.
My positive experiences with MBV (specifically with the owner):
I've spoken with Thomas the owner of MBV numerous times via email and I have to say, I always appreciated his paitence and clarification on several topics that came up when I wrote this article. There are unfortunately a lot of people out there who are not as friendly in my experience and do not like to have open debate and even respectful disagreements. Thankfully Thomas is NOT one of these people and there are 3 specific things I want to note here:
1) Thomas struck me a good guy and I have no reason to not believe his words. Since we've also spoken a number of times, each time I had questions, he always provided proof of his points, which I like. 
What I did also like a lot is that Thomas wasn't asking me to promote his company, he only really wanted a fair review of it so if there were inaccuracies, he provided me with proof to show that, and I happily made the updates based on that. This type of action is very positive in my opinion and shows high quality on the part of the person.
2) I still believe my alternative to MBV which is Wealthy Affiliate (which is about affiliate marketing) might be better for people if they are not looking to get into eCommerce, dropshipping or are not able to afford the prices MBV charges (or other alternatives in similar fields like Shopify).
3) If you have several $100 or $1,000's to invest, MBV may be a good investment for you, but personally, I still stick to using Wealthy Affiliate because I personally think it's a better entry into online business vs paying a lot for eCommerce sites (unless you know the topic well).
Either way, if you decide to go with MBV, take a look at their site here, make your own conclusions. 
My final thoughts:
Look my main points about MBV is this are as I said before:
1) If you have an extra couple of $1,000 to spend and know how to run a site/do marketing for it, then MBV might be the business opportunity for you. If not, there are less costly ways to build a successful online business site.
2) Again, there are simply no guarantees, especially with "turnkey" businesses. Every single investment has it's risk, please do not believe that there's actual "full proof opportunities" out there, it cannot happen with MBV, even the alternative I provide, nothing. It depends on the business and the work you put in, remember that.
3) And finally, MBV as I said numerous times may be more appropriate for those with money to spare and little time to work on their websites. My experience has taught me to do these things myself and start websites from nothing and build them up on my own (and hire freelancers as well). But there are good programs which can help you avoid that work. MBV is quite possibly one of them.
I know my review is a bit open ended and if you should try MBV or not, but I have changed my viewpoints on it since I spoke to the owner. I still don't like the idea of putting in so much money into the business, still recommend my Wealthy Affiliate alternative if you are of the same opinion and still believe in doing that myself so avoid that financial risk.
My Business Venture
$500 and up.