Quick Report: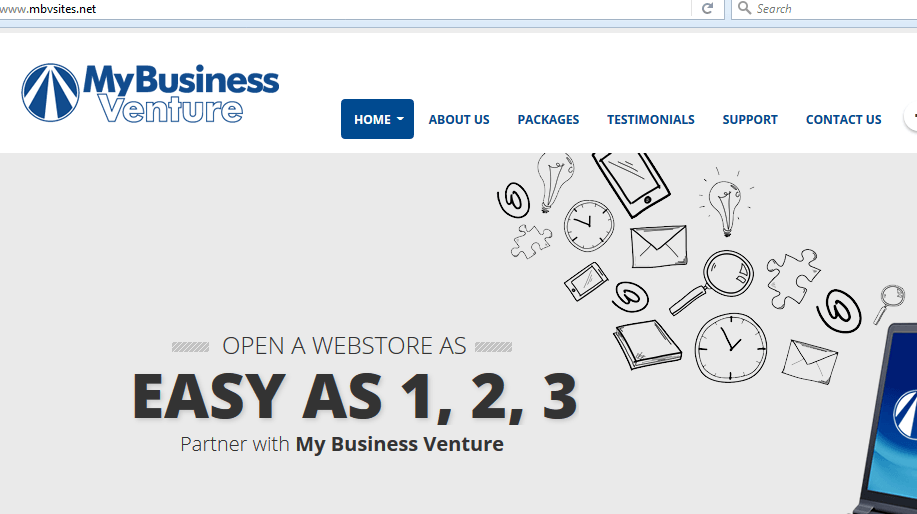 Name: My Business Venture (Also known as MBV sites). I couldn't get the name of the creator.
Price: Well, it depends on the package you buy, but all of them are quite expensive in my opinion:
One is close to $500 up front, then nearly $100 every month 3 years after.

The next is almost $2,800 and it's a one time fee.

The last is almost $4,000 and is also a one time fee.
Overall Rating: 3 out of 10 stars. Being that this company has been in business for so long, I will give it the benefit of the doubt and put it in the yellow, cautionary level.
However, my biggest reluctance in recommending MBV is that it is extremely expensive, on first appearances, not very transparent (Who made it? Where are the pictures of actual people from there?) and the fact that these types of programs are rarely, in my experience ever actually profitable for anyone but the person who sells them to you. Of course, I will not put MBV in such a bad category, but I have heard mixed things about it. 

My Business Venture in a nutshell:
This is a business which creates websites (most likely e-commerce pages) for you that are "ready" to make money once you purchase them. They are loaded with products for you to sell as an affiliate for big companies and/or do dropshipping with them.
The big pitch with this company is that if you pay a big price, you will get a highly quality, nearly "full proof" running business. I mean, if you look at their pitch page, there is a claim made that you can start earning the next day. 
So for people who stumble onto it, obviously the price points they pitch you are enough to make people reluctant, but once they throw in the pitch that the money will be made back and you'll also hit profits, that reluctance goes away (at least that's how I understood their pitch).
The big risk behind a program like MBV. What you need to know:
The idea is that MBV is a company that sells turnkey websites, a topic, which coincidentally I wrote extensively about a week ago.
In that article, my biggest point and warning was that buying turnkey websites was more risky than not and I say this because these points flow well into this review I'm doing of MBV and that the same warnings I gave people on that article, I will give to them here. But if you wish to read about the risks of buying turnkey websites (I recommend you do), here is the article.
But what are these warnings? Do they apply to MBV?
I would say in most cases yes. And here's some very important things to understand:
Risk 1:
While this company is quite old (which is typically a good thing), I have found on MANY occasions that turnkey websites are usually not as guaranteed as they say they are.
I would highly recommend you read multiple websites with their reviews of MBV before making a decision, and not just to rely on MBV's main page or my review…

Risk 2:
One of the big things I noticed is that supposedly, you aren't actually given an existing website, it is built brand new for you and this carries a major risk in that a website that is newly built has no reputation of making money prior, and frankly, there is simply NO guarantee no matter how much you're told otherwise, that it will make money.
I have made quite a few profitable websites, but even with all the experience and success I've had, I would NEVER make the claim that a new page I'm making will do well. There are simply FAR too many factors that can turn that guarantee around.
Risk 3: 
Just because a website is loaded with products and a bunch of other, seemingly cool perks, doesn't mean it's a guarantee. 
I can easily make you a website right now, get affiliate links, from a retailer like Amazon, put up a bunch of products and links on the page and call it a big profitable website…

The fact is, these things do not require a lot of work or experience.

The real factors that will determine the success of the site you get is:
Is the page you get a niche related page? Well based on the things I saw, no it's not. And that can be a problem…

What type of marketing is done for the page you get. And so far, I saw one thing that arose my reluctance even more:
What you see there is a price list of the packages offered by My Business Venture. Now I circled the "search engine submission" area because that one struck me as deceptive. 
I say that because anyone who knows anything about making websites will tell you that if you have one and you publish content, that Google will find it on it's own, for free.
Is this "submission" claim a marketing tactic or something they charge you extra for? Because if it's the latter (and I see some companies try to get away with this lie), then it's a scam.
So be careful and if you decide to go with MBV, ask them about this submission and there's an extra charge to it…
Risk 4: 
Where is the authenticity of this program?

Where are the pictures of the support staff?

The creator?
I couldn't find them at all. So far, all that this program has shown me on the exterior end (and I filled in the rest with my experience) is that:
You register your name and telephone on this site: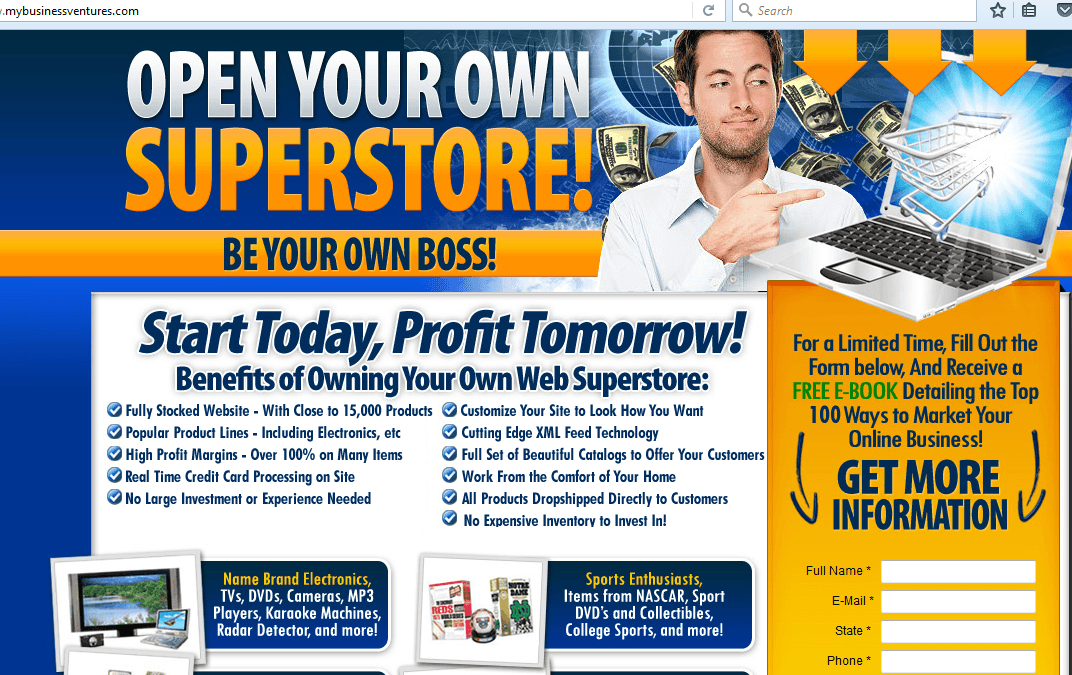 In registering, you will get a call from the support of this program. But in addition to that, you will be transferred over to the MBV site where you will be able to see the packages, but you'll also be given a smart eBook on online marketing and basic terminologies and ways to make money.
While I found the eBook to be alright and even pretty good with the information it provided, it was extremely vague and not really a resource beginners can take and work from.
Risk 5:
The price. This is going to be a mixed thing. I will say the prices charged by this company are actually legitimate and if I were making a page for someone, I would probably put the same type of price tags on my services.
Now before you call me out on contradicting myself in JUST saying earlier that I could make the same types of websites MBV makes, but for free, hang on for a moment…
What I was talking about is the general idea of creating a page and putting product links on it. That literally takes VERY little effort, and like I said, there's factors that affect the success of your site.
Now those factors (marketing + niche) is where the real, authentic price is at. If I were building a website for someone, THAT is what I would charge them big money for, NOT to make a page and put up product links on it.
In the case of MBV, I sincerely hope they do all of this the right way. Perhaps someone from the company can comment on this and let me know what type of marketing they do.
Do they set up PPC accounts for you and run your ads on a budget that converts well?

Do they blog for you and provide unique content that targets keywords for traffic generation from Google?
You don't have to worry about these questions if you don't know about online marketing, but if I were in the position of someone looking to hire MBV, I would absolutely ask those questions, because they are the key things I would look for to determine if a website I'm making will succeed or not…
Final Rating: My Business Venture

3 out of 10 stars. Their time in business, plus their legitimate pricing is really the main reason I ranked them this way. Other than that, there's really not enough evidence I've personally seen that shows this company can make you great, profitable websites.  
My final thoughts:
Look my main points about MBV is this:
There's way too many questions and the price itself in my opinion is too high for people who can't afford it. I would never recommend anyone invest their last money into a risk.
If you have an extra few $1,000 to spend, I would say you can try this business out. If not, there are less riskier ways to build a successful site:
And there are simply no guarantees, especially with "turnkey" businesses. Every single investment has it's risk, please do not believe that there's actual full proof opportunities out there.
At least with what I present, you risk basically nothing…but I will tell you, what I propose actually has great educational lessons on building a real business.
Here's another interesting thing (No case studies? Uh oh…):
I looked through their (MBV) testimonials page. What I find very perplexing is why they aren't showing me samples of what types of pages they make or for that matter stats of some of their customer's sites, stats such as the success they are seeing.
I looked at every testimonial there and was only able to make out one where the person providing a positive review mentioned their website.
I looked at that page to be sure of my suspicions and I have to be honest, I am not impressed with the page. It was nice looking, but it was promoting products of a wide range. However this only proved to me the point about how I can do this too, for nothing. 
I would love to know how that page is doing in Google, how much traffic it gets, how it's being marketed, if it's selling it's products on social media, ect…
There's simply no stats or case studies provided by MBV to support how successful of a website they'll make for you.
Words and people's faces saying positive things isn't enough, there need to be stats and when I don't see that, I become very reluctant to move forward with recommending the company…