Folks, I've made over $700,000 in affiliate marketing sales thanks to the 4 steps I'm about to show you.
The 4 steps are this:
Pick a topic where people have a BIG problem (Ex: How to lose belly fat).

Create a page. 

Drive visitors to the page.

Sell them products as an AFFILIATE that SOLVE the problem (Ex: How to lose belly fat products).
Proof this works (my personal affiliate marketing stats using this):
My name is Vitaliy and I do affiliate marketing FULL time via these same 4 steps. Here are some of my results: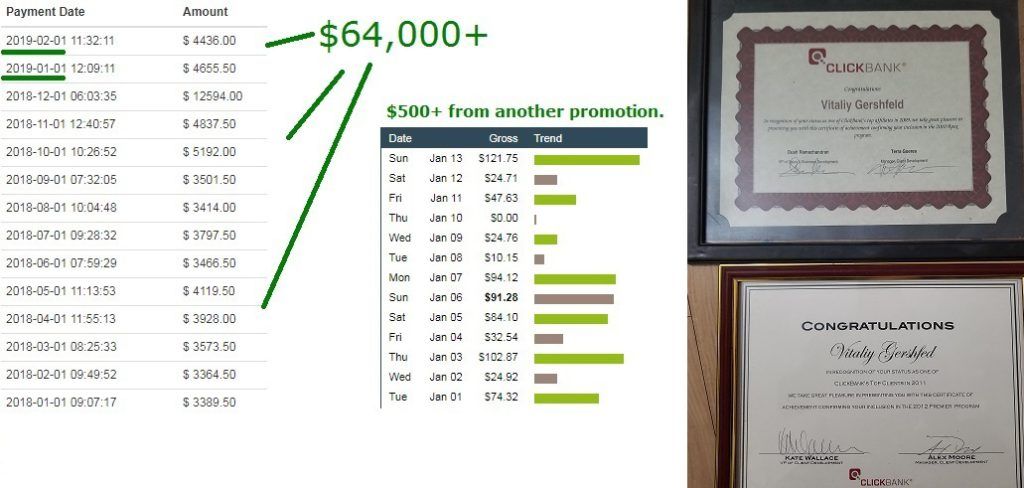 I have used this formula over and over since I started in this business in 2007 and have generated sales as an affiliate marketer from…
Amazon.

Clickbank.

Various other affiliate networks. 
5 reasons why this formula works: 
1) Big problem topics always have evergreen audiences.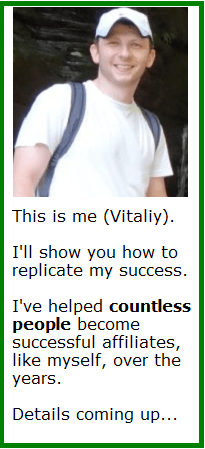 This means they'll never fall out of popularity and will keep making you sales.
2) Big problem topics have the HIGHEST % of people buying solutions to them.
The bigger the problem, the easier the sale is to make.
3) Most purchases made online are made through AFFILIATE sites.
This gives YOU infinite opportunity to profit.
4) MOST people look for solutions to problems on blogs and YouTube videos.
You set one of these things up, help the person solve their problem and you're looking at a FULL time income.
5) No limit to how much you can make.
I've made over $700k since I started. You can do even better.
5 reasons your odds of success are better than ever…
1) The internet is continually growing. 
2) The amount of people using the internet is growing.
3) The amount of people buying stuff online is growing.
4) The amount of affiliate opportunities is growing (they need MORE people promoting their stuff).
5) The amount of new affiliate marketing success stories is growing (You'll see these below in a moment).
How to become a successful affiliate marketer (important!):
Despite all the growth and opportunities in this business, the truth is MOST people fail at this business because:
They expect overnight riches (This is a business, you need to work hard at it and it takes time).

They get bad training (scams are everywhere and I've been down that road and tried 200+ programs).
I'm going to how you how you can bypass these common problems and become a success and will literally help you along the way:
How I help people become successful affiliate marketers:
Having over 14 years experience, I now personally coach people and help them succeed at this.
Here's how it all works (3 simple parts):
1) I became successful at this thanks to a free to try program called Wealthy Affiliate.
It has over 1.5 million members and a plethora of success stories. Here are just some of the many, and I will provide more below: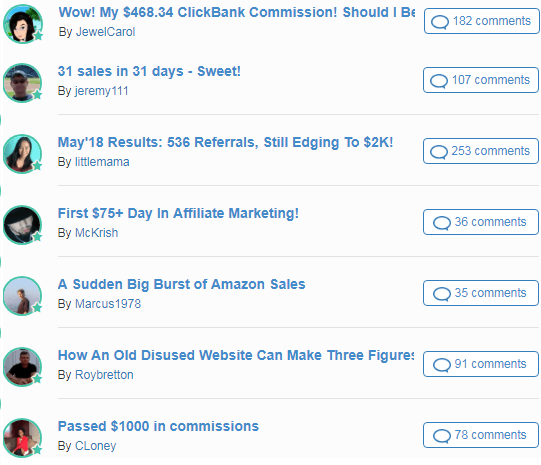 2) I personally coach people within this program.
And I do this to help them reach this level of success.
3) The training is beginner friendly and easy to understand.
You learn the same 4 steps in detail and get free tools to help you get started.
How it all works:
1) Become a free Wealthy Affiliate member.
Sign up is quick, easy, no CC, no personal info and you can remain a free member as long as you like.
2) Once you join, I will personally reach out to you and help you get started.
Every person who joins here, I am notified off and actively help. I have a 100% QUICK, response rate.
3) You can ask me any questions you like, anytime for 7 days.
This is the length of the coaching period and I'll show you how to get an unlimited amount of it shortly. 
4) There's no risks, no obligations. 
You get my coaching, you can communicate with the community as well for 7 days (live chat, support and help are ALWAYS available). 
Optional upgrades: Wealthy Affiliate's premium membership…
Wealthy Affiliate offers an upgraded, ALL access membership known as the premium membership. There are 3 ways you can become a premium member:
$49/month.

$234 every 6 months ($39/month).

$359 a year ($29/month).
Here are the benefits premium has:
Unlimited access to my coaching.

Unlimited help from other affiliate marketing experts. 

Access to over 10,000 lessons and training.

Access to any new training released.

Access to over 300 webinars on all things affiliate marketing and more.

10 free sites.

FREE hosting for up to 10 website domains you own.

Unlimited access to live chat (over 1.5 million members).

And more benefits.
Here's the best way to start & become a successful affiliate marketer:
1) I recommend the free membership so you see how awesome this place is. 
2) Once you join, remember, I WILL reach out to you and help you get started (coaching).
3) Start with the MAIN training (the 4 steps). Here is how to access it (once you're in):
This will take you through 10 FREE lessons and help you go through the 4 steps. You will…
Select a big problem topic to make an affiliate business out of.

You WILL create your first free website.

You will learn how to bring it traffic.

You will learn how to make it profit.

And you WILL have my coaching and help along the way (including the community), for free.

More Wealthy Affiliate success stories as promised:
Remember, this is a business, not a get rich quick scheme.
You need to follow the training in this program and work hard to become successful, but Wealthy Affiliate IS the best place to become a success at affiliate marketing. 
Start your free training and get my coaching here: