Quick Report: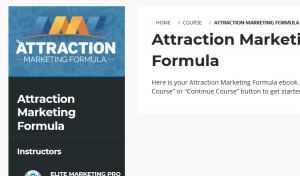 Name: Attraction Marketing Formula by Ferny Ceballos.
Price: $47 however if you create an account with Elite Marketing Pro (EMP), the parent company from which this eBook is from, it is discounted to $27. They do try to pitch you an up-sell into one of EMP's main packages, their pro membership for $297 a year though.
Overall Rating: 7 out of 10 stars. A high value eBook on list building. While a lot of the things I learned from it were already familiar to me, I still learned many new and good things, mainly about the buying psychology and it made me rethink existing email marketing campaigns I have running. 
Recommended? Yes, if you do list building.

What is the Attraction Marketing Formula?
It is a 186 page eBook (minus the disclaimers) that talks about ways to succeed with list building, all the way from picking the HOT niche topic which guarantees the right audience hits your page, to the part of how to set up a squeeze page so it converts better, followed by what to offer the audience after they sign up to get immediate conversions and then that's followed up by tips and strategies on what to send your email list so you continue to grow a good relationship with them and keep making money through them.
I have to say prior to reading this eBook, I did not expect it to have so much rich content. I honestly though it would be a guide on how to pretend to look good in front of your audience, something that many list builders do while they are honestly not like that in real life. 
But I was pleasantly surprised and happy to be wrong in that regard since what I got out of the eBook was very deep meaning on list building success. 
Some of the things I learned:
While I can't really explain everything I got out of it, I will explain some personal things I discovered through reading it that gave me a lot of value. I do recommend you get this eBook if you're into list building:
1) A good tip I already knew about was generating hot leads (likely buyers) via niche selection, but a specific niche selection in that the people have a problem that needs fixing. I have at least 2 personal stories on this tip that prove what this eBook recommends is right:
A) I have a good email list growing from a niche audience interested in losing belly fat.
B) I have a decent amount of sign ups from a niche site I made on stopping knee pain.
The problem though was that these 2 examples are still not generating a good income, which was ultimately why I got the Attraction Marketing Formula. And so it offered some extra ideas on what I could do to improve my conversions:
2) Another good tip they offer was to make our squeeze page extremely short, to the point with bullet points and a quick sign up. The eBook explains how simplicity + a good niche audience = high sign up rates and I have to attest to this being true from the above 2 examples, although I will try to tweak my existing campaigns above to see if it improves sign ups.
Update: I tried their approach to list building but on another site. I actually doubled my sign up rates 🙂
The eBook offers examples, stats and case studies to illustrate why this works so well and it inspired me to give it a shot on my campaigns too. Get Attraction Marketing Formula here.
3) Offering a discounted OTO (one time offer) right AFTER a sign up happens. I have to admit, this tip surprised me a lot, since I originally though you should get to know your leads via free tips before pitching something. But the case the author makes is that it filters out the buyers from people you don't need quickly and you can make some quick sales as a result. Whatever, I'll try it and let you guys know what happened…
4) Another surprising thing the author listed is that on average, one should have several DOZEN followup emails to send their list. I used to have about 10-15, but this goes way beyond that and it honestly make sense, considering you are building a business after all.
5) The other thing I also found profound was how the author explained sales and how to approach people in general to get it. That's where that psychology part comes into play I talked about earlier. 
Some things to note about the eBook (a few cons):
There isn't really comprehensive training on getting traffic. After all, the eBook does primarily focus on list building and improving conversions. They do mention that if you become a member of EMP and buy their other, traffic generating products, that those will cover it so be aware of this.
The other thing I have to let you guys know is EMP itself, it has a lot of packages and some are quite expensive. 
Final Rating: Attraction Marketing Formula.

Green Flag
7 out of 10 stars. I found the eBook to be an awesome read and recommend it to any struggling list builder!
My final thoughts:
This eBook and the EMP program as a whole is a pretty awesome place, although I feel my top pick still beats them in many regards. In any case, like I said before, list builders will benefit highly from using the tips in the Attraction Marketing Formula. 
I am already implementing some of those ideas on my 2 existing email campaigns. You may be wondering why it's only 2. Am I a newbie in online marketing or just another person who is struggling at it? The answer is no on both fronts.
I actually make a full time living (thanks to this program), and I have done email marketing in the past, it's just that now I focus on SEO and affiliate sales more so, but I know the value of collecting leads and making money through them from past experiences, so reading this eBook was sort of an awakening for me to get it together with those 2 campaigns I stopped focusing on.