Quick Report: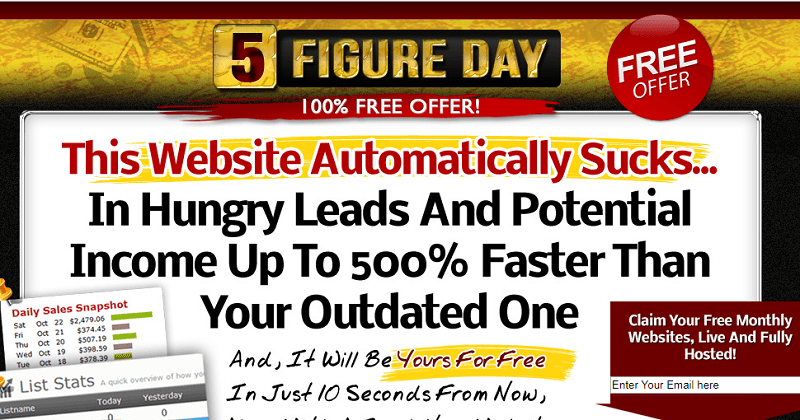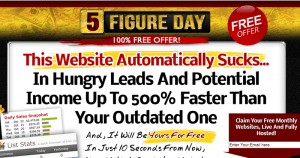 Name: 5 Figure Day by Bryan Winters.
Price: $7 trial for 7 days (although a message says it's for 48 hours), then 1 up-sell for $97, one time.
Overall Rating:

1 out of 10 stars

.
This seems like a VERY old program because the things it teaches, the way it looks and the small amount of content it provides offers little value, not just for the $7 trial, but for the following $97 you'll pay to be a member of this program every month.
It's just not worth it…

What is 5 Figure Day? 
This is a program that is designed to help you collect big email lists to sell make money online type products, typically from places like Clickbank.
You get custom made squeeze pages and then you basically get 100's of places to "spam" this squeeze page to.
Theoretically, the more places you put your site on and/or the more solo ads you buy, the more people you can get to sign up to your email list to then promote those make money online Clickbank products to and that's basically how the whole system works, summarized.
But, here is the same program, explained in detail through 3 parts:
1) How to collect leads via email marketing by providing you with over 20 custom made squeeze pages that are geared to collect emails of people looking to make money online. You probably see these types of "cheap pages" from different sites online where they tell you that they'll show you how to make a lot of money easily.
Here is an example: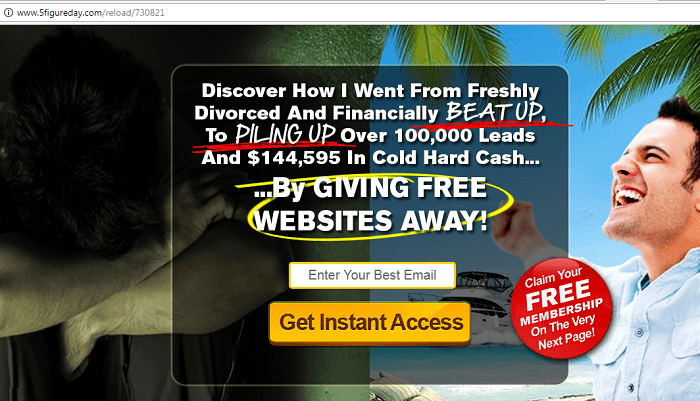 Now in order to use this page (or whichever other one is on the 5 Figure Day site), you have to connect it with an autoresponder like Aweber and Get Response (this is going to be a separate purchase), but once you have them set up, the page/s like you see above can capture emails and then you can sell them things.
2) You are also provided followup emails to copy and paste on your autoresponder so once you collect the leads, you set up the autoresponder to email out those same messages. 
Those followup messages can contain affiliate links to promote 5 Figure Payday or ANY product on Clickbank that sells a make money online product. These messages are structured to basically sell the products, all you really have to do is just provide an affiliate link to whichever product you want the message to link to.
3) In order to make the first 2 steps work and to actually collect emails, you have to get traffic.
Now if you know how to generate traffic, you can technically get started but if not, 5 Figure Day provides a list of a lot of ad networks and solo ad places where you can buy the traffic or basically put up your site for people to see.
Like I said before, it's basically works like spamming. You get your 5 Figure Day site, you try to get it out to as many people as possible and hope that people sign up when they see it. That's how the system works.
It sounds great, but why the

1 out of 10 star

rating then? 5 major reasons:
Reason 1:
You're basically spamming when you do this. While it can work, this type of marketing either costs you a lot of money (such as buying solo ads), or you advertise the site on as many places as possible. Generally, this kind of stuff doesn't get a lot of good results in my opinion.
Reason 2:
Generally speaking, most Clickbank products on making money online are bad.
While there are good ones like Affilorama and Chris Farrell's Membership, and possibly Commission Hero (but it's so expensive, I don't recommend it) which are on Clickbank, the other ones are basically low quality programs whose training is massively outdated.
If you're going to use this formula, I'd only promote one or both of those programs I just mentioned, but even then, you'd need to update the follow up messages you're given.
Not every make money online program on Clickbank or the internet is the same, they work differently and people you sell to need to know that, otherwise, it hinders the chance of a sale if they see one thing written in your follow up email but a whole other on the product you're pitching.
Reason 3:
The whole system will likely not work if you don't know how it works.
The idea behind 5 Figure Payday is that most if not all of the work is handled for you. You get custom opt in sites, you get custom messages to post and all you really have to do is go out and spam the site and/or buy clicks from solo ads, while the rest is automated.
Such an idea attracts people, especially beginners and makes them think this is all easy and they don't have to study or learn anything, when in fact it's the opposite. When you don't know what you're promoting or who you're promoting too, you may as well just be a sleazy salesman trying to make money anyway possible.
This type of marketing is very crummy and generally gets very little results.
Reason 4:
This product is very outdated in my opinion.
Just the sales page screams 2007 and possibly earlier. Back in those days, make money online products, kind of like 5 Figure Day were massively popular and MAY have worked, but today, that type of approach is dying out, and quickly.
Today people crave content and absorbing a lot of information before making a decision on purchasing and the once popular places for spamming your website and/or doing solo ads were used up by so many marketers, so many times that those places, sites and people within those sites look at these messages you'll be spamming as well…spam and junk and they likely will not take it seriously. 
This is one of the biggest reasons why I believe this whole system is not going to work.
Final Reason:
It's just too expensive to stick around. All you get are different squeeze pages to keep spamming again and again and those things on their own are easy to make, so spending $97 every month to get a cheap squeeze page is not a good investment in my opinion.
Final Rating: 5 Figure Day

Red Flag
1 out of 10 stars. I feel there is no good value given in this product, other than an impression than making money is easy through that system, but I've given enough reasons why I don't think that'll happen.

My final thoughts:
I've done years worth of email marketing to know how these types of systems work out. I didn't just come up with reasons not to buy it out of nowhere, it's from personal lessons I've learned in this industry.
I have made a lot of money doing email marketing, but that was through enticing people to join my newsletter and giving them great information to get them to trust me and then selling them stuff, and that formula, generally speaking is what works, though it's NOWHERE near as easy as this program makes it seem, but it's at least a more realistic approach.

One more thing I added was the lack of actual good content on the 5 Figure Day members page. There's really not a lot there, the info is very general and I could have honestly written more in one of the articles I produce daily, which is free to read than in the membership of this place. Such places that cost so much to be a member in and do so little in terms of value provided is also another indication of low quality and low quality is a reflection of the chances of success.