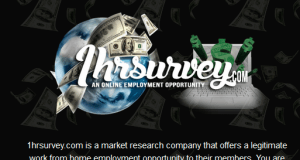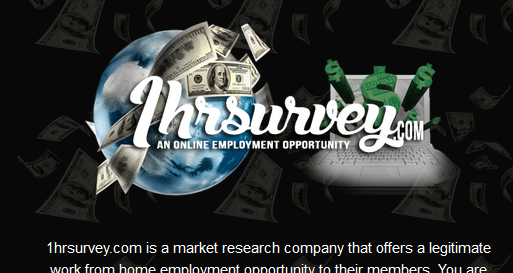 Quick Report:
Name: 1 Hour Survey (1hrsurvey.com).
Price: $49.99. There is also the possibility of up-sells and I'll explain why.
Overall Rating: 0 out of 10 stars. Yep, another "paid" survey scam.
I was informed about 1 Hour Survey from a person very recently and noticed I had not yet done a review on it. However, that same person asked me if it was worth checking out and I told him probably not and that all survey sites are scams (why I say this) in one way or another.
After I made that comment, although I wasn't directly referring to 1 Hour Survey, I felt I might have been unfair towards them and decided to dedicate an article to this. Well I reviewed them and now I safely call them a scam for 3 reasons.
1 Hour Survey in a nutshell:
Pay $49.99 and you'll supposedly get access to the most "amazing" and "high paying" surveys which will help you make extra cash. That's what they say, but is there truth to this?
Well after being involved with about 50 survey sites, paying for a number of them and trying them, the answer is no. You'll actually kill more time than money trying these things and as usual, with survey sites, you barely get paid. Barely is actually an overestimation of what you actually get…
But I didn't make the mistake of buying into 1 Hour Survey, because I have 3 big tests I put them through before I make a decision and this program failed all 3 of them. These 3 tests are things I've developed over the years to help determine a good survey site from the bad.
To date, there is NO survey site that actually passes all 3 which could mean:
1. Either my tests are too strict making it impossible to pass.
2. All survey sites are scams or at least highly exaggerated from what they claim.
The 3 tests which left me no doubt this place is a scam:
1. They're asking you to pay….
The biggest indication you're about to fall for a scam survey site is if they ask you to pay. Over and over, I keep finding these programs that keep saying the same things 1 Hour Survey does and the 3 or 4 times I've purchased memberships with them, I found out that:
1. All of the sites they say will make me money don't pay a lot.
2. I can find ALL of these websites online by myself.
3. They ask you to pay so they make money and they also refer you into each site, some or even all of which pay them for each referral.
You're being duped with these sites and the payment they ask you for before you even get to the sites they show is just there so they can make money. The sites they show you aren't something exclusive or top secret, they are just regular sites.
Free survey sites are everywhere and you can find the same information on them. Inbox dollars is one example, but that's also a waste of time as I'll explain with my third test.
2. Paid actors.
With 1 Hour Survey, the home page has 2 video "testimonials", one of a woman and the other of a man who just say it works. Good enough right? Nope, at least one of them is a paid actor and I have proof:
Here's a screenshot of one of the man who says it works:
In my experience, these videos are easily classified as paid for testimonials and there happens to be a site which facilitates testimonial services for cash. It's called Fiverr and while there are a lot of good things on this site I could name, there's many people who use this site to promote bad programs and by paying for reviews, the bad program earns trust because people believe it's real.
Where is the proof you ask? Well that same man has his own Fiverr page where he offers his services. Here are 2 screenshots: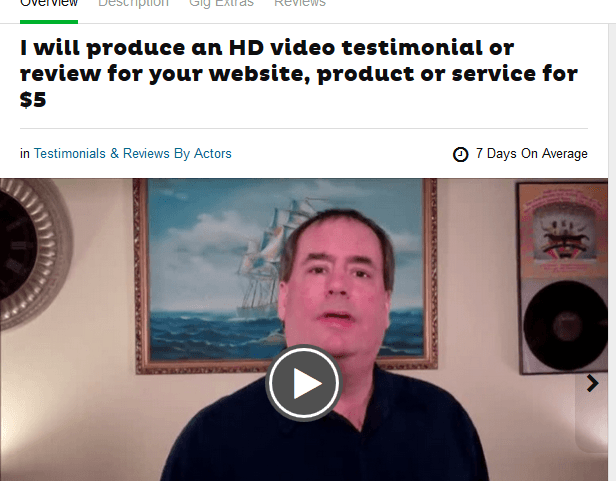 Have doubts if that's really him? Here's another for you…
Authenticity of programs rely on genuine testimonials and I don't believe there's any on 1 Hour Survey. The other person whose there, a woman, is someone who I too believe is a paid actress. I did find one particular image of a woman promoting the same testimonial services like the man above, but I'm not 100% sure if it's the same woman whose on the 1 Hour Survey Site and I don't like to speculate about these things.
3. Paid surveys are scams in general.
The ones I'm talking about are those who say you can actually make some real money or some sort of full time living doing this. That's impossible in my experience. It's a lie.
It's a business which in reality pays SO little, you would laugh (and shake your head) if you only knew the truth, and the worst thing isn't just the money they pay, it's the compensation (time) you spend going through them to actually get up to something that's worth it. That's one of the biggest problems with this whole business!
Final Rating: 1 Hour Survey
0 Stars
Red Flag (Scam)
0 out of 10 stars. Scam, just like all the other survey sites I've ever tried.
My Final Thoughts:
One of the worst mistakes I ever made was trying to make money with these survey sites, but when I did try it, I actually believe it could work. I really put in the hours to make this happen, but as I saw that all the time I was putting in was not yielding any real result, I began to slowly admit to myself I made a huge mistake and even though I had already wasted so much, I had to break away from it or risk losing more.
If you have never been a part of survey sites, I recommend you never use them. If you have and are still looking for that "golden site", you're probably not going to find it. Your best option is to embrace what survey sites really are and move forward. I know it's upsetting, but there are way better things out there to do to earn money online with.
For those who have been inside the 1 Hour Survey Site, please let me know if you found any up-sells (or want to post some feedback on the program itself). Anything to help warn people about it.