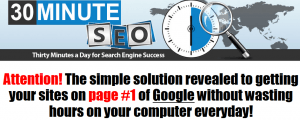 Quick Report:
Name: 30 Minute SEO by Stuart Avis.
Price: $13.95 with 2 up-sells (that I didn't buy), one is 10 extra worksheets and it's called 30 Minute SEO Advanced and another called 30 Minute SEO Elite for $9.95 which is supposed to give you access to some exclusive group of people who know how to market online. 
Overall Rating: 2 out of 10 stars.
Honestly, for just the basic access, I received very little for my purchase and of the things I did get, I was not impressed.
30 Minute SEO in a nutshell:
Well it's both a short and long SEO course all compiled into an eBook in PDF format. The reason I say it's both short and long is because on the long side of things, it's 61 pages (the main book) but it's short because the information and topics on SEO that are covered there (just about most) are really summaries and not the kind of detailed information beginners would need to really get going. It's just basic and with basic things come missing pieces.
I'll go over the things I feel this book really needed to add in, but before I do, I just want to say that I believe many of the things that would have made this program much more likely to get rated higher would be buying the up-sells.
The problem however in buying up-sells is that most of the time, you're going in blind, mainly because you haven't yet seen the main product yet and can't make an informed decision. I don't like taking these sorts of risks and as I've said many times in a lot of product reviews I've done in which I haven't purchased the up-sells: The main program/book or whatever is being sold has to give me enough information to trust buying the up-sell/s and the 30 Minute SEO ebook didn't do enough so this review focuses only on the main product. 
The members area of 30 Minute SEO has a lot of "closed doors":
When you first get access to the members are of 30 minute SEO, the only things that are available are just 2 eBooks, one being the main one that I talked about earlier and another that's 2 pages long, but it's really just 1 page because the other is just the picture of the book and it shows references to the chapters in the first book. 
The rest is either inaccessible (unless you purchase the extra up-sells). Here's a quick look: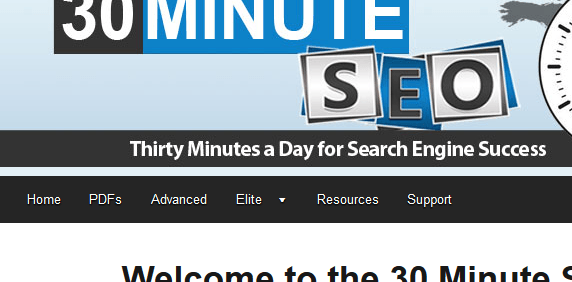 Home is just a welcome page with an option to subscribe to a webinar and more future information.

PDFs is the ONLY real area that you have access to in terms of content. This is where you get 2 eBooks.

Advanced is apparently one of the up-sells I didn't buy.

Elite is also that, but it's for up-sell #2 and it only showed me "month 1" when I tried to enter it.

Resource is actually a blank page.

Support is just the option to email Stuart. 
So all that we get is just 2 eBooks for $13.95.
The 30 Minute SEO eBook and it's missing pieces:
Since this is the main thing, let me quickly summarize it and talk about what I feel is missing:
About the first 20 pages of this ebook are filled with very basic information on SEO, why it's important, some stats on it's potential and what the 30 minute SEO program will help you achieve with SEO. 
Some good information on black hat and white hat marketing was covered, and although it was brief, it made it clear, black hat is not a good thing. 
From there, you go over things like keywords, using Fiverr to outsource coding projects for your website, social media sites to share your site on, getting an XML sitemap for Google to better index your site, guest blogging, and some information on keyword finding. 
A good portion of those chapters is filled with correct information, but it's also lacking, especially in things like:
Niche research. I didn't see anything on this and from what I saw, the ebook is written for beginners because after all, nearly a third of it explains SEO for beginners. Yet because niche selection is missing, that's a critical point.
Keyword research was also HIGHLY lacking. All you really get is information on permalinks, not keyword stuffing and that's about it, but real keyword research, finding the ones which can bring in profit isn't talked about enough. I see this a lot with ebooks and you could seriously devote an entire chapter, if not ebook to keyword research, but fortunately if this is one the areas you're lost in, don't worry, read my guide on finding profitable keywords and you'll have all you need.
The part about getting a sitemap is also missing. Stuart talks about using a plug in which will help set up your sitemap for up to 500 pages, yet in my experience, even if you go over, just use a plugin called "Google XML sitemaps". This is a free plugin that you will use with Google Webmaster Tools to give them your site map which they will then index. Problem solved.
I didn't really see much on affiliate marketing. Yet another part of training that should have been in the ebook, but that's OK, because I also wrote up on that.
It's not that many pieces, but each of them is critical, and when put together, it's even more important that they be included.
Final Rating: 30 Minute SEO

Red Flag 
2 out of 10 stars. Please add more information to the eBook, otherwise the score for this program is well earned (that is not a compliment).
My final thoughts: Is 30 minutes a day for SEO really all that you need? 
In the beginning, NO! Getting a site to become popular in search engines takes months of work, but after you pass that point, then maybe it's possible to knock it down to around 30 minutes, but your website needs to reach awesome website authority to even come close to that and that will take work.
I have gotten plenty of first page rankings on Google so I know how this work. I work for several hours on certain topics when I add them to my site. The shortest I've ever made it to was 20 minutes for finishing an article. But even then for that result, it didn't hit the first page, it doesn't always and this is how the SEO game works.
While there's definitely some good tips in the 30 minute SEO book, I don't recommend it at all. Instead, if you want to optimize your website's SEO, do this:
If you currently have content on your site, don't erase anything, just add to it. Interlink your pages with others on your site. Notice how on this particular article I've linked to previous articles I've written to help you get more from my website. Do this same thing on your site as well. All it takes is a simple hyperlink.
When writing new articles for your site, follow my keyword instruction.
Keep writing content daily if possible. The more you write and chase keywords on your niche, the more traffic you'll get.