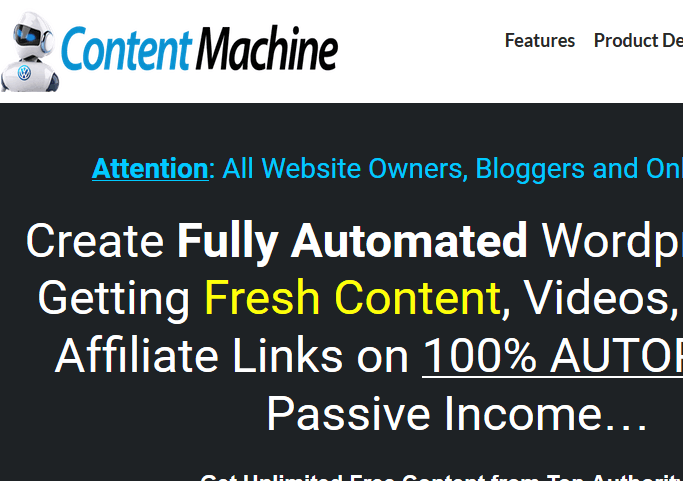 Be very careful when using tools like WP Content Machine. While their claims of easy, fully generated content sound awesome, when you understand where and how that content is generated, it becomes a whole other picture and that is why this review of the program will not be one where I recommend it.
Quick Report on WP Content Machine:
Creator: Ankur Shukla and Danny Ade.
Price: Either $25 to use this software on one site or $27 to use for unlimited ones. And as for the up-sells (which there are many of), I will have to discuss separately…
Overall Rating:

0 out of 10 stars

.
I honestly though software programs like these would be dead in the eyes of SEO people in 2016, but apparently not. I need to give you my opinion of this thing and frankly, a warning about it. But before I do:
WP Content Machine in a nutshell (how it works):
It's a WordPress software you install to one or more of your sites that scraps content from Ezinearticles.com and other websites, then re-spins it, meaning re-writes it.
It also has functions to do similar things from sites like Amazon, Wal-Mart and Best Buy as well as social networks and also automatically add affiliate links.
Why this program's functions are actually illegal (and bad for ranking):
One of the selling points the creators of this program mention is that it's hard to make content for a website and you need that to rank. This is one area where they are right about the problem (but if you know what to blog about yourself to make money online, then it isn't).
It is absolutely true that most sites, be they blogs or eCommerce pages fail to make money online because they always lack content.
But there's 2 solutions to this. One solution is white hat (good) and the other black hat (bad) and if you follow the black hat route, it's not a solution, it's just going to create problems and failure. Let me explain:
1) White hat solutions to the content problem can be: 
You writing enougg content of it so that you get traffic and/or hiring good writers to write it and unfortunately, there is no other "easier" white hat way (that I know of) that works better. 
2) Then there's the black hat way:
And WP Content Machine is about as black hat as you can get in that it takes material from other sources and makes it your own (In case you're wondering, this is a form of stealing, which is specifically known as plagiarism, hence why it's illegal).
There's no other way this can work. It's not like it takes it from thin air, there's actual content that needs to exist before this software finds it and puts it on the site you're using it for.
But let me ask you something: What do you call material that you scrap from other sources and use as your own? Oh that's right, plagiarism. Any program that works like gets a 0 rating and warning from me!
If plagiarism doesn't scare you, then you should consider Google's views on it:
Plagiarism is forbidden and on Google (and again, it is illegal). Shortly put, any content that is taken from another source or spun is still copied and is considered either duplicate (or spun). Either way, that is classified as black hat by Google and is punished by your site being de-index or taken off the search engine.
Say goodbye to any SEO results and your reputation as being a "writer" if you copy material. Now here's the complete opposite approach to this method, that is honest and works:
Let me get back to the review and the main point I'm trying to make which is:
There is no site in my opinion that will ever work if they use the sort of software WP Content Machine is selling because the rules of the game (SEO that is) are such that it is impossible to get away with this. And again, it's illegal. You cannot do this! 
But in all honesty, they made this pretty clear in the sales page before I purchased it. People who know about this stuff would never buy that, but it's people who are unfamiliar with why this is bad, may still buy it and I strongly recommend that they don't.
Bad program + up-sells = a worse program:
Oh they are included after you buy this program (I did it to prove why it's bad, and warn you all about it). Anyway:
I know up-sells suck, but the way they were pitched in this program was one of the most terrible ways I have ever witnessed. To get the little stuff out of the way first…
They were re-using the same "FB" testimonials on many of the sales pages for these up-sells.

They were connecting these other offers to be used in addition with the main product for "better" profits.
And now the big stuff for which I'll have to get into each up-sell and explain why it's bad:
Upsell 1: The "Pro" version of this software. 
Frankly, I did not understand why this was "better" than the original, but if I already showed you why the original was bad enough, upgrading it to this won't make it any better!
Upsell 2: They sell you some "premium" themes. 
You can buy 1 for $37 or get 2 of them every month for $27. Now I don't understand if that $27 is monthly but it would make sense, they just didn't show that on the actual pricing schematics.
But basically why I consider this to be "bad" is because unless you're running a gigantic site, premium type themes (the ones you usually pay for) are not really necessary. This particular site and many others I've run and made money of have always been used on a very basic WordPress theme and I find that themes do not usually signal success. 
I guess what I am trying to say is that for personal use, even if these themes are good, they only go as far as the content you put on them as well as how you market them…
Upsell 3: WP Traffic Machine. 
Well in short, if you buy this, whatever the regular software produces (copied content…) is shared on social networks. The theory is that by sharing it on social networks, you'll get free traffic. It's easy to think this way, but when the content that is produced is copied and you have no following on social networks, then this type of thing in my opinion will yield little.
Oh we're not done with the upsells, there's more (skip further below if this bores you):
Upsell 4: Some kind of "developers" license. 
So there's 2 parts to this:
First, you get the option to re-sell the sites the software makes for to you directly to clients who are looking to have their own. In other words, if someone makes a website through this software, they can re-sell it to a client for big money.
Now hang on, why would you want to sell a website to someone when that website is using copied material and is going to basically have that site get punished by Google? Would that not be a scam/rip off?
And second, they say that you can also resell them to bidders. Again, I'm giving you the same argument as to why this is a horrible idea.
Upsell 5: A "reseller" license.
Imagine this: They are charging you to PROMOTE their product and the ONLY perk is that you get 100% commission. Sounds great right?
Well considering that the the whole program is a part of JVZoo where this whole software including the upsells can be promoted for free:
Now the question is if the investment is worth it. They are charging you $67 to resell 25 copies of this program and $77 for an unlimited amount of "copies".
You'll have to run the numbers if it's that important to you, but none of this matters to me when the quality of this product is so little that re-selling it to anyone would in my opinion be a major mistake. 
Also, did you notice on that page above it says there's 9 of them? With the 5 up-sells and the main software, that's 6, but if you eventually reach the members area, there's going to be a "few" more offers:
Now I do not know if the following offers are actually part of the sales funnel and if you're a Jvzoo affiliate that you can promote them but in this members area, there is a hosting plan they try to sell you as well as some kind of webinar one of the owners of this product will be doing.
Whatever, none of these upsells matters. What matters is this:
Final Rating: WP Content Machine
0 Stars
Red Flag
0 out of 10 stars. A huge mistake in my opinion to buy, use or worse resell to others because of the MAIN problem in that it's clearly a black hat product that will not work when Google figures out what's happening.

My final thoughts:
I cannot understand why people still make these types of programs when it's been so obvious for many years what happens to them…
To me if they people who created this knew about the trouble that would arise from making sites through this software, they would have not done it. Maybe they really don't know, but you NEED to. 
I'm sure these guys put a lot of work into the product but that doesn't vilify the issues I raised. I have never used a program that does the things WP Content Machine does and have always told everyone who asked me about these sorts of programs not to use them either.