When you have a website that is getting traffic but isn't making money, it's likely because you probably don't know what to sell on it so it makes the money.
This article will give you 5 different options you can explore to start monetizing your site!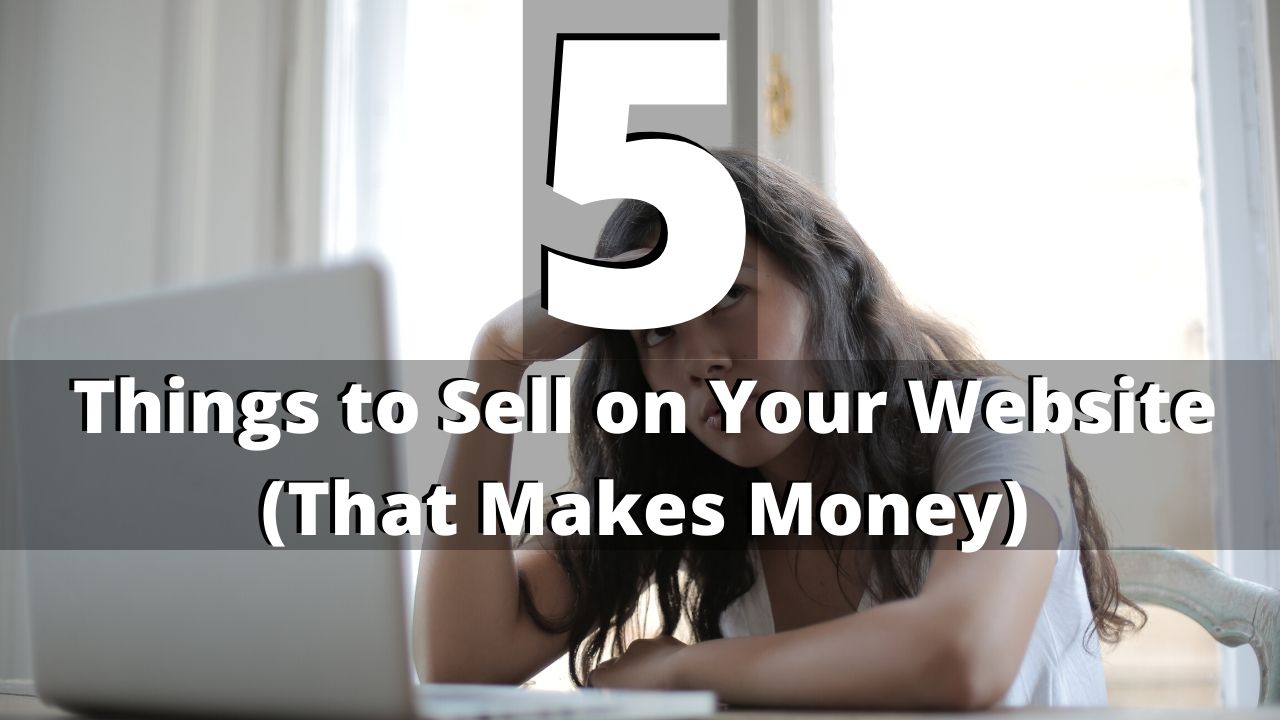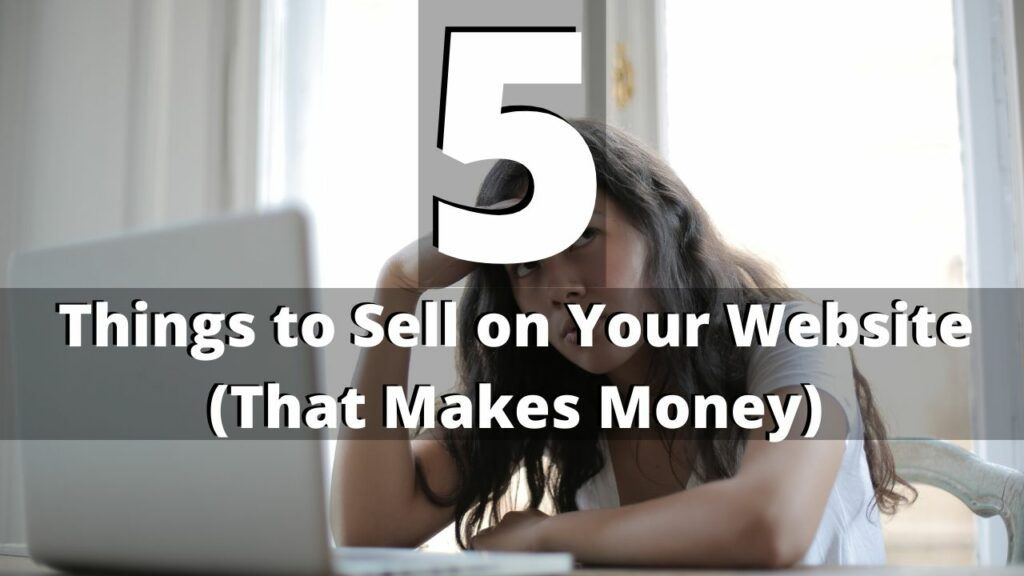 Here are the 5 things you can sell on your website (each makes good money):
Affiliate marketing products.
Your own products and services (online consultations for example).
Local affiliate marketing or local marketing work in general.
Display Ads.
Collect an email list.
This is what I'll be discussing further in this article and give you examples of but before I do, there's 3 parts to this post:
1) Don't worry so much about what to sell on the site. Worry about the site's niche topic.
Many people tend to neglect the whole thing about niches and go into figuring out the selling part. And that's why they get lost. Without identifying a niche, they can't really pin point the right products to sell. 
For example, if you make a niche site on for instance, any of these 50 niches, you can probably build a seriously profitable online business.
2) Making the most money without ripping off your customers.
There's 2 things I really feel you need to understand before you promote anything on your website:
1) A relevant product to a relevant visitor = a sale. And the opposite means no sale. Really part I of this post explains this. Back to the whole niche thing. Find what your niche crowd needs (products that solve problems) and give it to them. That's what we'll be looking at in Part 3. 
2) Once you do find what they want or like, try to sell them that for a fair price. Say you found 1 perfect product to sell to the niche audience, but there's 2 different affiliate programs selling that same thing for different prices.
1 sells it for $50, another for $5,000.
You would make $5 for promoting the cheaper one and $500 for promoting the more expensive one. Which would you pick? 
Well my opinion is that you should pick the $50 one because if it gives your customer the same quality of service or product that the $5,000 does, that would make them happier. If you only care about that $500 commission, then you may as well call yourself a scammer and there's tons of people, especially in the MLM world who look at that $500 alternative as being the better one to promote, only for the money…
If you were buying something and found out you purchased it for 10x the cost, how pissed off would you be? And as a seller, many customers don't forget these things. They will complain to you, or public places about what you did and your reputation will diminish. 
But let's not forget, we're trying to find a balance here.
You don't want to make pennies and you don't want to rip people off either. So you have to look for the best scenario. I still advise the $50 option again in the example because…
It can balance out.
If you do stumble across this scenario, you can easily sell more of the cheaper product by doing a price comparison with the expensive alternatives. You'd end up selling more volume of the cheaper product which would add up, making more people happy which may have them return to you and grow a positive reputation on your website.
You can do more than just sell 1 thing too.
That gives your site (page) more options to grow as an online business.
Note: There are cases where expensive items can be sold legitimately because there are no cheaper alternatives for those specific brands and people know they are high ticket. Here are examples of high ticket niches that I personally like.
Part 3: Here are the 5 different things you can sell on your website.
Remember, everything depends on the niche. Then all that's left to do is to find the right product. And as I added on, finding it for a good price that gives them a good deal and you, the advertiser, a fair commission.
1) Affiliate marketing products.
This is what most sites do and in this particular case, you will ALWAYS find something to promote.
Most of the time, it'll be a physical product. Other times, it'll be digital. And it can also be services. Either way, you can sign up with most of the BIG affiliate networks such as Amazon for free, find the product you want to sell, get the affiliate link for it so you can earn money and begin selling it on your website.
In fact, here is a niche case study I did on a specific topic where I found and the tons of products I could sell there.
Other examples: 
If I have a site on weight loss. I can sell: weight loss books, dietary supplements. Literally 100,000+ different choices 

If I have a site on fitness, I can sell: Fitness machines and programs. Also 100,000+ choices of products and services to sell.

If I have a page that tries to show people how to make websites, I can promote: Services from Godaddy, Wix, Wealthy Affiliate, maybe get in touch with website designers, make a deal with them to sell their services and keep a commission fee or each person I refer. 
There's always something. And in the examples above, most of the products I'd be able to find on Amazon, with the exception of the last niche example on website building. For that, I'd have to go to another page.
2) You sell your own services/products.
Maybe you possess the knowledge to create and sell your own product or service that is better than what you see and you will be able to make more money doing this. This is another reason you always want to go with a niche because if you know it, it's very easy to make your own product. 
Example: Maybe you're a legal expert and selling consulting services through your website is the best option.
3) Affiliate marketing and/or local marketing in general.
Instead of doing business with big networks like Amazon, you do it with a business close to you that'll pay you well. I have a whole tutorial on affiliate marketing here.
For this to work, I recommend you either be very good at internet marketing or know someone who is.
Possessing knowledge in this market makes it very easy to attract businesses to pay you to market them online. And if you know someone, you can make a deal where you refer clients to them and make a commission too.
Think about it, if I said above that the niche is the most important thing followed by the product/service, in this case, your niche is businesses that want to grow and you have the service/knowledge/product to help them to do this.
You wouldn't actually promote the business here. You would set up their business but have them pay you to do it. What you can do is have a central website that attracts these business owners and then sell the services as your promotion which is pretty much an example of the second idea above. 
4) Display Ads.
If you run a website that isn't niche focused, then display ads are what will make your site money. For example:
Both of these things can make you money without having to worry about what to sell on your website. These services will place ads on your site and make you money for it.
5) Just collect email leads and sell stuff to the list.
Anything you do decide to promote later, be it services or products will be on the back end once people sign up and this is something many successful marketers recommend, to collect an email list and then do the other 4 things I talked about, just not through your website, but through the list you will accumulate. 
My final thoughts:
Bottom line, there's never such a thing as not having something to sell or promote. In just those 5 ideas above, you have access to well over a million different ways to make money and if those ideas weren't enough to help you figure out what to sell, let me know below!