Traffic Ivy is actually a legitimate program that you CAN get targeted visitors from, but in this review, allow me to explain the one big problem I see.
That problem is that there's good odds that you may get poor quality clicks from it and to explain how that will actually happen, let me explain what Traffic Ivy is all about, the good things about it, why there are reasons to use it (but to not rely on it), and the ways I personally generate targeted leads to my site, that frankly are a better option than this.
Traffic Ivy explained:
Creator: Cindy Donovan.
Price: 3 packages available: 
One is for about $20 (Buys 2,000 points).

One is for about $50 (Buys 5,000 points).

And one is for about $100 (Buys 10,000 points).
The points are what buy you clicks and shares within the Traffic Ivy network. I have also heard there are upsells too, but I will not mention that since I didn't look that far. 
Overview of the opportunity: This is an internal online sharing network/community where you can share your site, an article on it, your social media page or even YouTube videos you create.
The amount of sharing opportunity you have is determined by the package you buy from one of the 3 above. So if you spend more money, you can get more shares.
You also get rewarded with points for sharing the content from other members inside the community, which can be used to share your own content. This means there is incentive for people within the network to share, click and visit your content when you ask for it. 
Overall Rating:
4 out of 10 stars

.

I am certain that people WILL get targeted visits from this network. However…

I also feel that this will be in the minority of cases, because I understand systems like these and how they lead to useless clicks. This is why I will personally not recommend nor use this service and I will tell you how I generate targeted leads to my sites.

Here is an example:
And as I continue this review, I will be providing you with my personal proof that my alternative is better (income and visitor stats). But for now, let me explain why I am not going to be joining the other program:
Traffic Ivy and the

main problem

I see that stopped me from joining:
I have seen networks like this in the past (Clickonomy, and places like Clicks Dealer) and one main issue all these networks carry is that they attract a large number of inexperienced site owners and even spammers.
Anywhere where you can buy easy clicks and visits will inevitably attract poor quality users that will stain the overall network.
How the incentive within this network may ruin it:
People who understand the value of traffic understand that the clicks they get from anywhere, must hold value. Here is a good article explaining the different types and which ones produce junk results and which ones produce actual profits.
I fear that within this network, that incentive is very different and there's good odds that the value provided from the clicks and shares you get will be zero.
I say this because…
First, like I said with the main problem, these types of networks often attract spammers and low quality people who want to buy easy clicks and visits.
Second, the incentive to get rewarded for clicking and sharing other people's blogs, videos and doing social media shares is good, but it leads to 0 value, because the incentive is in the actual share being made (because want people want the points) and I highly doubt that most people will care about the content being shared.
Third, I fear a lot of spam content will be inside this network and will be pushed and that leads back to the tainted network argument I make. I have seen this happen MANY times with the other networks I've had experience with and this is why I never use them.
What this means is that you will get traffic, but very little of it will actually count…
I honestly look at Traffic Ivy as I look at people who buy likes from social media channels and I see that as a waste of money because these likes don't lead to much.
Now of course, one can make this type of argument:
More shares, more visits and more likes can help people's sites, social media pages and YouTube videos get more exposure, and I would agree, AS LONG AS those things come from laser targeted visitors, not from sites where cheap clicks and social shares are present.
Cheap ways of generating traffic usually leads to cheap quality traffic:
This is what I have learned in my years of getting clicks and visits to my sites.
It's very easy to get attracted to networks where you pay a certain amount, set some things up and start getting clicks and think that this is enough to set you up and help you make money online, but in reality, most of the time, this is NOT how it plays out.
You need to find the right networks and methods of generating clicks to your site that are truly targeted and that takes work and training to set up. Sadly, I do believe that Traffic Ivy is one of those places because of the reasons I mentioned.
However, the training on this subject I got from this program, has helped me produce these kinds of results:


Final Rating: Traffic Ivy.

Yellow Flag
4 out of 10 stars. As I said in the beginning of the review, this network IS legit. But I strongly believe that a majority of the clicks, visits and shares you get from it will not lead to more sales or higher rankings because they are just going to be empty clicks and shares.
I honestly like Cindy and believe in what she's trying to accomplish with the program, but I know that in practice, the many ways this usually plays out. You will get clicks, and you will get visitors, but in my opinion, most will simply just care about the share points, not your page or promotion.
I do believe that in some cases, some of the shares and clicks you get WILL be targeted (the good kind), and that may be enough reason for you to choose to use this network.
But I am not willing to spend so much extra money, to get a small portion of those points to get me targeted leads and for that, here is a method to get laser targeted traffic that will work better. This is what has worked for me, for years and will continue to be the BEST ways to generate clicks to my sites.
The blogs I run get laser targeted visitors because…
I worked hard to build up the blog and it's content to get ranked highly with SEO so that the right audience finds it. Here is how it did for 2018.
And for the record, I do pay for certain traffic to my site, but that's about 10-20% of it and I only use Bing Ads (for now), because in that field, I can literally target a specific keyword and make sure ONLY people who use that keyword, find my site. I generally pay less than $0.10 a click for each visitor, but also ensure that the value of that visitor is maximized.
Again, if you want the right, laser targeted visitors to come to your site, I would strongly recommend the same methods I use, which are SEO and Bing Ads (PPC). I will say that SEO takes more work and time to get clicks from, but like I said, 80% of my traffic is FREE, and being that it's also laser targeted, I get the best deal and most profit that way: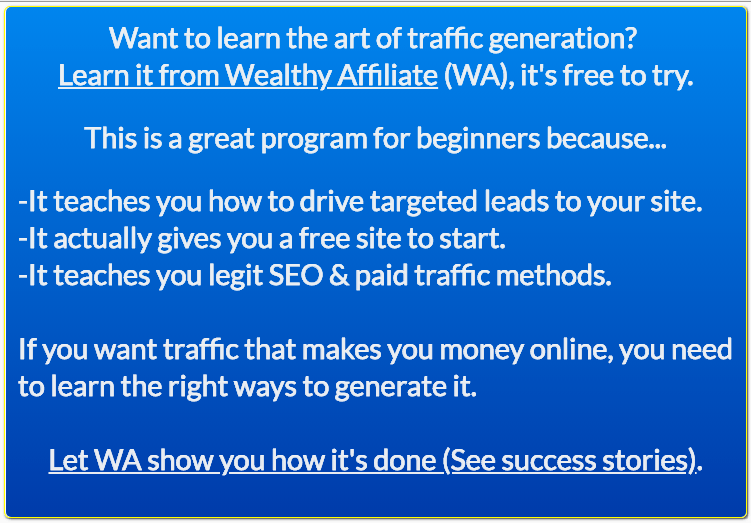 There are legit ways to get cheap and free, but HIGH quality visits to your site and while I don't believe Traffic Ivy is the best place to do it, I have shown you an alternative, Wealthy Affiliate which will teach you where and how to do just that.