I dug very deep into Success System Revealed to find out what it's really about and this review is going to simply explain all the complexities of this program and what's really going on.
Quick Report on Success System Revealed:
Name: Success System Revealed by an unknown individual (or people).
Price: Free, but it connects you to a big network which may often involve you paying to join + receiving sales calls.
Overall Rating:

1 out of 10 stars.
Here's the case for this score: This is basically an unknown site by an unknown person asking for personal info, plus leading you into a whole other place is NOT something I'd trust. This might sound cliche, but I'm serious, this program really is that secretive. 
Within only a few seconds of visiting the Success System Revealed website, a lot of uncertainties and questions came up:
Where is the privacy policy? The link only took me back to the page. 

Where is the name of the person who created this site? I couldn't find it anywhere.

Why are you asked right off the bat for much personal info? They start by asking for your basic information such as full name, email and number.
Then as you enter that, more spaces pop up with more information needed such as your address, then upon entering that, even more is asked for such as how much you're willing to spend, how much time you're ready to offer up and other related things.
You should never have to be asked so much personal stuff when you know SO little (if anything) about the site you're on.

But reviews like these can't just end on speculation. Although there should be enough already, I still decided to sign up and see what was on the other end. I was sort of not surprised.
Success System Revealed in a nutshell:
After entering all the information they ask for, you're taken to another site called Be the Boss Network.
Luckily I have done a review of this program before and while I had to go back and look to refresh my memory, I do remember that I never recommended it.
Basically when I found it, it was a huge directory of companies (mostly MLM) that tried to get you to join them. I believed Be the Boss Network was just a middleman site that connected you to them under the guise of helping you find work at home opportunities.
At first, when I found it, I though it was some directory for literal jobs you could do at home for companies. It ended up being you becoming a customer for the companies.
What I also said was that I didn't recommend that site because of the MLM recommendations, not to mention that joining most of those sites involves paying for memberships or having to start doing a lot of recruiting, basically stuff that I don't like. 
There's other reasons, but that was back now. Now looking at the site about 2 years later, things have changed, and unfortunately those changes aren't good. 
What's changed with Be The Boss Network and why it's not any better:
It appears Be the Boss Network is now promoting companies of different sorts to visitors, not just MLM's, but also high ticket systems of some sort too (well some of the extra new ones are MLMs still).
Here's a quick look:
Out of the 9 you see there (there's 100's in the directory also), I've reviewed about 5 of these, none of which had a good rating. And with the ones I haven't yet reviewed, I will. Let's quickly go over the ones I have:
1) Coffee Shop Millionaire. A program which I never rated highly due to it's upsells and outdated training. In short, I didn't believe you could achieve success through it unless you actually promoted it. But why promote something that doesn't really work well?
2) Money System. This actually links to another website of a program called Power Lead Systems, something I haven't yet checked out, but it was created by a man that promotes a huge pyramid scheme called Empower Network (MLM).
I'll be reviewing Power Lead Systems very soon, but just so you know, the very same man who created this also had another sales funnel to Empower Network before. I don't trust people who have multiple products promoting the same thing. 
3) Paid Surveys. I haven't tried the specific paid survey site advertised here, but I have tried this sort of stuff before, earned very little and was left feeling very frustrated. I never recommend paid online surveys (any kind).
4) Partner with Paul. It was just a site trying to connect you to a big MLM. Paul if that's the real man behind the program just tries to promote the MLM and make money doing it. I can't speak for the MLM he was promoting though. In some areas, this site also tried to get me to join in the same ways Success System Revealed does. 
5) MCA. This is a very old school MLM that I never really wanted to get involved in, although some people are making good money with it, it's through hard work and very old tactics of promotion (door-to-door, trying to get friends/family involved) and I prefer other approaches. If you want to know about MCA, you can find a lot of information here on Motor Club of America.
And these are just 5 that I spotted on the first page. I'm sure if I dig deeper, I'll find plenty more that I've already checked out. I've never rated an MLM higher than 4 stars so I doubt I'd ever recommend anything from that site to you. 
Pros:
Couldn't find any single pro.
Cons:
Mystery man, behind mystery site asking for personal info. What's there to trust?

Gateway to many MLMs and programs I have already said I'd never recommend.
Final Rating: Success System Revealed
Red Flag 
1 out 10 stars. The only thing this revealed to me was that it was just a scam trying to promote many other scams and if not that, programs I'd probably never get involved with.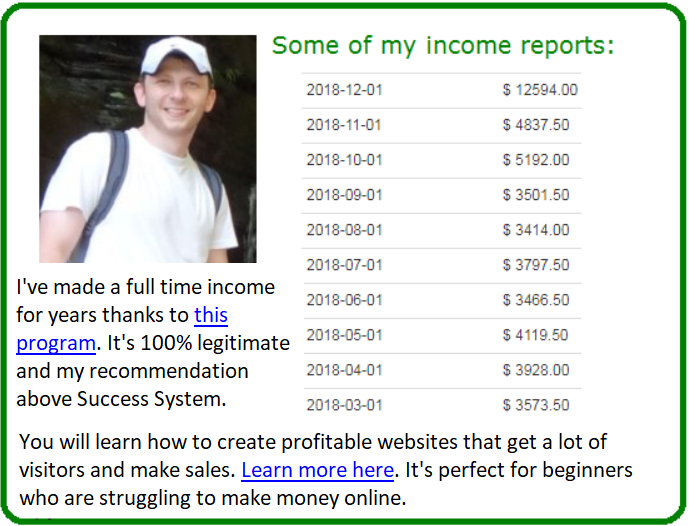 My final thoughts:
The idea of Be the Boss Network isn't bad at all. It's nice to have a place that connects you to other places, but if those places aren't real opportunities and are just trying to get you involved with MLMs, that's a whole other story.
As for the actual program in question (Success System Revealed), the only thing it revealed itself to be was nothing more than a connection to Be The Boss Network and by entering all of that information, you can expect to have sales calls.
Also consider registering with any of the other sites recommended on Be the Boss Network and how many of them are also going to ask you for your number and other info.
How many promotions will you stand? And where exactly is the success formula or opportunity there? 
In my opinion, it's going to feel like people knocking on your door everyday trying to sell you something. I don't want that and I doubt you do too.