Quick Report:
Name: CB Passive Income (Version 2.0) by Patric Chan.
Price: $47 discounted to $1 trial (7 days), then 2 up-sells, one for $97, then one more for $47/month. 
Overall Rating: 2 out of 10 stars (In my view this approach can work, but overall is limited especially with the way things work nowadays)
Being that it's the final day before we go into the New Year, I decided to write one more review and this will be all about CB Passive Income and the system under which it teaches you to make money. The concept it teaches is simple, but the operation itself might not be.
CB Passive Income in a nutshell:
It's just an email marketing software/training guide that will teach you how to promote the actual CB Passive Income to people and make commissions when they buy. In order to make things easier, Patric Includes 2 squeeze pages with your purchase which are called "secret pages" (Nothing special about them). So in short, you're just going to have a website (squeeze page) and send traffic to it (there is training on that too) and then collect an email list and promote this product as well as others to subscribers. 
Squeeze pages are just sites where people sign up to receive some kind of free information. In exchange for this, you can capture their email and then promote different offers to them. Now this can be risky. because promoting something irrelevant or incorrectly (too often) can end up making your subscriber not trust you or just block/send your emails to their spam folder so what Patric has done is basically set up a sales funnel for you where people who subscribe get his emails to buy the program so you don't have to do it. I haven't seen the emails so I can't say if they are good, but if they are anything like the massive amounts of sales emails I get, I doubt it's going to go far, but this is really more or a presumption than anything else. 
Is the system any good?
It's not amazing, but it does work. This is what you'll see: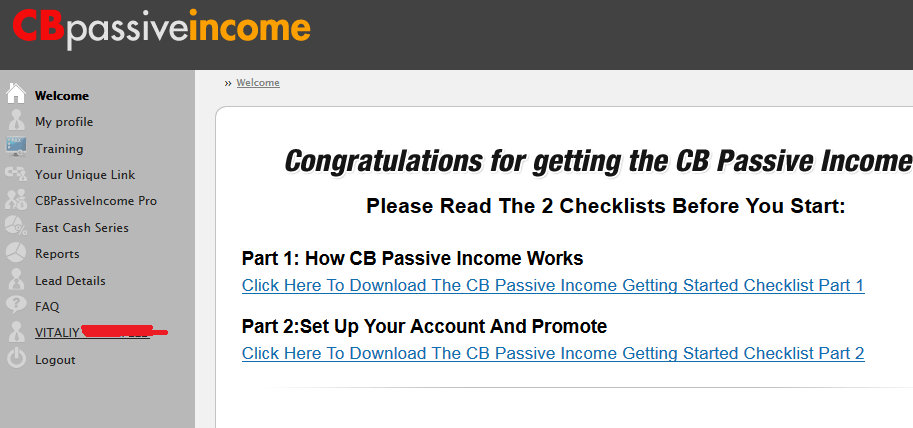 There's 2 short ebooks you will read that just give you instructions on how to use this system. Basically it comes down to the following:
You register with Clickbank in order to be able to promote CB Passive Income. 

Then you get an affiliate link after you sign up which you will put into the link area on the menu on the left side.

This link will then be used when you use your squeeze pages and give out free reports provided by Patric so if people then click the link and buy, you'll get the commission. 
That's really is for the set up process. The next important thing will be to use your squeeze pages and to start using the traffic generating methods in the training area. Now this is where you will have to read and watch a lot since many different methods are covered. Some of them, like using Squidoo are outdated because that site no longer works and when it did, it was VERY difficult to work with. 
If you're going to put to use any of the training, I would recommend sticking to 1 method instead of experimenting with every single one. Some of them will cost you money like using Solo Ads. 
Let's not forget about the up-sells…
One of the up-sells was $97 and was promoting a "Pro" version of the CB Passive Income. This was basically going to have some sort of team handle my sales and promote different products to people using my affiliate link, at least that's how I understood it. The problem however was that when I clicked to see more information on this offer, I was taking to what I later figured out was the second up-sell so I don't know if the Pro version up-sell still exists or if it just mixed in with the second one, but it doesn't really matter. 
The second up-sell is some sort of program called Fast Cash Series which is $47 that you can try for 14 days before they start charging you monthly. This program will teach you about doing domain flipping and give you future updates on marketing methods. 
Did I buy any of that? No, but based on what I saw, I feel the price and what you get is overrated. 
Pros:
The only one I found is that you can really access this program for $1 to see what's up.

It's pretty easy to set up your sites, affiliate links and some of the traffic generating methods are also simple.
Cons:
You only really learn to promote CB Passive Income itself. I feel this is very limited.

Besides some methods of getting visitors being out of date, overall I don't think most of what is taught is good for beginners.
Final Rating: CB Passive Income

Red Flag
2 out of 10 stars. Not a great program, but also not terrible, yet when you compare everything, my conclusion is that it isn't something I'd buy again or recommend. I'm just glad I tried it for $1. 
My final thoughts:
Programs like CB Passive Income aim to do 2 things:
1. They want to make more money for themselves so they show you how to promote them.
2. They try to make the process easy so they make a simple system you can just copy.
But in this business, the actual likelihood of making money with a simple system isn't that simple. In my experience there's tons of programs that try to simplify making money, but because there's so many doing this, you have a lot of programs using the same places and tactics so before long, a lot of people going around promoting the same or different programs in similar fashion looks like spam.
And the bigger problem is that this program doesn't really get down into the true fundamentals of having a good long lasting online business that actually helps people. All you really do here is learn to promote something, but besides that, what are you actually offering your customers?
A free report? Ok cool, but that's just 1 thing. In this business, you need to go much further and keep giving people things they will love and for free and this is what we call quality content. That is the heart of a good online business these days and with this program, I don't see that. 
And that's going to quickly impact your business in a bad way. This program takes a lot of thinking out of the equation, but honestly, this is bad. Because lack of understanding your business is going to lead to failure. My bottom line is that I wouldn't depend on this program for any sort of passive income.