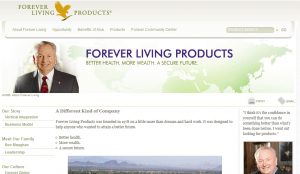 Quick Report:
Name: Forever Living (An MLM company).
Price: Free to join, but costs to buy it's products to then sell.
Overall Rating: 

3 out of 10 stars

.
Products might be good, but profit margins probably aren't that high and selling via affiliate marketing is a better option.
I'll be explaining everything in this review and will show you ways to make money with this company as well as with others (better in my opinion). Before, I do:
Now look, I prefer the option I use to generate an income online over Forever Living, but in truth, this very same program I advise can teach you to succeed with any program, including MLMs like this one.
Let me explain everything you need to know about Forever Living and what it's all about and if you find its a program you wish to work with, then I would recommend you use it to help you succeed with it and if not, I'd still recommend the same program (Wealthy Affiliate) either way, because it 100% WILL help you build an online business.
Forever Living in a nutshell:
Really this company isn't anything out of the ordinary. It's just a basic MLM business model that gets you to buy it's products and sell them for your own price and run your business this way. A referral program (as usual) is available. You're encouraged to get a number of "case credits" per month (4). 
There are many products you can purchase from Forever Living, most of which include Aloe Vera type ingredients, be it pills, gel capsules and other related things. Most of what this company focuses on selling is the health benefits Aloe Vera bring. 
There are also other types of products (protein shakes, chocolate, supplement powder and basically all things related to health improvement). 
In terms of business model, they made this little flow chart:
Really all that this says is that you buy one of their starter packages ($400), sell that to people (leads) and try to get them to register with Forever Living as well, have those leads follow the same flow and build your own network. By doing this, you can get discounts off products on Forever Living which is what I'm about to explain.
The compensation model of Forever Living summarized (discounts, savings, benefits):
In order to explain the compensation model, you just need to know that there are a number of products available for purchase within this program. When you first start out, you will have to buy them at wholesale prices. But as I said, once you start getting people into the company, you can get discounts on those products (18%).
In terms of benefits, their marketing page says you can earn up to 43% when you make direct sales, something that sounds too good to be true to me because most companies like this don't usually offer that much.
Since I do affiliate marketing, I sometimes deal with programs like Clickbank which sometimes offer me 75% or even more on products I sell for them. I've just never seen an MLM program offer anything in the double digit range like this, but perhaps it's possible…
Either way, whether or not the 43% is a profit or revenue is important to know because if it's just revenue, it might be more realistic, at least in terms of how other MLM companies work.
Obviously, as you sell more, you earn more benefits, discounts which pushes you to keep scaling your business and growing it. There is also a team bonus offered once you and your referrals build up your network and continue to sell and get more people within the business. 
Is Forever Living a pyramid scheme?
I'm sure it's a question a lot of people raise with this company as well as any MLM. In my personal opinion, it's borderline and if you want specific answers, I'd say no, its not a pyramid scheme. 
The prices they offer for the products are OK (a little bit high in some places) and because they have their own tangible products you can sell and aren't just focused on you JUST getting as many referrals (and them doing the same thing), that makes it safe. 
If you ever run into an MLM that really does nothing but pushes you to recruit others in order to be successful, watch out. Luckily that isn't the case with this place.
Can you make good money with this MLM?
I don't usually (well ever) endorse these programs. And this specific one will not be the first, even though it offers more benefits than a traditional MLM. 
The opportunity is certainly there. The prices for their products are OK I guess and you can absolutely have a great business model doing what they preach.
But this is something you're given and told on pretty much every single program like this…
Practically, I'd say most of the money they make is going to be on people buying their products, but the odds of those same people selling those products is going to be another story and really it's not going to be easy.
The problem with many MLM programs is that while they may offer very helpful products, because a lot of them are priced rather high and the same people who are sold the products are then persuaded to join the same business, it can come as pushy and really this is what makes selling very difficult in MLM.
If you have a network of people who listen to you and you absolutely believe in the products Forever Living sells, you can make this work, but normally this can rarely work in my experience. 
Does Forever Living train you to sell their products? 
Yes (somewhat), which is why that same Wealthy Affiliate program I mentioned earlier would be my suggestion to get training on selling stuff from Forever Living (or from other companies like I prefer).
In terms of specific training within Forever Living, all I saw was a link to an outside website where you're given short videos explaining briefly what the product/s are and how they work. This can be used to sell to perspective buyers/referrals, but really, I'd say your odds of selling would be much higher if you had a much deeper understanding of what you're selling, which again is why I suggest the other program.
People need more than 1 minute sales pitches. They need quality info as well as how it truly will benefit them. 
Overall, I don't believe there is enough in-depth training within Forever Living to really push things further. I will however explain an alternative that does provide the necessary training to help with that.
Pros:
Offers more benefits than most MLM's I've reviewed so far.

Quality of products is pretty high.
Cons:
Up front costs involved when buying products to sell them. Some not very high, but normally, it will cost you to get going.

I don't believe MLM is the key to success. You can run an entire business without having to buy other people's products. See how I do it.
Final Rating: Forever Living

Yellow Flag
3 out of 10 stars. There are benefits, but practically, I don't believe most people will be able to make a good living selling products from this place nor recruiting others. It may happen for a few cases, but not enough to build an entire business out of it.
My final thoughts and

where to go

from here:
If you choose to promote Forever Living, you're really looking at 2 ways to make a "good living" doing so:
Offline: Business cards, door-to-door selling, selling to family/friends (I never advise you do this!).
Online: This is where I didn't see any training, but it's actually my specialty. In order to sell online, you'd need to have a website and really the right niche audience coming to it. This is something that is essential to success and if you do things correctly, you can see amazing benefits. 
Because in-depth training is one of the keys to success and that I didn't see enough of that within this program, it really was a deal breaker for me. A lot of people are going to have trouble selling this stuff and doing it the typical…
"Hey check this product out and by the way, would you like to hear about a great opportunity?" isn't going to sell well. And this is how most MLM pitches go.
Since training is a critical piece needed, this is where I'm going to deviate for a moment and talk about how much better online selling is than offline and that if you have the right place to do it, there's really no need to focus entirely on an MLM.
In fact, if you do online advertising, you don't even have to buy products from retailers/wholesellers. You can just promote them for free and earn commissions when people buy.
It's not an easy business to get into and succeed especially with all the scams and misinformation out there, but the opportunity is there and I've been doing this full time for many, many years. If you are looking to start a business, work from home, whatever the case is, one business outshines the rest: Wealthy Affiliate.
When it compares to Forever Living, the choice is clear:
I would recommend anyone, new or experienced in business first check out that place before attempting to do it on their own. As for Forever Living, you know my opinion on it. If you are truly passionate about selling health products, understand that this isn't the only place that you can sell them through, nor is it necessary (again) to buy products to sell them.
Success in MLM is very rare and I feel that in many cases, it's a waste of my time. If you feel differently and/or agree, and especially if you've had experience with this company or any other MLM, I'd absolutely love to hear what you have to say! Let me know below.