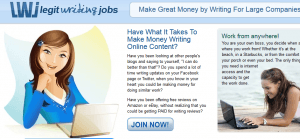 In this review, I'll show you how Legit Writing Jobs site will show you some decent opportunities, but don't think that's the only place you'll find them. 
Quick Report:
Name: Legit Writing Jobs.
Price: $4.95 for a 3 day trial, followed by $17.97 charged every single month.
Overall Rating:

1 out of 10 stars

. 
This site is a scam since you can find these jobs for free. It's not the kind of site you think it is. One of the most sought after things online is the ability to make money through jobs and being able to work from home.
And after reading this review, you're going to be both upset and happy. Upset, because this place doesn't exactly deliver, but happy because you'll be shown what does.
Legit Writing Jobs in a nutshell:
I'm going to save you a little bit (or a lot) of money by recommending that you do NOT join Legit Writing Jobs.
I just joined and the method of operation they use is typical of many places I've reviewed before which charge you for basically free information. I'll even show you the free sites that are found there so you can join them on your own and not be charged a single penny!
People who don't know what to expect join thinking they're going to get access to tons of places ready to pay you money to simply write articles/content and other similar things for them.
The truth is that you do get access to this.
But it's really not a lot and every single place I saw mentioned there, you can join for free. Like I said above, I'll be showing you these sites. And it's not even a secret either. These are all PUBLIC sites. Some of them do require you meet a certain quota/criteria before joining, but nonetheless, it's free.
So what's in it for Legit Writing Jobs?
While I know their main purpose is to make money from their members, I'm split on whether they just do it through:
A) Charging your monthly to be a member OR…
B) They are affiliated in someway with some of the sites you find there. I think it's more likely A because the sites I've seen promoted there are just free to join so I don't know how they can get paid for referring anyone. 
Anyway, this is all done for money. Note that I mentioned there is a 3 day trial for $4.95. It isn't exactly written in big words, but you'll see that there's monthly charges if you don't cancel within that time. Afterwards, you're going to have to pay nearly $18 every month.
So now that you know how they make money, the question is why? Well some places like to use this sort of approach where they charge people and make them think they're "connecting" them to the right places. I've often had the displeasure of witnessing that, most recently with a place called Click 4 Surveys (yuck).
But it's not really a connection nor do you get some sort of VIP access where as alone you wouldn't. No this is not that at all. 
It's not even difficult to set up this type of scam. All you have to do is just collect a list of sites hiring and put them up on one page (yours), then charge people for it. If you want my take on that, I'd make that free to access. at least then, it would be ethical. 
Details from the inside:
What review wouldn't be complete without a nice inside look? Well that's exactly what I'm about to uncover for you. Here's a quick screenshot from what you see once inside: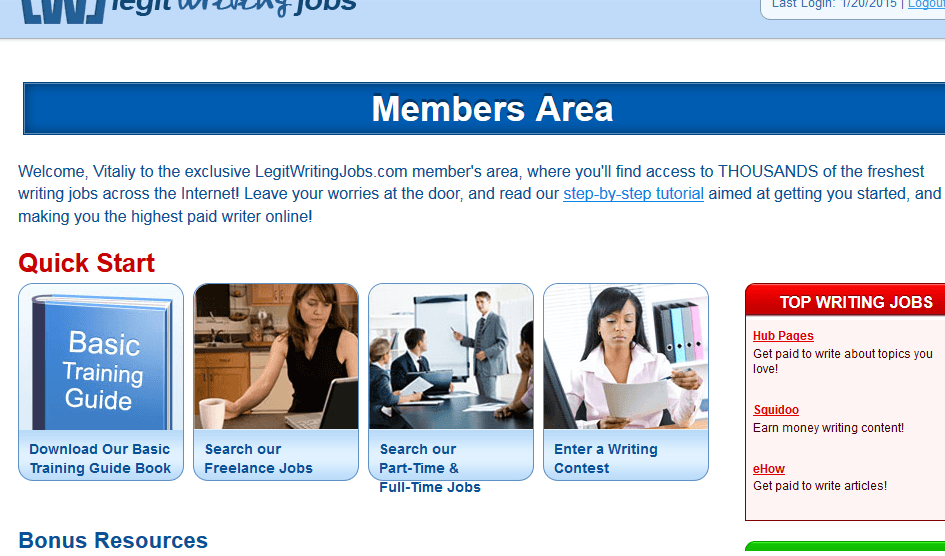 There are 4 sections within the quick start I want to cover as well as the right hand side where it says "Top Writing Jobs" and Bonus Resources underneath that.
First the 4 sections:
1) Basic Training Guide.
This is a very long tutorial on how to make money doing things like blogging, content writing, how to be a good writer, and also provides links to places like EzineArticles.com.
This tutorial isn't exactly the place where you find jobs, but it gives you a big picture outlook on what's possible with the internet. Really what they cover is actually the ability to make your own online business.
2) Search out Freelance Jobs:
This is really the only place where you'll find the actual job ads and the ability to make money from it. What you get here are categories to choose from (I wish there was more):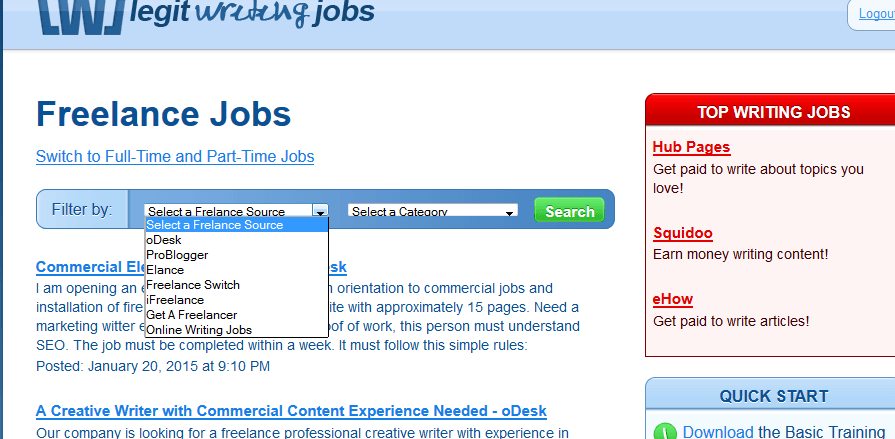 I would like to direct your attention to the "filter by" section and the choices you have. The oDesk and ProBlogger had the most options to choose from (about 20 in total). You have people advertising that they need writers for various topics. 
A number of categories like Freelance Switch and Online Writing Jobs had absolutely nothing to show:
I looked through ALL the filters and categories and overall I found about 100 options to choose from. Not bad really if you think about it, but again, they're all free sites! 
Side note: Here's the sites which pay for you to write:
jobs.problogger.net

odesk.com

elance.com

eHow.com

ifreelance.com
Update: Forget those 5 sites, many of them updated, here's an updated list of ways to make money online.
All that Legit Writing Jobs does is really advertise the "wanted ads" from these sites. And they charge you for it too. Joining those sites without going through Legit Writing Jobs = not having to pay anything. Make your choice… now to continue with the rest of what's inside…
3) Search our part time full time jobs.
This confused me. You get a filter like in the section above, but you have to enter a keyword and then select what you're looking for. I entered a few words like "online writing" or "jobs" and never saw any results found. Maybe I was doing something wrong, but if not, then this section is useless.
4) Enter a writing contest.
You get a little over 10 links to places where you can enter different types of contests.
Next section is the right hand side I was talking about. If you look at the image above, you'll see there's 3 sites advertised there:
Squidoo, Hubpages and eHow. Aside from eHow, I'd never use Hubpages or Squidoo. In fact, recently Squidoo merged with Hubpages with Hubpages for a variety of reasons.
And even though one of the options is still available, I'd never join them. You can't really make good money with all their policies they have enacted. It makes it too difficult to do it. This is not where you'd want to look for jobs. Again, only eHow is good (not awesome though).
Finally we have the bonus section:
All that you get here are 13 PDF books that are all PLR content. Many of them cover online marketing and having a business like I talked about earlier, but unfortunately are very outdated. Most of the time PLR content looks like it offers a lot, but in practice, there's little you're going to be able to do with it (maybe give it away to others).
And that's really all there is to this site. 
Final Rating: Legit Writing Jobs
Red Flag
1 star out of 10. It's about as legit as a scam is and I gave you a link to real legit sources. One of them by the way is Text Broker.
My final thoughts and options you have moving forward:
If you are looking for simple jobs that pay for you to write, you can try any of the above sites and see how far you can get. I don't think you'd be able to make a lot overall, but if this is the only thing you're interested in, then go ahead.
As for making good money and/or having an online business, writing articles can be used to your advantage, however, only when you write for yourself, not for others. This is something I've been doing for a very long time and much of it is actually on this very site! It's my online business. 
To be able to do the same thing, I'd recommend getting proper help from the place which taught me to do this correctly: Wealthy Affiliate. 
That covers the options available. I'd like to hear from people who have used the above legitimate sites I mentioned and what type of results you've gotten. Were they good/bad? 
And as for our covered program, Legit Writing Jobs, excuse me while I go cancel my membership before I start getting billed!