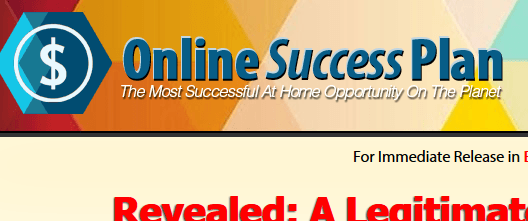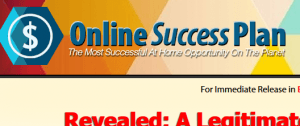 It's easy to find 1 scam program online, but 3, all in one program? Well ladies and gentlemen I have one for you today. It's called Online Success and I'll explain exactly what's going on with this program in this review.
Quick Report on Online Success Plan:
Creator: Someone named Jordan, a few other guys and most importantly Matt Lloyd, the biggest name out of this whole scam and I'll show you why shortly.
Price: $97 down sold to $77, then 2 up-sells, one for a "Platinum Plus Program for $77, down sold to $57, then another up-sell for $37, down sold to $27. And then you'll have to join another program to go further that will at least run you close to $2,000. 
Overall Rating:

0 out of 10 stars

.
There are actually 3 scams here. I hope I can get a refund.
So here's what's up with Online Success Plan:
For several years, I have been battling what is known as the "duplicate scam" that is going on online where you have programs like Online Success Plan being advertised on forums, ads, fake work at home special report sites and other places all showing you how people are making money from home. 
I always tell people to never buy these things, but for the first time, I finally decided to sit down and buy it, to prove that it is a scam and to also show you how you can get a refund if you feel that same way I do about this program.
These programs consistently change their names and keep running the same scam over and over again and what they also often do is promote different programs and in this case, it's 2 other systems which is really just 1 that is a pyramid scheme. 
Online Success Plan in a nutshell:
As of this time, Online Success Plan isn't even a program, it's just a website that takes you to another program called The Automatic Edge.
And that program is just another one that leads you into the actual scam which is called My Top Tier Business, or MTTB.
So we have 2 funnels leading into the main scam. But hang on, I did say there's 3 scams in one right? So what's the third? Well it's the next tier level of MTTB known as MOBE and both it and MTTB were shut down by the FTC (everything you need to know about MOBE and the FTC). 
So basically Online Success Plan in short leads you down 3 different scam funnels and if you even have enough money to buy all of them, you would likely be spending upwards of $60,000. That is 5 zeros folks.
The way this scam funnel works:
You might have stumbled onto the Online Success Plan website through one or more sites that look like work at home special report sites, but they are really fake.
Once you visit that site, it'll connect you to whatever scam is being run at the time, in this case, Online Success Plan which you already know isn't even the real program being sold.
Once you enter your name, email and phone (don't do this last part!), you'll be given a video where a man talks about how he'll give you a special "millionaire website" for a lost cost fee of $97, how you can't get this anywhere else and how spaces are limited. Trust me, it's not true. 
If you click the back button, you'll "activate" a discount of $20 and that's what I did which made the program cost me $77 and for that price, I expect to have something in return.  Sadly with what was to come, this $77 didn't really give me anything.
After the $77 was paid, I was run through 2 up-sells where without even knowing in detail what I originally got, I was already being talked into buying something more to "upgrade" what I didn't even know about yet. I did not do this.
Between the 1st and 2nd up-sell also came a questionnaire where I was asked about how much I wanted to spend to make my life better.
These questionnaire's are a preparation for you to receive phone calls and sales pitches from people who want to further take you down this scam and there's a reason they ask how much you're ready to spend and remember, between this and the 2 up-sells, I still haven't even landed on the members area and this is going to be an important point: You actually are given more sales videos than you are actual content for what you purchased!
After I finally landed on the members area, it was then that I discovered I wasn't with Online Success Plan, but The Automatic Edge:
As you may notice, there are 3 steps. I did the first one, but not the second one because it involved me having to contact my "coach" and I don't want to go down that road because I know it's going to lead them into giving me more sales pitches.
I know this because this is a repeat formula I see and as I discovered that Automatic Edge was actually promoting me into the MTTB program, I knew the coaching wasn't really coaching, it was more like convincing to go further into MTTB. It's my opinion that this is how it works and it's in the best interest of the coach to push me into it, because if I go along, he or she will get paid VERY handsomely, $1,000's…
There is no real training in Online Success Plan, Automatic Edge.
There is only the up-sells you could buy which I don't know about, but the only thing you "learn about" is from the series of videos you get that are divided into 3 phases.
Together they make up 21 steps you have to go through and when I first saw that there was 21, I knew I was going to hear about MTTB because that's what they are famous for:
You can't go onto steps 2-21 until you contact your coach and step 1 is only going to introduce you to MTTB. Now I know a lot about MTTB and what they will do (I believe around step 6) is try to get you to buy an almost $2,000 license package to move forward.
I have had MANY people complain to me that this is exactly what they went through with this program. And contacting the coach is well something you already know I won't be doing…
And this is the funnel they run you through. A $97 purchased discounted slightly and even if you don't buy the up-sells and go forward, it's minor training on online marketing that really doesn't do anything but hypes up MTTB and tries to get you to join it. So really there is no good training, only good marketing.
You can get 100x that value from a real program like this one and they'll never run you through the scam funnel Online Success Plan does. 
The 3 scams being run here (actually it's 4):
There's really 4 scams in total if you include the actual Online Success Plan as part of this whole scheme, so here it the whole list:
Online Success Plan. The duplicate scam site. There's SO many of them.
Automatic Edge. Not even the real program, it just promotes MTTB and in that case, the $77 means NOTHING because it's training from MTTB I get (not really training), not training from Automatic Edge, unless you get their up-sells.
MTTB. The pyramid scheme. 
And the fourth one is MOBE and as I already said, it was shut down by the FTC (link above).
Final Rating: Online Success Plan
0 Stars
Red Flag (Scam!)
0 out of 10 stars. When I first found Online Success Plan, it wasn't even the real program and either way, it just promotes more and more scams, two of which were already taken down by the FTC. So by that association, the original promoting program (which once again isn't even a real program) is itself a scam too. So once again, here is my alternative: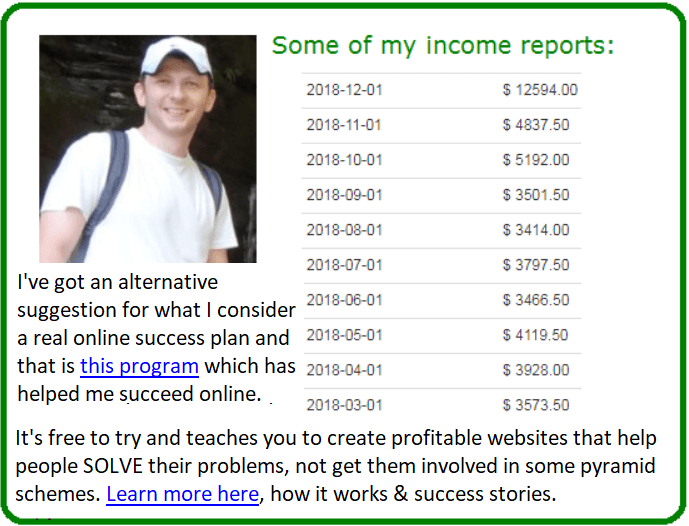 My final thoughts:
I paid for really nothing with Online Success Plan.
And the kind of training you get from the videos (until you're asked to pay the license fee) is just standard stuff about making money online. The program is worthless. Their main goal is to get you to buy their expensive packages, $1,000's in price, but not even close in value. It's a pyramid scheme.
Although I will never recommend Online Success Plan (I'll only really recommend Wealthy Affiliate), I want to give credit where it's due:
Shortly after requesting a refund, it was processed in under 24 hours. However, this wasn't in association with MTTB (that one has issues with refunds from what I heard), but with the Automatic Edge program.