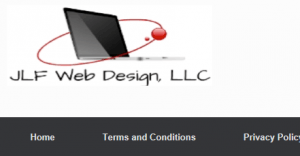 JLF Web Design didn't do their research when they called me. They didn't know I actually knew what a good deal on web design services would be or that I actually make money online full time with websites.
And so when they pitched their "deal" to me, I felt like I was getting scammed and this review will explain that experience to you.
Quick Report on JLF Web Design:
Price: They never told me their prices and believe me I asked more than once. They just ask me how serious I am which to me sounds like $100's or $1,000's.
Overall Rating: 1 out of 10 stars
Recommended? No way! This program is overpriced, poorly marketed and from what I saw them deliver with their sample sites, they are not what I'd consider good.
JLF Web Design in a nutshell:
This is a company which calls people up and tries to sell them web design services for vastly overpriced options. How do I know it's overpriced? Well because you don't ask people how much they're ready to spend unless the price tag is huge, that's why. It's a common trick I've found mostly scam programs I've reviewed and scammers use to determine how much they can make from you.
I'm not saying this is what JLF is, but I see this tactic used with the shady programs more so than the legit ones.
I guess these people got my number after I made a purchase on some internet marketing product which was they given out to them. To be honest, I've never received one of these specific internet marketing scam calls until now and frankly, I'm surprised and a bit disappointed. I would think with all the scams I buy and try, I'd pop up on their radar more often!

How JLF Web Design really misplayed their hand:
The following is my experience with JLF Web Design, from the moment they called me, to what went on after:
1) A number appeared on my phone. It was a 619 area code, completely unfamiliar to me and on a Saturday of all days! And when I picked up, a woman on the other line mentioned her company (JLF) was associated with Amazon associates and they had a great money making opportunity for me. 
Side note: Amazon Associates is a legitimate organization.
Programs like JLF try to use the Amazon name to make themselves sound as though they're a legit company and as I later found out (and predicted) after emailing Amazon, they had no idea who they were and advised I stay away from them! There are also known scams that play on the name of Amazon to trick people into buying their stuff. See Amazon Cash Websites for reference.
2) Anyway, the woman inquired about what I do for a living, which I said I'd prefer to keep to myself and then said that I am not interested. What happens? Bam, she hangs up. 
Now that's not typical behavior you'd expect from customer service. Maybe a "Ok thank you for your time, have a great day" at WORST, but I guess these places don't function like that. 
3) After thinking about it for about 5 minutes, I knew it was a scam, but I forgot the name of the place and who knows, maybe they really did have some sort of great offer, so I decided to call back. Now this is where things picked up…
4) After calling back on the same number, the SAME woman who called picked up and right away called me by my name. I told her I though it was rude to hang up on me and maybe they did have something good to offer. In short, I was ready to at least hear them out. The woman did apologize and that's when she repeated the JLF Web Design name which finally stuck. 
5) Then as we talked, she asked me to hold on and transferred me over to someone else. Now the thing is that I never asked to be transferred and I felt we were communicating well so in addition to the original hang up and the unprofessional approach taken thus far, there wasn't much to convince me this program could be trusted, but nevertheless, I remained on the line and the next person came on…
6) This time it was a man. He was very polite and had a very friendly tone. I couldn't help but reciprocate it. The man basically repeated what the woman said (Great opportunity, would you like to make a lot of money, what do you do for a living, how serious are you about this, ect…). To the personal questions, again, I said I didn't want to share that, which he was fine with. 
As he was briefly describing his company, I asked about the price, which he didn't mention. He then asked me to listen to a message about the opportunity which I agreed to and so the message began and it basically played the same way any other scam I'd warn people about did: 
7) The message basically described how the company is going to provide me with a money making, turn key business website which sells Amazon products and when someone buys it, I make a commission. There were also claims about how people were making 5-7 figures monthly and yearly through this and how excited I should be (Yeah I can barely control myself…).
An additional part of the message mentioned something about having marketing experts help my site become popular and get traffic but that was vaguely mentioned and while it was something I was interested in, I have a feeling this part of the offer might be an up-sell.
8) The message ended and guess what? A new representative came on the line (that's 3!) and basically asked me if I enjoyed that message and I'd like to move forward. He then also asked me about my occupation (again) which as we already know, I declined to reveal.
I doubt they'd want to talk to someone who does online marketing full time. Not exactly their target market!
9) Now this is where it became rude. The man asked me if I was unemployed or working for the CIA and then instead of arguing, I once again, I asked about the price, to which the man responded with how serious am I about this. 
10) That's when I really had enough. I told the man that I was not going to put in ANY money into a program which hasn't told me anything about themselves, their price and a bunch of other information. All I had thus far was that they were going to make me "money making" websites. 
I then asked about their website which the man mentioned is JLFMarketingLLC.com. I went there and told him I was not impressed and that's the truth people. I could make a website like that in about an hour.
All I'd have to do would be to open up a new WordPress site, install a template which has a rotation device (pictures rotate on the home page to make it look fancy) and just add images. Everything else is even easier. And if someone asked me they I'd charge for this, I wouldn't go farther than $50. And you can also do this yourself without ever hiring a professional! Simple try a program like Wealthy Affiliate and you'll get a website and training for it, and that'll be free to check out.
11) But anyway, in response to me not being impressed and that I felt like they were trying to scam me, the man rudely responded by "asking me" in a "oh yeah!?" tone to visit some sort of government website in Arizona of all places and look up their company, which I did and yes it showed up, but some followup research revealed the 619 area code comes from California. So why would they show me their credentials from Arizona? Yeah, it's not adding up…
12) After a few more exchanges, I had all I needed and told the man politely that I appreciate the offer, but I was not interested, still felt they were trying to scam me and to have a nice day. I then hung up on them and did the additional research where I mentioned discovering about the 619 area code, Amazon telling me about not knowing them and more.
Final Rating: JLF Web Design
Red Flag
1 out of 10 stars. If you ever get a call from this company, watch out.

My final thoughts: 
There one thing I do want to thank JLF Web Design for, it's that they gave me something to write about. Before I received their call, I was stuck on what to write on the site. Thanks to them, I am able to expose another scam company. 
Has anyone who is reading this ever received a call from this place or places like it? If so, was the story the same as mine? Let me know what happened!
New challenge issued!
I'm happy a lot of people have commented on JLF recently and a few have accused me of lying and saying "incorrect" things about the company. Read the comments below for yourself and you'll see what I mean.
If you're going to defend this company, post REAL experiences and websites JLF has given them (or you). MAKE SURE it's not a link, otherwise my comment filter will mark it as spam. Just name the site without the .com (or whatever extension) and I'll look at it. And also just as well, if you've had bad experiences, let me hear about that too.
Understand that comments that basically go like this "You're wrong because I some know people who have succeeded with this program" without pointing to any actual evidence have no weight on the argument.
I'll approve the comment either way, but if you really believe in this company, point to real facts.