Easy1Up happens to be one of the less costlier high ticket programs I've ever reviewed, but I have never recommended those, because most of them are scams. Is this one too?
To be honest, I don't believe it is, but the expensive training this program offers are things I know a lot about and can show you cheaper ways to learn it too. I didn't buy into Easy1Up, and ultimately, I won't recommend that you do either, it's just too much to pay and risk losing.
But I will show you how you can make great money online without that large financial risk involved…
Quick Report on Easy1Up:
Price: $25 all the way up to a $1,000 package.
Each package offers it's own value and teaches you to build an online business and make make money online. Obviously, the more expensive it gets, the more value and training it has.
Overall Rating:

4 out of 10 stars

.
There's really a lot of value within Easy1Up (I will go over each package to explain that value), but ultimately, the reason I rate this in the yellow category (use caution) is because of it's prices.
This is a high ticket program (that means it's very expensive), with a lot of opportunities and a lot of stuff to learn from, but I can assure you, that there's alternatives where the same and even more value is given, for free and without the large price tags. In other words, you can build a big online business without having to pay so much into a program like this.
Case in point (the alternative):
Here is why I am showing you these income stats of mine:
I am giving you this review of Easy1Up not from a point of ignorance, but from experience, because I know about how and what it takes to money online (about me) and I know about the ways many places try to get you to spend a lot, to try to make you think it's simple to make a lot back. In reality, this is very difficult and I don't want to see you lose money…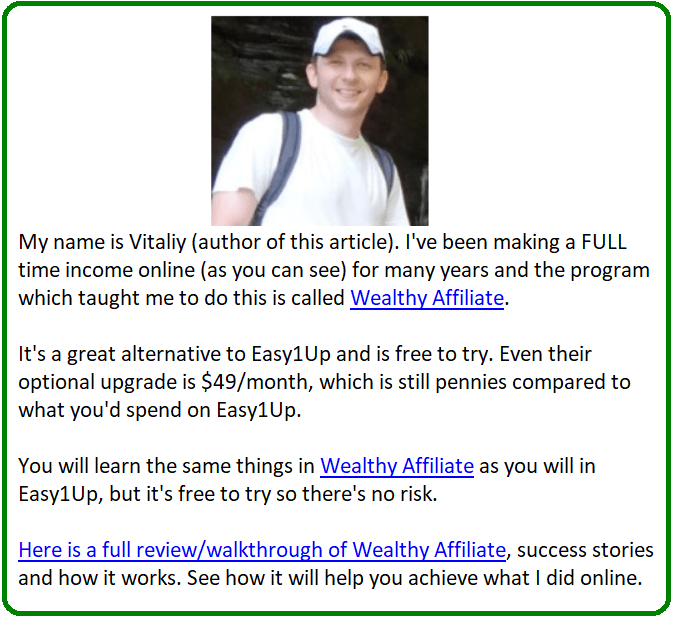 Throughout this review, I will be recommending this alternative again and again and you will see how it actually does teach the same things as Easy1Up does, but obviously without that financial risk. Let's continue: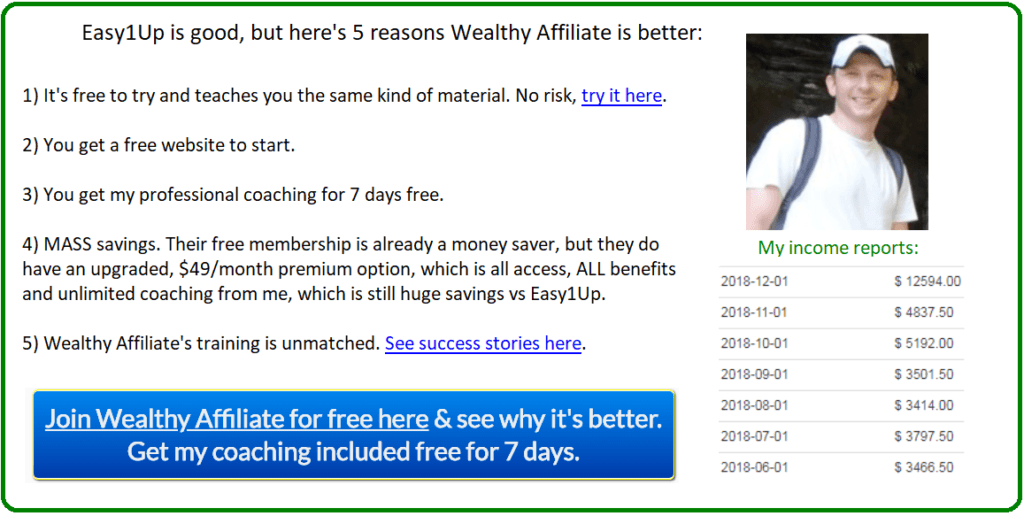 Now as I usually do things in my reviews, I provide a further review of the Easy1Up program but in text. So if you want to know more, here is the additional info:
What is Easy1Up? The short explanation:
It is basically a series of courses on building an online business that start from a beginners package which is $25, then move up to the more advanced training package which is $1,000. However, let me quickly segway and mention that if you read this quick guide, you will understand that there are 2 simple and fundamental steps to achieving success online. 
Now back to Easy1Up:
If you buy these packages, you can re-sell them through their very own affiliate program for high commissions (even $25-$1,000). That means you can either use the information inside the program to build your own business, and or a business that revolves around re-selling Easy1Up to others. 
Normally, I would be totally against this sort of thing, but here, I am slightly against it, mainly because the prices aren't as big as the other crazy high ticket programs I see and overall because the information inside each package is quite loaded with good info. 
Yet the ultimate reason I say no to this program is because there are other programs, with even FAR more extensive training out there which cost a ton less than this:
But look, even though you already know what I recommend instead, let's give Easy1Up a fair look. Here are the pros and cons:
Pros:
1) A lot of value offered inside each package. I have honestly seem even more expensive high ticket programs like this that actually offer less than Easy1Up, so that's a plus in their favor. Other places are really scams with the prices they put up ($20,000+! in some cases). 
2) They like to give their affiliates value. You can't join this place without having someone refer you into it, meaning they value and give affiliates their due credit.
Cons:
1) Large prices for the upper packages. In spite of it NOT being the most expensive high ticket program I've seen, the truth is, in my opinion, it's still very expensive.
2) I honestly know of at least one complete program which has WAY more lessons, way more tutorials and pretty teaches the same things AND MORE than Easy1Up and it's free to join to try (Wealthy Affiliate).
There is one paid membership level of it, but it's very cheap ($49/month and optional). But the fact is, you can try it risk free. With Easy1Up, if you're going to start somewhere, you need to start at the $25 level.
Overall there are 5 courses inside Easy1Up. Are they worth it? 
Here are the courses/packages, and the prices of each. Again, I did not buy them because I know this material well thanks to Wealthy Affiliate and I don't think it's right to become an affiliate for Easy1Up so I can sell this info when I can do the same with Wealthy Affiliate and they would pay less.
But either way, here is the info on each package:
Elevation: $25.

Elevation Elite: $100.

Vertex: $250.

Vertex Elite: $500.

Vertex Pro Connect: $1,000.
The official Easy1Up site explains briefly what is inside these packages, but as someone who knows a lot about online business personally (I have 13 years of experience and do it full time), allow me to say this…
For the sake of transparency, again, I decided not to order this program or any of it's packages, but I did go through it's explanations, which actually say everything I need to know about it. But I totally understand if you remain skeptical. However, what you need to know about me personally is that:
I actually know about 95% of the stuff they say they'll teach and that's because I've either already studied it and/or applied it to my existing online business experiments/sites.
I am about to explain what I believe is inside each of the 5 courses (an overview) so you get an idea of what you're buying. In doing so, I want to stress how I personally was not impressed by these topics, at least by the price tag that's on them.
This further pushes me to recommend my top program which is Wealthy Affiliate instead of Easy1Up because I really believe you'll learn a ton more, for way less.
But if you're not convinced, let me break down what I believe is inside each package and then let you decide for yourself:
Here's my personal overview of each of the packages and what you'll learn:
We'll begin with the cheapest ($25) and go up to the highest.
1) Elevation $25:
Based on their summary, it looks like they just introduce you to online business and how it works and also there are a
lot of bullet points on list building, something I know a lot about.
In short, in my opinion, it'll be a teaser for how to make an email list and make money of it.
Want to learn it for free? If so, then in this article on collecting an email list, I show you that.
As for the topic of an online business that they talk about? I also have free content on that too. Read this article on how to start an online business and you won't have to pay to learn that info.
Then they have bonuses for this course…
So this is basically a branch of the regular Elevation program (again this is based on what their page says…) but from what I gathered, it'll just get into more details on how to set up your first email list and website.
They'll give you the blueprint in the $25 program and get into the details of it in this part of the program basically. You'll learn to create a squeeze page and basically send out emails to people who subscribe to you so that you can send them promotions and make money.
So far I've got to say, there's nothing I see that makes this stuff so special. If nothing else, it's online marketing 101, something that I actually see taught for free in many places…
Oh and I've got an article on doing much of the stuff that's shown to taught in this stage of the program. Here it is. I'm telling you guys, so far, this info doesn't really cost anything to find out about and I'm more than happy to show you how it all works before you decide to jump on this. I'd rather you have prior knowledge about this industry.
2) Elevation Elite $100:
So this area looks like it shows how to market via many social media channels: YouTube, Pinterest, Facebook, writing ads and getting people to click on your ads/videos to buy from your site.
I assume this Elite course is part of the initial Elevation ($25) course as you'll likely be using those social media channels to send traffic to your squeeze page to get sales. Again, nothing new.
The only thing I saw that I didn't know about was "QR codes". I have never heard of this. Everything else, I either have minimal/major experience in.
For example, I've done a number of YouTube videos and it's actually quite easy to figure out how to get high converting videos and views. Here's an example.
And I have also added a new YouTube affiliate marketing guide you can check out.
Again, I give you free content on a bunch of the same material you'd have to pay for inside Easy1Up. 
My opinion here is that there's nothing superbly special(at least on the overview of the course).
It's just another example of that marketing 101 stuff…
3) Vertex $250. 
Well this part appears to branch out into different ways to make
money:
-Affiliate marketing (Did you know I made over a million dollars doing this? Read my affiliate marketing guide here to see the proof).
-Starting your own online business.
-Creating highly profitable sales pages through marketing techniques.
-Doing JV (joint ventures) with other companies/websites. 
-More "advanced stuff" on email marketing.
-Looks like there's also a topic on niches, since they talk about passion. That's a good sign.
Ok so basically, this is an explanation of how to take your existing online business to new heights. Besides just list building and generating traffic like the first 2 courses talk about, it looks like this part gets deeper and further into what else you can do to improve the business's growth. 
I've done somewhat JV stuff in the past and worked with marketers but in my opinion, affiliate marketing is the better way to go if you're a beginner. If you have a business, a website and traffic, everything else is open to you to use when you want. The most important thing is getting those first 3 things.
If there's any tutorial I can recommend that is closely related to this part of the Easy1Up course, it would be this page. It'll help you understand niches and why having an interest in one personally is the way to go to start an online business.
4) Vertex Elite $500.
Well it looks like it's a combination of teaching you more ways to grow your business and traffic generation methods,
which they say are free.
I know of several traffic methods that are indeed that: Google, YouTube, Bing, Yahoo and Facebook. Most of the stuff that you need to know is this:
The kind of free traffic is Google and getting traffic from Google requires SEO knowledge, which basically means making websites Google will love to rank high.
It's honestly not a tough thing to understand, here's all you need to know about SEO.
And the thing is, knowing SEO will also help whatever you do on Google automatically work on Bing and Yahoo without you having to lift a finger.
5) Vertex "Pro" Connect $1,000:
Looks like a bunch of marketing techniques for a "plethora" of sources out there. Honestly, I think this part is more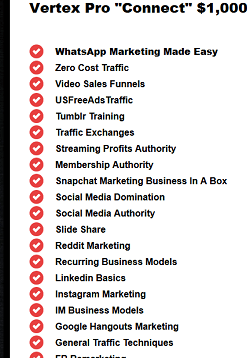 marketing than the price is worth because a lot of these places they say they'll teach you about marketing are really not necessary once you have a big enough business set up and working for you.
For example:
If you have an A-Z way of doing business and only need A to make you a full time income, then you need not worry about B-Z. If nothing else, B-Z methods distract you from focusing on A and making even more money. That's been my experience.
Of course having knowledge on how to market B-Z doesn't hurt to know, but I find that the more ways to make money you have, the less time you have to focus on one real, strong way to do it. And to slap a $1,000 price tag on it further pushes me away from it…
To someone who has no knowledge of online marketing, seeing the huge list of places to make money off can seem alluring, but to someone who knows this stuff, that list looks more like a distraction than anything else…
And that concludes the packages and what you'll probably get from them.
Final Rating: Easy1Up.

Yellow Flag
4 out of 10 stars. Good content, good learning programs, but honestly not that special, at least not so special based on the stuff they claim they'll teach you. It's really not that hard to find that info nowadays, so why pay so much for it?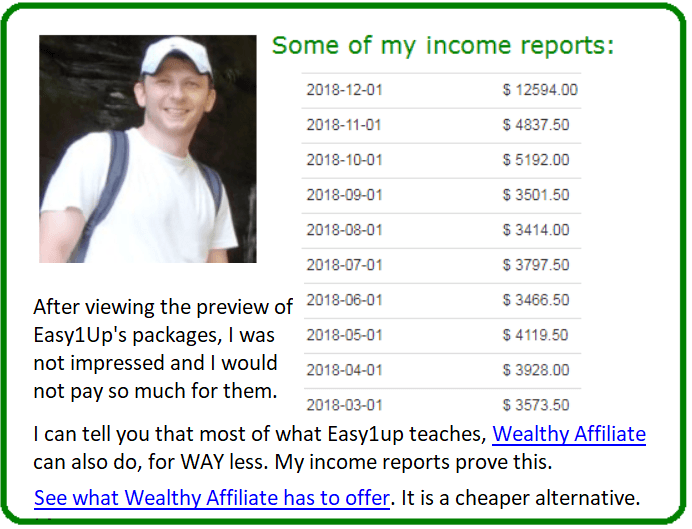 My final thoughts:
Look there's no doubt you'll get a lot of good info to digest from Easy1Up, but I just don't think paying so much for that info is right. Sure you can elect to not pay for all the packages and stick to the lower priced ones, but it appears to me that there's missing bits of info there to potentially keep you buying more stuff of the higher packages. 
From a marketing standpoint, I've seen this happen a lot with high ticket programs of this nature and I kind of understand it, yet don't really like it because it pushes people into paying for stuff they may not be ready for yet.
The only other reason you may want to buy this stuff is so you can join their affiliate program and sell people the same thing for the big commissions. I'm not a fan of that either if the content doesn't meet the price and as you already know, my opinion is that the content is overpriced. 
As an affiliate marketer who runs his own business from home (my story), and someone whose made a ton of mistakes before he made it, I know the pitfalls involved with this business and that in order to make it work…
You just 1 need program to show you everything.
I don't believe that program is Easy1Up. I think the program I recommended, however is.
It'll have you learning way more than Easy1Up, it's free to check out (no risks whatsoever) and I always encourage people do that before they open up their wallets…

Being informed on how to run an online business is absolutely imperative if you're seeking to work from home as it's easy to get caught up in the hype and marketing tricks and programs out there that fool you into thinking they have the simple solution to financial freedom…
I used the program I am recommending above to build my online business and I enjoy that today. I know you will too if you try them.
Note: Easy1Up has a few other programs connected to it. The most popular are:
I have reviewed all 3 of these programs in each link above for your reference.