My experience checking out Cash With Matt isn't a good one and this review will explain that, as well as why I am going to be calling it a scam.
Quick Report on Cash With Matt:
Price: Oh boy, get ready for some crazy numbers:

$97.

Then $37/month up-sell.

Followed by a $67 upsell.

Then there's ANOTHER upsell after that ($37).

Which is then followed by another system that gets extremely expensive (if these current prices weren't big enough already…) with it's own up-sells. Basically, there's a lot of things to buy after the $97 and that just reduces the score of this program more and more…

And to add to this nonsense, in addition to paying $97, I was also charged $77 (I did not authorize that), for a total of $174. 
Overall Rating:

0 out of 10 stars

.
Now I don't entirely know if Cash With Matt changed it's name or there is a disassociation going on here, but what I do know is that this program and the one it turned out being BOTH promote the same end game program:
MOBE and that is actually the most expensive high ticket program I've ever reviewed. 
What exactly is Cash With Matt? There's a lot to unpack, but it's not good news:
I am going to do my best to try and explain this as simply as I possibly can. So I'll break it down into parts.
What you need to know though is that it's one program linking into another, then another and one more to finalize the whole chain (4 names in total)…
Part I: 
From what I know prior to getting involved with Cash With Matt was that this was a sales funnel to get you involved with a program called MOBE.
MOBE was created by Matt Lloyd as is this program: Cash With Matt.
However, looking up the official site of this program, I could not find it, (only reviews) but what I did find was a site that supposedly was linking to it. And so I clicked it (what a mistake that was). And again, I keep speaking about this in past tense, because MOBE is out of business due to the FTC.
But either way, when I found Cash with Matt and was going through the sales funnel, it ended up linking me to a familiar sales page I though for sure I had seen before, and doing a quick lookup on my website for previous reviews, I found it…
Part II:
This sales page was tied to Countdown to Profits, a scam program I had exposed long ago and this sales page was the same thing (How 500 seconds of watching a video will turn into $500 if you just stay and watch, all that nonsense). 
But I didn't want to believe it was the same Countdown to Profits program, so like a fool, I pushed ahead, purchased the program and was charged double ($174 total):
Now before I hit that confirmation image you see, I had to go through 3 different up-sells (that I listed above). I did not buy any of them, but I did go through an application process (which I had to complete to move further).
Part III: 
You may notice that image above says "My Internet Education". So what we have so far is Cash with Matt leads into Countdown with Profits, which then leads into My Internet Education (but it doesn't end there…). 
Anyway, it was on this page that I got the following error (and this led me to finally see proof of what the end game of this whole sales funnel was):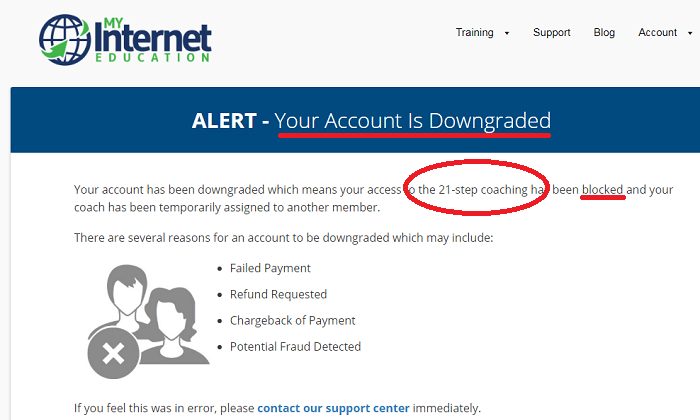 The reason they didn't let me payment go through was because I had purchased this program before (hence why I said I recognized the sales page). So I guess they spotted that and didn't let me go further.
Now I put in red circles and underlines the key words to this image and the conclusion of this whole web…
Part IV:
My Internet Education is an affiliate program tied with MOBE and the MTTB system, the one with the biggest prices and the most financial risk involved (higher commissions too though if you successfully promote it). 
I knew this was up not just when I first saw the title "Cash With Matt" all the way in the beginning of this review, but also in the above image where it said 21 steps (it's part of the MOBE/MTTB system) and it's where you'll spend the most money if you decide to go further with it.
In the end, one can say all these other programs were trying to get me into MOBE/MTTB so I could spend the most amount of money and make them commissions.
Now I don't know if there's 1 or more people involved in this chain of programs. I know there's a Richard Paul with Countdown to Profits, a "Jordan" whose part of the supposed My Internet Education and finally Matt Lloyd who is definitely in charge of MOBE, but I'm uncertain if he's in charge of Cash With Matt, or if someone just made up that program and used his name.
What I can tell you from all these programs is the following:
1) This is an extremely confusing sales funnel to understand and unpack and I hope I did that for you.
2) It is extremely expensive and risky to get involved with it.
3) There's a lot of layers of confusion (one on top of the other) involved here.
4) I absolutely, do not recommend getting involved with any of these programs, because they are tied together and this makes you spend more.
5) I don't really like MOBE, but out of all of these programs I've listed above, it IS the biggest scam and the one that the FTC even took down.
And a quick note on that $500 "guarantee". It's a lie.
It absolutely infuriates me to see this money claim being misrepresented. The countdown to profits website makes it sound like you're making money with each second you listen to their sales video.
Then when you're on the checkout cart, they say the program was originally $597, but because you listened to it, it's discounted to $97.
And all of that is utter lies. But that's not the end of it…
$500 is the "insurance" promise made by MOBE/MTTB that if you don't make money with their system in 30 days, they'll pay you that. But as I've deconstructed that again and again, this $500 promise only applies IF you are eligible for it and ONLY after you spend $2,000+, meaning you don't make $500 in the end, but just lose $500 LESS.
This is important to understand in all of this. $500 is not made, it's a discount off the $2,000+ you'll spend inside MTTB/MOBE and possibly the other programs I listed above. So yeah, there you go.
Final rating: Cash With Matt.
0 stars
Red Flag
0 out of 10 stars. Absolutely not recommended. It's a sales funnel into a bunch of other programs, all trying to get you to spend more and more. If nothing else, joining MOBE directly would be cheaper for you, but even then, I wouldn't recommend it.
My final thoughts: I have a way safer recommendation…
I know you may have gotten confused throughout this review and I don't blame you at all (it was hard for me to follow this chain of programs too). 
Instead of going through all these chains of bad and/or expensive programs, why not just go with one which will help you make money, and let you try it for free and on top of all that, it's just 1 name (no funny business)? Here you go:
Unlike all of these programs, you are not going to be hit with crazy up-sells and the program is very transparent. You can start for free and then upgrade (no obligation or tricks) if you wish and even then, the prices are so minuscule and cheap that they're pennies compared to this list of bad programs I just went through.
In other words: Completely free and/or completely affordable.
Thanks for reading this review and I want to conclude by saying that you should be very careful with these programs out there, especially when you unpack how much they really cost (after all the claims).