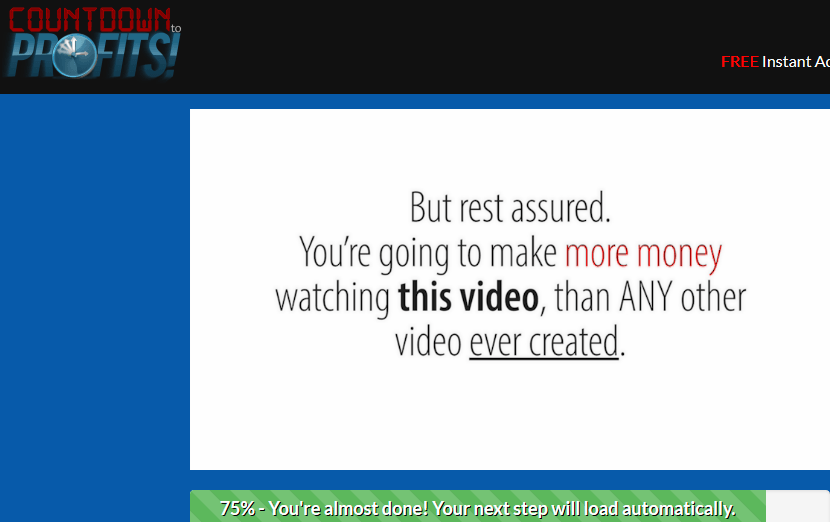 The shocking part of this review of Countdown Profits is just how big of a scam it turned out to be. And yes, I did buy it.
Quick Report on Countdown to Profits:
Creator: Richard Paul.
Price: $97 then an $87 into a program which revealed that the whole Countdown to Profits is a front for another program and a bad one too at that!
Overall Rating:

0 out of 10 stars

.
I'll be explaining everything that is "shocking" about this program in this article, but the goal isn't to just explain that but to also give you a good alternative that is shockingly good and legitimate. So here it is:
Countdown to Profits in a nutshell:
So this program isn't really the program you're getting, it just redirects to another scam program called Automatic Edge, that I had already purchased in the past, reviewed and gave it 0 stars (and I'll tell you why) and it's for the same reasons I gave Automatic Edge a 0 score, that I will also give Countdown to Profits the same, deserved score. 
So just so you know:
Countdown to Profits and Automatic Edge are the same program, but listed under 2 different names. And there's other programs like Online Success Plan, which are also tied into Automatic Edge.
Yeah I know it can be confusing but I will explain how the funnel works shortly. 
You'll see that this whole thing is one big mix up, but a carefully planted one that makes sense to those who make money of doing it and no sense for those who stumble on it, that being people who will eventually be scammed by it…
But…
What I want to say in this review is 3 very important things:
1) I would rather not repeat what I already wrote about Automatic Edge which is the real "brains" of these programs but you can read that review of it separately to understand what's really inside the system and why it's bad in my opinion. 
2) What I would prefer to do in this article is explain how the sneaky funnel of Countdown to Profits works.
3) Finally I know that most of you reading this probably want to know if there's a program you can trust. And if it's not Countdown to Profits (it isn't), then what can you trust to work? So here it is again, in case you missed my point on alternatives above:
Before the scam was spotted, this is what happened:
I found this program after reading one of those spam comments you find on high traffic websites. I refer to them as work at home special report sites and they are basically scam sites too.
You know the ones where the person posting says they or someone they know is making so and so from an "easy system". 
Typically most people ignore those types of comments because they are nothing more than spam and they are right to do it, but I always seek to find the next scam program to warn people about, so I decided to click it, and it took me to Countdown to Profits. 
And so the 500 second wait period began (so annoying…):
On that page, I had to sit for over 500 seconds and listen to Richard Paul deliver his speech about how every second I'll stay on his site, that I'll get $1 so in 500 seconds of waiting, I should have been eligible to receive $500, but the catch was that I had to contact a coach, buy the program and do the lessons that were given.
And these "contact a coach" pitches are usually scams because they are just salesmen, not actual coaches!
Get real coaching here for free (obviously from a different, legit system).
Obviously to have someone pay pretty much anyone to just watch a video is absurd to believe but this is how many programs catch you. 
Where the Countdown to Profits video actually revealed that it was promoting a big scam:
And I'm not just talking about Automatic Edge again. I'm talking about an even bigger scam, that all of these programs are centrally tied to: MTTB.
Once I heard Richard Paul mention a $500 cash back if I didn't succeed, my first though was "Oh no, this is going to be another program recommending MTTB" (which by the way is one of the most horrible programs I've ever reviewed AND it was taken down by the FTC too) and it just so happens that one of the scams promoted inside the AE program is MTTB. 
That program would have people spending $1,000's on it and I explained why that was a scam. Coincidentally,  in the Countdown to Profits sales video, Richard was mentioning $1k-$5k profits. Oh what an interesting coincidence no?
Everything spelled scam, but I still went for it. I purchased Countdown to Profits:
Though I knew better, I had to be 100% on this…and after I purchased what I consider to be the "illusionary" Countdown to Profits program, an up-sell page was provided where the person on the video mentioned AE and that's when I also though "Wait a second, didn't I review that?"
A quick search on my website led to that review which I did link above…
So here's how it works:
Countdown to Profits is just a sales funnel into Automatic Edge.
Once you buy it, Automatic Edge will promote you the MTTB/MOBE program and that is the super expensive one. 
So in short…if AE and MTTB are scams (which I reviewed and say yes they are!), therefore Countdown to Profits is ALSO a scam!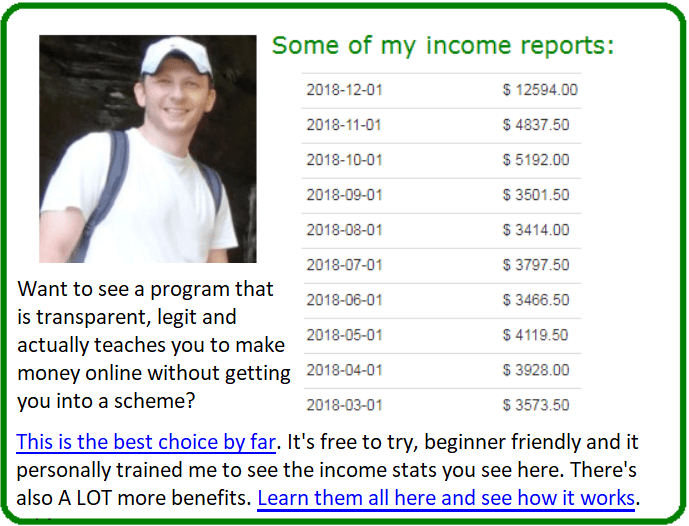 I provide even MORE evidence below on Countdown to Profits…
There's also something VERY sneaky going on here…
And that is that there are fake websites/programs such as Countdown to Profits posing as real programs seeking to promote other scam programs.
I call this the back door method and it is a very deceptive means by which many scam companies continue to make money despite having a bad reputation. 
How scam companies continue to thrive through a "back door" method:
When a big name program gets a lot of bad reviews, it is either common for that program to either stop doing business or continue thriving by having it's affiliates (promoters) either create positive reviews for it or create their own separate sales pages where they create their own name for a program, but link it back to the original bad company.
This is the bad type of affiliate marketing I am against.
In the case of Countdown to Profits, it links to AE, but here's a funny add on, there's actually 2 backdoor techniques going on here because AE actually redirects back to the real heart of all this which is MTTB.
A quick recap of MTTB and MOBE:
Originally MTTB was the controversial program that had many skeptics including myself not recommend it based on what I saw (it may be a pyramid scheme and it is my opinion). And overtime it did develop a…let's just say…a questionable reputation.
What I believe happened is that because the commission rates were so attractive to affiliates (People could make potentially $1,000's per sale promoting and by the way, they require you pay those prices to promote them, so it's a high ticket scheme), regardless of the controversy, they continued to find ways to sell MTTB and did it by making their own pages/fake programs promoting it (Think Countdown to Profits). 
What are the benefits of them doing this?
Well for one, if someone was promoting MTTB directly, a lot of people visiting that page may end up looking at reviews on Google for it and since it is controversial, they may find more than a few websites and comments which may not favor the program.
But what if an affiliate created a website with a different name, but linked it back to MTTB? In that case, most people who would look up reviews would probably not find many negative ones or make the connection and thus that attention would be taken away from MTTB and increase chances of it continuing to make sales. 
And that's exactly what's happening in the case of Countdown to Profits ladies and gentlemen. It is just a made up program in my opinion that takes people through the whole backdoor funnel into AE and then MTTB and most people don't even realize it. 
In fact, I don't blame them. It took me some time to understand this web but it's only because I expose these things for a living that I figured it out. 

Oh and I'd like to add, when I purchased Automatic Edge a long ago:
They charged me for…well nothing.
Originally when I first discovered Automatic Edge, it was through another program that functioned exactly like Countdown to Profits. It was called Online Success Plan. 
I paid an extra amount to buy Online Success Plan ($97 I think) and it took me to AE and inside there, all it basically did was take me through a series of steps to eventually upgrade to MTTB. When I found that out, I got the heck out of there and I was fortunate to collect a full refund too! 
With Countdown to Profits, when I also purchased it:
It ended up being the same exact thing.
In other words, it took me to AE's membership site (again). But this time it was different…they remembered me…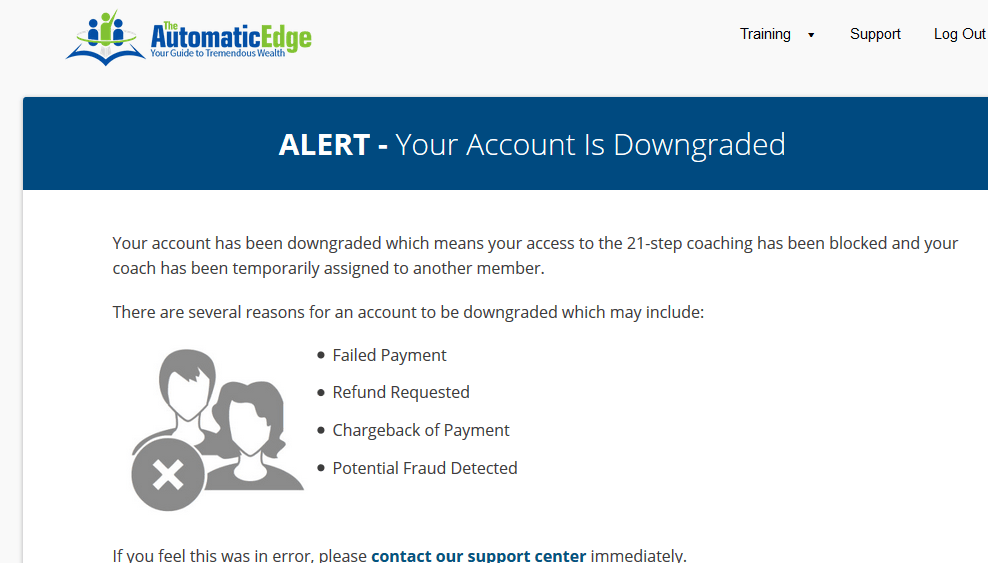 Well let's be honest, they did "downgrade" me because I cancelled and got a refund, but now, I did pay an extra fee to enter it again (because I purchased the Countdown to Profits program which isn't even a program).
I tried to contact the support for a refund but got errors. So either they didn't really charge me because of the original refund I got back long ago or I have to do it again…
Final Rating: Countdown to Profits
0 stars
Red Flag
0 out of 10 stars. This program in my opinion isn't even it's own entity, it's just an affiliate page, but an affiliate page to what has been PROVEN to be a scheme (remember, the FTC took it down!). 
My final thoughts:
I really don't like seeing any websites that end up being back doors to others. Because once I do, I immediately question why this is happened and frankly, it seems deceptive to me.
If the program being promoted is good, then there's no need to create another layer under a different name to mask it. And if it isn't, well then it makes sense, but it's not justified…
Let's take a really good program: Wealthy Affiliate and if it would make sense to do what Countdown to Profits did…
Since there are good reviews about the WA program, why would there be any reason for people, aka affiliates to create their own different programs and redirect to WA? There isn't because the program's legitimacy speaks for itself. There's no need to go around or behind to promote it is what I'm trying to say.
Unfortunately with Countdown for Profits, as we already know, the program behind the door is AE and then MTTB and I have seen many other websites like it do this to promote those programs and like I said, if they have to, what I consider "resort" to promoting this way, it says a lot of bad things in my opinion on what they're actually promoting…
I want to thank you for reading this far:
It wasn't easy to write this review and it took a lot of stress, money and time. That being said, I hope it was informative for you and helped you find a better solution to making a real living from home!