When it comes to success in Google and SEO, nothing is more important than your ranking. The higher it is, the more traffic you get and the more of it you get, the more successful your website will be.
It's simple, logical stuff. 1 little position or page boost can be enough to grow your business by several times and that's what we'll discuss accomplishing in this article. 
But there is a little spoiler I have for you. It's that no matter what, in order to get those truly high rankings, that you need to work on the overall website as often as possible and focus on the tips I will provide you in this article. There are no other ways other than "cheating" to make this happen and by cheating I mean going the route of black hat marketing, and in the end, that is 100% guaranteed to fail.
So if you have good work ethic and understand the reality of what it takes to grow a website, you will be setting yourself up for success faster than you think.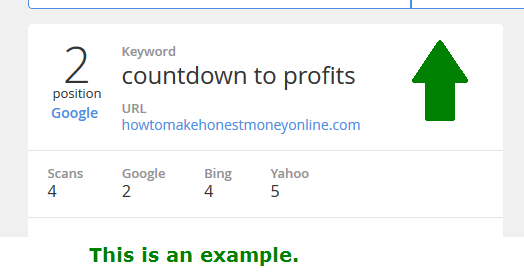 Here is the macro and micro way of boosting rankings in Google: 
I will start with the macro because in the end, this is the BIG picture of the whole "system". General, SEO friendly things that you do on your page will have a remarkable and LARGE impact on your overall results.
Think of dropping a pebble/rock in a lake and the way the water spreads out as you do it. Now think of your page/s and the things you do on it as the rock being dropped in the water.
If you do the things I'll mention right now, you're going to see a bigger spread across the lake which is Google and the overall internet and that means that your page will get a far larger exposure and in the end more traffic. 
So here it is:
Now this is the generalized "macro" picture and certainly, if you're a beginner, this will lead to many questions on the specifics of each step.
Therefore, I have provided a fully detailed guide on the subject here. In that guide, you are going to get a specific example of how to "execute" those steps.
Now in addition to that, I would highly recommend you UNDERSTAND how rankings work in Google and that in addition to the steps above, that it is necessary to understand "factors" that come into play when Google looks at your site and determines how and where it should actually appear on the search engine.
Keeping these parameters in mind will really help steer your page building efforts in a direction in which you'll know that all the effort you're putting in is going to pay off. Here are those parameters. 
Now I can assure you that if you correctly use the macro tips I just provided to you, that you are going to see a growth in your overall page's exposure on Google and of course this means better rankings. 
Now let's talk about the micro steps (small changes, large results).
Allow me to provide a context for what I mean by micro. Let us suppose that:
You found a keyword which gets high traffic volume and little competition. Naturally the thought process should be that if you manage to rank on the first page of Google for it, that large traffic will flow into your page and this is honestly the end goal, not just for 1 keyword, but as many as you can find, but for the sake of this example, let us just focus on 1 keyword and use that as a reference for the others…
Anyway, you correctly followed the macro steps above that I outlined, wrote an article on your page targeting the said keyword with large volumes of traffic and then you wait. What are you waiting for? Well you're waiting on Google to pick up the article and hopefully make it appear on the first page for the said keyword.
That takes time. It can be weeks, it can be months and it can even be years. The real answer is that it will be determined by the same factors I linked to you above. This means, if you work hard to complete the 1-5 steps and do it consistently, it will only speed things up, so this is where hard work will reflect your results. 
But here is where we get into the "meat" of the scenario. Let us suppose that you managed to get your article to the first page, but it is not in the top 3 positions (which get the most clicks from traffic). No matter how much time passes, it seems like there are just "unbeatable" websites ranking above you and there's nothing you can do.
THIS is where we come to the micro approach of breaking that "plateau" and making your article get to those top positions and for that, here are the tips to make it boost up and get there:
1) Write more content on the actual article chasing the keyword.
Keep it high quality. This has several benefits:
A) An increase in content will ALWAYS look good for Google, so that provides extra points.
B) An increase in content also makes readers actually READ and stay on the page more often, which leads to a higher stay time, a factor which is taken into account by Google, meaning that if people stay longer on your article, it is seen as a form of high quality content.
2) Encourage comments.
Being that your article is already getting high positions (but not high enough), it should be getting enough traffic already to get comments. What I would suggest is that throughout your article, to challenge and question people on their thoughts on whatever it is you're writing.
A keyword with a lot of traffic volume naturally means there's interest in the said keyword and if you can ask people what they think and to leave their thoughts on your page, it will only add value to the article. Furthermore:
A) Comments are a form of content, so them leaving it just means the actual article gets more content and you already know what that does for rankings.
B) Comments are, in addition to an increase content, also a great sign to Google that you have a good page.
C) People love to read comments, and that also leads to longer stay times and once again, you already know what that does for your ranking.
Here are specific tips to getting more comments I recommend to people that will help boost SEO rankings.
3) Interlink other pages on your site back to the page which is chasing the large volume keyword.
Any successful website that gets high rankings on Google will do so because it has MANY articles, not just one or a few and those articles, on their own are already getting traffic of their own.
Linking those articles back to the desired page which is chasing the large volume keyword will only help get more visitors to it and if the article is written well enough, more stay times and more comments on it. Here are tips on interlinking in general.
Now this is something you need to be smart about. Don't just link every page you write back to the one you want to rank higher. Only do this on pages whose topics are relevant to the one you want to send traffic to.
Allow me to provide an example:
Suppose I have 100 articles on my website. One of them is chasing a large volume keyword and it deals with a particular product I'm promoting. I would choose (out of the 100 articles I have) which ones are best suited to flow into the product article and link them to it.
Specifically speaking…
Let us say I have a website on gaming PC's and I am reviewing and promoting a popular gaming computer which has a lot of searches online. Getting a high ranking on Google for it would inevitably lead to more sales. 
On the same site, I have articles talking about various topics dealing with gaming PC's such as which ones are best to use for games which take up a lot of space, power and so on.
It would be beneficial for me to link ANY of those articles to the gaming PC I am promoting because it is relevant and thus sends traffic from the other pages to that promotional one that would be interested in buying it.
Stick to that idea. It's not a "catastrophe" if you do this wrong, but it may lead otherwise uninterested traffic to a page where they won't want to buy the computer and will leave quickly. That can impact rankings so if you send the interested traffic to the said page whose ranking you wish to boost, it will only help if you do the way I suggested.
My final thoughts:
There will be a time when a particular page you're seeking to get ranked high will not get there, and it won't change no matter what you do (The Google dance is usually to blame). If and when you encounter this situation, the best course of action is this:
Disregard it (meaning don't spend too much time on it) and move forward with growing your overall website on a MACRO level. Do not dwell on 1 keyword you are desperate to get a high position for, because if you do, you will neglect the overall growth of the website and that happens across the whole thing, not just on 1 article or page you write.
Growing a website means writing content on it constantly and that in the end is the BEST course of action you can take to ACTUALLY boost the website rankings. 
That being said, I would like to know YOUR thoughts on this matter and if you've used any of the tips (or personal ones not mentioned above) that helped you boost your page.