I am always careful about site like Suppliers Club because I find similar sites that are often scams and this article will explain what to watch out for.
Quick Report on Supplier's Club:
Creator: Unknown.
Price: Varies.
Overall Rating:

1 out of 10 stars. 
In my opinion, this program is a scam and even if it's not, you can really operate without it.
Suppliers Club in a nutshell:
The way I understand it, it basically talks about making money online through the process of drop shipping. To briefly explain it, drop shipping is basically a process where you find sellers who have products and sell them items to buyers.
You act as a middleman and only connect with both parties. The buyers and sellers never know about each and you can charge whatever you want (or is fair) and keep a profit from each sale.
In order for drop shipping to work, you need to have places or people who have items. You can't just expect to have your own wholesale store and usually those who deal with drop shipping usually do business with whole sellers and drop shipping companies.
So where does Suppliers Club fit into all this?
Well they connect you to a drop shipping company called DOBA. They are the ones who will provide you with the products to sell through places like eBay. The whole idea is that it's supposed to be a one stop shop for you.
You find people looking for something, then sell them products from that place. In fact when I see all of this, I would go so far as to say that Suppliers Club might just be an affiliate site that tries to connect you to DOBA. 
So where is the scam with Supplier's Club? 
Drop shipping itself is not a scam.
It's actually a very lucrative business if you know what you're doing (still affiliate marketing is better but here is a comparison of drop shipping vs affiliate marketing so you can see the differences), but when it comes to Suppliers Club, I mentioned that they reminded me of a scam. Here's what I was talking about:
I've reviewed dozens of programs that all look and sound alike in their sales pitches. These are what I call work at home scams (A big list). These sites have VERY similar operating methods which I also found on Suppliers Club. Here's a few specifics:
1) I originally found Suppliers Club through a woman's blog called Amysblog.com.
However, as I click through and went on to Suppliers Club, one thing that immediately stood out was that Amy Jensen, the person supposedly behind the site might not actually be real. In fact, looking at the pages, there's literally 2 different images of Amy!
One on the blog site and one on the Suppliers Club site itself. While encountering people with the exact same first and last names (especially if they're common) happens often, I doubt this is true with this site. I think this is a fake name used and the images are just purchased of other websites. 
2) The site before I found Amy's Blog and then Supplier's Club looks like another version of one of those fake news report sites. 
The many work at home scam sites I find usually come from fake news report sites.
In this particular case, Amy's Blog was found through a news report site which isn't really that. 
3) Immediately upon entering Suppliers Club, you're asked to enter your name/email and phone: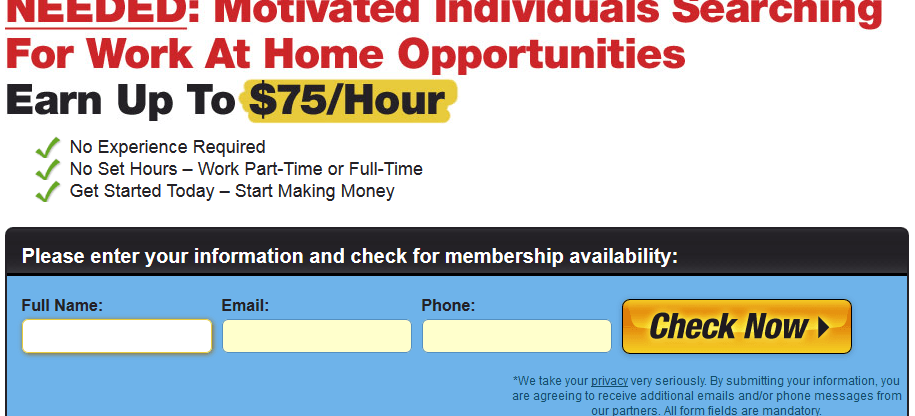 This is also a VERY common tactic used by those work at home scam sites. The sign up isn't even legitimate. It says it's looking for positions in "your" area, but it's just a default thing set to make it look like there's limited spaces. It isn't real!
4) Then the whole sales angle about easy money.
Again, more stuff you see on those scam sites. Sure the opportunity to make money online is real, but it's an industry loaded with scams and misrepresentations. You need to know what works and I don't believe you'll find that here.
5) Then there's the whole topic of buying memberships with places like DOBA.
I've never tried this place, but I do know you can do drop shipping on your own without having to rely on memberships with other companies. I also believe there's more money to be made when you're not spending money to just have access to a site. 
Pretty much any product you can find online you can probably sell through drop shipping, either by getting in contact with a company that manufacturers it or by buying it yourself from a website, charging another person a higher price, then keeping the difference. Spending money (probably monthly priced) on websites that make you indirectly pay for stuff you can do for free is not my idea of a good business idea.
And if you're into drop shipping, I'd consider Oberlo, not DOBA. It has a way better reputation.
6) Drop shipping has also changed a lot so this formula isn't really doable anymore.
The whole idea about finding products and selling them on eBay via drop shipping won't work today because eBay has basically outlawed this. Drop shipping is considered very unethical because of the many ways it's misused by people, and while it can be legitimate overall, you have to be careful with who and how they teach they you do it these days.
Final Rating: Suppliers Club
Red Flag (Scam)
1 out of 10 stars. Based on all the signs I've seen from previous scam sites and that this one has many of them too, I have concluded this place is most likely a scam too.
My final thoughts:
Taking away attention from Suppliers Club, I want to talk about drop shipping itself. I said it's a good way to make money, but it also isn't easy. There's a lot of micro management involved especially if you start to try and sell multiple products. There's a lot of tedious work involved and it's something you have to understand before you get involved with it.
For some people this is fine, for me personally, a guy who does affiliate marketing and mostly sells digital products, goods and services, it's too much. I prefer my option because there's less work involved, no need to package anything (since it's digital) and you can sell based on a person idea or dream you have vs something you think might make money and believe me, that also impacts sales.
It's how I do online business and while it also takes hard work to succeed, I find it has more benefits. If you want to try online business the way I do it, then the very best program to do it with is Wealthy Affiliate.
If you plan on getting involved with drop shipping, I'd start with a cheap product that sells often. That way if you end up losing money, it will be pennies vs dollars. Also make sure to do your research and read what successful drop shippers are doing. Avoid buying any sort of expensive guide or automated program that says it'll make it easy to understand and succeed in.