Let me start by saying that I run a number of blogs and make money off them, with this particular one being the most successful thus far. You will see my numbers shortly (Six figures).
In this article, I want to clarify what expectations you should have if you decide to do this sort of work as well. But let me start with this:
When it comes to a typical job with a salary, you have a clear number laid out before you. You know what numbers to expect.
However, when it comes to business or freelance type of work like what I do (blogging), the story is very different because you can't exactly predict what the business or person will make without proper research and even if you do research everything "correctly", the situation can change so frequently that the numbers and predictions can bounce around constantly. 
This is why I normally do not like writing about monetary expectations, specifically in regards to websites, but today I will attempt to do it because I very often run into people who ask me this question.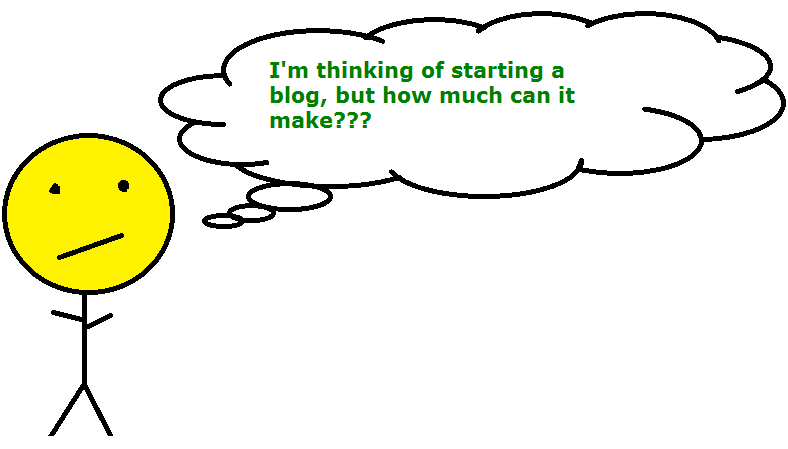 Let me just say that while I will give you exact numbers from my own experiences, these are numbers that:
Are subjectively based.
The type of blog you run and how intelligently and often you work on it is by far the biggest predictor. Remember this.
A blog which focuses on common, popular niche topics will generally, as a rule get bigger traffic than one which does not and naturally, these numbers impact the potential earnings. 
There are "proper" ways to predict what you'll make from doing this, but keep in mind these numbers will NEVER be 100% accurate. 
Now because there are so many uncertainties…
I have created what is by far the most stable way to predict this stuff:
My rule is that if you can predict that a blog can bring in good traffic and most importantly do the work to actually make it happen, then the income will follow but the numbers that brings in will likely never be exact or close to the original prediction you made.
If nothing else, this one rule is the biggest point and thesis of this article and I want you to remember it.
Now this is both a good and bad thing and unfortunately this is the best way to look at it. Good because you can actually end up making far more than you predicted and bad because this uncertainty can lead people to not work as hard as they should when they are unsure about what their efforts will bring in. 
How this works:
1) Research beforehand the type of blog you wish to make (it always has to be a niche based). Use that article I just linked you for great ideas that are very likely to work well!
2) Research the type of products/services you can sell on the site and how much you can earn from selling it.
3) Determine what your daily visitor count can look like via looking at the niche topics you'll be talking about and researching keywords for each topic, then adding them up.
4) After doing that, estimate what would happen if out of the daily visitors, 1% purchased the product/service you're selling and how much you'd make daily/weekly and yearly from this. 
I start with 1% as the lowest expectation because it shows me what the worst case scenario can be. But even if it is 1%, I can always grow the sales more so in the future.
Let's take my personal example/s:
1) Let's use my most successful site (this one). The niche topic is how to make money online (and it just so happens to be done through…blogging). Here is how this blog did in 2018:
2) In terms of products and services I can sell, this is easy for me, I promote Wealthy Affiliate which is a great service that helps people blog for a living like I do. Let's say for each person that I refer to that organization, I get paid $20 a month (ideally, seek out programs for your promotions that also pay monthly, there is more income stability in this). 
3) Now I have to look at potential blogging topics. Since the niche is making money online, one very important thing to note is that I need to look at topics which get good searches on Google daily and have low competition so that my site can show up on the first page and get those visitors. 
Note: Big topics like making money online are extremely competitive and get millions of searches a month. It is incorrect for me to use these millions of numbers in my predictions because there is a very SMALL likelihood that I'll ever have my site rank for those BIG, competitive searches, so I have to find reasonable topics that I CAN rank high for and use those numbers as traffic predictions.
Thus far, I have been able to find and write on 100's of topics for this, all of which are low competition and constantly searches for.
Originally when I estimated this stuff, I had about 50 different ideas, did keyword research on them all and estimated I'd get about 1,000-2,000 visitors a month.
Fortunately, after getting to 50 ideas, and writing about them, I found 50 more, then 100 more little by little, I grew my site to feature 100's of articles that people find on Google every single day. 
Now the original prediction of 1,000-2,000 visitors a month has turned into 20,000-30,000 visitors and as long as I keep the articles coming along, I'll keep growing that number. 
4) Now that I have some estimates, it's time to connect the number I'd make per sale with the monthly traffic. All I do is divide 20,000 (visitors) and see what 1% of that is. It's 200.
200 people buy the service I sell, which pays me $20 a month. That's $4,000 a month. 
If the estimate is closer to 30,000 visitors, then I would get 300 sales a month, which would equal to $6,000 a month.
How much did I really make promoting this company?
Over $200k (read the report here).
Does the estimate I showed here fit the reality?
Yes actually, but as I said, it's NEVER precise. My page actually does make somewhere between $4,000-$6,000 a month given the current traffic it brings in and I was able to predict this using the steps above. 
Now given all that I have learned about this stuff, I know that these numbers aren't precise and they absolutely WILL fluctuate.
Some months, the site doesn't make anywhere the range I just told you about, sometimes it goes over and it's not actually because the blog is doing well or not, it's because there's events happening in the world that distract my niche audience from being interested in this stuff and searching for it.
Take weight loss sites for example.
Usually they will not get huge surges of traffic in the winter time, but come New Year's, BOOM, people have resolutions to get healthier and start Google terms related to that, so blogs on weight loss get surges of traffic around that time, and naturally make more.
But whatever fluctuation that will always occur, the goal is to keep building the site, finding more and more topics to write about, to ensure that the profits do NOT fall. In this world of blogging, if you correctly start with picking a good niche topic, and properly work on growing it, rest assured, there is endless opportunity for whatever money you thought it would originally make, to actually end up making more.
See also evergreen niche topics as those are great to make blogs on and earn consistent income from.
My final thoughts:
Focus on the BIG rule I mentioned above to remember. Again, remember that the numbers you predict for your site will never be accurate. They can be close if you use my formula, but again, it'll never be accurate.
Focus MORE SO on creating a niche blog you will enjoy working on and from there, work on it intelligently (keyword targeting, writing valuable info you love to share, ect…) and let that passion grow the site to become popular. 
From there, you will see that this passion you have will be the force that makes it bring in money. 

Again, I hope I made my main point/s clear in that you should NOT place to much value in the monetary predictions you make before you start your own blog because there are too many factors which will change your predictions.
In fact, placing too much value on the numbers MAY distract you from putting in the work to reach those numbers. Just know that if you follow the golden rules of picking the niche topic you love and working on it intelligently like I talked about, you will be very happy with the profits it brings in.