In the world of internet marketing, niches are all around us. If you know how/where to look, you'll be able to find them in the plentiful.
Although there's TONS available, one thing I recommend you always do is pick one which you can relate to.
As you're about to find out in this case study, even though I have the site, the traffic and the niche, I don't really have the success I want with it because I can't really relate to it which makes it difficult to write on it. However it doesn't change the fact that you too can use this method to find your own niches. 
Background: 
I was asked to promote a new kettlebell program for women using my knowledge of internet marketing. This was through a friend who runs a martial arts school I attend. I agreed and started doing research. 
Now whenever I do research, I usually start with the following:
What is the niche? A niche is basically a specific group of people or market. In this case, kettlebell training is a market (it's very broad) and my niche was kettlebell training for women.
This is more specific as there is a specific audience and a topic in the subject. This tutorial will help you find one that suites you.
Once I determined what my niche was, the next thing was to…
Figure out what sorts of terms this niche (group of people) typed into Google to find what they were looking for. We call these "keywords". 
Now keywords are basically ANYTHING you type into Google. In this particular case, what I had to put myself into the mind of the niche and think "Well what type of searches would women looking for kettlebell fitness would type". Here were a couple of ideas that came to mind:
kettlebell exercises for women

kettlebell workouts for women

kettlebell fitness benefits for women

Women's kettlebell exercises for "add any body part here"
When it comes to keyword brainstorming, the ideas can be endless, but there is a way to check out HOW many people type up the phrases I just entered and that is through a keyword tool. The one I used was Jaaxy and the results were unbelievable to say the least…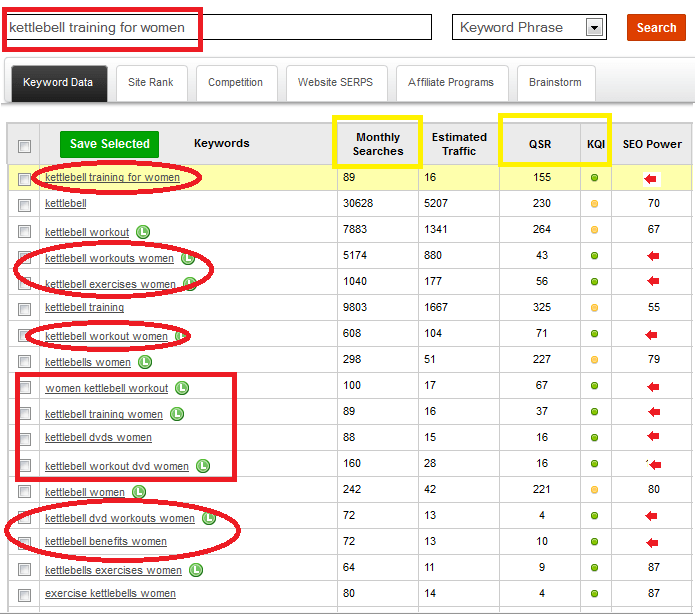 I circled in red & yellow the most important things I found. Some of the keywords get 1,000's of searches a month! And look at the green circles. This represents the competition (indicated as QSR) is low. 
I never imagined this subject could be so popular, but as it just so happened, I stumbled onto a VERY popular and potentially profitable niche. Oh and by the way if you're also aiming to do keyword research, I strongly recommend the same tool I'm using as it's very accurate and simple to use. Learn more.
The next step….
After I find keywords, it's time to build a website. I did that and it was based on helping women learn about kettlebells. It took me a little time to create and add content to it, but eventually the site began ranking and since the competition was pretty low, I was able to rank pretty high and fast thanks to the research on the keywords being done above. 
After a few months of being up (since August-Jan 2014), here are my visitor stats:

Not bad! That's well over a 1,000 visits each month. As you can see, there are some dips and there in the traffic and this was because I didn't take too much care of the website. I also made a huge mistake in using backlink packages on the website in August (I then cancelled quickly but the damage was done) which ended up getting the website Google slapped.
Additionally I wasn't able to add the kind of content I wanted and that's because I couldn't really relate to this subject. I had very little knowledge on kettlebells and couldn't exactly connect with visitors on my site.
If I had added proper content to my website, my traffic stats would be much higher. 10x in my estimation and that's just a small example.

But it didn't happen and I lost out on A LOT of potential profits. I did make money, but for the time it took me to create the website, build it up and work on it, it wasn't worth it. I stopped doing anything there, but am slowly getting back to it keeping these lessons in mind.
What to learn from this case study:
1. Always go after niches. Niches have more specific audiences, more chances of profitability and LESS competition.
2. Target niches you can relate to! This is huge. I saw minor success with this website, but because of my lack of knowledge on the subject, I wasn't able to do much with it!
3. Don't use backlink packages, EVER. They are bad for SEO and they hurt my website. Now in order to get back on track, I'll have to wait months if not longer to recover. 
4. Try to use a keyword research tool like Jaaxy if you're attempting to find niches and keywords for it. There's not much of a point in going after keywords no one types. In the end you could do without it and use your head, but this will make the process much easier.