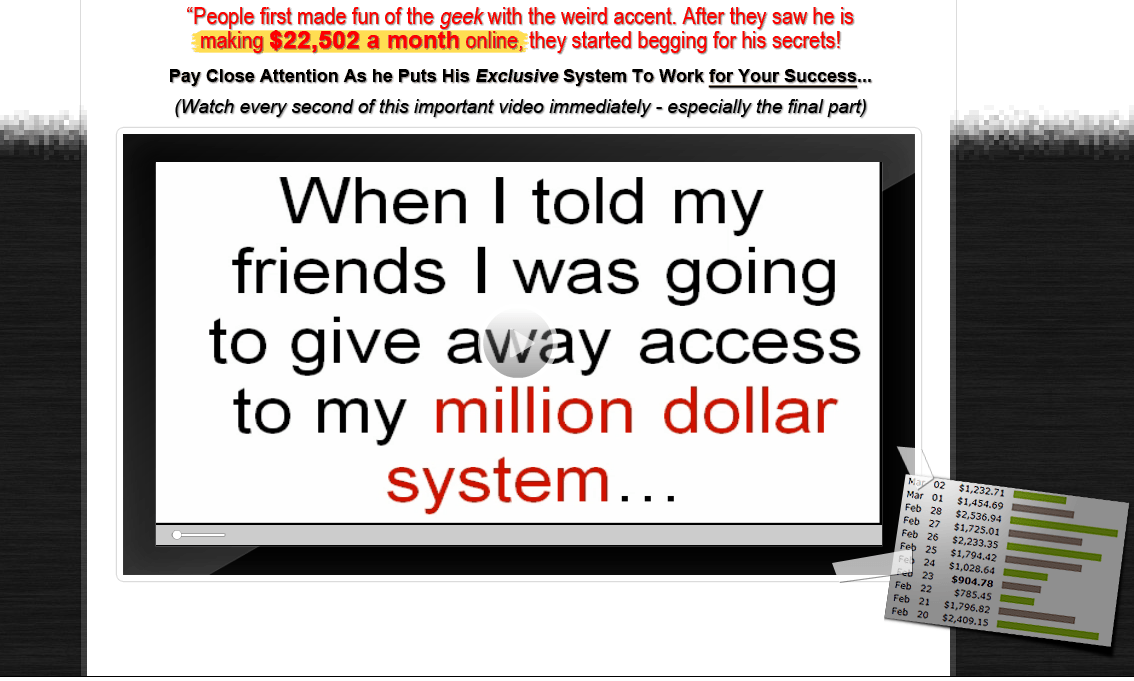 I would like to shed light on the Killer Content System because frankly, it is difficult to find an honest review of it.
As with most money making products, people who write positively about them are likely doing so to have you buy it. So what's the verdict on this product? I don't recommend it to anyone, period. But let's dig deeper and find out exactly why…
Killer Content in a nutshell:
It's basically a "done for you" approach to building successful websites. When you purchase Killer Content, you will have to choose a niche under which you would like to create a website in (you are given a tutorial on how to build a website). A niche is basically a very specific group of people interested in a specific product/service.
Then once the website is created and the niche is chosen, you will get access to articles (there are 1,000's available) that will be written and put on your website related to the chosen niche (this is a bad idea as I'll explain later). 
You will also get an article spinner to be able to change the articles you get and create an unlimited amount of content to be able to add on your site (another bad idea).
Additionally you also get access to video tutorials including how to do email marketing successfully and A LOT of PLR (private label rights) articles and content to add to your website by simply copying/pasting it as well as given away the articles as free reports to have people sign up to your website (email marketing).
The theory of this system is simple:
In order to have a successful website, you need: A website & traffic to come to that website.
In order to make this happen, you will first need to build the website (I believe Killer Content actually gives you a WordPress site), and then all the articles which you'll get after choosing a niche will be added to your site.
This will be considered content which will get ranked on Google. You will be able to post A LOT of content, very quickly with this system and if you utilize it's article spinner.
More content = more rankings.

More rankings = More traffic (visitors).

More visitors = more potential money made.
Usually you'd have to spend a lot of time and energy doing it on your own. Through the Killer content system, all of this stuff is done for you with literally the push of a button. Unfortunately as you're about to find out, this is actually a bad thing…
Understanding why this system is not a good idea:
First off, I can't stand the sales letter. Usually these things are indication of what you're getting once you buy the product and once I saw it, not only could I NOT watch it for long (it made me nauseous), but I felt I was going to encounter the following:
The man behind the system, Socrates Socratous (I don't even believe that's his name, let's be honest, I doubt you do either.) only bragging about how much money he's made and you can make it too without ever explaining what it is you're actually getting.

The typical "You can make SO much with my EASY system", "Simple push button", "You don't have to know anything" cliche lines.

More than a couple of up-sells once I purchased the product.

Outdated training that will likely not work or initially work and eventually get me Google slapped.
Well as it turns out, everything I listed above proved true. In Killer Content's case, the system itself is based on pretty solid theory. Unfortunately these things no longer work since Google's updates have done away with these techniques to get websites listed fast and high in it's search engine. 
Specifics:
Basically Killer Content takes a black hat approach to SEO. You do very little of your own stuff except choose a niche, build a website and fill in the content by pasting the articles you're given.
These articles/content are either written by people which as I've heard from a number of people are poorly written, grammatically not understandable and just plain boring to read or…
They are taken from other places such as article directories and "spun" through a spinner which basically takes the article and changes around words here and there to make a new version of the page. This is basically a form of duplicate content and what I personally consider to be plagiarism. 
Additionally spun content is very difficult to read and VERY often has grammatical errors, lack of proper punctuation which is going to make it difficult for anyone to stay on your website for long. You may often times find yourself taking a lot longer actually correcting the spun article than making one on your own. 
Before 2012, practices like these worked. You could do very little, use these automated systems, have a ton of content appear on your site making Google believe you put in a lot of work, rank high, get a lot of visitors and reap the rewards of high rankings.
However, in early 2012, Google has done away with sites that operate in this manner. They can spot people who uses these approaches to artificially rank their websites higher and penalize them. By penalize I mean have their websites not rank even close to page 1 for whatever they once ranked for.
This is not only catastrophic for a website owner, but the odds of that website coming back to the first page is nearly impossible since the foundations of that website were originally set under such shady tactics. It basically means your website's chances to succeed are dead is what I'm trying to say.
On a final note, you are also able to promote the Killer Content system to others. Because I cannot recommend this program to anyone, I won't do that. Here is my #1 recommendation instead.
So to summarize, much of the Killer Content system is based on tactics that no longer work. It is possible to still have success with it, but it's only going to be temporary as sooner or later Google will catch you.
Is there anything good about this system?
The only "good" thing I found is the training. You do get some great ideas on how to things such as improve email marketing campaigns, how to get more get more subscribers, and improve overall SEO. Other than that, the training on using PLR's is outdated and not recommended.
At the same time, the ideas and tactics are presented in such a way that it's easy to get lost especially if you're a beginner. The problem with many of these strategies is that they give you great, sometimes obvious ideas to work with, but for a beginner who needs a step-by-step approach on where to go and what to do, it won't be practical.
Beginners should instead have a full laid out training that's updated and legitimate. For that, I would only recommend training from this place.
Pros:
You can still make money through this program's tactics.

Provides some decent training on SEO & Email marketing.
Cons:
Much of the training is outdated and counterproductive for SEO.

Uses black hat methods that can get your site Google slapped. 

Support issues.

Articles made from spinners usually don't make sense and don't read well. 

Up-sells once you purchase the program. 
Final Rating: Killer Content System by Socrates
2 out of 10 stars. Not recommended! It could work, but it's based on shady methods, some of which are outdated that will likely ruin your website. See #1 recommendation.
Final thoughts on this program & you should do:
The amount of programs like this on the internet is beyond measure. Pretty much all of them have the same approach to luring you in:
Promise how much money you can make.

Say it's easy, automated, full proof, ect… and other terminology I associate with

scams

. 
But in the end most of these programs never deliver on their promises and most of the time it's because it's methods are just outdated, illegitimate or too confusing to understand (sometimes all). In Killer Content's case, it had some value, but this was back in 2011, which by the way if you look at the reviews are all around that time period.
It's 2014 and most of the tactics programs like these recommend no longer work and if you still try them, your site is going to get into a lot of trouble. And hence that's the reason for this program got such a low rating. 
If you want to build a successful online business, you need to understand that the get rich quick approach is a 1 way ticket to failure because there is no such thing, not without proper guidance and putting in the necessary work first. This is why I keep on recommending this place for just that purpose because it'll show you the correct way of doing things.
As for Killer Content, don't let the hype of fast money have you taking out your credit card! If you've used this program before and would like to leave a review, simply post a comment below!