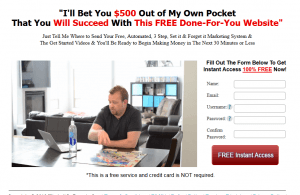 So much to talk about with 5 Minute Mogul people and it's not good. I will show you why I said it's a scam.
Quick Report on 5 Minute Mogul System:
Creator: Kimball Roundy.
Price: It's a "nice" tricky sales funnel I'll explain.
Overall Rating: 0 out of 10 stars (Scam).
Not only does it promote a scam I'll tell you about, but the way the whole program funnels you into it's up-sells is something that made me angry and that's not something that happens often when I do reviews.
5 Minute Mogul System in a nutshell:
It's basically 2 things:
1. A referral program into a MLM called Pure Leverage which is the scam I talked about earlier. 
2. It's an email marketing course. Basically by joining 5 Minute Mogul, you're going to be required to join Pure Leverage and get it's autoresponder to move forward with the training in this program. 
The program itself is designed on a game board type site where you have to complete a series of steps. You can't move forward without completing a prior step and the first step is to join Pure Leverage (no thank you!).
The 2 big problems I have wit
h this program: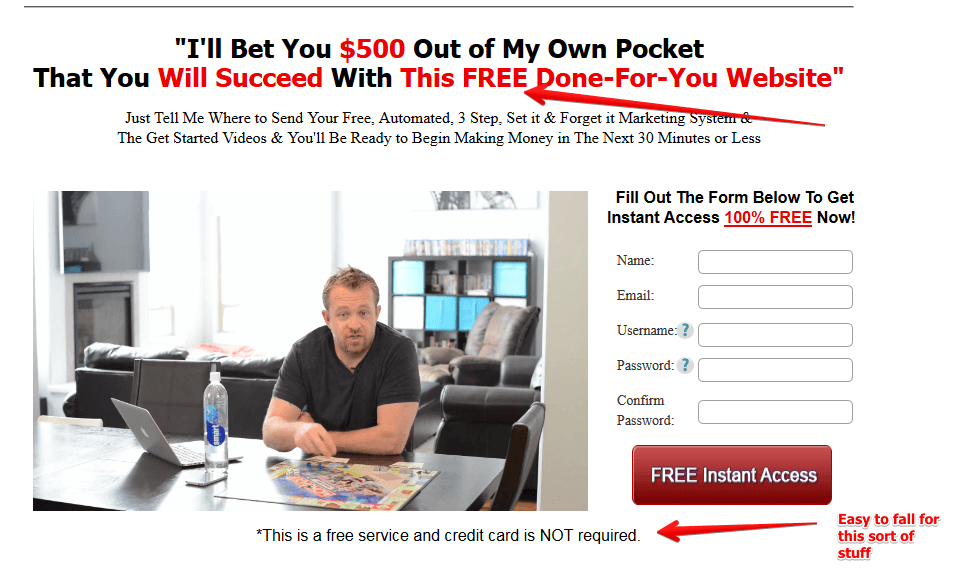 The 1st problem:
Everything starts off from the sales page where Kimball introduced himself and talks about his system. And you know what? I fell for it.
Even with all my years experience in this business, my curiosity go the best of me.
Kimball really comes off as an honest and neutral guy and the way he spoke made me want to trust him. And when you see things like: 
A done for you website and no credit card required, it's easy to fall for these things:
But as I entered my info expecting free access, I was taken to another page where I was asked to purchased the 5 Minute Mogul. The options were:
$1, 30 day trial I believe.

A $27/month option (the one I purchased).

And a yearly plan which if you pay in advance will cost you $197 and if you pay monthly will cost you $444 (the numbers didn't add up to me).
What I didn't like was that there was no PayPal option to buy and I actually had to enter my telephone number and other information. I really hope I don't get any sales calls.
But if you think buying this initial package is going to give you access to the site itself, you're right it will! But the tricky part is ignoring the up-sells that are going to follow once you make the purchase.
There are 2 up-sells, one for $0 for the first 30 days (if I remember correctly) which then turns to $97 and a second up-sells which is supposed to give you 100% commissions on selling the 5 Minute Mogul to other people.
This is called the Commission Tycoon. The price for this up-sell is $297 for 30 days or you can pay one time $997.
It's amazing to me that there's still places out there which charge you so much before you even get a look at what you're buying. Now one thing that I found terrible with 5 minute Mogul was that there was NO option to skip the up-sells and go to your main purchase. 
I actually "purchased" the $0 up-sells (first one) because I saw no other link leading me into the members area. Then the second up-sell also didn't have this option and I felt trapped. 
But then I tried something obvious, yet different:
I closed the site, went into my email and there was my log-in! So just know that this option exists. Usually with programs, you have to stay on the page to reach your product, even after going through every up-sell, that's why I never considered that option until I saw there nowhere else to go unless I went and purchased the up-sells. In my opinion, this is an unethical way to do things. Maybe you would feel different.
And by the way, we're still in problem #1, because it's actually continuing. After I got my log-in from my email which by the way also provided me with a number to call for coaching (Never tried it and never will), I finally got access to the site:
Though navigation is simple, you're led along a funnel to sign up with the MLM program I talked about. That's step 1 and you won't get access until you complete this step. 
And that's problem 2: Pure Leverage which is a huge pyramid scheme I already reviewed before. Kimball is referring you there so he will make money once you join. And all that talk about a free website isn't free folks. From what I saw with the checkout cart, it was nearly $25 to get started and knowing Pure Leverage, that's probably not the end of those up-sells. 
So the way it works is that by going into Pure Leverage, you'll be given an autoresponder and list building website to funnel leads in there. You can send them to 5 Minute Mogul and promote that and if they join Pure Leverage through your link as well, you'll get commissions too. 
So it's really 1 gigantic pyramid scheme, at least with Pure Leverage. 5 Minute Mogul is just going to be there to help you get more leads. 
Final Rating: 5 Minute Mogul System.
0 stars
Red Flag (Scam).
0 out of 10 stars. Too much money asked, shady up-sells and tries to get you into a pyramid scheme. No thank you, give me a refund!
My final thoughts:
I've reviewed programs before which promoted Pure Leverage, but many of them actually provided free access and even if the training within 5 Minute Mogul is amazing, I would never spend SO much money on this kind of stuff. In my case no more than the $27 I already spent and hope to return.
5 Minute Mogul's only upside in my view is the game board system they've set up which is pretty clever and does make things pretty to look at, but looks and what's really going on are 2 different things.
You're paying a lot of money to access a system that will then refer you into another system (pyramid scheme) so in my view even if you do make money with it, it won't be the right way to do it. I'd much rather recommend Wealthy Affiliate to you as an alternative because it's just better in every possible way.