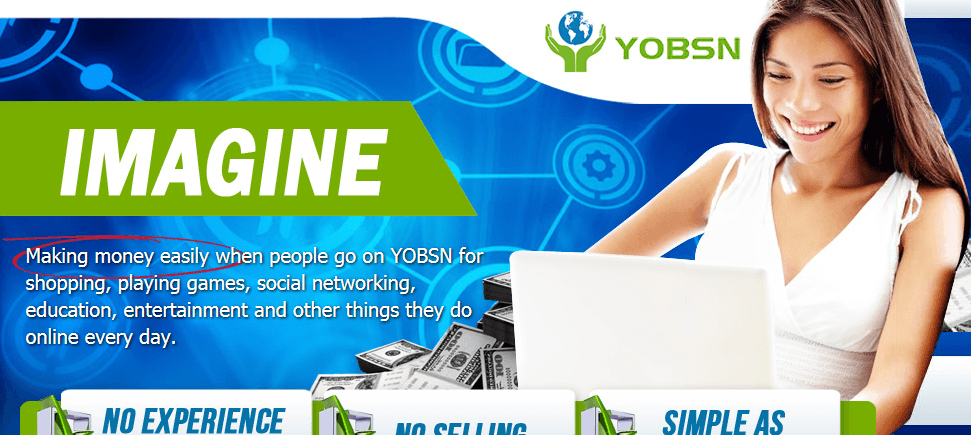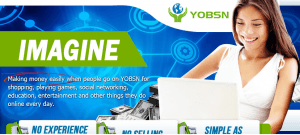 There are a lot of inflated reviews of YOBSN out there, and this isn't one of them. I am not promoting it, nor do I intend to, but I will give you an unbiased review of it.
Quick Report on YOBSN:
Price: Free, $30/month, $125-$400 (one time)
Overall Rating:

3 stars out of 10
I don't advise it, but it has potential.
Let me just get this out of the way before we get to the review of YOBSN:
YOBSN was one of the most annoying programs for me to figure out.
In spite of the sales pitches about how simple it is, it's much more different when you dive into it as it's quite a complicated system to dissect. Therefore in order to truly understand what it is and how it works, I decided to join up as a free member. 
I'm going to be providing you with an unbiased review of this program. I do want to point out that what I write here is my opinion and I may be inaccurate on certain positions/understandings of how this system works.
If that is the case, do correct me. That being said, I think you'll find my assessment of YOBSN to be quite accurate.

YOBSN in a nutshell:
Firstly, it stands for:
Your.
Own.
Branded.
Social.
Network.
The site is designed to try and substitute what people generally do online (play video games, watch videos, try to win prizes, browse the web, ect…) to instead do it "all" through the YOBSN site. Basically an all in one place for all your internet needs, at least that's how I see it.
Now the question that arises is why would anyone want to do that through YOBSN when they can do it elsewhere (Google, YouTube, ect…)? And the answer is the incentive program they provide. This is where it gets "interesting".
How people can make money with YOBSN:
If you can get a person/s to join YOBSN through you, you can earn what they call Social Points (SP) and rewards in monetary value for those people doing things through YOBSN which is basically using it for all the mundane things I mentioned above.
So each time you get someone to join this place and they start using it's services, you can get paid a percentage of what they do there. This is where you hear pitches about you making money for your referrals just browsing the web. And technically it is possible, but the amount you make from what I saw isn't really that huge. 
However, there is also an additional add-on to the program which works in an MLM type format that I first discovered from it's partner company Smart Media Technologies. Basically you can become what's known as "YOBSN owner" in which you purchase a package of theirs, get marketing materials to promote YOBSN to others.
The cost of this ranges from $125-$400. I also read somewhere they might be a $30 monthly fee to help you "manage" your referrals.
For each person you refer who then also purchases a one of those expensive packages too and/or uses the site itself, you get paid. For every referral, your referrals get, you also earn a commission from that and this continues on and on (considering you keep getting referrals and your referrals as well the referrals they bring in keep getting other referrals. I hope that wasn't confusing…).
I did talk about this opportunity and how practical it was to make money with it. Long story short, I didn't find it that lucrative nor appealing and wouldn't recommend it. You can find a complete reason for this on my review of Smart Media Technologies which for the record explains the whole YOBSN compensation plan.
Inside YOBSN's members area:
While it is true that you can sign up for free without providing any sensitive information, I found the site to be confusing to navigate through. I'll get to the details in a moment, but here is a screenshot of the members area: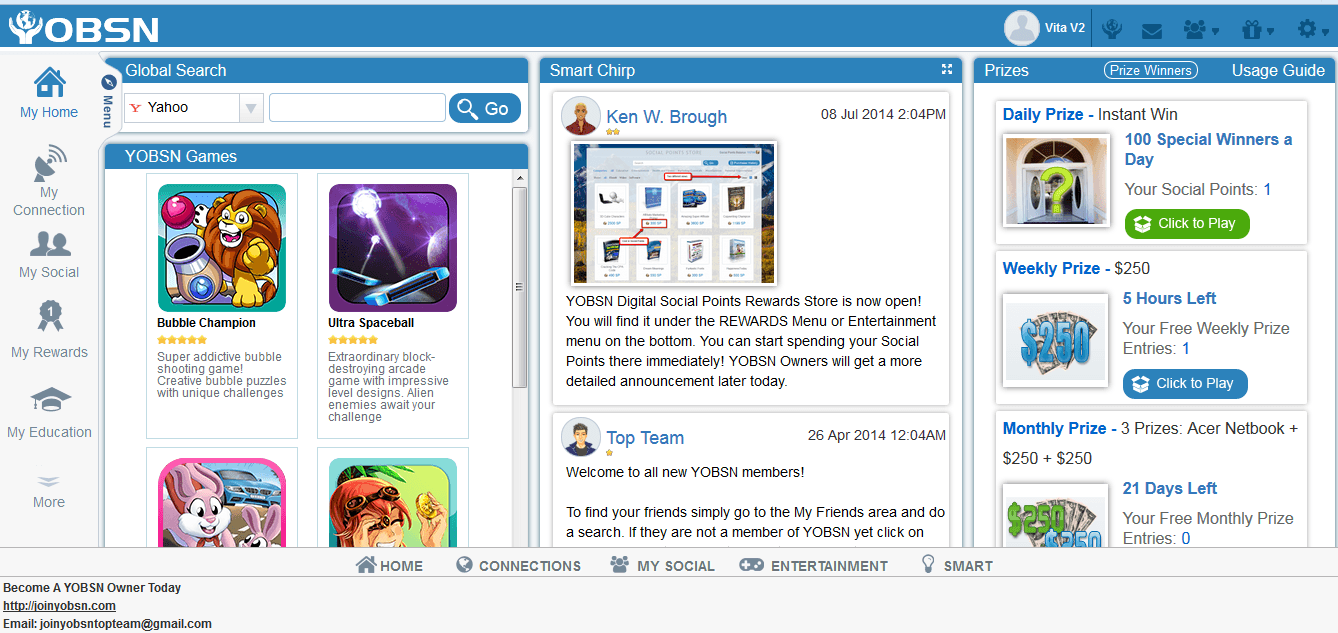 There is obviously a lot to digest and I was certainly confused when I first entered. But after looking it over for quite some time, things started to come together, so let me explain what you need to know:
There are many different daily/weekly/monthly prizes being offered. Some are tangible products, while others are points and money. You can enter in to these "contests" and earn SP's (social points).
You can also do things like play games on the site and take a look at tons of tutorials ranging on MANY different subjects. You can also earn SP's for referring people (as far as I know) or just using YOBSN's services often.
You can then redeem these points for money, among other things. This is where I was disappointed because a lot of what you could redeem the points for was books on marketing and other subjects It looked like PLR content. Here is a screenshot:
Notice how much those some of those books cost in SP points. And I am 99% certain this is PLR content which often times is outdated and useless in today's internet marketing world. Basically purchases I wouldn't make.
Then there's also information on various other topics from what they call their "Smart Library" that I felt was a bit "out of place". YOBSN also has information and videos on things like:
University subjects and tutorials. We're talking calculus, algebra, graphing and more. there's videos and tutorials.

Tutorials on using paid ads on places like Facebook. The information was very general from what I saw.

Tutorials on using Windows 7, Vista, Gmail, WordPress, Chrome, Skype, PowerPoint and MANY more programs/services.
I could keep going but the subjects are all across the board. It almost seemed to me like YOBSN tried to get as much content from anywhere they could and just clumped it all together on the site. In my personal opinion, I feel this confuses the user experience much more than it helps it. 
If I want training on how to use a program/system or need help on a subject, I'll stick to Google or other resources. 
Pros:
It's free to join, although from what I saw, user experience is limited.

There is potential to make money with this program.
Cons:
The site overall seems disorganized in my opinion and difficult to navigate through.

Difficult to make money with this system when there are easier alternatives available (Google, YouTube, ect…)

Doesn't seem to make sense to pay for a membership when you can do all of the things that site provides, for free…

The MLM referral type program they have is something I am not a fan off and feel it isn't very practical to succeed with.

I didn't see any option to pay for the program via Paypal, which in my book is a

red flag

.
Final Rating: YOBSN

Yellow Flag (Caution)
3 out of 10 stars. I won't be using it, nor recommending it, but I feel it has potential, even though there are much better alternatives available to earn money online from. This is my #1 recommendation: Wealthy Affiliate.
Final thoughts and putting it altogether:
If someone were to ask me to summarize YOBSN, the best explanation I could give based on personal opinion/assessment is that: It's a site which tries to get people to pay to do things they would normally do for free on the internet and earn points to buy things that they could probably get for free or much less.
Seriously, am I the only one who thinks this?
And as insane as that sounds, it works because there is a referral program which gives people incentives to join it and make money referring others into it. But even in spite of that I just can't recommend this program because the things it tries to do are just not worth it. It's providing services/games you can get for FREE by just doing simple searches online. 
Is YOBSN a pyramid/Ponzi Scheme?
All these sales pitches about everyone making easy money regardless of experience is VERY questionable to me. Not once in my experience in making money online have I ever found a program which actually backs up those claims. And usually the programs which claim those hyped things turn out to be scams, pyramid or ponzi schemes. 
If you're thinking about joining YOBSN for the money, I personally wouldn't recommend it. There are much better alternatives like Wealthy Affiliate as far as I'm concerned.
In the case of YOBSN, if my assessment is accurate and there's really not much of a product that exists (PLR content/things you can do/get for free), it costs money to make good money with this program, Paypal from what I've seen isn't offered as a payment option and the referral system is bringing in tons of people who then also have to pay, this might give rise to pyramid scheme/ponzi scheme accusations. I'm not certain about this so I won't make a judgment, but I will be staying away and seeing how the site develops.
Giving it the benefit of the doubt?
It is very possible that YOBSN is still in it's early stages of development and is trying to improve it's services/system. I did stumble onto some pages which were under construction. For their sake, I hope they fix things up because the current navigation and the offers they provide aren't things I'd personally bother trying and if others feel the same way, I doubt they'd remain members of that place for long.
If you tried YOBSN, agree/disagree with my opinion of it, do let me know!