Smart Media Technologies is an MLM program that I'm going to "dissect" in this review so if you're curious about it and how it works, this is where you'll get that info.
Quick Report on Smart Media Technologies: 
Price: $125-$400.
Overall Rating: 3 out of 10 stars (Not recommended. Proceed with caution)
Although it took a bit of digging, I was able to gather enough information about Smart Media Technologies to give what I consider an accurate rating.
The company itself isn't bad and I wouldn't call it a scam either, but because it is an MLM and because it is associated with a company I have mixed feelings with (YOBSN), I will advise major caution if you are going to try this place.
Therefore in this post, I'm going to provide you with basic information on Smart Media Technologies and what you need to know. As for YOBSN, I have written up a separate review of YOBSN here.

Smart Media Technologies (SMT) in a nutshell:
Correct me if I am wrong, but from what I gathered, it is basically a referral program which tries to get people to join a place called YOBSN. That or both SMT and YOBSN are the same thing. 
If it's the first, then I assume once people join YOBSN through SMT and buy one of their packages which can range into the several hundreds of dollars category, SMT earns a commission or re-occurring commissions. If not, it doesn't really make a difference because the end result is still going to be the same. 
In addition, because it operates on a multi-level marketing system, if you make sales for YOBSN, they will also earn a piece of that commission, which is typical for businesses like this. I will say that I watched the entire presentation on the SMT website and they are pretty transparent, but there was also a lot of hype which I often hear when someone tries to pitch me into an MLM. 
How Smart Media Technologies operates and how you can earn money from it:
If you join SMT and sign up through it, you are essentially joining YOBSN. From there, you are provided with marketing materials and training to help you promote them better. This training is all about lead generation which can break down into many different forms such as using paid advertising, social sharing, communicating with people on Skype, 1 on 1 conversations and more.
The end goal is to get people to join YOBSN.  That's how you make money.
If people join under you and buy one of their packages, you can earn from different amounts based on several factors. If the people you refer, also refer others, there is also a piece of the pie which flows to you. In fact, Smart Media Technologies breaks it down rather simply: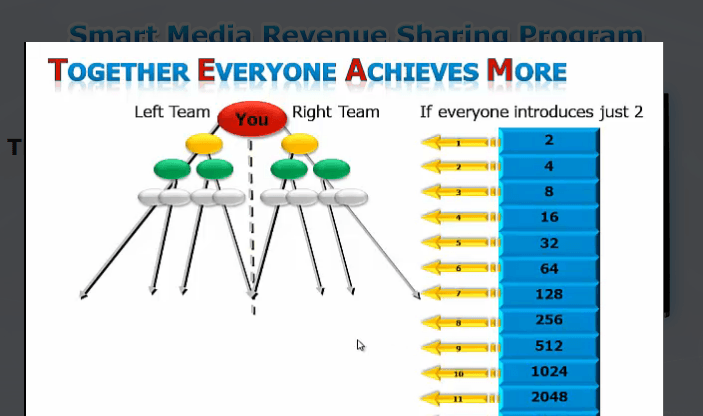 Just so you understand, the way this is pitched to you is that when you get in contact with an X amount of people, some of them are likely to join from it. If you get 2 people to join, you can then group them into one of two places: Left of right team.
From there, if you choose to stop promoting directly, if your referrals get other referrals (this is what the green ovals) represent, you can earn money from them. If those green referrals also get referrals (grey ovals), you can also earn money from that.
The point here is that the opportunity to earn continues and you can make money 2 ways:
1) Refer people directly.
2) Your referrals refer others which makes you money as well.
How practical is it to succeed with Smart Media Technologies?
Unless you have good marketing experience, online or off and/or have a large list of leads ready to follow your advice, I don't think it's going to be "easy" to make money with this program. The truth is that you can say that about any business "opportunity" but in my personal opinion, with MLM's, it's much more difficult.
Most MLM programs do a great job of pitching how much money you can make if you "just" refer a certain amount of people. But this is much easier said than done, especially if you are new to online business. Learn how to get started with making money online here.
I can tell you right now that if you think signing up friends and family is going to be easy, I'd advise against it. I've seen many friendships lost because no one likes to be sold anything to, especially those who are close to you and no matter how simple the MLM says it is to sell, reality is usually the opposite. Then there's also the skepticism that you're going to have to be able to deal with.
I also have a strong opposition against MLM programs because of the pyramid type of business model most of them operate under. But as I always say, that is my personal opinion. 
Pros:
Pretty transparent explanation of the company. 

You do get a lot of tools to help you become a successful promoter.
Cons:
It is an MLM company.

There is a lot of hype behind how "easy" it is to make money with this business. I don't believe that.
Final Rating: Smart Media Technologies

Yellow Flag (Proceed with caution)
3 out of 10 stars. I would personally not involve myself with this company. There is certainly potential to succeed, but I believe there are much better/easier ways to earn money online. Wealthy Affiliate is my #1 recommendation for that.
My final thoughts:
Smart Media Technologies does provide opportunity, but in my 9+ years experience doing online marketing, I firmly believe that trying to succeed through multilevel marketing companies is a bad idea. I believe the better option is to build your own online business based of a passion you possess.
We all have personal talents/passions/expertise in different fields and through the power of online marketing and proper guidance through places like Wealthy Affiliate, it is absolutely possible to make a good living doing so. In my opinion the same thing cannot be said about MLMs because it involves people doing something they aren't used to.
So as I said before, unless you possess good marketing experience and/or that is your passion, I still don't see much potential in this business, at least not from a long term point of view. I could very well be wrong on this, but I personally stay away from anything involving MLMs. They come and go very often and with their questionable business models, it's simply to risky for me.
What do you think? Have you tried Smart Media Technologies and agree/disagree with me? Let me know!